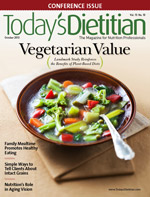 October 2013 Issue
Healthful Hospital Dining — First Foodservice Company to Join Hospital Initiative Will Impact Millions
By Leesha Lentz
Today's Dietitian
Vol. 15 No. 10 P. 70
Morrison Health Care, an Atlanta-based foodservice company and the only establishment exclusively dedicated to providing food, nutrition, and dining services to the health care industry, has become the first to commit to the Partnership for a Healthier America (PHA) and its Hospital Healthy Food Initiative to deliver nutritious foods to hospitals nationwide and the communities they serve. PHA is a nonprofit organization dedicated to promoting good health and working with the private sector to fight childhood obesity.
Morrison has provided foodservice to approximately 550 hospitals and health care systems for 16 years. However, by joining PHA's initiative, Morrison stands to deliver as many as 500 million healthful meals annually to patients and café customers.
Wellness Platforms
Before pledging its commitment to the PHA initiative, Morrison already had established a wellness platform that involved evaluating its menu offerings with an eye toward food selections that were lower in fat, calories, and excess sugar.
"We had a wellness platform that we had enrolled in before the PHA initiative, and it aligned very well with the PHA platform on food and wellness, and that's when we decided to sign on with PHA," says Lisa Roberson, RD, LD, Morrison's director of corporate wellness. The platform is based on Conscious Cuisine, a culinary concept that aims to boost nutrition and flavor in its foods to increase patients' and customers' hospital dining experience.
"There are four key pillars to Conscious Cuisine and our wellness platform," explained Tim Pierce, CEO of Morrison, in a written statement. "First is mindful procurement of whole and least processed foods selected in concert with the season's peak of ripeness and flavor. Second is thoughtfully prepared foods. Third are nutritionally balanced meals that reshape the center of the plate with nutritious whole grains and seasonal fruits and vegetables while using high-quality animal proteins to complement the meal. And finally, we make conscious efforts to demonstrate how nutritiously balanced, great-tasting foods can act as medicine for the mind, body, and spirit."
Joining the PHA initiative allowed Morrison to further its wellness platform by finding new ways to promote healthfulness.
Boosting Nutrition
One of the promises the company has made in joining PHA is to increase its fruit and vegetable offerings, making these food groups the focus of the meal.
"We think about preparing our menus in the reverse way that most chefs do when creating menus," says R. J. Harvey, RD, LD, CEC, a chef and corporate manager of health and wellness at Morrison. "Where a traditional chef may start out thinking about the proteins, such as lobster or beef tenderloin, and build their menus around that, we actually look at the fruits and vegetables first, pair them with a whole grain, and only then will we look at a lean protein."
In every meal, Morrison's chefs adhere to MyPlate recommendations and fill 50% of the plate with seasonal fruits and vegetables. For example, in the winter months, they will focus on the root vegetables such as butternut squash, potatoes, and rutabagas. In the summertime, they emphasize lush greens, such as kale, and tomatoes.
"We create a seasonal table and position it at the entrance of our cafés. We change it monthly to feature superfoods," Roberson says. Last month, the cafés showcased cherries, apricots, and peaches. She says the seasonal table helps people better understand the value of fresh produce not only for their own wellness but also for the taste.
Morrison also has agreed to eliminate all deep fat fryers and commit to healthful cooking alternatives, such as baking. Patients can enjoy comfort food favorites such as chicken tenders but without all the fat from the frying oil. "Instead of coating the chicken tender with eggs and breadcrumbs and then deep-frying it, we'll take a boneless, skinless chicken breast, and we'll coat it with quinoa that's been seasoned with fresh garlic, spices, and paprika. Then we'll bake it in our ovens," Harvey says. "The customer perception is that it's a crispy and moist chicken tender, but it's a much better-for-you option."
By exploring wholesome, creative ways to prepare food, Harvey hopes patients and customers will realize that with a little modification, they can increase the healthfulness of their own favorite foods. For example, Morrison's chefs make a chocolate muffin with black beans instead of flour, increasing the fiber content and its overall nutritional value. Roberson's favorite product is the orange zest muffin, which is made with orange juice and chickpeas.
Decreasing Sodium and Sugar
In addition to these changes, Morrison aims to cut almost 50% of the sodium content from its menus by increasing the use of different herbs and spices for flavorings. A standard patient menu has anywhere between 3,500 to 4,000 mg of sodium, and Morrison's menu contains 2,100 mg.
Roberson admits that the reviews on the low-sodium meals have been mixed; however, she believes patients will learn how to retrain their palates over time. "Some patients are accustomed to high-sodium foods, so it takes them a little while to adapt to the meals we provide. Any time we can lower sodium is a good thing, and patients eventually may feel healthier without it," she says.
Patients also are learning to lower their sugar intake. Morrison will decrease the amount of sugary drinks offered in its cafés, eliminating 5.7 million lbs of sugar annually by switching out sugar-laden drinks with sugar-free or naturally sweetened alternatives. "Seventy-five percent of the beverages that we now serve in our cafeterias fit our criteria, and [only] 25% can be sugar-sweetened beverages. We took a look at our total sales volume and discovered that with this emphasis on the 75%, we eliminated a huge amount of sugar from our menus and cafés," Roberson says.
In hospitals where the new program is being tested, Morrison has added several new products and repositioned its cafés to include this new beverage initiative. She notes that patients and customers are enjoying the new selections, especially the sparkling water–based fruit drinks that provide the familiar fizz of soda without the calories. The cafés also sell aqua frescas that are made with the monthly superfood selections featured on the seasonal table.
Marketing
Morrison will promote healthful eating and the changes to its menu and café selections with a new marketing platform. "With our own platform, and through PHA's, we've committed to only promoting healthful images in our patient menus and in our cafés," Roberson says.
Roberson and Harvey believe this marketing approach differs from traditional methods because Morrison is updating typical images of foods with its better-for-you versions. For example, many companies will feature an image of pizza loaded with cheese and greasy toppings. Morrison's image of pizza is a thin crust, whole-grain flatbread topped with vegetables or herbs and a small amount of cheese.
According to Roberson, the biggest challenge for Morrison's new marketing platform is getting its vendors to adapt their products to fit Morrison's criteria. However, she says their partners have been supportive of this change, recognizing it as a movement toward general health and wellness.
"The impact of Morrison's commitment is broader than just the food that's served in its cafeterias," said Drew Nannis, chief marketing officer for PHA, in a written statement. "Hospitals are major purchasers of food and what they buy impacts processing, shipping, farming—the entire food system. By purchasing [and featuring] more healthful options, Morrison and its hospitals are helping to shape the health of communities across the nation."
— Leesha Lentz is an editorial assistant at Today's Dietitian.