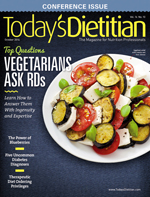 October 2014 Issue
Healthful Fall Snacks: Tips and Ideas for Helping Clients Make the Most of the Season's Bounty
By Sherry Coleman Collins, MS, RDN, LD
Today's Dietitian
Vol. 16 No. 10 P. 54
The fall season is in full swing and along with it comes a bounty of seasonal, nutrient-rich fruits and vegetables, such as kale, Swiss chard, turnip and mustard greens, sweet potatoes, beets, apples, pears, cranberries, pumpkins, and winter squash—a plentiful harvest that clients can turn into healthful snacks.
Rich in fiber, vitamin A, vitamin K, and folate, kale and Swiss chard can be used as a base to prepare snack-sized salads. Clients can use the leaves as wraps for vegetable sandwich bites or bake kale leaves to make crunchy, healthful chips. The leaves of turnips and collard greens can be thinly shredded and marinated in low-sodium soy sauce and rice wine vinegar with a touch of sesame oil, then tossed with shredded carrots and bean sprouts, and wrapped in rice paper rolls for a sophisticated, savory snack.
Moreover, clients can bake vitamin A–rich sweet potatoes whole or thinly sliced to make oven-baked chips. Baked wedges are a perfect snack when dipped into a spicy peanut sauce. Once sweet potatoes are baked or microwaved, their flesh can be scraped, mashed or puréed, and stirred into plain yogurt. Clients also can freeze the sweet potato flesh in ice cube trays and toss the cubes into smoothies.
Available all year, radishes are a fall crop that contains lots of vitamin C. They can be eaten raw as a crunchy snack or sliced thinly and enjoyed with a sprinkling of lime juice. Clients can roast small, whole radishes with olive oil, salt, and pepper until they're caramelized and enjoy them as a snack either cold or at room temperature. 
Beets contain a phytonutrient called betalains that may help reduce oxidative stress in the body.1 Beets make a great addition to fresh fruit juice made from a mixture of apples, pineapples, and celery. When roasted, they can be added to smoothies with plain yogurt and fresh orange juice. If beets are finely shredded, clients can incorporate them into baked goods in the same way they'd add zucchini to a bread recipe.
Different varieties of apples (eg, McIntosh, Golden Delicious, Cripps Pink/Pink Lady, and Honeycrisp) and pears (eg, Starkrimson, Forelle, Seckel, and Comice) boast fiber-rich skins and provide low to moderate amounts of vitamin C and potassium. In addition, quercetin is concentrated in apple skins—and pear skins in lower amounts—which research shows is cardioprotective due to its anti-inflammatory properties.2 Apple and pear skins also are sources of pectin, a soluble fiber that may help reduce cholesterol and lower heart disease risk.3 "Many fall fruits and vegetables are perfectly portable. That's one of the reasons I love them," says Tamara Melton, MS, RDN, LD, nutrition and wellness consultant with LaCarte Wellness in Atlanta and a spokesperson for the Academy of Nutrition and Dietetics who suggests clients snack on apples and pears along with a cheese stick or peanut butter for added protein. Clients can slice apples and pears into wedges and sprinkle them with graham crackers or simply dip them into yogurt, says Amber Pankonin, MS, RDN, CSP, LMNT, an adjunct professor at the University of Nebraska-Lincoln, a nutrition communications consultant, and the founder of StirList.com, a website that promotes her healthful recipes and food photography and writing services. 
Winter squashes, such as pumpkin, butternut, and acorn, are a rich source of vitamin A, potassium, and fiber. When roasted with a touch of oil and cinnamon, even the seeds are tasty treats, Pankonin says, adding that clients also can mix them with granola. Pumpkin purée has become a popular ingredient that clients can blend into a smoothie or add to quick breads or granola bars to boost nutritional value and flavor.
Melton encourages clients to choose seasonal fall vegetables as snacks to capitalize on the season's healthfulness. "When fresh fruits and vegetables are eaten closest to the time of harvest, they have higher levels of vitamins and minerals than those that have been stored for long periods of time," she says.
With all these nutrient-rich foods available, there's no reason for snacks to fall short this season. The following recipes feature some delicious snack ideas clients can enjoy this fall.
— Sherry Coleman Collins, MS, RDN, LD, is president of Southern Fried Nutrition Services in Atlanta, specializing in food allergies and sensitivities, digestive disorders, and nutrition communications.
References
1. Kanner J, Harel S, Granit R. Betalains—a new class of dietary cationized antioxidants. J Agric Food Chem. 2001;49(11):5178-5185.
2. Quercitin. University of Maryland Medical Center website. http://umm.edu/health/medical/altmed/supplement/quercetin. Accessed August 6, 2014.
3. Slavin J. Fiber and prebiotics: mechanisms and health benefits. Nutrients. 2013;5(4):1417-1435.
Snack Recipes
Midmorning
Crunchy Cranberry Pumpkin Millet Breakfast Squares
These nutrient-rich bars are a delicious change of pace from the typical granola bar thanks to the combination of creamy pumpkin and crunchy millet. Packed with B vitamins, millet is an inexpensive and versatile grain.
Serves 16
Ingredients
11/2 cups rolled oats
1/2 cup millet
1/4 cup chia seeds
1 tsp cinnamon
1/4 tsp nutmeg
1/4 tsp salt
1/4 cup honey or maple syrup
1/2 cup peanut butter
1/4 cup water
1/2 15-oz can (or 1 cup) pumpkin purée
1 egg
1/2 cup dried cranberries
Directions
1. Preheat oven to 350˚F.
2. In a medium bowl, mix together oats, millet, chia seeds, and spices, and set aside.
3. In a microwave-safe bowl, mix together honey or maple syrup, peanut butter, and water, and microwave in increments of 45 seconds, until warmed and pourable.
4. Add pumpkin purée and egg to the honey peanut butter mixture, mixing well.
5. Pour liquid mixture into the dry ingredients and mix, then fold in dried cranberries.
6. Pour mixture into a prepared 8 X 8-in pan and bake for 20 to 25 minutes or until a toothpick comes out clean. Cut into 16 squares.
Nutrient Analysis per serving (2-inch square)
Calories: 146; Fat: 6 g; Carbohydrates: 20 g; Protein: 5 g; Dietary fiber: 4 g
— RECIPE COURTESY OF SHERRY COLEMAN COLLINS, MS, RDN, LD, PRESIDENT OF SOUTHERN FRIED NUTRITION SERVICES
Drink-Your-Greens Smoothie
Quick and tasty, this smoothie is the perfect snack any time of day but is especially good for on-the-go snackers. The banana and grapes add natural sweetness, and the kale practically disappears, leaving only its beautiful bright green color as an indicator of its presence. This recipe is bursting with nutrition, providing 100% Daily Value for vitamin A, 80% Daily Value for vitamin C, 35% Daily Value for calcium, and 8% Daily Value for iron.
Serves 2
Ingredients
2 cups fat-free milk
1 cup loosely packed baby kale (or baby spinach)
1 medium frozen banana
1/2 cup red grapes
2 T wheat germ
1 cup ice
Directions
1. Add all ingredients to blender and blend on high until no large pieces of kale remain.
2. Serve over additional ice.
Nutrient Analysis per serving (1 cup)
Calories: 185; Fat: 1 g; Carbohydrates: 36 g; Protein: 11 g; Dietary fiber: 3 g
— RECIPE COURTESY OF SHERRY COLEMAN COLLINS, MS, RDN, LD, PRESIDENT OF SOUTHERN FRIED NUTRITION SERVICES
Afternoon
For a postlunch, midafternoon snack, Carlene Thomas, RDN, president of Healthfully Ever After in Virginia, recommends this power-packed salad. "Make your snack count. Sure, salads are usually thought of as mealtime fare, but a quick combination of the best of fall produce paired with tangy feta cheese makes this snack a powerful energy boost," she says.
Kale Power Salad
Serves 1
Ingredients
1/4 cup roasted butternut squash
2 tsp olive oil, divided
Salt and pepper, to taste
1 cup kale, washed and shredded
1/8 cup pickled beets
2 T feta cheese
Directions
1. To roast butternut squash, peel, remove seeds, and cut into 1-in cubes. Toss in 1 tsp of olive oil and salt and pepper. Roast at 400˚F until each piece can be pierced with a fork or knife, about 20 minutes.
2. Wash and devein kale. Shred or chiffonade the kale. Toss with remaining 1 tsp of olive oil and plate the kale.
3. Assemble salad by topping the kale with the squash, sliced pickled beets, and feta cheese.
Nutrient Analysis per serving (11/2 cups)
Calories: 290; Fat: 22 g; Carbohydrates: 16 g; Protein: 11 g; Dietary fiber: 2 g
— RECIPE COURTESY OF CARLENE THOMAS, RDN, PRESIDENT OF HEALTHFULLY EVER AFTER
Late Night
For an after-dinner snack, suggest clients try this Greek yogurt treat. Sweet and tangy and packed with protein, this parfait could stand in for ice cream, although it's much lower in calories and fat per serving.
Greek Yogurt Parfait With Autumn Fruit Compote
Serves 4
Ingredients
Topping
1/4 cup whole rolled oats
1 tsp flaxseeds
2 tsp unsalted butter, melted
1/4 tsp cinnamon
Compote
1 T maple syrup
1 small Bartlett pear, chopped
1/4 cup blackberries (fresh or frozen)
1/4 tsp cinnamon
Yogurt Base
2 cups plain fat-free Greek yogurt
1 T maple syrup
Directions
1. For the topping, mix whole rolled oats, flaxseeds, and melted butter in a small bowl. Add the cinnamon to the oats. Toast oat mixture in a dry nonstick pan over medium heat until slightly browned and crunchy. Set aside to cool.
2. In a small saucepan, combine the maple syrup with the pear, blackberries, and cinnamon. Simmer over medium-low heat for about 5 minutes, then remove from heat, cover, and let stand for 2 minutes.
3. Mix yogurt with remaining maple syrup and divide between four compote dishes.
4. Spoon warm compote over yogurt and sprinkle crunchy oat-flaxseed mixture over the top.
Nutrient Analysis per serving (11/2 cups)
Calories: 154; Fat: 3 g; Carbohydrates: 22 g; Protein: 12 g; Dietary fiber: 2 g
— RECIPE COURTESY OF SHERRY COLEMAN COLLINS, MS, RDN, LD, PRESIDENT OF SOUTHERN FRIED NUTRITION SERVICES
Anytime
Pumpkin Coconut Granola
This is a great recipe for clients craving something spicy. The granola packs flavor with a hint of the exotic, including a little heat from the red pepper. Clients can eat it plain or enjoy it as a Greek yogurt topping.
Serves 10
Ingredients
2 cups rolled oats
1 cup flaked, unsweetened coconut
1/2 cup pumpkin seeds
2 T unrefined coconut oil, melted
3 T honey
1 tsp chili powder
1/2 tsp cinnamon
1/4 tsp ground red pepper
1/4 cup dried cranberries
Directions
1. In a large bowl, mix together oats, coconut, and pumpkin seeds.
2. In a separate small bowl, mix together the coconut oil, honey, and spices. Add wet ingredients to the dry and mix well.
3. Spread mixture on a sheet pan and bake at 350˚F for 20 to 25 minutes or until golden brown. Stir once, halfway through cooking.
4. Allow to cool completely, then add dried cranberries, stirring gently to incorporate, being careful not to break down the granola clusters.
Nutrient Analysis per serving (3 T)
Calories: 164; Fat: 6 g; Carbohydrates: 25 g; Protein: 3 g; Dietary fiber: 3 g
— RECIPE COURTESY OF SHERRY COLEMAN COLLINS, MS, RDN, LD, PRESIDENT OF SOUTHERN FRIED NUTRITION SERVICES
Chocolate Chocolate Chip Mini-Muffins
When only chocolate will do, these mini-muffins are a perfect way to satisfy cravings. Their red hue comes from finely shredded beets to help boost the nutrition, while fulfilling the need for something sweet. And with only 57 kcal per mini-muffin, it may be OK to even eat more than one.
Makes 48 mini-muffins
Ingredients
11/2 cups whole wheat flour
1/2 cup rolled oats
1/3 cup cocoa
1 tsp baking soda
1/2 tsp baking powder
1/2 tsp salt
2 eggs
1/4 cup canola oil
1/2 cup whole milk
1 tsp vanilla
1/2 cup dark brown sugar
1 cup fresh beets, peeled, and finely shredded
1/2 cup miniature semi-sweet chocolate chips
Directions
1. Mix dry ingredients (whole wheat flour through salt) in a large bowl.
2. Mix the remaining ingredients, except the chocolate chips, in a separate bowl, and then add to dry ingredients all at once, blending completely. Then fold in chocolate chips.
3. Fill mini-muffin tins 3/4 full and bake at 350˚F for 12 to 15 minutes.
Nutrient Analysis per serving (1 mini-muffin)
Calories: 57; Fat: 2 g; Carbohydrates: 8 g; Protein: 1 g; Dietary fiber: 1 g
— RECIPE COURTESY OF SHERRY COLEMAN COLLINS, MS, RDN, LD, PRESIDENT OF SOUTHERN FRIED NUTRITION SERVICES
Oatmeal Apple Bowl
Most people eat oatmeal for breakfast, and some eat it for a midmorning snack. But people can eat oatmeal as a healthful snack anytime of day.
Serves 2
Ingredients
1/2 apple, chopped with peel
1/4 cup steel cut oats (such as Irish oatmeal)
1/3 cup water
1/4 cup plain fat-free Greek yogurt (such as Fage 0%)
1 tsp brown sugar
2 tsp raisins
2 T pecan halves
Sprinkle of cinnamon
Directions
1. Put apple, water, and oatmeal in a large microwave-safe bowl. Water should almost cover apples and oatmeal.
2. Microwave on high for about two minutes until apple chunks are soft and oatmeal is cooked.
3. Stir well and add the yogurt, brown sugar, raisins, and pecans.
4. Sprinkle with cinnamon.
Nutrient Analysis per serving (1 cup)
Calories: 270; Fat: 11 g; Carbohydrates: 35 g; Protein: 10 g; Dietary fiber: 5 g
[Sidebar]
RESOURCES FOR CLIENTS
Helping clients learn about and find seasonal produce can be challenging. Since so many people are disconnected from farm life, they don't know what grows in their area at any given time. The following Internet resources can help clients identify what's in season in their local area. These websites also provide additional recipes and creative ideas for making the most of the harvest.
• http://www.FruitsandVeggiesMoreMatters.org is a resource of the Produce for Better Health Foundation that lists seasonal fruits and vegetables in the United States.
• Nutrition Through the Seasons: Seasonal Produce Guide (http://snap.nal.usda.gov/nutrition-through-seasons/seasonal-produce) includes a list of seasonal produce and links to outside agencies that offer recipes, tips, and handouts for consumers.
• Harvest of the Month: Network for a Healthy California (http://www.harvestofthemonth.cdph.ca.gov) provides handouts highlighting seasonal produce, such as how to prepare and eat the product as well as nutritional information, suitable for teaching children.
• http://www.EatRight.org/Kids provides monthly recipes, making it easy for families to eat seasonally and healthfully.
• USDA's Cooperative Extension Services Agency Offices (http://www.csrees.usda.gov/Extension) is a resource for learning more about local agriculture.
• http://www.LocalHarvest.org helps clients connect with community-supported agriculture in their areas. Members receive a share in a local farm, including a portion of everything grown or harvested.
— SCC