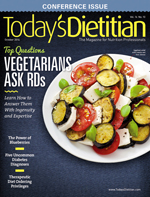 October 2014 Issue
Therapeutic Diet Ordering Privileges: What the CMS Final Rule Says, to Whom It Applies, and What RDs and Other Nutrition Professionals Think About It
By Juliann Schaeffer
Today's Dietitian
Vol. 16 No. 10 P. 48
This past May the Centers for Medicare and Medicaid Services (CMS) issued a final rule that gives RDNs working in a hospital setting the green light to order therapeutic diets independent of a physician order, among other privileges. This is huge and a long time coming, according to many dietitians. To be sure, there are caveats such as hospitals must authorize those privileges for individual nutrition professionals in accordance with state laws, but one stipulation has come to the forefront: In its ruling, the CMS adopted the recommendation of the Board for Certification of Nutrition Specialists (BCNS) urging that these privileges include not just dietitians but also other "qualified nutrition professionals."
When Today's Dietitian posted news about the ruling on its Facebook page shortly after the rule was announced, comments poured in, and readers didn't hold back with remarks ranging from outrage to encouragement. Some saw the inclusion of other nutrition professionals as an affront to dietitians' authority and criticized the Academy of Nutrition and Dietetics (the Academy) for not adequately supporting its RDNs. Others saw the potential influx of non-RDNs in the hospital setting as nothing more than friendly competition that could encourage dietitians to up their game—with patients benefitting from the superior service that such competition can offer.
While opinions ran the gamut, one common question surfaced: Just what is a "qualified nutrition professional" and who determines such? To get to the bottom of this ruling—and to whom it actually applies—as well as what it means for dietitians and the greater dietetics community as a whole, Today's Dietitian reached out to nutrition-credentialing organizations and experts (both dietitians and non-RDNs) to get the pulse of this hot-button issue.
What It Says
As noted below, the final rule states that dietitians and other qualified nutrition professionals are now eligible to write therapeutic diet orders independent of a physician order. "The CMS final rule would save hospitals significant resources by permitting registered dietitians to order patient diets independently, which they are trained to do, without requiring the supervision or approval of a physician or other practitioners," says Rene Ficek, RDN, a dietitian who's also the lead nutrition expert at Seattle Sutton's Healthy Eating.
"The final rule also clarifies that RDNs may be included on the medical staff as they 'have equally important roles to play on a medical staff and on the quality of medical care provided to patients in the hospital,'" she says. "Additionally, privileged RDNs should be able to order nutritional supplements for patients in accordance with state laws and regulations."
However, to obtain these rights, a hospital must grant individuals these privileges based on a medical staff recommendation. "Not every nutrition professional or every dietitian will automatically be able to write independent orders," says Michael Stroka, JD, MS, CNS, LDN, executive director for the BCNS, the organization in charge of certifying the certified nutrition specialist (CNS) credential.
"The ruling clears the way for hospitals to appoint certain nonphysician providers, including dietitians and [other] nutrition professionals, to medical staff without jeopardizing the hospital's Medicare/Medicaid reimbursement," Stroka explains, noting that the law doesn't require any hospital to make such appointments, and all appointments must adhere to state law.
"For example, there can be no staff appointments in states with a regulatory framework that expressly forbid such appointments," he adds. "Probably the more relevant part of the ruling specific to the therapeutic diet order issue is a section that says staff appointment is not a prerequisite for the granting of therapeutic diet ordering privileges. Privileges must be granted in order for the individual nutrition professional or dietitian to write diet orders or order patient labs. If state law dictates, these privileges must also be approved by the hospital governing body and recommended for any individual by the medical staff."
Stroka further explains that this ruling includes two other provisions especially important for nutrition professionals. One relates to ordering labwork and says dietitians or other qualified nutrition professionals (who are privileged) can be granted the right to order labwork that assesses nutritional status or response to dietary intervention. "But this right is not automatically mandated by the ruling," he says. Moreover, he notes that the ruling allows for those qualified to provide and bill for telehealth services under specific circumstances and related to underserved areas.
Even the potential to have all of these privileges is a huge win for dietitians, and something many say is long overdue. "As many dietitians would say, this ruling has been a long time coming," Ficek says. "I think many dietitians, including myself, never fully understood this limitation in the clinical setting. We have always been the qualified health professional to prescribe therapeutic diets, but unfortunately have not lawfully been given that privilege until now. The only downside to this ruling is that it didn't happen earlier."
Dietitians aren't the only ones feeling that sentiment. Rao Ivaturi, PhD, CNS, director of the Nutrition Center for Disease and Weight Management in Indiana, also believes this ruling is long overdue. "It allows for nutrition experts who are trained to investigate and establish causal relationships between nutrients/diet and disease to participate in the dissemination of that firsthand info to patients," he says. "Hitherto, patients did not have access to that wisdom.
"This ruling is a win-win-win," he continues. "A win for patients, a win for mitigating the burdens of health care costs, and a win for the physicians who now can depend on a knowledgeable cadre of individuals that can assist them in achieving important outcomes in hospital inpatients."
According to the CMS final rule, the goal of this provision was to provide flexibility for hospitals and more efficient patient care: "Our intent in revising the provision was to provide the flexibility that hospitals need under federal law to maximize their medical staff opportunities for all practitioners, but within the regulatory boundaries of their State licensing and scope-of-practice laws. We believe that the greater flexibility for hospitals and medical staffs to enlist the services of non-physician practitioners to carry out the patient care duties for which they are trained and licensed will allow them to meet the needs of their patients most efficiently and effectively."
Nhu Huynh, RD, CSO, CNSC, director of nutrition for Cancer Treatment Centers of America at Eastern Regional Medical Center in Philadelphia, believes the final rule will do just that. "This ruling is very exciting for our profession," she says. "This is the first step forward on a national level to recognize nutrition as the necessary profession to provide clinical support to patients in need."
Stroka agrees: "The ruling is intended to update regulations that imposed regulatory impediments to providers of nutrition care to hospitalized patients. In the case of therapeutic diet ordering, the former requirement that diet orders be given only by the physician in charge of patients' care delayed nutrition management. This is a needless delay since the physician is often not the person who is most knowledgeable about the nutrition needs of patients. And reducing the physician's need to sign diet orders will save time and money."
The Academy also is applauding this new rule and what it will mean for health care efficiency gains. In a news release following the announcement of the final rule in May, then Academy President Glenna McCollum said the following: "CMS' new rule will eliminate burdensome and superfluous regulations that are adding to our nation's health care costs. Allowing registered dietitian nutritionists to independently order therapeutic diets and monitor and manage dietary plans for their hospital patients will save the country hundreds of millions of dollars and also help hospitals provide better multidisciplinary care." Streamlining the health care process, the news release indicates, allows practitioners to focus on providing patients the highest quality of care.
Today's Dietitian contacted the Academy for a statement concerning the inclusion of non-RDNs in the final rule and what this might mean for its members and the dietetics profession as a whole, but they declined to comment. Based on statements in its press releases, the Academy is focusing on ways its members will benefit from these new privileges. For Academy members looking for specifics on how they should proceed with obtaining these privileges, the organization offers helpful resources and FAQs about the ruling on its website.
To Whom It Applies
While the new ruling seems to be a clear win for qualified nutrition experts, the original questions remain: Who is a qualified nutrition professional? And should any credential outside of the RDN be considered qualified for such hospital privileges?
Basically, the hospital and state decide who is qualified. The language of the final ruling, while it clearly extends these privileges beyond dietitians, doesn't define what makes a nutrition professional qualified. So can anyone call herself or himself a qualified nutrition professional? It's possible, since anyone can launch a website and provide nutrition advice with little to no credentials to back them up. However, that doesn't mean a person without valid credentials will be seen as qualified by any hospital or even any state. While it remains to be seen just how a qualified nutrition professional will be defined, it will be hospitals and states that will be doing the actual defining (and vetting) of potential nutrition personnel.
"Of major importance to nutrition professionals is that this ruling clearly identifies qualified nutrition professionals who are not registered dietitians and gives them equal consideration as service providers in hospitals," Stroka says. "Hospitals have always generally been free to hire whomever they deem qualified, but this ruling states unequivocally that the ruling did not apply exclusively to registered dietitians even when the term 'dietitian' or the initials 'RD' were used in the ruling."
For RDNs who may feel the Academy didn't go to bat for them, it should be noted that the Academy did request that the CMS give only RDNs the right to provide the hospital services specified in the ruling. In the end, however, the CMS rejected that request, opting for a more inclusive approach.
According to the final ruling, CMS stated the following: "We agree with commenters that the regulatory language for § 482.28 should be inclusive of all qualified nutrition professionals. We do not agree with commenters who requested that we use the term 'registered dietitian' or define 'qualified dietitian' as an individual specifically registered with the Commission on Dietetic Registration. We agree that a more flexible approach would be the best way to ensure that patients benefit from the improved quality of care that these professionals can bring to hospital food and dietetic services."
So this rule applies to all nutrition professionals who are individually privileged by the hospital in which they work—with any diet ordering privileges applied to their work in those hospitals only, Stroka says.
The second question, regarding which credentials make an expert qualified to give nutrition advice, remains subjective. A spectrum of nutrition credentials exists today and arguably the RDN credentialing standards may not be the most stringent of them all. The American Nutrition Association lists on its website the requirements necessary to attain a handful of the most common nutrition degrees sought today.
Three distinct nutrition credentials require extensive coursework, internships, and an exam, the RDN among them. In addition to passing an exam, the RDN credential requires a four-year bachelor's degree with 900 to 1,200 hours of experience accrued through a dietetic internship. The CNS credential involves passing an exam administered by the BCNS and completing a 1,000-hour internship program, yet instead of a bachelor's degree, it requires a master's or doctoral degree and advanced nutrition training. To become a certified clinical nutritionist (CCN), one must attain a four-year bachelor's degree, 900 hours of internship experience, 50-plus hours of postgraduate study in clinical nutrition (or a master's degree in human nutrition), and pass an exam administered by the Clinical Nutrition Certification Board.
There also are much less-intensive paths to acquiring nutrition credentials, such as the certified nutritional consultant (CNC), which can be attained after completing one open-book exam, or the certified nutritionist (CN) credential, which requires passing an exam after a six-course program.
Because the CMS rule doesn't specifically exclude any of the above—or even other credentials that require less rigourous coursework—it's up to states and individual hospitals to determine who's appropriately trained and skilled to provide sufficient nutrition care. According to Stroka, this is a good thing. "Giving the explicit nod to hospitals to allow non-RD nutrition professionals to be equivalently privileged provides a path for a broader range of professional backgrounds among providers of nutrition care in hospitals," he says. "This is great for patient care in the near term but also encourages more innovation in how nutrition care is utilized as part of hospital health care."
Kim Ross, MS, CNS, IFMCP, a clinical nutritionist in private practice and an instructor at Utica School of Commerce in New York, is enthusiastic about this ruling for a couple reasons. "First, it opens up opportunities to individuals, like myself, to seek employment in the hospital settings," she says. "Second, and more importantly, CMS is recognizing that there are other clinically qualified nutrition professionals, outside of RDs and RDNs, who are able to prescribe therapeutic dietary and nutritional recommendations for the improvement of health."
With the ruling deferring to state and hospital guidelines, Stroka admits that the specifics of exactly how this ruling is applied across the health care spectrum remains to be seen, but he says the BCNS already has received calls from hospital administrators looking to fill nutrition positions since the ruling was announced.
What It Means
Stroka may feel confident that the language of the final ruling will effect only positive outcomes, but there's some apprehension among a subset of RDNs of what's to come. "My main concern is interpretation of the 'qualified nutrition professional,'" says Gina Jarman Hill, PhD, RD, LD, coordinated program director and an associate professor of sciences at Texas Christian University.
"Those providing care in the hospital settings still must meet the state requirements. However, in states where RDs are not fully recognized to the extent that they should be or if for some reason RDs lost their foothold in a state, then in theory the hospital doors could open to those other nutrition professionals who were not rigorously qualified to provide nutrition care in a hospital setting.
"This could absolutely impact patients in a negative way," Hill continues. "Our hospital administrators must be educated about how RDs are uniquely qualified to provide care in order to protect patients."
Huynh agrees that the open-ended language in the final ruling could be problematic. "Determining who is considered a 'qualified dietitian' or 'qualified nutrition professional,' is ultimately left to each states' discretion to define, which could result in patient safety and care concerns," she says. "In addition, without a clear definition, which some states do not currently have, anyone could consider themselves a nutrition professional. This could potentially open the door to someone who is not properly credentialed to obtain hospital privileges and be responsible for caring for critical patients. We need more of a safety gate for our patients as well as for the integrity and reputation of our profession."
According to Ficek, RDNs' concerns about the ruling's language could end up being much ado about nothing. "There currently is no federal law or regulation that grants RDNs the exclusive ability to provide nutrition services in hospitals," she says. "Similarly, CMS' new rule does not add or eliminate any perceived exclusivity. Expanding the language to include other nutrition experts will not make an impact on qualified dietitians, hospitals, or patient care. I believe hospitals will continue to consistently hire RDNs because of their qualifications, education, and training."

RDNs aren't the only ones with concerns, albeit different ones, regarding this ruling. Meryl Gorge, MS, CNS, a nutrition specialist in Indianapolis, has read the expanded language that includes non-RDN professionals in the final rule—but she's not holding her breath for any new hospital opportunities just yet.
"Although I have read the ruling, it remains to be seen what impact there will be," she says. "It potentially allows nutrition professionals more leeway to do their job within the hospital. But each hospital/hospital group will have to decide whether they want to allow the broader scope of responsibility for nutrition professionals. Furthermore, it's a longstanding tradition to only use [dietitians] with AND training that it may be a long time before many hospitals expand the employment standards."
Even with the uncertainties, some dietitians see more of the upside to this legislation and a reason to celebrate. "I think this is purely positive," says Lauren Elkins, RDN, director of nutrition at Marina Del Rey Hospital in California. "It can increase our workload but hopefully that will be recognized and taken into consideration for staffing ratios. We are here for the patients, and anything that can better their outcome is a win-win."
While Elkins says adding non-RD nutrition professionals to the health care team should be done with caution, she thinks it's doable. "RDs have worked very hard to earn their title," she says. "There is a lot of quackery in the nutrition industry, and RDs are constantly working to educate people. Any other nutrition professionals need to have a strong background to represent the career appropriately. But as long as [other nutrition professionals] are educated to the same level as an RDN/LD [licensed dietitian], I don't see any potential negative impacts [to patient care]."

As a non-RD with an extensive background in nutrition, Ross says hospitals and patients would benefit from employing knowledge and dietary plans from a variety of professionals. "Nutrition should not be treated any differently than the rest of the medical world," she says. "There are MDs, PAs [physician assistants], RNs [registered nurses], NPs [nurse practitioners], and other health care professionals who provide very specific services and expertise to the patient. Likewise, there are nutrition professionals, such as CNSs and RDs, who provide varying levels of care for the patient. We should be embracing the idea that we can all work together and learn from each other in order to best help the patient.
"I personally feel that this is a move in the right direction to recognize that there are many nutrition professionals available to impact the health of patients," Ross continues. "I worked very hard to complete the master's program in applied clinical nutrition, a requirement to sit for the CNS exam, in addition to completing 1,000 hours of supervised clinical experience. We [CNSs] are now being recognized for our knowledge and expertise that we can bring to patients in a hospital setting. I hope the CMS ruling brings awareness to other groups, medical professionals, and patients about the varying degrees of knowledge that the entire nutrition field has to offer."
Ficek has high hopes for what this ruling will mean for RDNs in particular and patients as a whole. "With this change will come the advancement of the dietetics profession and a higher respect from other clinical professionals," she says. "As dietitians are able to be more clinically involved with ordering therapeutic diets and monitoring patient tolerance via nutrition-specific labs, the quality of patient care will improve.
"No longer will dietitians have to spend time trying to contact doctors to request a diet change," she continues. "The attention and time spent on tracking down physicians can now be used caring for patients and improving the quality of nutrition care. Dietitians will now have the ability to specifically tailor diet needs on a day-to-day basis. Diet-ordering privileges enhance the dietitians' ability to provide cost-effective and evidence-based nutrition services in a timely manner."
And as quality of care improves, Ficek says, so do outcomes, which could then increase the need and demand for more clinical dietitians. "I believe this ruling to be just the start of something wonderful," she says.
Hill agrees that the ruling is a great opportunity for dietitians and patient care. "This final rule allows forward-thinking hospitals to quickly respond to each individual patient's nutritional needs by allowing the RDs to implement the care that they are especially trained to do," she says. "Therefore, patients would be provided with the best nutrition care plan for them rather than waiting for the members of the health care team to communicate, agree, and finally implement the plan."
While it is not perfect, Huynh says, by and large, this ruling is still something RDNs can cheer about. "The CMS ruling is essentially a recommendation to give hospitals the authority to include RDNs on medical staff," she says. "The ability to write therapeutic orders is a very important first step from the national perspective and certainly opens new doors for the profession. However, since the ruling isn't required to be implemented at the state level, there is still work ahead to allow RDNs to perform at the height of their competencies."
— Juliann Schaeffer is a freelance writer and editor based in Alburtis, Pennsylvania, and a frequent contributor to Today's Dietitian.
[Sidebar]
MORE STATES ALLOW NON-RDS TO OFFER SERVICES
A trend is building in the dietetics field: More opportunities are becoming available for a wider range of nutrition professionals to provide counseling services state by state.
On the heels of the recent Centers for Medicare and Medicaid Services final rule, which allows all qualified nutrition professionals to have the same hospital privileges as RDs, Rick Snyder, Michigan's governor, signed legislation to repeal the state's licensure law that prevented a broad range of nutrition professionals other than RDs to practice individualized counseling.
According to Michael Stroka, JD, MS, CNS, LDN, executive director of the Board for Certification of Nutrition Specialists, the organization in charge of certifying the certified nutrition specialist credential, the now-repealed Michigan law enabled all RDs to automatically be licensed by virtue of being an RD and applying for licensure, while no other nutrition care providers would qualify unless they pursued training based on the dietetics' model. "All other [non-RD] nutrition professionals unable to obtain licenses would have been barred from meaningful nutrition practice," he says.
Stroka says this repeal will provide the opportunity for RDs and all nutrition providers in the state to compete on a level playing field, "and continually improve their skills and services to succeed in a competitive market for nutrition services." It's about providing the public the choice of whom to consult for any range of nutrition services—something he says the overwhelming majority of people prefer.
Michigan isn't the only state taking on nutrition matters. "Since 2011, 13 states [California, Colorado, Hawaii, Illinois, Indiana, Michigan, North Carolina, New Jersey, Nevada, New York, Virginia, West Virginia, and Wisconsin] have created bills relating to dietetics and nutrition regulation," Stroka says. Noting that the content of such laws varies, he says some seek to do the following:
• enact licensure in states where none existed;
• change certification to licensure or title protection to exclusive scope or both; and
• repeal existing laws that heavily favored licensure of RDs over non-RDs.
"None of these states passed a bill to increase barriers to entry for nutritionists with non-RD credentials," says Stroka, who also referenced an Illinois law that was amended in 2013 to recognize a broader pathway inclusive of credentials other than the RD.
Nhu Huynh, RD, CSO, CNSC, director of nutrition for Cancer Treatment Centers of America at Eastern Regional Medical Center in Philadelphia, is wary of what such a trend in legislation will mean for how her RD credential will be perceived in years to come—but she's also concerned for the safety of her patients. "As licensed registered dietitians, we're taught conventional nutrition practices as well as the foundations of science behind the practices," she says. "Obtaining these certifications and trainings not only recognizes RDs as specialists, but it helps ensure the safety of our clients and patients. This repeal seems to diminish the weight and importance of obtaining these difficult certifications. If this continues to become a trend in other states, it could become less safe for patients and clients to receive nutritional support."
Such legislation isn't about downgrading the RD credential, Stroka says, but ensuring an environment that doesn't create barriers for those trained outside of dietetics. "Even if a nondietitian nutritionist is allowed to practice, the inability to attain a state credential when one exists can be an obstacle to qualified practitioners from having their services covered by insurance," he says.
While Huynh admits and appreciates that the nutrition field offers many opportunities for people to practice in a variety of settings, she emphasizes that appropriate training is imperative to providing safe, effective care. "RDs and RDNs will want to ensure that their patients and clients are receiving the expertise and care they need and deserve," she says. And according to Huynh, that starts with knowing that all qualified nutrition professionals are just that—qualified to the tune of having patients' best interests in mind along with sufficient clinical experience and expertise to provide competent care.

Ensuring there are legitimate professional organizations to back up any nutrition credentials with research-based nutrition know-how is essential toward that end, she says: "It's important for accredited organizations that follow sound scientific evidence to exist and ensure that our society gets the necessary and appropriate nutritional intervention."
— JS