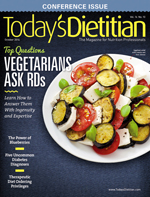 October 2014 Issue
The Rise of Supermarket RDs
By Beth W. Orenstein
Today's Dietitian
Vol. 16 No. 10 P. 12
More chains are hiring dietitians to counsel shoppers and achieve a competitive edge.
The average woman sees a physician twice per year. That same woman goes to the supermarket two or more times per week. Barbara Ruhs, MS, RDN, LDN, owner of Neighborhood Nutrition.com, a Phoenix-based consulting business specializing in food and health marketing communications and brand strategy, cites that comparison when explaining why a supermarket dietitian can be as valuable to a family's health as its health care provider. Healthful eating is key to warding off many diseases, and many health conditions require special diets. The supermarket dietitian can help shoppers make the best choices for their families, says Ruhs, who was the RD for an Arizona-based supermarket chain before opening her consulting business.
Grocery stores employing RDs is nothing new. Wegmans, based in Rochester, New York, added its first dietitian to its staff in 1988. However, as healthful eating takes center stage, more grocery stores are investing in not just one or two RDs for their corporate headquarters but are hiring a staff of RDs and deploying them to their stores. "I can comfortably say that many supermarkets today have some RDs—corporate, regional, or contract," says Meredith Mensinger, RD, LDN, a corporate dietitian for Redner's Warehouse Markets based in Reading, Pennsylvania. Nearly 40% of supermarket executives who responded to a Progressive Grocer survey last year reported they had an RD on staff. Mensinger says she acquired her job with Redner's because another supermarket had an RD and Redner's brass decided, "We have to get one, too." Ruhs says Wal-Mart, Costco, and most small independents—the majority of supermarkets—don't have RDs, but it's becoming "a growing trend."
An Expanding Profession
Mensinger told attendees at the Pennsylvania Academy of Nutrition and Dietetics' annual conference in Bethlehem in April that along with an increase in the number of supermarket dietitians has come an expansion of their duties. "There are no two of us who has the same job," says Stephanie Schultz, MSM, RDN, CD, health and wellness director for Skogen's/Festival Foods, an 18-store chain based in Green Bay, Wisconsin.
Today's supermarket dietitians do everything from conducting food demonstrations and store tours to working with retailers and store managers to identify and label healthful choices on store shelves. When Ruhs was a supermarket dietitian, she implemented a shelf-labeling program so shoppers could easily identify heart-healthy and low-sodium options. Writing concise consumer education marketing pieces also was a big part of her job. Ruhs also started the stores' social media platform. "Now most retailers have a social media platform, and supermarket dietitians might have their own Twitter account and use them to alert customers to healthier options or newer products," she says.
Mensinger believes supermarkets will continue to hire RDs, because they see them as a competitive advantage in the slim-margin world of groceries. "Having an in-store supermarket dietitian is a way to differentiate yourself from the competition and is a key to retailer success," she says. If shoppers have questions such as "I'm on a gluten-free diet. Can I eat this?" they know there's someone in the store they can ask and get a reliable answer, so they're more likely to go back to that store again and again, she says. Schultz says Skogen's dietitians don't provide in-store one-on-one counseling like some markets do but they will answer consumers' questions on the stores' website at http://eatwell.festfoods.com/ask-our-dietitians. Ruhs agrees that having a supermarket dietitian to assist shoppers is "customer service on steroids."
Conventional supermarkets can compete with Whole Foods Market by hiring RDs and promoting their services in helping shoppers make healthful choices, Ruhs says. The conventional grocery store may sell as many healthful foods as chains such as Whole Foods, which is known for organic and natural products, but it's not as obvious to shoppers. "If the supermarket hires dietitians, it's the first step in making that impression," she says.
While supermarket RDs can be a real asset, supermarkets need to do a better job promoting their services, says Mensinger, who serves all 45 stores in the Redner's chain. "If you're going to have a registered dietitian on your staff, obviously it's only going to benefit the retailer to put it out there that such a person is available," she says. When customers meet Mensinger and say, "I didn't know Redner's had a dietitian," it's as annoying to her as scraping nails on a chalkboard, she says. Her photo is in Redner's weekly circular, and her face is on its homepage at http://www.rednersmarkets.com. She also publishes a health and wellness magazine tailored to Redner's customers that's available in store and online for free. Mensinger told the conference attendees: "Make sure you have a presence out in the store and people know who you are. If you're there, you're only going to be successful if shoppers know you're to be used as a resource."
The role of a supermarket dietitian isn't for someone who wants a nine-to-five job and who isn't willing to work in the evenings or on the weekends, Schultz says. At her store, the dietitians rotate weekends when they must answer questions on the website. Because it's retail, "you work with people on irregular shifts, people shop at all times of the day, and it's an industry in which people often want things yesterday," she says.
Schultz also says the job is ideal for RDs who thrive on change. "You have to keep up with the flavor of the week because it literally can change from week to week," she says. And you need to handle the pressure. As the only RD for Redner's 45 stores, Mensinger says her job can be very stressful at times. "Being the only one, sometimes I just have to say 'no' to some requests for our nutritionist because I'm so busy," she says.
How do you get a job as a nutritionist with a supermarket? While the numbers are increasing, it's very competitive, Mensinger says. Some supermarkets want dietitians who not only have clinical experience but also experience working with the community and making public appearances. Ruhs believes having a background in public health is very helpful. "The job of a supermarket nutritionist is a community nutrition type of job," she says.
Schultz recommends networking. "As with any job, but supermarket dietitians in particular, it's not what you know but who you know. In this world, it's that much more important."
Mensinger agrees: "The more you put out there what you're looking for to any of your colleagues, coworkers, and your local dietetic association, the greater the likelihood you'll know if something is available. This job just fell into my lap." Mensinger landed her job with Redner's five years ago after a friend saw a posting about it by the Pennsylvania Academy of Nutrition and Dietetics and called her attention to it in an e-mail. Mensinger says she was ready for a change and has loved every minute of her job. "I was head over heels when I started this job and still am today," she says.
Schultz recommends learning about the stores where you want to work before reaching out to them. Becoming a member of the Retail Dietitians Business Alliance also is a good idea, Schultz says. It has a spot on its website that connects members with career opportunities and talent. Retailers looking for RDs post job openings, and RDs interested in working for retailers can post information to make connections happen. "It's a great way to reach people and ask questions," Schultz says. 
Compensation for supermarket dietitians can vary. Schultz believes most stores pay comparable, if not better, salaries than those of staff nutritionists in health care settings. "You certainly can do well," she says. "But it's hard to say because it's a really touchy subject and an area that most avoid talking about." The size of the retailer can impact your compensation, too, Schultz says.
— Beth W. Orenstein is a freelance health writer living in Northampton, Pennsylvania.