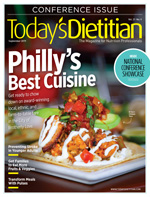 September 2019 Issue
Culinary Corner: Get Trendy With Farro
By Jessica Ivey, RDN, LDN
Today's Dietitian
Vol. 21, No. 9, P. 66
Clients can try this ancient grain in a delicious salad.
Ancient grains—including fiber-rich whole grains such as amaranth, buckwheat, millet, and spelt—have been trending for several years and offer a host of potential benefits. September is Whole Grains Month, making it the perfect time to educate clients on the health benefits and preparation of these nutritional superstars.
Americans of all ages and sexes fall far below the recommended intake level for whole grains and consume too many refined grains.1 I've found clients are generally familiar with whole grain breads, cereals, and pastas but are unaware of the plethora of opportunities available to incorporate whole grains into dishes. Hosting a grocery store tour can be especially useful for exposing clients to whole grain options, or you can set up a grain tasting at a health center or other gathering place. Serve various cooked whole grains in sample cups alongside recipe cards. A cooking class allows time to demonstrate how to turn cooked whole grains into balanced dishes that clients can incorporate into their weekly meal plans.
One of my recent favorite ancient grains is farro, which refers to three different wheat varieties—einkorn (farro piccolo), emmer (farro medio), and spelt (farro grande).2 These ancient grains were first cultivated in modern-day Jordan as early as 10,000 BC and have retained popularity in Italy.3 Emmer, the variety typically sold in the United States, is high in protein and fiber, providing about 7 g of each per 1/4-cup dry serving. Farro usually is cooked in simmering water for 30 minutes and has a chewy, nutty texture that fares well in soups, casseroles, and salads. For a simpler approach, farro also can be cooked in a slow cooker in about one and a half hours on high power or in an Instant Pot in about 12 minutes at pressure. Farro freezes well, so clients can cook a large batch and freeze it in one-cup containers for fast future meal prep.
This nutrient-dense salad would be well suited for a tasting or cooking class or a fall dinner party.
— Jessica Ivey, RDN, LDN, is a dietitian and chef with a passion for teaching people to eat healthfully for a happy and delicious life. Ivey offers approachable healthful living tips, from fast recipes to meal prep guides and ways to enjoy exercise on her website, JessicaIveyRDN.com.
References
1. US Department of Health and Human Services; US Department of Agriculture. 2015–2020 Dietary Guidelines for Americans. 8th Edition. http://health.gov/dietaryguidelines/2015/guidelines/. Published January 7, 2016.
2. van Slageren M, Payne T. Concepts and nomenclature of the farro wheats, with special reference to emmer, Triticum turgidum subsp. dicoccum (Poaceae). Kew Bull. 2013;68(3):477-494.
3. Toussaint-Samat M. A History of Food. New York, NY: Barnes & Noble Books; 1998:118.
Recipe
Farro Salad With Roasted Winter Squash and Pears
Makes 8 1-cup servings
Ingredients
1 cup uncooked farro
1/2 tsp salt, divided
1 butternut squash, about 1 1/3 lbs
1/4 cup plus 1 1/2 T olive oil, divided
3 tsp maple syrup, divided
1/4 tsp pepper, divided
2 T apple cider vinegar
1 tsp Dijon mustard
4 cups packed fresh baby spinach or arugula
1 small ripe pear, thinly sliced
1/4 cup chopped walnuts, toasted
Directions
1. Preheat oven to 400° F.
2. Cook farro according to package directions; stir in 1/8 tsp salt. Cool slightly.
3. While farro cooks, pierce squash several times with a knife. Microwave on high power for 1 minute. Cut squash in half, and remove seeds. Peel squash, and cut into 1-inch chunks. Toss squash with 1 1/2 T olive oil, 1 tsp maple syrup, 1/4 tsp salt, and 1/8 tsp pepper on a large baking sheet. Bake 20 minutes or until tender, stirring once. Cool slightly.
4. In a large bowl, whisk together vinegar, 2 tsp maple syrup, mustard, 1/8 tsp salt, and 1/8 tsp pepper. Drizzle in 1/4 cup olive oil while whisking. Add cooked farro, stirring to coat. Add roasted squash, spinach, pear, and walnuts, and toss gently.
Nutrient Analysis per serving
Calories: 230; Total fat: 12 g; Sat fat: 1.5 g; Total carbohydrate: 28 g; Sodium: 200 mg; Dietary fiber: 4 g; Sugars: 5 g; Protein: 5 g