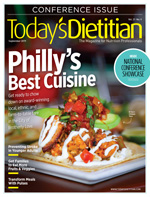 September 2019 Issue
The Power of Pulses
By Sharon Palmer, MSFS, RDN
Today's Dietitian
Vol. 21, No. 9, P. 38
Thanks to culinary innovation and a newfound appreciation for all that's plant based and sustainable, pulses are making a splash on consumers' plates.
As dietitians, we've watched food trends come and go—for better and for worse. So, when something both nutritious and health protective is right on trend, dietitians have reason to rejoice. And the subject of this celebration is pulses, which are having their moment right now. This plant food group has stood the test of time, and pulses are now poised at the cutting edge of today's demand for foods that are sustainable, versatile, innovative, plant based, healthful, and of course, delicious. Pulses—including lentils, dried peas, and dried beans—are front-loaded with everything a dietitian needs to promote good nutrition and health. There's never been a better time to help consumers transform the plate with pulses—for their health, as well as the health of the planet.
What's Old Is New Again
Since the first human civilizations rose up, pulses have been at the very cornerstone of healthful, traditional diets. In fact, pulse cultivation dates back at least 11,000 years, according to evidence found in caves in Thailand and Egyptian tombs. Indeed, humans have been gathering and cultivating pulses for sustenance as far back as we can trace. Easy to grow, with a long storage life and abundant versatility, it's no wonder pulses are deeply rooted in cultural cuisines around the world. Just look to black-eyed peas in the southern United States, black beans in South America, chickpeas in the Middle East, and lentils in India for a few examples of the rich marriage between pulses and cultural traditions all over the planet. Nearly every culture has a pulse at the backbone of their diet pattern.
While pulses have been important historically, they're also having a resurgence in the modern era, playing an important role in several modern healthful eating patterns, including the 2015–2020 Dietary Guidelines for Americans' recommended Healthy Vegetarian, Healthy US-Style, and Healthy Mediterranean eating patterns.1 The Mediterranean diet in particular always has highlighted pulses, featuring them in countless dishes, such as hummus, falafel, bean soups, pasta with beans, and bean salads. These are iconic examples of the healthful and delicious role of pulses in this centuries-old way of eating, which is linked with lower risk of chronic disease. Perhaps equally significant is the role of pulses in the plant-based diet trend, where they provide a key protein-rich option for flexitarian, vegetarian, and vegan diets.
How Much Is Enough?
So how many pulses should dietitians recommend to clients? The Dietary Guidelines and USDA My Plate suggest consumption of pulses in both the vegetable and protein groups. In the first group, the recommendation is for a variety of vegetables from all of the subgroups—dark green, legumes (beans and peas), starchy, and other, with one to two cups of the beans and peas subgroup per week for adults, depending on age and gender. Pulses also are included in the protein group, where 1/4 cup cooked is equal to 1 oz protein, and an overall recommendation of 1 1/2 cups of pulses per week is suggested within a 2,000-kcal diet pattern.1,2
With increasing knowledge of how a plant-forward diet provides important health and environmental benefits, pulses are an excellent alternative recognized by the Dietary Guidelines. In addition to taking the place of animal proteins on the plate, pulses can extend meat when used in combinations and blends, such as the "one-third rule" of pairing pulses with meat, poultry, or fish to reduce animal foods for cost, carbon footprint, and nutrition. For example, a blend of beans with ground beef can extend dishes such as spaghetti sauce, tacos, meatloaf, and burgers.
Benefits of Beans
There are clear health benefits for including more pulses. One of the most nutrient-rich plant foods, a 1/2-cup cooked serving of pulses provides at least 20% DV of dietary fiber, folate, and manganese; at least 10% DV of protein, potassium, iron, manganese, and copper; 6% to 8% DV of selenium and zinc; and a rich supply of phytochemicals, including alkaloids, flavonoids, saponins, tannins, and phenolic compounds. In addition, pulses are low in fat (seven times less fat than pork), high in protein (double the protein of quinoa), and full of fiber (four times more fiber than brown rice).3 In addition, regular consumption of pulses is linked with several health benefits, including lower blood cholesterol levels, lower body weight, higher intakes of dietary fiber, and lower rates of heart disease, hypertension, diabetes, and some types of cancer.4
What's more, pulses are healthful for the planet. They're among the most sustainable of foods, with one of the lowest carbon footprints of any food group. Naturally drought tolerant, pulses can grow in harsh environments with lower water use; thus, they have an impressively tiny water footprint. Compared with the estimated 1,857 gallons of water needed to produce 1 lb of beef, 469 gallons/lb for chicken, and 216 gallons/lb for soybeans, pulses require a mere 43 gallons/lb.5 In addition, pulses are nature's fertilizer, enriching the soil through fixing nitrogen, which reduces the need for synthetic fertilizers. Because one-half of the world's pulse production happens in developing nations, growing pulses also aids food security, helping to fight poverty. This, as well as costing as little as 10 cents per serving, is especially vital with the need for a 70% increase in agricultural production by 2050.5
Hot Pulse Demand on the Menu
Beyond human and planetary health, pulses are pleasing to the palate and the hottest new trend on the plate. Indeed, pulse consumption is on the rise. According to the USDA, the harvest increased by 17%, production by 29%, and the percent change in per capita use by 28% in the last decade. Just look to the popularity of chickpeas, starring in crowd-pleasing hummus, falafel, curry dishes, power bowls, and beyond. Usage of chickpeas was up to 1.85 lbs per person in 2017, from 1.21 lbs per person just one year earlier, and acreage of chickpeas planted was up 53% in 2017 compared with 2016.
As a result, chefs are putting pulses on the menu in creative, innovative, and definitively delicious ways, giving diners more interesting meat-free choices, from lentil burger sliders to chickpea pancakes to black-eyed pea hummus. Not surprisingly, the trend is trickling into all culinary and cooking arenas, such as hospitals, schools, and cafeterias. Surveys show that beans, chickpeas, and lentils are increasingly being included on foodservice menus, as well as being recognized and liked by consumers.
Moreover, pulses are wending their way into home kitchens. Not only are they economical but they're also simple to store and can be easily cooked and refrigerated or frozen for future consumption. There also are more pulse products offered in the refrigerator and freezer sections of markets, such as bean burgers, chickpea masala dinners, and prepared refrigerated beans and lentils. Home preparation has never been easier. Adding pulses to salads, as well as to the trendy sheet pan meal, skillet meal, and bowl meal preparations provides simple meal solutions. In addition to the traditional soak and cook method of beans, some pulses, such as lentils, are quick cooking, requiring no soaking and about 15 minutes to cook. The quick-soak method (bring beans and water to a boil, remove from heat, and soak one hour), as well as slow cookers and the Instant Pot, make cooking pulses at home even more convenient.
Adding to the pulse buzz is how they check the boxes for so many consumer buzzwords: gluten-free, vegetarian, vegan, economical, allergen friendly, and earth friendly. They also fit into the desirable genre of comfort food classics (think chili, tacos, and baked beans), global foods (Swedish split pea soup, dal, and Caribbean red beans), and blending of meal occasions, even snacking and desserts (black bean brownies, bean chips, and roasted chickpeas).
Transform the Plate With Pulses
Now is the perfect time for RDs to help clients and patients transform their plates to include more pulses for good health and vitality. Here are a few strategies to get you started.
• Download the Pulses RDN Toolkit from USAPulses.org to receive valuable tips, strategies, recipes, content, handouts, and suggestions for promoting pulses in your setting, whether you work in foodservice, public health, private practice, supermarket nutrition, or clinical dietetics.
• Create food and nutrition content starring pulses for fliers, magazines, websites, classes, and blogs on a variety of topics, such as bean basics, cooking basics, plant-based eating, sustainable or earth-friendly cooking, and the Mediterranean diet.
• Request your clients' favorite pulse recipes for roundups or contests to engage and involve clients.
• Create recipe cards and handouts highlighting pulses, such as "Top Tips for Heart Health," "Tips for Preventing Type 2 Diabetes," and "Strategies to Save Money and Time."
• Promote the Half-Cup Habit, the campaign to raise awareness of pulses. The four-week challenge to "Just Add Pulses" makes it simple to add 1 1/2 cups of pulses per week (or 1/2 cup three times per week). People can sign up at Pulses.org for quick and healthful recipes delivered to their e-mail inbox, along with preparation tips, a digital cookbook, and ways to win prizes.
• Create a promotion featuring pulses—incentives always pique interest and participation. Try a recipe contest with a prize for the winner, pass out samples with recipe cards, plant beans with children for Earth Day, participate at health fairs with pulse recipes, host a grocery store tour in the pulse section, create a pulse nutrition workshop, or teach a bean boot camp.
• Partner with businesses or organizations to start an employee wellness program using the Half-Cup Habit campaign.
• Celebrate the seasons with pulses. Use the seasons and holidays to inspire pulse consumption, such as Fourth of July bean salads, fall comfort food slow cooker meals, and Christmas plant-based menu options. Don't let Earth Day pass without a positive sustainability message. Spring and summer mean outdoor eating, picnics, and grilling, which call for bean salads, hummus, pulse snacks, and veggie burgers. Fall and winter kick off back-to-school and cooler temperatures, signaling it's time to promote packable plant-based lunch options, such as sandwich and wrap fillings, bars, and soups. With the cold weather, go with slow cooker and Instant Pot recipes such as soups, stews, chili, chickpea masala, baked beans, and lentil Bolognese for comfort food appeal.
• Engage in social media. Social media is a must for dietitians who want to keep abreast of hot topics and trends. Get inspired by Pinterest and Instagram to see what's trending, such as bowls, aquafaba, vegan recipes, meal prep, colorful foods, toppings, spices, and heirloom beans. You also can try making and posting videos of your demos, cooking guides, meal tips, interviews on health benefits, and hacks. Don't forget to create and use hashtags for buzzwords so you can connect others to your topics and help them find your posts. Try #lovepulses, #halfcuphabit, #plantprotein, #pulseforward, #beans, #lentils, and #plantforward to make great connections. If the opportunity presents itself, television demos or segments are another great way to spread your message.
Demos and Workshops
Dietitians can showcase pulses with culinary demos and workshops to emphasize their healthful properties, nutrition, and versatility. In addition, RDs can break through any misconceptions and barriers people may have, such as confusion about cooking methods or concerns about gastrointestinal distress. The following are some cooking demo and nutrition class suggestions to get you started:
• Teach a dried beans basics course. Introduce soaking (overnight and quick-soak) methods and cooking methods that include a pressure cooker, slow cooker, and Instant Pot. This could lead to several recipes using beans, such as bean salads, beans and rice, or bean dips.
• Lead a Mediterranean cooking class. Home in on the color, flavor, and texture of pulses in a variety of healthful, flavorful Mediterranean recipes, such as bean salads, bean stews and soups, pasta dishes, and hummus.
• Promote pulse power bowls. Provide a quick demo for the trendy bowl preparation, using the formula: whole grain + pulse + vegetables + nuts/seeds + flavorful sauce = fabulous.
• Go with a global flavors cooking class. Showcase pulses from around the world, such as Caribbean, South American, Indian, and French recipes. Learning how pulses are rooted in different cultures always piques interest and opens the door to new flavors and dishes such as spicy Cajun jambalaya, lentil curries from India, or South American black bean dishes.
• Prompt a pulse pasta class. Conduct a gluten-free, plant-based cooking class introducing new pulse pasta products made from chickpeas, black beans, red lentils, and more. They're another great way to reach the recommended 1 1/2 cups pulses per week, and they're high in protein and fiber, colorful, and delicious.
• Give an aquafaba demo. Host an egg-less, food waste–free cooking class featuring aquafaba in baked goods such as bars, cookies, and cakes. Aquafaba is the thick liquid that results from cooking pulses—essentially the liquid left in the can. When whipped, it creates an egg substitute for baked goods, pancakes, waffles, mayonnaise, and even meringues.
• Guide a meal prep class. Teach your clients how to create four healthful pack-em-up meals they can enjoy all week. By showing clients how simple it is to cook a pot of beans, lentils, or peas and use them in make-ahead meals, you can unlock a world of possibilities. For example, one batch of cooked white beans can create four meals: white bean kale salad, white bean pasta with chard, white bean brown rice Buddha bowl, and Mediterranean wrap with cucumbers, tomatoes, and tahini.
• Provide a dried beans visuals presentation. Give sampling a try for a hands-on educational experience that everyone can enjoy. Fill Mason jars with different varieties of dried beans to enable clients to see and touch them. The side-by-side contrast of the tiny red adzuki bean with the larger, flat and white lima bean will enable the colors, shapes, and sizes to stand out. The next step is sampling these beans in their cooked form, presenting different types with toothpicks to familiarize people with textures and flavors.
• Offer pulse snacks. Feature several types of new, trendy pulse snack foods, such as crackers, hummus, and nutrition bars for tasting. The innovation is impressive, and the flavors are sure to please, turning people on to more healthful, nutritious snack options.
• Whip up smoothie samples. All you need is a table, blender, and a few simple ingredients—beans, fruits, and greens—to create nutrient-rich smoothie samples.
• Develop an intriguing recipe, such as chickpea bars, and serve them as samples in small squares with a recipe card to get people thinking about pulses in a new way.
The time for promoting pulses on the plate is now, for the health of your clients, as well as the health of the planet. Take hold, determine which strategies work best for you, and spread the good word!
— Sharon Palmer, MSFS, RDN, The Plant-Powered Dietitian, has her MS in Sustainable Food Systems. She currently serves as the nutrition editor for Today's Dietitian and manages her award-winning blog at SharonPalmer.com.
References
1. US Department of Health and Human Services; US Department of Agriculture. 2015–2020 Dietary Guidelines for Americans: eighth edition. https://health.gov/dietaryguidelines/2015/guidelines/. Published January 7, 2016.

2. US Department of Agriculture, ChooseMyPlate.gov website. https://www.choosemyplate.gov/
3. Nutritious resources. USA Pulses website. https://www.usapulses.org/consumers/resources/nutritious. Accessed July 17, 2019.
4. Messina V. Nutritional and health benefits of dried beans. Am J Clin Nutr. 2014;100(Suppl 1):437S-442S.
5. Hoekstra AY, Chapagain AK. Globalization of Water: Sharing the Planet's Freshwater Resources. Malden, MA: Blackwell; 2008.