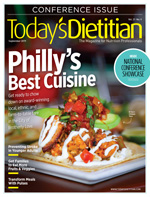 September 2019 Issue
Produce-Packed Meals & Snacks — No Sneaking Required
By Liz Weiss, MS, RDN
Today's Dietitian
Vol. 21, No. 9, P. 32
Creative Cooking Strategies Dietitians Can Share With Clients
Many families are becoming more interested in plant-based eating, but there's something still missing from most kids' and grown-ups' diets: plants.

According to Wendy Reinhardt Kapsak, MS, RDN, president and CEO of the Produce for Better Health Foundation, there was no increase in fruit and vegetable consumption in Americans' diets between 2003–2004 and 2015–2016. People are using highly processed substitutes such as veggie burgers to replace meat instead of increasing actual produce consumption, and 90% of consumers—including kids of all ages (except from age 2 to 5)—still are eating far less than the recommended daily amounts of fruits and vegetables.1
Why? Julie Nordgren, MD, a pediatrician in Palo Alto, California, cofounder of the Culinary Medicine Elective at Stanford Medical School, and author of The New Family Table, says that, for many families, picky eaters are the biggest barrier to their fruit and vegetable consumption. "Most families I see feel stuck. They know their kids should be eating more fruits and veggies but feel frustrated that their kids have developed other preferences and habits. It can be disheartening to keep serving them and having them go to waste."
Holley Grainger, MS, RDN, of Birmingham, Alabama, owner of Cleverful Living, an online platform featuring recipes and lifestyle advice for busy parents, identifies another common fruit and vegetable challenge: "Parents also are challenged with not knowing how to incorporate produce, especially vegetables, into a meal. Many lack the confidence and cooking skills to try new things."
A common solution is to "sneak" veggies into meals and snacks. But Jennifer McDaniel, MS, RDN, owner and founder of McDaniel Nutrition Therapy, a private practice specializing in weight management, sports nutrition, family nutrition, and corporate wellness in St. Louis, says, "It's empowering for a kid to know what they're eating and feel they have autonomy over their choices." Instead of sneaking vegetables into kids' meals, RDs can counsel families to weave (or incorporate) more fruits and vegetables into meals and snacks, allowing them to be front and center instead of hidden to the point kids can't see or recognize them.
The main thing dietitians should remember is that when they're helping families make their diets more plant based, they should emphasize the "plants" part of the equation. According to Kapsak, "Research shows that people who consume fruits and vegetables more days per week also consume more per day. This phenomenon strongly punctuates the benefit and necessity of making fruits and vegetables a staple in meals and snacks and, subsequently, a daily habit."2
Here are four easy ways RDs can help clients successfully include fruits and vegetables—fresh, canned, frozen, or dried—into their families' daily meals.
1. Jumpstart breakfast with fruit. RDs can advise parents to hand a hungry child who just woke up a piece of fruit—think "fruit first." Naturally sweet smoothies are a sure-fire hit. "Honestly, [my kids] don't eat much spinach if it is offered as a salad or sautéed, but they have no problem enjoying it in a smoothie," says McDaniel, who shares her time-saving frozen smoothie packs recipe on page 35.
"Starting your day with a smoothie can pack in three to four servings of produce before you walk out the door in the morning," she says. To save time during busy mornings, she recommends taking an hour or so over the weekend to assemble smoothie packs, which can be frozen and used throughout the week. Parents—with the help of their kids—can pop the contents into a blender with milk and other add-ins, and voilà! They have a smoothie. Advise parents to talk to their children about the colorful fruits and veggies they're about to drink, and encourage them to nibble on a few frozen blueberries while they're helping.
2. Reimagine the packed lunch. RDs can encourage families to swap sandwiches for pasta and veggie salads, bento lunches filled with produce, and Mason jars stuffed with salads. And don't disregard leftovers, Grainger says. "Try preparing foods like spaghetti sauce and meatloaf with shredded or diced carrots, onions, peppers, and celery mixed in and send as leftovers in the lunchbox," she says. For a veggie-packed lunch recipe, Grainger recommends her easy Beefy Burrito Bowls with beans, tomatoes, and corn on page ••.
"Give your clients permission to use canned foods in the lunchbox," Grainger says. "Cooking with canned foods cuts down on prep time and allows more valuable time getting the kiddos ready and out the door to school. Plus, you can jazz up canned fruits and vegetables in a number of ways—especially when adding them to grain bowls, salads, and soups."
3. Use vegetables as vessels. Nordgren recommends using vegetables as vessels "because it really shows how fun and versatile vegetables and fruits are."
RDs can suggest clients use roasted spaghetti squash for bowl meals, halved avocados as a vessel for tuna fish or chicken salad (which is a great after-school snack idea), or lettuce leaves as wraps, as in Nordgren's veggie-filled Tofu Lettuce Wraps recipe on page 36.
"The possibilities are truly endless. To start, [lettuce wraps] can be made with ground turkey or chicken if you don't have tofu on hand," Nordgren says. "You can also switch up the flavor profile; if you want something with more of a Mexican flair, skip the hoisin sauce and stir in a couple tablespoons of salsa. Top it off with some diced avocado and a big squeeze of lime juice. If you love Indian spices, cook up some tofu or chicken with some diced onion, minced garlic, and a tablespoon of red curry paste."
4. Establish new "rules" for fruits and vegetables. As dietitians, we tend to follow rules, but sometimes it's a good idea to counsel clients to break them or establish new ones. For example, they can use fruits and vegetables in unconventional ways to broaden their appeal. Families can grill peaches, pineapple, avocado, and corn on the cob; make fruit pizzas; shred carrots and add them to turkey meatballs, beef tacos, or sloppy joes; extend ground beef or ground turkey with mashed beans or chopped mushrooms for blended burgers; or offer fruits and veggies instead of chips during snack time. "Rules make everything substantially less fun," Kapsak says. "Families don't have to eat the same fruits and vegetables all the time. They can work together as a team to try different and new ones."
My Turkey & Carrot Meatballs With Zucchini Noodles recipe on page •• is a playful and delicious way to incorporate veggies into old favorites. (I use the words "carrot" and "zucchini" in the recipe title so children can understand that not one but two vegetables are part of their dinner.)
— Liz Weiss, MS, RDN, is a mom of two grown boys with a specialty in family nutrition. She's the voice behind the family food podcast and blog Liz's Healthy Table, and her site is filled with easy, flavorful, and nourishing recipes that appeal to both kids and adults. Weiss has written several cookbooks, including the interactive coloring e-book series Color, Cook, Eat!, as well as No Whine With Dinner and The Moms' Guide to Meal Makeovers.
References
1. Bowman SA, Clemens JC, Friday JE, et al; US Department of Agriculture, Agricultural Research Service. Food patterns equivalents intakes by Americans: What We Eat in America, NHANES 2003-2004 and 2015-2016. https://www.ars.usda.gov/ARSUserFiles/80400530/pdf/DBrief/20_Food_Patterns_Equivalents_0304_1516.pdf. Published November 2018.
2. Produce for Better Health Foundation. Novel approaches to measuring and promoting consumption, 2017. https://fruitsandveggies.org/expert-professionals/research-summary/  
Recipes
Smoothie Pack Smoothies
Serves 1
Ingredients
1 packed cup baby spinach, washed and dried
1/2 large banana, peeled and cut into thin slices
1/2 cup blueberries
1 cup 2% reduced-fat milk (or soymilk)
1/4 cup reduced-fat plain Greek yogurt
1 T almond or peanut butter
2 tsp unsweetened cocoa powder
1 tsp chia seeds, optional
Directions
1. Place the spinach, banana, and blueberries in a quart-size plastic freezer bag. Seal shut, label, and place in the freezer.
2. To make the smoothie, add the milk, yogurt, nut butter, cocoa powder, chia seeds if desired, and frozen produce into a blender. Blend until smooth.
3. Fill a glass or two with ice. Pour the smoothie over the ice and serve.
Nutrient Analysis per serving
Calories: 195; Total fat: 7 g; Sat fat: 3 g; Sodium: 135 mg; Total carbohydrate: 25 g; Dietary fiber: 3 g; Sugars: 16 g; Protein: 12 g
— Recipe and photo courtesy of Jennifer McDaniel, MS, RDN, of McDaniel Nutrition
---
Turkey & Carrot Meatballs With Zucchini Noodles
Serves 4 to 6
Ingredients
1 lb lean ground turkey
1 medium carrot, peeled and shredded on the large holes of a box grater (about 3/4 cup)
1 large egg, beaten
1/2 cup quick-cooking oats
1/2 cup grated Parmesan cheese
1/2 cup chopped fresh basil or 1 T dried basil
1/2 tsp garlic powder
1/2 tsp kosher salt
1/8 tsp pepper
1 26-oz jar pasta sauce
4 medium zucchini, washed and ends trimmed
2 tsp extra virgin olive oil
Directions
1. Preheat oven to 400° F. Lightly oil or coat a large rimmed baking sheet with nonstick cooking spray and set aside.
2. Place the ground turkey, carrot, egg, oats, Parmesan cheese, basil, garlic powder, salt, and pepper in a large bowl and mix until just combined.
3. Shape the meat mixture into 24 1 1/2-inch balls. Place on the prepared baking sheet and cook until lightly browned, about 10 minutes.
4. Meanwhile, place the pasta sauce in a large saucepan over medium heat. Cover and bring to a simmer. When the turkey meatballs come out of the oven, add them to the sauce, reduce the heat, and simmer, covered, until the meatballs are fully cooked and have absorbed some of the sauce's flavors, about 20 minutes.
5. While the turkey meatballs are cooking in the sauce, use a handheld or countertop spiralizer to cut the zucchini into thin, 8-inch, noodlelike strands. Heat the oil in a large nonstick skillet over medium-high heat. Add the zucchini noodles and cook, tossing frequently with tongs, until al dente, about 5 minutes.
6. Transfer the cooked zucchini noodles to individual plates or a large bowl or platter, and serve with the sauce and meatballs on top.
Nutrient Analysis per serving
Calories: 340; Total fat: 11 g; Sat fat: 4 g; Sodium: 525 mg; Total carbohydrate: 32 g; Dietary fiber: 7 g; Sugars: 17 g; Protein: 30 g
— Recipe and photo courtesy of Liz Weiss, MS, RDN, of Liz's Healthy Table
---
Tofu Lettuce Wraps
Serves 4
Ingredients
1 T avocado oil (or canola, grapeseed, or safflower oil)
One 14-oz box extra-firm tofu, drained, excess water pressed out
2 T hoisin sauce
1 T lime juice
Kosher salt, to taste
Freshly ground pepper, to taste
2 carrots, grated or cut into a fine julienne
1/4 head red cabbage, grated or thinly sliced
1 head Bibb lettuce (also called Boston or butter lettuce), leaves carefully removed, washed, and dried (12 leaves)
For garnish: 3 scallions, sliced; 1/2 bunch chopped cilantro; 3 T Sriracha
Directions
1. Heat the oil in a medium-size skillet until shimmering. Crumble in pressed tofu, taking care not to splatter oil.
2. Stir frequently as tofu cooks. Add hoisin sauce until tofu is coated. Add lime juice, and season with salt and pepper. When tofu is lightly browned and sauce is heated through, remove from pan and set aside.
3. In the same skillet, add carrots and red cabbage, and gently stir until slightly soft and heated through, about 2 minutes. Add to tofu mixture and combine. If you prefer your vegetables crunchy, skip cooking the carrots and cabbage and add the raw carrots and cabbage to the tofu mixture.
4. Place three lettuce leaves on each plate. Top with 2 to 3 T of tofu mixture. If desired, top with scallions, chopped cilantro, and Sriracha, and serve.
Nutrient Analysis per serving
Calories: 240; Total fat: 13 g; Sat fat: 2 g; Sodium: 490 mg; Total carbohydrate: 19 g; Dietary fiber: 5 g; Sugars: 8 g; Protein: 17 g
— Recipe from The New Family Table by Julia Nordgren, MD; photo by Jennifer Davick
---
Beefy Burrito Bowls
Serves 4
Ingredients
1 lb lean ground beef (90% or leaner)
1 T low-sodium taco seasoning
2 cups cooked brown rice
1/2 cup canned black beans, drained and rinsed
1/2 cup chopped tomatoes
1/2 cup frozen corn kernels, defrosted
1/4 cup shredded low-fat cheddar cheese
1 avocado, peeled, pitted, and cut into cubes
1/2 cup salsa
Optional toppings: olives, radishes, guacamole, pico de gallo, crushed tortilla chips, chopped fresh cilantro, chopped lettuce
Directions
1. Heat a large nonstick skillet over medium heat until hot. Add ground beef and taco seasoning; cook 8 to 10 minutes, breaking beef into 3/4-inch crumbles and stirring occasionally. Remove drippings. (Cooking times are for fresh or thoroughly thawed ground beef. Ground beef should be cooked to an internal temperature of 160° F. Color isn't a reliable indicator of doneness.)
2. Divide rice evenly among four lunchboxes (1/2 cup each). Top the rice in each box with seasoned ground beef (1/2 cup each). Top each with 2 T black beans, 2 T tomatoes, 2 T corn kernels, 1 T cheddar cheese, and 1/4 of the cubed avocado.
3. Top each burrito bowl evenly with salsa (2 T each) or place salsa in a separate container. Customize with optional toppings, if desired. Top each container with an airtight lid or plastic wrap and store in the refrigerator until ready to transport. Store in an insulated container with an ice pack or in a refrigerator during the day at work or school.
Nutrient Analysis per serving
Calories: 435; Total fat: 18 g; Sat fat: 6 g; Sodium: 370 mg; Total carbohydrate: 39 g; Dietary fiber: 7 g; Sugars: 2 g; Protein: 30 g
— Recipe and photo courtesy of Holley Grainger, MS, RDN, of Cleverful Living