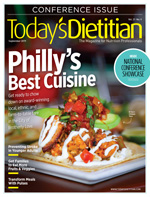 September 2019 Issue
The Retail RD: Networking for Success — Five Top Tips
By Barbara Ruhs, MS, RDN
Today's Dietitian
Vol. 21, No. 9, P. 14
In a world dominated by online social networking, it can be easy to forget the impact of building meaningful human (that is, face-to-face) connections. As the Food & Nutrition Conference & Expo™ quickly approaches, it's a great time to be thinking about how to network effectively to advance your career and optimize your earning potential. According to the 2018 Women in the Workplace Report by LeanIn.org and McKinsey & Company, which aims to advance women in the workplace (a demographic that can be applied to most RDs), women are less likely to be hired into manager-level jobs and are far less likely to be promoted into them, even though more women earn bachelor's degrees than men.1 Furthermore, it's estimated that nearly 85% of all jobs are filled via networking.2 Today's Dietitian speaks with top dietitians in the retail supermarket and food industries to learn about their tips for successful networking.
1. Prioritize Personal Connections
According to Kristen Wilk, MS, RD, manager of nutrition communications for The Wonderful Company based in Los Angeles, she's made some meaningful connections by taking advantage of "off-agenda" events that present unique opportunities to connect with people in less formal settings—great places to make genuine, memorable connections with new people.
Wilk reminds retail RDs to always be human, even in an increasingly digital world. "In the professional world, it can be easy to get caught up in formalities, and today, systematization and digitization can make the human aspect difficult to see. But don't forget that in the end, you're working with, for, and around people," she says. "Try to add a bit of your personality and human touch to e-mails and other online communication, as this can make whoever is reading it more comfortable and open. Reach out to individuals at companies or in fields you're interested in, too, and hop on the phone—or, even better, meet them for coffee—to ask questions about what they do and what they want to do next. You never know what you'll learn about them or what they'll learn about you. Once they get a feel for your personality and unique strengths, they'll be far better equipped to help you take your next step."
2. Be Authentic
While many people may project a façade of perfection on social media, Carrie Taylor, RDN, LDN, RYT, lead registered dietitian nutritionist at Big Y Foods, Inc., based in Springfield, Massachusetts, reinforces that being "real" and true to who you are is important in building authentic and genuine relationships. She shares wisdom on her success at networking that makes her business partnerships more meaningful and impactful.
"Don't try to create common interests that aren't there, but cultivate those that are," Taylor says. "For example, if you learn a new connection enjoys running in the morning like yourself, run together. These relationships can help you grow both personally and professionally. I've found that the more I get to know someone, the more insight I have on what drives their motivations and decisions, which is very helpful in building mutually beneficial business relationships."
3. Stretch Yourself
When Kara Behlke, RD, director of health and wellness strategy for Schnuck Markets, Inc., based in St. Louis, suggests "being flexible and stretching yourself," she isn't talking about yoga—she's referring to her stance on networking. Behlke has found that accepting challenges and taking risks has helped open many doors in her career.
"Say 'yes' to the opportunities that make you feel uncomfortable, as you'll be glad you did it and happy with the personal growth you achieved. These opportunities will push you out of your comfort zone, and you never know who you will meet or how it might connect you to your next big opportunity. This doesn't mean saying yes to any and everything that comes your way, but speaking in front of hundreds of people, hosting a podcast, or performing a live TV segment can enable you to stretch yourself and grow. I've been asked to do things I never dreamed of doing."
4. Cultivate Relationships
Rita Zapien, MS, RD, LD, CDE, Houston regional dietitian for the supermarket chain H-E-B based in San Antonio, says that every job she's ever had has been through networking—making meaningful connections and building relationships. She's a firm believer that getting the right job is first about who you know and then second about what you know. After realizing she wanted to make the leap to supermarket dietetics from her job as a clinical RD, Zapien strategically used her free time to make connections at her local H-E-B.
"About eight years ago, I was ready to make a change from hospital outpatient to something new. I had heard H-E-B was hiring RDs to work regionally across Texas, and a new store had opened up a few miles from my home," Zapien says. "I first began making cold calls to headquarters in San Antonio inquiring about an RD position, but, on my own time, I also began to staff health fairs my local store was hosting. From these few store events, I became acquainted with the store's community coordinator; she is the person who gave my name to the public affairs department, and thus marketing, who ultimately hired me."
5. Be Proactive and Persistent
Never underestimate the power of continuous networking, says Beth Stark, RDN, LDN, manager of lifestyle initiatives at the supermarket chain Weis Markets based in Sunbury, Pennsylvania. She credits her decade-long career as a supermarket RD and an array of "side hustle" projects to her networking skills. Her approach to making lasting connections? Be proactive and persistent.
But there's a fine line between being persistent and being pesky. Stark cautions: "Be 'pleasantly persistent.'" This means following up in a concise and personal way and continuing to be in touch, but not to excess. "After making a meaningful connection with someone, send a brief follow-up note to say that you enjoyed the conversation, and reference a personal tidbit that was shared during the initial meeting," Stark says. "Perhaps it's 'Have a great vacation' or 'Good luck training for your marathon.' Also, make it a point to remain engaged after some time has passed. Doing so just brings you back to the forefront of their mind and it may be at the exact time that they can tap into your expertise."
Clearly, prioritizing networking has contributed to the career success of these retail RDs. Kerry Clifford, MS, RD, LDN, corporate dietitian at Fresh Thyme Farmer's Market in Chicago, says that while it can be easy to get distracted with e-mails and work while attending conferences, events, and other networking opportunities, don't let these chances pass you by; making time to build connections can make all the difference in your career path.
— Barbara Ruhs, MS, RDN, is a retail nutrition strategy expert and owner of MarketRD.com, a consulting firm that works with brands and supermarkets to promote health.
References
1. LeanIn.org; McKinsey & Company. Women in the workplace 2018. https://womenintheworkplace.com. Published 2018.
2. Adler L. New survey reveals that 85% of jobs all are filled via networking. LinkedIn website. https://www.linkedin.com/pulse/new-survey-reveals-85-all-jobs-filled-via-networking-lou-adler/. Published February 29, 2016.