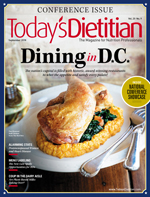 September 2018 Issue
Family Dinners Made Easy
By Liz Weiss, MS, RDN
Today's Dietitian
Vol. 20, No. 9, P. 42
Here's how to keep the troops happy (and healthy) at mealtime and score a dinner home run with these fast, fun, hands-on recipes.
Gathering around the table is an important part of connecting as a family, and in the last decade, studies have proven what some parents always have suspected: Family dinners are important. They nurture body and soul by fostering good eating habits, a healthy body weight in children and adolescents, a reduced risk of eating disorders, and better grades in school. Teens who regularly eat with their families have lower rates of drug and alcohol use.1,2
But it's not just the act of eating together that makes family mealtimes so beneficial. A new study from the University of Illinois finds that setting a happy emotional tone at the table increases the positive effects of families eating together, leading to more healthful food choices among preschoolers.3 It makes sense: Parents who coax children to eat their vegetables or try something new when tempers are flaring can backfire. Food begins to feel like a punishment rather than a celebration.
Jaclyn A. Saltzman, MPH, a doctoral candidate in the department of human development and family studies at the University of Illinois at Urbana-Champaign, describes the study: "We recruited 74 families from the STRONG Kids Project, which is a larger panel study focused on understanding how certain biological, behavioral, and environmental factors may influence preschoolers' health. Families in the smaller project completed questionnaires when children were about 3 years old, participated in a home visit when children were about 31/2 years old, and completed questionnaires again when children were about 4 years old. At the home visit, we videotaped a family mealtime. We expected that a more positive mealtime emotional climate (where moms and kids expressed mostly positive emotion) might lead to more favorable outcomes, because a positive mealtime is likely a less stressful experience and more conducive to eating or trying a variety of fruits and vegetables."
The results of the study are clear: Children in families with more positive mealtimes ate one more serving of healthful food (eg, fruits, vegetables, soy-based protein products), as compared with children in families with less positive family mealtimes. "Our hypothesis is that this is because positive mealtimes are less stressful for parents, and so they're able to have warm, clear, dynamic communication with their children," Saltzman says.
Parents and caregivers can't just wave a magic wand and tell their children to make a positive transition into mealtimes. Parents are often tired at the end of the workday and can be desperate to get their kids to eat more healthfully. "I wouldn't tell parents to just be more positive—to just slap a smile on your face—because in the face of a picky-eating preschooler or any other mealtime challenge, that's just not going to work," Saltzman says. "But there are several things parents can do."
Katie Morford, MS, RDN, a cookbook author and founder of Mom's Kitchen Handbook, agrees, and recommends starting with a list of table manner expectations. "My family wrote ours together, and that process drilled into them what the expectations were," she says. "Our rules were things like, don't lick your knife; … say 'No, thank you,' not 'Yuck'; and thank the cook." She also advises introducing new foods slowly. "Sure, introduce new foods, but at the same time be mindful of putting some food on the table they'll embrace, so they'll feel positive about it. Over time, they'll get on board." Finally, Morford says she's a big fan of involving kids in the cooking process, from menu planning to cleanup, and assigning children specific roles at mealtimes. "When they're young, it can be things like running the salad spinner or pulling stems off of strawberries, and as they get older they can get even more involved. Literally everything can become part of the process of being involved in the family table."
Saltzman agrees that collaboration in the kitchen is key. "Another study from our research group just found that family food involvement predicts healthier dietary intake in preschool-aged children as well, so it would be worthwhile to combine food involvement with a more positive approach to mealtimes in efforts to promote healthful eating." If all the preparation for positivity fails, Saltzman says, parents can practice emotional regulation techniques for themselves to keep things peaceful at the table. "Breathing exercises are really great; counting to 10 in your head or taking a step back from the mealtime are [both] really important things for parents to do."
Easy and Pleasing Family Dinners
Encouraging families to come to the dinner table more often and make it through dinner happily is always in the back of my mind when I develop recipes. I create recipes that are fast and easy to help tackle the challenges of busy schedules and lack of time. I keep my recipes fun and familiar so kids (even the pickiest eaters) are more willing to take that very first bite. And I make them interactive so kids of all ages can roll up their sleeves, don their aprons, and assist with the cooking. The icing on the cake: They're healthful and delicious.
— Liz Weiss, MS, RDN, is a mom of two grown boys with a specialty in family nutrition. She's the voice behind the family food podcast and blog Liz's Healthy Table, and her site is filled with easy, flavorful, and nourishing recipes that appeal to both kids and adults. Weiss has written several cookbooks, including the playful new coloring e-book series Color, Cook, Eat!, as well as No Whine With Dinner and The Moms' Guide to Meal Makeovers.
References
1. Hammons AJ, Fiese BH. Is frequency of shared family meals related to the nutritional health of adolescents? Pediatrics. 2011;127(6):e1565-e1574.
2. The importance of family dinners VII. Center on Addiction website. http://www.centeronaddiction.org/addiction-research/reports/importance-of-family-dinners-2011. Published September 2011.
3. Saltzman JA, Bost KK, Masaad SMA, Fiese BH, Wiley AR; STRONG Kids Team. Predictors and outcomes of mealtime emotional climate in families with preschoolers. J Pediatr Psychol. 2018;43(2):195-206.
Recipes
Zesty Salmon Cakes
Serves 4
The 2015–2020 Dietary Guidelines for Americans recommend adults and kids eat two servings of seafood every week. That goal just got a whole lot easier with these cute, fun-to-eat cakes. (For kids who love pancakes, the shape of these salmon cakes should feel familiar.) Boneless, skinless canned salmon is mild in flavor, and when it's mixed with shredded cheese, crunchy bits of red bell pepper, and whole wheat bread crumbs, these tasty little patties are impossible to resist.
* Kid Cooking Tip: Once the ingredients are added to a big bowl, hand your kids a wooden spoon, and let them take turns mixing everything together.
Ingredients
2 5-oz cans boneless, skinless pink salmon, drained and finely flaked
1/4 cup plus 4 to 5 T dried whole wheat panko bread crumbs, divided
1/2 cup shredded reduced-fat cheddar cheese
Half of a small red bell pepper, cut into 1/4-inch dice (about 1/3 cup)
1/4 cup light mayonnaise
1 large egg, beaten
1 T Dijon mustard
2 T chopped fresh chives (or 1 T chopped fresh chives and 1 T chopped fresh dill)
Zest of half a lemon
1 T canola oil or extra virgin olive oil, divided
Directions
1. Place the salmon, 1/4 cup bread crumbs, cheese, bell pepper, mayonnaise, egg, mustard, chives, and zest in a large bowl and mix until well combined.
2. Arrange the remaining 4 to 5 T bread crumbs on large plate. Shape the salmon mixture into eight patties (a generous 1/4 cup each) and coat both sides with the bread crumbs.
3. Heat one-half of the oil in a large nonstick skillet over medium-high heat. Cook the cakes until the bottoms are golden brown, about 5 minutes. Flip the cakes, add the remaining oil, and cook until golden brown, an additional 4 to 5 minutes. Adjust the heat if the bottoms brown too quickly.
Nutrient Analysis per serving
Calories: 326; Total fat: 19 g; Sat fat: 6 g; Cholesterol: 131 mg; Sodium: 696 mg; Total carbohydrate: 10 g; Sugars: 2 g; Protein: 27 g
---
Have-It-Your-Way Tacos
Serves 6
I haven't met too many kids who don't love tacos, especially when they get to build their own with a medley of toppings. This recipe starts with a filling made with lean ground beef—something that's certainly familiar to kids—and then it gets kicked up a notch with fiber-filled black beans, sweet little corn kernels, and colorful shredded carrots.
* Kid Cooking Tip: Wash a small bunch of cilantro and let the kids pluck the tiny leaves from the stems. Or set out small bowls and let the kids fill them with the toppings.
Ingredients
1 lb lean ground beef (90% lean or higher, or lean ground turkey)
12 taco shells
1 15 1/2-oz can black beans, drained and rinsed
1 cup shredded reduced-fat cheddar cheese
1 cup frozen corn kernels, thawed
1 medium carrot, peeled and shredded on the large holes of a box grater (about 1/2 cup)
1/2 cup salsa
1/2 cup chopped fresh cilantro, optional
2 tsp ground cumin
1 tsp chili powder
1/2 tsp garlic powder
Fresh cilantro, shredded cheese, diced tomato, diced avocado, chopped lettuce, salsa, low-fat plain Greek yogurt for toppings (optional)
Directions
1. Heat oven to 350° F.
2. Place a large nonstick skillet over medium-high heat. Add the meat and cook, breaking up the large pieces, until no longer pink, about 5 minutes. Drain excess fat.
3. While the meat is cooking, bake the taco shells according to package directions.
4. When the meat is done, add the beans, cheese, corn, carrot, salsa, cilantro (if desired), cumin, chili powder, and garlic powder, and stir to combine. Cook until the cheese melts and the mixture is heated through, about 2 minutes. Spoon 3 to 4 T of the meat filling into each of the 12 taco shells; let everyone at the table add their own optional toppings.
Nutrient Analysis per serving
Calories: 429; Total fat: 18 g; Sat fat: 7 g; Cholesterol: 73 mg; Sodium: 628 mg; Total carbohydrate: 32 g; Sugars: 3 g; Protein: 31 g
---
Spinach Quiche Patties
Serves 4
Something as simple as giving a recipe a silly name can entice even the most reluctant eater to try something new. Whether you call them Spinach Quiche Patties, Eggy Hockey Pucks, or The Hulk's Green Muffins, kids of all ages will love every cheesy bite.
* Kid Cooking Tip: Assign your kids to cracking the eggs, whisking, or pouring the mixture into the muffin tins with a tablespoon measure.
Ingredients
1/2 small onion, cut into 1/4-inch dice (about 1/2 cup)
1 T extra virgin olive oil, divided
1 clove garlic, minced
One 6-oz bag baby spinach
Kosher salt and black pepper
6 large eggs, beaten
3/4 cup reduced-fat shredded cheddar cheese
1 T chopped fresh herbs such as tarragon or parsley
Directions
1. Preheat oven to 375° F. Lightly oil or coat 12 muffin cups with nonstick cooking spray and set aside.
2. Heat 1/2 T of the oil in a large nonstick skillet over medium heat. Add the onion and cook, stirring frequently, until softened, about 5 minutes. Stir in the garlic and cook 30 seconds to 1 minute, until golden and fragrant.
3. Add the remaining 1/2 T oil and the spinach and cook, stirring often, until wilted, 3 to 5 minutes. Keep a watchful eye and adjust heat accordingly. Season with kosher salt and black pepper, to taste. Remove to a cutting board, cool slightly, and coarsely chop.
4. Place the eggs in a large bowl and whisk well until frothy and pale yellow. Stir in the cheese, herbs, and chopped vegetables until combined. Using a tablespoon measure, pour the egg mixture evenly into each of the muffin cups. (You'll end up with about 2 T per muffin cup.) Smooth the tops.
5. Bake until golden brown and the eggs are set, about 15 minutes. Cool slightly, remove from muffin cups, and serve.
Nutrient Analysis per serving
Calories: 234; Total fat: 16 g; Sat fat: 5 g; Cholesterol: 294 mg; Sodium: 290 mg; Total carbohydrate: 6 g; Sugars: 2 g; Protein: 17 g
---
Tofu Stir-Fry With Broccoli and Carrots
Serves 4
Establishing theme nights for dinner is a great way to get kids excited about coming to the table. Start with Meatless Monday, and then ask your kids to search cookbooks and websites for new vegetarian recipes they want to try. Or start with this tofu stir-fry. It calls for two kid-favorite veggies, broccoli and carrots, and by draining the liquid from the tofu, you end up with a firm, meaty texture, ideal for stir-fries like this one.
* Kid Cooking Tip: Hand your kids a plastic knife and let them take turns cutting the tofu into bite-size cubes.
Ingredients
1 14-oz package extra-firm tofu
1 T cornstarch
Kosher salt
Black pepper
2 T extra virgin olive oil, divided
4 cups small broccoli florets
2 medium carrots, peeled and cut into 1/4-inch thick coins (about 3/4 cup)
2 T water
1/4 cup stir-fry sauce, plus more to taste
2 cups cooked brown rice, optional
1 green onion, cut into thin slices, optional
Sesame seeds, optional
Directions
1. To prepare the tofu, remove from the package and drain. Wrap in a lint-free kitchen towel or paper towels and place on a cutting board. Place a rimmed baking sheet and a heavy object, such as a cast iron skillet, a few large cans of tomatoes, or a kettle filled with water, on top. Let the tofu drain for 15 minutes. Rewrap with a dry kitchen towel or paper towels and drain an additional 15 minutes.
2. Once the tofu is dry, slice into 3/4-inch, bite-size cubes. Place the cubes in a bowl and toss with the cornstarch and a pinch of salt and pepper.
3. Heat 1 T of the oil in a large wok or nonstick skillet over medium heat. Add the tofu and stir fry, stirring frequently, until golden on all sides, about 6 minutes. Remove the tofu to a bowl and set aside.
4. Add the remaining oil to the wok and raise the heat to medium-high. Add the broccoli, carrots, and 2 T water and stir-fry sauce until the vegetables are crisp-tender, about 5 minutes.
5. Add the tofu back to the wok with the stir-fry sauce and water. Toss until heated through. Adjust seasoning with additional stir-fry sauce. Serve with brown rice, green onion, and sesame seeds, if desired.
Nutrient Analysis per serving (not including brown rice)
Calories: 233; Total fat: 13 g; Sat fat: 2 g; Cholesterol: 0 mg; Sodium: 260 mg; Total carbohydrate: 14 g; Sugars: 6 g; Protein: 15 g
---
RESOURCES