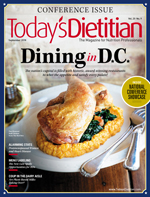 September 2018 Issue
Whole Grains: Fonio
By Jessica Levinson, MS, RDN, CDN
Today's Dietitian
Vol. 20, No. 9, P. 12
Is this little-known ancient grain the new quinoa?
Low-carb diets may be popular, but consumer interest in whole grains remains quite high. According to a 2017 survey by the International Food Information Council Foundation, when asked about taking on new healthful habits over the past year, nearly 7 in 10 Americans stated they were eating more foods with whole grains.1 Quinoa, millet, sorghum, and amaranth already may be familiar to you, but have you heard of fonio?
History and Cultivation
Often referred to as the "seed of the universe," fonio (Digitaria exilis) is an ancient staple cereal grain that has been cultivated and enjoyed in West African countries for more than 5,000 years.2 Fonio is a key component in the diet and agriculture in many West African countries such as Nigeria, Guinea, and Burkina Faso, and the crop supplies food for 3 million to 4 million people each year.3
Despite its importance in the livelihood of millions of people, little is known about fonio's history and origin. Nor has it been well studied; only 19 scientific articles have been published about the grain in a 20-year time period. Chef Pierre Thiam, a cookbook author and founder of Yolélé Foods, wrote about fonio in the 2015 book he coauthored with Jennifer Sit, Senegal: Modern Senegalese Recipes From the Source to the Bowl.4 He says fonio grains were found by archeologists in Ancient Egyptian burial grounds, indicating its use going back centuries. However, during colonial times, a myth was fabricated claiming that the native crops of Africa weren't as nutritious as the imported ones. This myth led to the displacement of native crops as second-rate, resulting in traditional food crops such as fonio being seen as "peasant food." According to Thiam, fonio had all but disappeared from the urban diet, but it was still consumed in the southeast regions of Senegal.
Unlike most other cereal grains, fonio thrives in dry, sandy soils at high altitudes and often is grown after or in place of rice when the soil is too dry for rice to thrive. Fonio also matures faster than most cereal grains—as quickly as six to eight weeks after being planted—which explains its popularity with farmers and growers.
Thiam, a pioneer in bringing attention to fonio in the United States, says, "When I found out that fonio was not only delicious but it was also nutritious and gluten-free, [and] that it also grew in poor soil with very little water, I became very interested in introducing it to the world. The idea was to bring economic opportunities in the poorest regions of the world while introducing a new grain."
Rich Nutrient Profile
Fonio is indeed a nutritious grain. While the English often refer to this ancient grain as "hungry rice," it's far from being reserved for those in dire need of food. Fonio, which is a species of millet, has very small seeds, has a nutty flavor, and comes in two varieties—white fonio and black fonio. It's gluten-free and has a low glycemic index, which makes it good for people with diabetes and celiac disease. It's also rich in fiber and protein, with at least three times the fiber and protein as brown rice. What sets fonio apart from most other grains is that it contains significant amounts of cysteine and methionine, two amino acids that are important in human growth and often are lower in cereal grains such as sorghum, millet, wheat, rice, and barley. It's also a source of B vitamins, zinc, and magnesium.3
Culinary Uses
Thiam says there's a saying from the Bamara people of West Africa: "Fonio never embarrasses the cook." This means it's easy to prepare and hard to mess up. Much like other cereal grains, fonio can be used in a wide array of dishes and recipes, from breakfast to mains and sides. It also can substitute for any grain in your favorite recipes—think porridge, milled into flour for breads, and even brewed into beer. Thiam's favorite way to serve fonio is in salads with mango or roasted beets and pickled carrots. Thiam recommends steaming fonio because it keeps the grains fluffy and well separated, but it also can be cooked in a pot on the stove. One half-cup of fonio yields three cups cooked and only takes five minutes to prepare.
Making a Difference
When asked what he wants people to know about fonio, Thiam says, "I would like people to know that by consuming fonio they're supporting smallholder communities in the poorest regions of the world while helping to mitigate climate change, as well as nourishing their bodies with good nutrition."
— Jessica Levinson, MS, RDN, CDN, is a nationally recognized nutrition expert with a focus on culinary nutrition and communications. She is the author of 52-Week Meal Planner: The Complete Guide to Planning Menus, Groceries, Recipes, and More. You can read more of her articles and find her recipes at JessicaLevinson.com. Follow her on Twitter, Instagram, and Facebook @jlevinsonrd.
References
1. 2017 Food and Health Survey: a healthy perspective: understanding American food values. International Food Information Council Foundation website. https://www.foodinsight.org/2017-food-and-health-survey. Updated September 22, 2017. Accessed July 16, 2018.
2. Fonio. Yolélé Foods website. http://yolelefoods.com/fonio/. Accessed July 16, 2018.
3. Fonio (acha). National Academies Press website. https://www.nap.edu/read/2305/chapter/6. Published 1996. Accessed July 16, 2018.
4. Thiam P, Sit J. Senegal: Modern Senegalese Recipes From the Source to the Bowl. New York, NY: Lake Isle Press; 2015.
Recipes
Creamy Fonio Hot Cereal With Dried Fruit
Serves 6
Ingredients
1 cup fonio
2 cups cold water
1 tsp salt
1/2 cup dried cranberries
1/2 cup raisins
2 cups almond milk or soymilk
2 tsp brown sugar
1/2 fresh mango, chopped, or 1/2 cup fresh blueberries or 1 sliced banana
1 tsp ground cinnamon
1/4 cup chopped cashews, toasted (optional)
Directions
1. To prepare the fonio, place in a large heavy saucepan. Add water and salt. Bring to a boil over high heat, then reduce heat, cover, and simmer gently for 5 minutes, stirring occasionally.
2. Transfer cooked fonio to a large bowl. Add dried cranberries, raisins, and milk. Let stand for 1 minute. Stir in brown sugar, mango (or other fruit of choice), and cinnamon.
3. Toast chopped cashews (if using) in a small dry skillet over medium-low heat, stirring constantly, until fragrant and lightly browned, 2 to 4 minutes.
4. Sprinkle toasted cashews on fonio and serve.
Nutrient Analysis per serving (Not including cashews)
Calories: 220; Total fat: 2 g; Sat fat: 0 g; Sodium: 440 mg; Total carbohydrate: 52 g; Sugars: 21 g; Dietary fiber: 3 g; Protein: 2 g
— Recipe courtesy of Senegal: Modern Recipes From the Source to the Bowl by Pierre Thiam and Jennifer Sit. Photo courtesy of Folasade Adeoso.
---
Fonio Mango Salad
Serves 6
Ingredients
One 10-oz package Yolélé fonio
2 T lemon juice
1 tsp finely chopped fresh garlic
1 tsp finely chopped fresh ginger
1 tsp salt
Pepper or hot pepper to taste
1/2 cup olive oil
1 cup finely diced mango
1/2 cup diced, peeled cucumber
1 cup halved grape tomatoes
1/2 cup finely chopped mint
1/2 cup finely chopped parsley
Directions
1. Cook fonio according to package directions and let cool.
2. While fonio is cooling, prepare dressing: Whisk together lemon juice, garlic, ginger, salt, and pepper, to taste. Slowly pour in the olive oil and keep whisking to emulsify.
3. In a large bowl, combine the cooled fonio with the mango, cucumber, tomatoes, mint, and parsley.
4. Pour the prepared dressing over the salad, toss, adjust seasoning to taste, and serve immediately.
Nutrient Analysis per serving
Calories: 370; Total fat: 19 g; Sat fat: 2.5 g; Sodium: 390 mg; Total carbohydrate: 48 g; Sugars: 5 g; Dietary fiber: 2 g; Protein: 3 g
— Recipe courtesy of Senegal: Modern Recipes From the Source to the Bowl by Pierre Thiam and Jennifer Sit. Photo courtesy of Evan Sung.