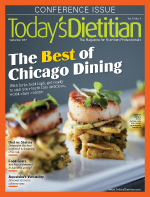 September 2017 Issue
Focus on Fitness: Exercising With Traumatic Brain Injury
By Jennifer Van Pelt, MA
Today's Dietitian
Vol. 19, No. 9, P. 56
September is National Traumatic Brain Injury (TBI) Awareness Month. According to the Centers for Disease Control and Prevention, approximately 3.2 million to 5.3 million Americans are currently living with a TBI and its related disabilities. But the agency notes that TBI prevalence likely is underestimated because its statistics don't include those who didn't receive medical care or were cared for in an outpatient setting, active military members, or veterans cared for at VA hospitals.1 The incidence of TBI is increasing in both adults and youth, making TBI a condition of interest for anyone in the wellness field.
TBI is caused by any external force (a sudden and forceful blow to the head or violent shaking), which can occur with sports injuries, car accidents, physical violence, military action, or falls. A TBI is basically a "bruised brain," with nerve fiber damage and bleeding within the skull, and generally results in a functional and/or psychosocial disability—the extent of the disability depends on the severity of the TBI and the location of the brain injury. TBIs are classified as mild, moderate, or severe based on level of consciousness, motor and neurologic functioning, and how long consciousness was lost. Individuals with TBI have impairments in one or more of the following2,3:
• memory;
• attention;
• cognition;
• motor abilities and gait;
• language and speech;
• reasoning and problem-solving;
• abstract thinking;
• judgment;
• educational performance;
• sensory and perception abilities;
• emotions;
• psychosocial behavior;
• physical functioning; and
• information processing.
TBI also can cause insomnia, posttraumatic headache and seizures, bowel and bladder issues, agitation, and depression.3
The most common mild TBI is concussion. Generally, individuals recover from a concussion, with minimal short-term side effects that resolve with proper rest and recovery. However, the repetitive brain trauma from multiple concussions—common in sports such as football, boxing, and soccer—is considered a TBI. In addition to developing impairments associated with TBI, those with repetitive brain trauma are at risk of developing chronic traumatic encephalopathy, a progressive degenerative disease.
Chronic traumatic encephalopathy diagnosed in many well-known professional athletes is one reason TBI has become of greater concern in young athletes. Young veterans of the Iraq/Afghanistan conflicts who were medically discharged with TBI is another reason. TBI is a leading cause of disability in children and adults younger than age 35 and is now considered a serious public health problem due to its increasing prevalence and related billions of dollars in health care costs.1
Dietitians working with young athletes and veterans are likely to encounter TBI. While there are guidelines for diagnosing and managing TBI (including nutritional needs), currently there's no established guideline for exercising with TBI. Due to the varied short- and long-term impairments that can result from TBI, a generic exercise recommendation can't be made; the type and duration of exercise will vary by client, depending on the severity of his or her injury and impairments.
The most challenging client is likely to be the young athlete, who, before the TBI, was competitive and high performing. Recently, a teenage girl joined my twice-weekly yoga classes. A former star soccer player, she had continued playing soccer through three concussions. After her third head injury, she began having problems with balance, attention, visual perception, and memory. She tried running cross-country but had difficulty following the running courses. A former spelling bee champion and straight-A student, she now needed special assistance with test taking and some homework assignments. She continues to take yoga to help with balance and sees a TBI specialist for vision and cognitive therapy. For cardiovascular exercise, she uses the gym's elliptical machines and treadmills with her mother. Adjusting from a former high-functioning athlete to her current TBI-affected lifestyle indeed has been difficult.
The American Physical Therapy Association (APTA), American College of Sports Medicine (ACSM), and National Center on Health, Physical Activity and Disability have released guidance on exercising with TBI.3-5 According to the APTA, appropriate exercise can benefit those with TBI who have issues with weight and stress management, emotions and mood, memory, attention, endurance, and energy. APTA suggests that low-resistance, rhythmic, dynamic aerobic exercise such as walking, stationary cycling, jogging, and the elliptical machine may be appropriate after TBI; those with physical and cognitive limitations, however, may need to adjust the way in which they exercise. For example, a client with difficulty remembering directions shouldn't jog or walk outside but should instead opt for home exercise on stationary exercise equipment.4
The ACSM emphasizes the need for those with TBI to choose exercises that suit their motor control and balance abilities and to ensure that protective headgear is worn for activities that involve a risk of falling. The rate of a second head injury is three times greater after an initial head injury. For individuals with balance issues, the National Center on Health, Physical Activity and Disability recommends always choosing aerobic exercises with a low risk of falling, such as water exercise, rowing machine, or recumbent cycle. Furthermore, strength exercises always should be performed from a stable position to reduce fall risk. Yoga, tai chi, and Pilates are suggested to improve balance and reduce the risk of falls.4,5
In addition, both the ACSM and APTA note that supervised exercise may be necessary. In general, all TBI patients are prescribed therapeutic exercise during recovery. Those with long-term TBI effects who are no longer eligible for prescribed exercise can work with a trained fitness professional or simply have an "exercise buddy" to go along on walks or to the gym to ensure safety.4,5
Regular exercise has the same physical benefits for those with TBI as it does for the general population—improving cardiovascular and respiratory fitness and increasing strength and flexibility. Therefore, clients with TBI should establish a regular exercise program that suits their physical and cognitive abilities to safely achieve the most physical benefits.
Based on emerging evidence, exercise also has substantial benefits related to mood and quality of life for those with TBI. A small study of aerobic exercise for ambulatory patients with chronic TBI found significant improvements in mood in both the short and long term. Individual exercise sessions improved mood, and overall long-term mood improved as early as four weeks into the 12-week regimen.6
Another small study in adults with TBI found that yoga improved self-perception, negative emotions, and overall quality of life.7 This positive effect on mood isn't surprising, as exercise, especially yoga, has been found to improve mood and alleviate anxiety and depression for all exercisers, as well as those with medical conditions.
Hopefully, further research and preventive measures will reduce the number of individuals with long-term TBI side effects as well as provide more evidence supporting the benefits of certain types of exercise for TBI-related impairments.
— Jennifer Van Pelt, MA, is a certified group fitness instructor and health care researcher in the Reading, Pennsylvania, area.

References
1. Centers for Disease Control and Prevention, National Center for Injury Prevention and Control. Report to Congress: traumatic brain injury in the United States: epidemiology and rehabilitation. https://www.cdc.gov/traumaticbraininjury/pdf/tbi_report_to_congress_epi_and_rehab-a.pdf. Published 2015.
2. Pangilinan PH. Classification and complications of traumatic brain injury. Medscape website. http://emedicine.medscape.com/article/326643-overview. Updated February 13, 2017.
3. Exercise for people with a traumatic brain injury. National Center on Health, Physical Activity and Disability website. http://www.nchpad.org/1407/6273/Exercise~for~People~with~a~Traumatic~Brain~Injury

4. Miczak K; American Physical Therapy Association, Section on Neurology. Exercise after traumatic brain injury. http://www.neuropt.org/docs/default-source/bi-sig/exercise_after_tbi.pdf?sfvrsn=2

5. American College of Sports Medicine. Exercising following a brain injury: prescription for health. Medscape website. http://www.medscape.com/viewarticle/719401. Published April 2, 2010.
6. Weinstein AA, Chin LMK, Collins J, Goel D, Keyser RE, Chan L. Effect of aerobic exercise training on mood in people with traumatic brain injury: a pilot study. J Head Trauma Rehabil. 2017;32(3):E49-E56.
7. Donnelly KZ, Linnea K, Grant DA, Lichtenstein J. The feasibility and impact of a yoga pilot programme on the quality-of-life of adults with acquired brain injury.
Brain Inj
. 2017;31(2):208-214.