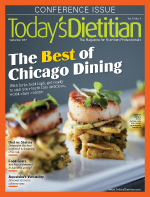 September 2017 Issue
The Best of Chicago Dining
By Carrie Dennett, MPH, RDN, CD
Today's Dietitian
Vol. 19, No. 9, P. 20
If you're going to the Academy of Nutrition and Dietetics' Food & Nutrition Conference & Expo™ next month, prepare to enjoy a wide variety of award-winning, world-class cuisine in this historic melting pot of different cultures.
Many people associate comfort food such as deep dish pizza, hot dogs, and Italian beef with the Windy City, but Chicago also is home to world-class fine dining, gastropubs, and scrumptious Mexican food. From the celebrity chefs of West Loop to the taquerias of the Pilsen neighborhood, Chicago proves it's not a one-note wonder—it's a culinary symphony. Just in time for the Food & Nutrition Conference & Expo™ (FNCE®), Today's Dietitian asks a team of local food experts and dietitians to offer their views on the best of Chicago dining.
"Chicago's food scene is constantly changing and elevating itself," says Chicago native Roger Waysok, executive chef at South Water Kitchen (www.southwaterkitchen.com, 225 N. Wabash Avenue, Chicago, 312-236-9300). "Not only do we offer almost every type of cuisine but we also have a variety of dining experiences. In one weekend, you could eat at an elevated fast food restaurant, try an eight-course tasting menu, or head to your local hole-in-the-wall bar for comfort food. As long as you're open to trying new places, you can find exactly what you're craving, whether it be Mexican, Indian, or American, in just about every type of atmosphere and price range."
Kendra Peterson, a private chef and owner of Drizzle Kitchen (http://drizzlekitchen.com) and friend of Dawn Jackson Blatner, RDN, LDN, the Chicago dietitian behind the winner of the ABC reality TV show My Diet Is Better Than Yours, says Chicago's status as the "Second City" means it's had to prove that it has just as much talent as Los Angeles and New York. "Because of that I think our chefs rock in the kitchen; they have to work harder to prove their worth and it's finally starting to pick up steam," she says. "We have some amazing restaurants that are constantly recognized for James Beard Awards."
Chicago's status as a true food city received a unique stamp of approval with the announcement that the James Beard Award ceremony—which was held in Chicago in 2016 and 2017—will remain in town an additional four years. That's with good reason, says Chicago-area dietitian and nutrition expert Christine Palumbo, MBA, RDN, FAND: "Chicago is a food town!"
Three Neighborhoods to Know
• River North. This neighborhood is north of the Chicago River and the location of many of the FNCE® hotels. Restaurants include an ode to Mexican cuisine, such as Frontera Grill (www.rickbayless.com/restaurants/frontera-grill, 445 N. Clark Street, Chicago, 312-661-1434), and the Clark Street location of all-day American eatery Beatrix (http://beatrixchicago.com, 519 N. Clark Street, Chicago, 312-284-1377; 671 N. St. Clair, Chicago, 312-642-0001; 834 W. Fulton Market, Chicago, 312-733-0370), as well as food destinations such as Eataly Chicago (www.eataly.com/us_en/stores/chicago, 43 E. Ohio Street, Chicago, 312-521-8700), which Palumbo calls "a must-see for FNCE® attendees." This sprawling outpost of all things Italian includes a range of eateries and food markets.
An option for those staying in hotels south of the river is Revival Food Hall (www.revivalfoodhall.com, 125 S. Clark Street, Chicago, 773-999-9411), which offers 15 fast-casual food stalls. This 24,000-square foot marketplace gives patrons a chance to sample fare from many of Chicago's best neighborhood restaurants, including the award-winning Smoque BBQ (www.smoquebbq.com, also located at 3800 N. Pulaski Road, Chicago, 773-545-7427), a favorite of food blogger Starr Nordgren, MS, MA (www.chicagofoodiegirl.com), for its house-smoked meats and housemade rubs and sauces.
• West Loop. Restaurant Row in West Loop is home to some of the city's finest restaurants, including Chef Stephanie Izard's Girl & the Goat (www.girlandthegoat.com, 809 W. Randolph Street, Chicago, 312-492-6262), open-hearth cooking at the Argentinean Steakhouse El Che (www.elchebarchicago.com, 845 W. Washington Boulevard, Chicago, 312-265-1130), and Elske (https://elskerestaurant.com, 1350 W. Randolph Street, Chicago, 312-733-1314), an à la carte and tasting menu comprising Danish-influenced dishes.
Just steps north of Restaurant Row is Fulton Market (http://fultonmarketchicago.com). Nestled within Chicago's Fulton River District in West Loop, the market is home to some of the city's best spots, such as Paul Kahan's The Publican (www.thepublicanrestaurant.com, 837 W. Fulton Market, Chicago, 312-733-9555) and Publican Quality Meats (www.publicanqualitymeats.com, 825 W. Fulton Market, Chicago, 312-445-8977) for beer and meat, and Grant Achatz's Next (http://nextrestaurant.com, 953 W. Fulton Market, Chicago, 312-226-0858) and Aviary (https://theaviary.com/site, 955 W. Fulton Market, Chicago, 312-226-0868) for a world-renowned tasting menu and cocktails.
Nordgren also mentions BLVD (www.blvdchicago.com, 817 W. Lake Street, Chicago, 312-526-3116), a modern American eatery that draws inspiration from Hollywood's Sunset Blvd circa 1950; Roister (www.roisterrestaurant.com, 951 W. Fulton Market, Chicago), superstar Achatz's new hip, casual American eatery; and the award-winning Japanese restaurant Momotaro (www.momotarochicago.com, 820 W. Lake Street, Chicago, 312-733-4818). "The neighborhood has something for everyone—you can spend an entire week simply eating your way down one block," Nordgren says. The West Loop also features Au Cheval (www.auchevalchicago.com, 800 W. Randolph Street, Chicago, 312-929-4580), as well as Greektown. The area also is home to one of Chicago's Green City Markets (www.greencitymarket.org, 115 S. Sangamon Street, Chicago, 773-880-1266), open on Saturdays in Mary Bartelme Park. It's the city's first and largest year-round sustainable farmers' market supporting small family farms.
• Logan Square. "Logan Square is a little off the beaten path for those staying in the Loop, but it's a neighborhood chock full of amazing restaurants and cocktail bars," Waysok says.
Ginger Hultin, MS, RDN, CSO, a Seattle-based dietitian and writer who once called Chicago home, also is a fan, offering that the neighborhood is easily accessible on the Blue Line (www.transitchicago.com/blueline). "Grab a drink at cocktail gin bar Scofflaw (www.scofflawchicago.com, 3201 W. Armitage Avenue, Chicago, 773-252-9700) or enjoy the outdoor patio next door at Parson's (www.parsonschickenandfish.com, 2952 W. Armitage Avenue, Chicago, 773-384-3333) for a Negroni slushy," she suggests. "Try to get in to the well-known and ever-popular Longman & Eagle (www.longmanandeagle.com, 2657 N. Kedzie Avenue, Chicago, 773-276-7110) for New American, innovative fare, or Table, Donkey and Stick (www.tabledonkeystick.com, 2728 W. Armitage Avenue, Chicago, 773-486-8525) for creative, seasonally driven dishes inspired by the cuisine of the Alps."

Must-Taste in the Windy City
"Any visitor to the Windy City is required to try the deep dish pizza—although most locals prefer thin crust, a ketchup-free Chicago-style hot dog, an Italian beef sandwich with spicy giardiniera (an Italian condiment made of pickled peppers, celery, carrots, cauliflower, and other vegetables packed in oil), and Garrett's (www.garrettpopcorn.com) Garrett Mix popcorn (caramel and cheddar)," says Chicago dietitian and blogger Amari Thomsen, MS, RD, LDN.
"First-timers always want to try deep dish," Waysok says. "If you're going to go for it, head to Pequod's Pizza (http://pequodspizza.com/chicago, 2207 N. Clybourn Avenue, Chicago, 773-327-1512) because you won't find anywhere else a caramelized cheese crust cooked to perfection." Hultin agrees, and recommends loading up on toppings such as fresh basil, spinach, pineapple, or spicy giardiniera. If you want to see—and taste—where the deep dish craze began, Palumbo recommends Pizzeria Uno (www.unos.com, 29 E. Ohio, Chicago, 312-321-1000), opened by Rudy Malnati, Sr, in 1943, and Pizzeria Due (www.unos.com, 619 Wabash Avenue, Chicago, 312-943-2400), each of which are close to the hotels. Rudy Malnati, Jr, carries on the legacy with Pizano's Pizza & Pasta (www.pizanoschicago.com, 61 E. Madison Street, Chicago, 312-236-1777; 864 N. State Street, Chicago, 312-751-1766; 800 N. Dearborn Street, Chicago, 312-335-8833; 2056 W. Division Street, Chicago, 773-252-1777; 2106 S. Indiana, Chicago, 312-842-0777). At Lou Malnati's Pizzeria (www.loumalnatis.com, multiple Chicago locations, including 439 N. Wells Street, Chicago, 312-828-9800), Hultin recommends the "Lou": spinach, mushrooms, and sliced tomatoes on the classic garlic buttercrust.
From Italian pizza, it's a short culinary hop to Italian beef sandwiches. "While there are a few excellent chain restaurants that serve a good beef sandwich—Portillo's (www.portillos.com, 520 W. Taylor Street, Chicago, 312-667-4560; 100 W. Ontario Street, Chicago, 312-587-8910) comes to mind—there are dozens, if not hundreds, of beef joints throughout the city and its suburbs," Palumbo says. "Near the hotels are Al's (www.alsbeef.com, 1079 W. Taylor Street, Chicago, 312-226-4017) and Mr. Beef (666 N. Orleans Street, Chicago, 312-337-8500). Ask for the sweet peppers." While Portillo's wins raves for its Italian beef, its true Chicago-style hot dogs top the menu. "A Chicago-style hot dog goes like this," Palumbo instructs. "Steamed poppy seed bun, kosher-style dog—Vienna Beef is the favored brand, but there are others—topped with a 'garden' consisting of chopped raw onion, a couple of tomato wedges, dill pickle spear, yellow mustard, bright green pickle relish, a sprinkle of celery salt, and optional hot sport peppers. And never ketchup!"
Jim's Original (www.jimsoriginal.com, 16 E. 95th Street, Chicago, 773-785-9865) serves up the Original Maxwell Street Polish Sausage on a hot bun with a mountain of grilled sweet onions, yellow mustard, and spicy hot sport peppers. "If you want to try classic Chicago pizza and hot dogs while exercising, there's a four-hour bike tour you can take to hit a few great spots," Blatner says. In addition to the Bikes, Bites & Brews tour, Bobby's Bike Hike (www.bobbysbikehike.com, 540 N. Lake Shore Drive, Chicago, 312-245-9300) offers an assortment of biking, walking, and food tours. Prefer burgers to dogs? Head to Au Cheval (see page 22), which features a cheeseburger that Nordgren dubs "quintessentially Chicago" and Eater Chicago, an online Chicago dining guide, says may be the best on the planet.
Celebrity Chefs and Michelin Stars
For those who prefer stargazing, enjoy counting the Michelin stars awarded to Chicago's celebrity chefs. Achatz is one of the most celebrated chefs in the world, and Alinea (http://alinearestaurant.com, 1723 N. Halstead, Chicago, 312-867-0110), with its modernist tasting menus, is routinely named one of the world's best restaurants, one of only 13 Michelin three-star restaurants in the United States. Sixteen (http://sixteenchicago.com, 401 N. Wabash Avenue, Chicago, 312-588-8030) is a Michelin two-star restaurant with seasonal, contemporary American menus that draw inspiration from local farmers, ranchers, and fishmongers. At Grace (www.grace-restaurant.com, 652 W. Randolph Street, Chicago, 312-234-9494), Chef Curtis Duffy has earned numerous Michelin stars for his Instagram-worthy tasting menus, one vegetarian (flora), the other not (fauna). At Monteverde Restaurant & Pastificio (http://monteverdechicago.com, 1020 W. Madison Street, Chicago, 312-888-3041), Chef Sarah Gruenberg blends Italian culinary tradition with influences from her global travels and Texan roots. Nordgren says Gruenberg's Cacio Whey Pepe is another quintessentially Chicago dish. This year, Gruenberg won a James Beard award for Best Chef: Great Lakes and was a competitor on Iron Chef Gauntlet. In 2016, Monteverde made Food & Wine's list of America's Best Restaurants.
Girl & the Goat (see page 22) was nominated for best new restaurant by the James Beard Foundation in 2011. Izard—winner of both Top Chef and Iron Chef—was one of Food & Wine's "Best New Chefs" in 2010. Izard serves up a family-style menu with global influences. Her empire reaches across the street to Little Goat Diner (www.littlegoatchicago.com, 820 W. Randolph Street, Chicago, 312-888-3455), which offers comfort-food favorites with a twist, including gluten-free options, and around the corner to Duck Duck Goat (www.duckduckgoatchicago.com, 857 W. Fulton Market, Chicago, 312-902-DUCK) with "reasonably authentic Chinese food," plus dim sum on weekends.
GreenRiver (www.greenriverchi.com, 259 E. Erie, 18th Floor, Chicago, 312-337-0101) made virtually every best new restaurant list in 2015, the year it opened. It boasts Michelin stars as well as seasonal American fare and a beautiful outdoor terrace. Executive Chef Aaron Lirette is a Chicago native, as is Chef Jimmy Bannos, Jr, of The Purple Pig (https://thepurplepigchicago.com, 500 N. Michigan Avenue, Chicago, 312-464-1744). Called "The Prince of Pork" by Food & Wine editor Dana Cowin, Bannos was 2014's James Beard Rising Star Chef, and Purple Pig was named one of Bon Appétit's "10 Best New Restaurants in America." Expect sharable plates focusing on "cheese, swine, and wine," showcasing Mediterranean flavors. No reservations? No problem—the restaurant is walk-in only.
Global Melting Pot
"Chicago is a historic melting pot of different cultures. Traditional cuisines from various countries shine through across each and every neighborhood of the city," Thomsen says.
Palumbo enthusiastically agrees. "You can find just about any ethnic food that exists! In addition to a myriad of options for popular ethnic food (Italian, Greek, Chinese, German, Polish), you can find Ethiopian, Egyptian, etc, restaurants," she says. "We have long-established 'food towns' such as Greektown, Little Italy, [and] Chinatown. All three of these are close to the FNCE® hotels."
Mexican food is huge in Chicago, thanks largely to Chef Rick Bayless, who opened Frontera Grill (see page 20) in 1987. This James Beard Award-winning restaurant is ever popular (read: busy), so for a Rick Bayless restaurant without the wait, Thomsen recommends Xoco, pronounced SHO-ko (www.rickbayless.com/restaurants/xoco, 449 N. Clark St, Chicago, 312-661-1434). While Xoco has a following for its unique bean-to-cup Mexican chocolate, Thomsen emphasizes that the restaurant's sustainability and farm-to-table cred continues with "counter-served Mexican street food including incredible tortas (Mexican sandwiches) and caldos (meal-in-a-bowl soups) made with fresh ingredients straight from Bayless's urban Chicago garden." It's also a short Uber or Lyft ride from McCormick Place to the Pilsen neighborhood, the cultural center of Chicago's Mexican population, with lots of tasty, inexpensive eats on W. 18th Street.
When Waysok's off duty, he likes to eat at Dos Urban Cantina (www.dosurbancantina.com, 2829 W. Armitage Avenue, Chicago, 773-661-6452), which he calls a neighborhood gem. "Frontera alumni serve some of my favorite Mexican food and delicious Mezcal cocktails," he says. Many of the items on the menu are gluten-free. Peterson and Hultin both love Antique Taco (www.antiquetaco.com, 1360 N. Milwaukee, Chicago, 773-687-8697; 1000 W. 35th Street, Chicago, 773-823-9410; 125 S. Clark Street, Chicago, 773-770-6195), a Wicker Park hot spot that offers a seasonal menu of "farmers' market style" Midwest-Mexican gourmet tacos and appetizers. Want to stick closer to your hotel? Antique Taco also has a spot in Revival Food Hall (see page 22). Also in the Wicker Park neighborhood are two of Nordgren's picks: Irazú (www.irazuchicago.com, 1865 N. Milwaukee Ave, Chicago, 773-252-5687), a cash-only, vegetarian-friendly BYOB restaurant serving Costa Rican cuisine, and 90 Miles Cuban Café (www.90milescubancafe.com, 2540 W. Armitage Avenue, Chicago, 773-227-2822).
Nordgren also gives a nod to Fat Rice (http://eatfatrice.com, 2957 W. Diversey Avenue, Chicago, 773-661-9170), where Chef Abraham Conlon epitomizes global fusion. One of Peterson's picks is Parachute (www.parachuterestaurant.com, 3500 N. Elston Avenue, Chicago, 773-654-1460), a funky-chic place serving sharable, modern, creative Korean-American fare—Bon Appetit called it "a Korean mom-and-pop shop gone delectably rogue." Chinatown is less than a mile from McCormick place, and Argyle Street in the Uptown neighborhood is home to lots of Vietnamese and Chinese dim sum restaurants. For a taste of the Mediterranean, Palumbo recommends Greek Islands (www.greekislands.net, 200 S. Halsted Street, Chicago, 312-782-9855) and Santorini (www.santorinichicago.com, 800 W. Adams Street, Chicago, 312-829-8820) in Greektown for their freshly prepared foods, authentic menu, and seafood.
Farm-to-Table
"Lula Café (http://lulacafe.com, 2537 N. Kedzie Boulevard, Chicago, 773-489-9554) started it all back in 1999 with its farm-to-table philosophy and is still one of the best places in the neighborhood," Waysok says.
Hultin agrees, adding that Lula's "never disappoints for a classic breezy brunch, lunch, or farm dinner."
At his own South Water Kitchen (see page 20), Waysok says his culinary philosophy is "Let the food be the star. Fresh ingredients are great on their own and don't need to be overworked to taste delicious in a dish. I always make sure that you can taste the fresh ingredients in my dishes and they don't get lost in the other flavors." He offers his shaved zucchini "pasta" dish as an example. "The zucchini is shaved and treated like pasta—tossed in a white wine garlic wine sauce with cherry tomatoes, black olives, and torn basil, then topped with Parmesan cheese. It's light and fresh, while the basil accents each of the flavors so they can all be identified. This dish also is gluten-free and vegan, so it speaks to a variety of guests."
Sixteen (see page 23) is a stellar farm-to-table example, as is Uncommon Ground (www.uncommonground.com/home, 1401 W. Devon Avenue, Chicago, 773-465-9801), which serves contemporary comfort fare and has the country's first certified organic rooftop farm. Peterson and Palumbo both count the creative American fare at North Pond (http://northpondrestaurant.com, 2610 N. Cannon Drive, Chicago, 773-477-5845) inside Lincoln Park as a farm-to-table favorite. Other standouts include American heirloom foods at Blue Door Kitchen (http://bluedoorkitchenchicago.com, 52 W. Elm Street, Chicago, 312-573-4000), small plates in a Euro-chic setting at Nellcôte (www.nellcoterestaurant.com, 833 W. Randolph Street, Chicago, 312-432-0500), and one of Nordgren's favorites, new-American gastropub The Bristol (www.thebristolchicago.com, 2152 N. Damen Avenue, Chicago, 773-862-5555).
Plant-Forward
Stay energized for all of the educational and networking opportunities FNCE® offers with a delicious, nutritious meal from True Food Kitchen (www.truefoodkitchen.com, 1 W. Erie Street, Chicago, 312-204-6981), which merges seasonal, nutrient-rich ingredients with a flavor-forward menu that includes vegan, vegetarian, gluten-free, and omnivorous options. Thomsen and Nordgren are both fans of modern hot spot Beatrix (see page 22). Thomsen calls it "the perfect place for breakfast or lunch with the girls," adding that it has "fresh juice cocktails, plenty of quinoa and kale, and decadent gluten-free desserts you won't be able to pass up."
The vegetarian tasting menu at Grace (see page 23) is only one facet of vegetable-forward eating in Chicago. Peterson likes Bad Hunter (https://badhunter.com, 802 W. Randolph Street, Chicago, 312-265-1745), which The New York Times called "a shrine to vegetables" and Chicago magazine pegged as one of the best new restaurants of 2017. Nordgren recommends Green Zebra (www.greenzebrachicago.com, 1460 W. Chicago Avenue, Chicago, 312-243-7100), which features innovative menus built on vegetarian and vegan dishes that focus on seasonal fruits and vegetables from local farmers and foragers. This approach and execution has won Chef Shawn McClain praise from The New York Times, Bon Appetit, Food & Wine, and several other publications.
Fine Dining
Looking for a gorgeous meal in impeccable surroundings? Palumbo gives a shout-out to Spiaggia (www.spiaggiarestaurant.com, 980 N. Michigan Avenue, Chicago, 312-280-2750). "The menu items are incredible with a beautiful, relaxed presentation and a view outside onto Michigan Avenue that is to die for," she says. The New York Times called Topolobampo (www.rickbayless.com/restaurants/topolobampo, 445 N. Clark Street, Chicago, 312-661-1434) "possibly the most elegant and serious Mexican restaurant in the country." Topolobampo won the James Beard award for Outstanding Restaurant in 2017 and has a Michelin star to boot.
One of Food & Wine's best new chefs of 2017 is Noah Sandoval of Oriole (www.oriolechicago.com, 661 W. Walnut Street, Chicago, 312-877-5339). The magazine calls him a "chef with gob-smacking vision," and Peterson offers no argument. "Simply stunning presentation, incredible location," she says. "My date had the classic tasting menu. I did as well, but they accommodated my gluten issue better than any restaurant I've ever been to. It makes sense that they were awarded two Michelin stars and are getting insane recognition in the city after being open for barely a year."
Chicago native Carrie Nahabedian's NAHA (http://naha-chicago.com, 500 N. Clark Street, Chicago, 312-321-6242) has earned seven consecutive Michelin stars and a James Beard award. NAHA's menu, which draws from American influences as well as Nahabedian's Armenian and Greek roots, favors fresh, seasonal produce, meats, and cheeses from local farmers and growers. Just up the street is Brindille (http://brindille-chicago.com, 534 N. Clark Street, Chicago, 312-595-1616), which Nahabedian opened in 2013 to celebrate her favorite spots in Paris. Chicago magazine called it "a destination for French cuisine in style and comfort" when it named it one of 2014's restaurants of the year.
Make your restaurant reservations, pack your bags, and get ready to taste and savor your way through the Windy City!
— Carrie Dennett, MPH, RDN, CD, is the nutrition columnist for The Seattle Times and speaks frequently on nutrition-related topics. She also provides nutrition counseling via the Menu for Change program in Seattle. This is her first year writing Today's Dietitian's dining guide.
DINING RESOURCES
To learn more about the best of Chicago dining, visit the following websites: