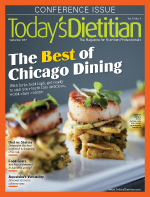 September 2017 Issue
The Retail RD: Meal Kits Take Root in Grocery Stores
By Barbara Ruhs, MS, RDN
Today's Dietitian
Vol. 19, No. 9, P. 18
To remain competitive, supermarkets are getting in on the burgeoning market.
Subscription-based meal kit delivery programs such as Blue Apron, Hello Fresh, Purple Carrot, and Sun Basket captured $2.2 billion in sales in the past year, and supermarkets are responding with innovative meal kit ideas of their own to retain customers and profits.1
Facing increased competition from restaurants over the past decade, the supermarket foodservice segment is the highest-performing, fastest-growing segment in the food industry, proving that retailers can retain and attract customers with high-quality prepared foods and dining experiences.2 With stores full of fresh ingredients, including a variety of precut, premeasured, and prewashed items, supermarkets are well positioned to grab a share of the growing meal kit segment.
Convenience and lack of culinary skills combined with rising restaurant prices are fueling the growth of meal kit programs.3 According to a 2016 survey that ReportLinker conducted, 31% of Americans cited lower costs, while 22% said more healthful eating motivates the drive to cook at home vs eating out at a restaurant.4 A 2016 Harris Poll reported that 84% of Americans are cooking at home at least once per week, and 31% report cooking every day.5
Supermarkets are using in-house chefs and dietitians to create easy-to-prepare, healthful, and lower-cost meal kits that don't require a subscription commitment and are making them available via online delivery or in stores where shoppers can purchase them any time.
Online Grocers Offer Meal Kit Delivery
Peapod is the leading internet grocer and a subsidiary of Ahold-Delhaize, one of the largest supermarket retailers on the eastern seaboard.6 Peapod delivers groceries in 13 states in 24 markets for retail banners including Stop & Shop, Giant Food Stores, Food Lion, and Hannaford.
Peapod partnered with ORC International to host a year-end national survey that discovered that 72% of Americans reported cooking at home four nights or more per week, and 51% of Americans said they would prepare dinner at home more often if they had new ideas, resulting in Peapod proclaiming 2017 as "the year of the home cook." Through the creation of mutually beneficial partnerships with leading trusted food brands sold in its stores, including Barilla, Conagra, and Campbell's, Peapod has capitalized on knowledge, culinary expertise, and marketing power to capture a share of the growing meal kit market.7,8
To further expand its marketing reach, Peapod formed a partnership with well-known food blogger Gina Homolka of Skinnytaste to feature recipes from her latest no. 1 New York Times bestseller Skinnytaste Fast and Slow: Knockout Quick-Fix and Slow Cooker Recipes. Customers had the unique opportunity to preview recipes online and select ingredients for their online shopping carts for home delivery.
Priced lower than subscription-based kits at $5 to $8 per serving, Peapod reported a 250% increase in sales of their meal kits in the last year.9
In addition to e-grocers like Peapod, Amazon Fresh, New York-based Fresh Direct, and San Francisco-based Good Eggs, traditional brick and mortar supermarkets also are offering meal kits using online grocery delivery platforms. Coborn's, based in St. Cloud, Minnesota, rolled out "To the Table Kits," created by its in-house dietitians and chefs. The kits don't require an ongoing subscription, are delivered on the same day they're ordered, and feature locally sourced ingredients from the Midwest at lower prices ($16.99 to $28.99 for two servings) compared with national competitors.
In-Store Meal Kit Options
According to a 2017 Harris Poll, one-third of subscribers to meal kit delivery programs said they'd purchase the meal kits in a local supermarket if they were available.10 To retain in-store sales and grow a new source of revenue, national supermarket chains, including Whole Foods and Kroger, are customizing meal kits to their unique customer bases and offering the convenience and flexibility to choose meal kits in stores while shopping.
Appealing to vegetarians and vegans, Whole Foods Market partnered with Purple Carrot, the leading plant-based meal kit delivery program, to offer customers meal kits in select stores. Customers can choose a single Purple Carrot meal, customized specifically for Whole Foods Market, for two people for $19.99.11 As more than one-half of meal kit subscribers cancel their subscriptions within the first six months,12 it's a smart move for retailers to offer flexibility to customers to choose meal kits on demand in stores in contrast to subscription-based kits that send a minimum of three meals for two people each week.
Kroger introduced Prep + Pared meal kits featuring chef-inspired, dietitian-approved, restaurant-quality meals that can be prepared in 20 minutes or less to attract customers who want to prepare meals in their own kitchen. The kits, which don't require a subscription, include fresh ingredients that are washed, premeasured, and prepared (eg, chopped, diced, grated), making it quick and easy for customers to prepare a healthful meal at home with limited food waste. Each kit feeds two adults and ranges in price from $14 to $18.13
Similar to Kroger's meal kit program, regional retailers such as Lakeland, Florida-based Publix supermarkets and Des Moines, Iowa-based Hy-Vee supermarkets are working with their retail dietitians to offer customers healthful, fresh, and local ingredients at reduced prices compared with subscription meal kits.
Growing Opportunities
For nearly a century, supermarkets have countered competition with innovation. When it comes to offering subscription-based meal kit delivery programs, supermarkets are finding ways to provide customers what they want while taking advantage of many of the challenges and obstacles their competition faces.
By testing meal kits in stores or through online delivery services, supermarkets are exhibiting their eagerness to meet the growing needs of customers seeking healthful, affordable, convenient options. With continued innovation and competition, home cooking may just become the new "normal."
— Barbara Ruhs, MS, RDN, is a retail health expert to supermarkets and food companies and founder of the Oldways Supermarket Dietitian Symposium. Follow her @BarbRuhsRD.

References
1. Meyer Z. Growing home meal kit phenomenon is stirring up food industry, stressing out supermarkets. USA Today. July 3, 2017. https://www.usatoday.com/story/money/business/2017/07/03/home-meal-kit-phenomenon/102544292/
2. Burfield T. 'Grocerants' gain momentum. Produce Retailer. July 7, 2017. http://www.produceretailer.com/article/news-article/grocerants-gain-momentum
3. Tuttle B. Why you should feel even more guilty about eating out at restaurants all the time. Money website. http://time.com/money/4245285/costs-restaurants-cooking-at-home/. Published March 3, 2016.
4. Julia Child would be thrilled: 98% of Americans prefer to cook at home. PR Newswire Cision website. http://www.prnewswire.com/news-releases/julia-child-would-be-thrilled-98-of-americans-prefer-to-cook-at-home-300368294.html. Published November 23, 2016.
5. Kitchen creations: nearly 4 in 5 Americans say dinners at home mean cooking from scratch. The Harris Poll website. http://www.theharrispoll.com/health-and-life/Cooking-Dinners-At-Home.html. Published June 23, 2016.
6. Peapod predicts 2017 will be the year of the home cook. PR Newswire Cision website. http://www.prnewswire.com/news-releases/peapod-predicts-2017-will-be-the-year-of-the-home-cook-300384020.html. Published December 29, 2016.
7. Webber L. CPG partners give Peapod meal kits an edge, exec says. Supermarket News website. http://www.supermarketnews.com/print/61228. Published June 13, 2016.
8. Peapod expands popular meal kits line with new Frontera brand kits from Conagra brands. PR Newswire Cision website. http://www.prnewswire.com/news-releases/peapod-expands-popular-meal-kits-line-with-new-frontera-brand-kits-from-conagra-brands-300452335.html#. Published May 5, 2017.
9. Crawford E. Peapod partners with food blogger to better compete against subscription meal kit delivery services. Foodnavigator-USA.com website. http://www.foodnavigator-usa.com/Manufacturers/Peapod-partners-with-blogger-to-boost-meal-kit-offering. Published November 8, 2016.
10. Meal kits deliver on convenience and health. The Harris Poll website. http://www.theharrispoll.com/business/Meal-Kits-Deliver-Convenience-Health.html. Published April 3, 2017.
11. Baertlein L. Whole Foods eyes millennials with Purple Carrot meal kit test. Reuters website. http://www.reuters.com/article/us-whole-foods-purple-carrot-idUSKCN12Q2RN. Published October 26, 2016.
12. Wells N. Everyone's into meal kits like Blue Apron...until they're not: sobering numbers underlie food subscription services. CNBC website. http://www.cnbc.com/2017/05/27/meal-kit-subscriptions-dont-stand-the-test-of-time.html. Published May 27, 2017.
13. Pearson B. Kroger's meal kits could make a meal of the industry. Forbes. May 17, 2017. https://www.forbes.com/sites/bryanpearson/2017/05/17/krogers-meal-kits-could-make-a-meal-of-the-industry/#1719d8ea5506