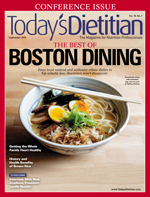 September 2016 Issue
Culinary Corner: Summer Squash
By Jessica Fishman Levinson, MS, RDN, CDN
Today's Dietitian
Vol. 18 No. 9 P. 74
Use the last of this year's crop to make this hearty soup.
One of my fondest memories from growing up is of the little vegetable garden my father had in our backyard. He grew tomatoes, peppers, cucumbers, and zucchini, and what I remember the most was the abundance of zucchini we had all summer long into the early fall. We had so much we didn't know what to do with it! These days with the popularity of spiralizing zucchini to make vegetable noodles, or zoodles, no one seems to get bored with all the summer squash. But if your clients have had enough zoodles, zucchini bread and muffins, and zucchini fries and fritters to last them the year, it's time for you to share with them another way to put the rest of this nutritious and delicious vegetable to use.
The hearty vegetable soup here is chock-full of late summer vegetables including corn, tomatoes, and that plentiful zucchini. It's the perfect dish to bridge the seasons and take your clients from the warm days of summer to the cool nights of fall. Like most other soups, it also freezes really well, so a big pot can be split up with some set aside for a taste of summer during the cold days of winter ahead.
This recipe calls for classic green zucchini, but there are a number of other varieties of summer squash your clients could use, including yellow zucchini, striped Romanesco zucchini, yellow squash, and pattypan squash. Unlike their winter cousins, summer squash have thin, edible skin and a softer flesh. They're also low in calories and have a high water content. One medium squash is a good source of potassium and manganese and an excellent source of vitamins C and B6.1 Summer squash also has been found to be relatively high in lutein and zeaxanthin, phytonutrients that play a role in decreasing the risk of age-related macular degeneration.2,3

— Jessica Fishman Levinson, MS, RDN, CDN, is a New York-based nutrition consultant, writer, and recipe developer, and the founder of Nutritioulicious (www.nutritioulicious.com).

References
1. Basic report: 11641, squash, summer, all varieties, raw. US Department of Agriculture, Agricultural Research Service website. https://ndb.nal.usda.gov/ndb/foods/show/3289?manu=&fgcd=. Accessed July 12, 2016.
2. Sommerburg O, Keunen JE, Bird AC, van Kuijk FJ. Fruits and vegetables that are sources for lutein and zeaxanthin: the macular pigment in human eyes. Br J Ophthalmol. 1998;82(8):907-910.
3. Gale CR, Hall NF, Phillips DI, Martyn CN. Lutein and zeaxanthin status and risk of age-related macular degeneration. Invest Ophthalmol Vis Sci. 2003;44(6):2461-2465.
Recipe
Late Summer Vegetable Soup
Use the last of summer's bounty of produce to make this hearty vegetable soup brimming with flavor and nutrition.
Serves 10
Ingredients
2 T olive oil
1 large onion, diced
1 cup carrots, peeled and diced
1 cup celery, diced
2 cups green zucchini, diced
2 large garlic cloves, minced
2 T tomato paste
6 cups low-sodium vegetable broth
1 bay leaf
1 tsp kosher salt, divided
Freshly ground pepper, to taste
2 ears corn, kernels removed
3 large beefsteak tomatoes, chopped, with juice
1 15-oz can no-salt-added navy beans, drained and rinsed
¼ cup chopped parsley leaves
Directions
1. Heat olive oil in a large soup pot over medium-high heat. Add onion, carrots, celery, and zucchini and cook, stirring occasionally until vegetables are tender, about 7 to 8 minutes.
2. Add garlic and sauté 30 seconds until fragrant. Add tomato paste and stir until combined.
3. Add broth, bay leaf, ½ teaspoon salt, and pepper to pot and bring to a boil. Add corn kernels, tomatoes with their juices, beans, parsley, and remaining ½ teaspoon salt and simmer, uncovered, for 15 minutes.
Nutrient Analysis per serving

Calories: 118; Total fat: 3.5 g; Sat fat: 0.5 g; Trans fat: 0 g; Cholesterol: 0 mg; Sodium: 333 mg; Total carbohydrate: 19 g; Dietary fiber: 5 g; Sugars: 6 g; Protein: 4 g