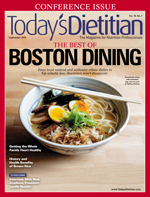 September 2016 Issue
Fresh Look at Brown Rice
By Lindsey Getz
Today's Dietitian
Vol. 18 No. 9 P. 38
An Overview of Its History and Health Benefits
Rice has been a staple crop across much of Asia for millennia. Even today, rice provides nearly 20% of our total available calories worldwide.1 It can be grown in a wide range of environmental and soil conditions and is produced in more than 100 countries and on every continent except Antarctica. There are many varieties of rice, most often classified by the size of the grain: short, medium, and long. At the supermarket, whole grain (also called brown) rice—which comprises the entire seed of the plant, including the bran, germ, and endosperm—can be found in each of these grain lengths. Some supermarkets carry brown basmati rice or brown jasmine rice, two aromatic varieties of long grain rice prized for their distinctive fragrance and flavors. In addition, red, wild, black, and purple rice are whole grain rice. While it hasn't always been in fashion, brown rice has become increasingly popular and has been part of an interesting history.

In the past, the general population ate more brown rice because it cost less than white rice. As with many grains, white rice was once considered more of a luxury product because of all the polishing and refining it required to produce it, says Kelly Toups, MLA, RD, LDN, program director of the Whole Grains Council. According to Toups, rice milling took off in the 1870s. With milling, the increased accessibility of white rice to the masses suddenly made it more popular among the general population. However, around this same time, Dutch scientists had linked a white-rice diet to sickness in chickens. Conversely, it was found that brown rice appeared to reverse the illness. This finding ultimately heralded the importance of a vitamin-rich diet as scientists began to understand the link between diet and health.2
Craig Sams, author of The Macrobiotic Brown Rice Cookbook, who was once known as the "brown rice baron" (any brown rice purchased in the United Kingdom in the 1970s came through his company Harmony Foods), reported that brown rice also has been thought of in terms of food supply over the years. During the Vietnam War, Sams says the Thai army and Viet Cong traditionally would eat brown rice as combat rations; they carried it in a pouch around their necks. But he says it was the macrobiotic movement that "gave brown rice its legs" in other parts of the world, including Europe and the United States. In the 1960s and 1970s, brown rice grew in popularity as the health movement began to flourish, according to Toups. And now most people think of brown rice as more of a premium product, compared with white rice. Toups says this is because the appreciation for its texture, flavor, and of course health benefits have grown. Over the past four years, brown rice has seen a 28% menu growth, indicating that consumers are looking for more whole grain menu options, and they're turning to rice as a healthful choice.

Nutrient Content
While there may be a better understanding of brown rice's health benefits today, it's long been known (dating back to those Dutch scientists) that brown rice was superior in its nutrient content to white rice, which has the bran and germ removed. But what are some of the benefits of brown rice? Compared with unenriched white rice, whole grain rice is richer in nutrients, including fiber, protein, B vitamins, and minerals, such as iron, magnesium, and copper.

To make up for these nutrient shortfalls in the milling of rice, white rice in the United States is fortified using a micronutrient powder, which includes thiamin, niacin, folic acid, and iron during the manufacturing process (see "Brown and White Rice Comparison"). It's important to remember that brown rice naturally includes these nutrients, as well as others not plentiful in white rice. Moreover, whole grain rice contains more phytochemical compounds than white rice; this is particularly true of the most colorful varieties.

"As a purely refined carbohydrate, [unenriched] white rice is a starch with very few nutrients," says Qi Sun, ScD, MD, an assistant professor in the department of nutrition at Harvard T.H. Chan School of Public Health. "A diet of [unenriched] white rice is lacking in key vitamins, minerals, and fiber. But brown rice has many benefits, including anti-inflammatory properties."

Like other whole grains, brown rice has been shown to potentially reduce the risk of heart disease, certain cancers, and diabetes. In a 2010 study from Harvard T.H. Chan School of Public Health, published in the Archives of Internal Medicine, researchers found that eating five or more servings of white rice per week was associated with an increased risk of diabetes. In contrast, eating two or more servings of brown rice per week was associated with a lower risk of the disease. Specifically, replacing 50 g of white rice (just one-third of a typical daily serving) with the same amount of brown rice was found to decrease the risk of type 2 diabetes by 16%.3
More recent research from the Madras Diabetes Research Foundation in India had similar findings. Published in May 2014 in Diabetes Technology & Therapeutics, the study found that test subjects who ate a diet consisting of brown rice could maintain lower blood sugar than those who consumed a diet with white rice.4
With 2 g fiber per one-half cup cooked, brown rice can contribute to maintaining a healthy weight due to its fiber content and assistance in helping people stay fuller longer. But research shows that the fiber content can be increased by 6% to 14% when brown rice is sprouted. In a study from Ecuador published in September 2014 in Plant Foods for Human Nutrition, researchers compared different levels of nutrients in six varieties of brown rice when it was raw, soaked, and sprouted. The researchers found that dietary fiber content increased with sprouting time and increased temperature in all varieties of brown rice.5
Sprouting should be performed with safety in mind. The To Your Health Sprouted Flour Co, based in Fitzpatrick, Alabama, is the go-to source for instructions on sprouting, according to Toups. The information available on the company's website is clear and detailed (eg, rinsing with vinegar for sanitization as well as a focus on safely dehydrating sprouted grains).
In terms of brown rice's benefits as a fiber-containing food, it's important to note that rice contains resistant starch. These types of starches resist digestion in the small intestine and, therefore, don't contribute to blood glucose levels, says Jill Weisenberger, MS, RDN, CDE, FAND, CHWC, author of The Overworked Person's Guide to Better Nutrition. But there are benefits even for those who don't struggle with diabetes or prediabetes, Weisenberger says.
"In the colon, intestinal bacteria make a meal out of resistant starches and, in the process, produce fatty acids that are good for the gut," Weisenberger explains. "The good bacteria love this and thrive. The bad guys don't fare so well. Good intestinal bacteria are known to produce vitamins, detoxify cancer-causing compounds, activate health-promoting compounds, and guard our health in many other ways."
Brown rice also is an excellent gluten-free option and is considered the least allergenic of all the grains, Toups says. It's also one of the most easily digested grains, which is one of the reasons rice cereal often is recommended as a baby's first solid food, she adds.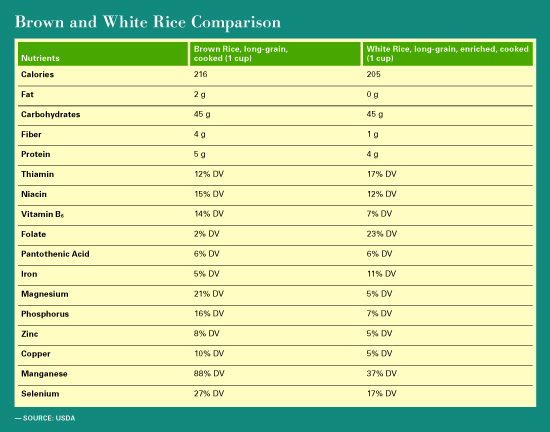 Canvas for Healthful Fare
Research has shown that those who consume a diet containing rice (brown or white) tend to eat more vegetables. In a study published in the October 2009 issue of the Journal of the American Dietetic Association, researchers found that rice eaters had a lower intake of calories from fat and saturated fat, and a greater intake of fiber, iron, and potassium.6 In general, rice eaters also chose more vegetables on their plate, perhaps because rice can provide a base for vegetables in the form of stir-fries.

"With the growing popularity of rice bowl meals at restaurants, brown rice is proving to be an excellent canvas for adding a variety of different healthful ingredients whether it's burrito bowls or deconstructed sushi bowls," Toups says.
Rice bowls are an easy, delicious, and budget-friendly meal people can eat at home as well, helping them to meet the 2015–2020 Dietary Guidelines for Americans, which recommend consuming at least one-half of all grains in the form of whole grains. One-half cup brown rice, cooked, equals one whole grain serving and can serve as the foundation for a healthful rice bowl that can include one cup chopped vegetables, 2 to 3 oz lean protein, healthful fat, and herbs/spices added in accordance with the individual's taste preferences.

Of course rice bowls and stir-fries are just two of many possible dishes in which rice can serve as the perfect foundation. Brown rice can serve as a base for curry dishes, which originate in Indian subcontinent cuisine, and in bean dishes such as red beans and rice, which is popular in Latin America. Although most of the rice cultivated today is of Asian descent, there's a little-known variety of African rice that has been cultivated in West Africa for at least 1,500 years, Toups says. According to the book Lost Crops of Africa: Volume 1: Grains, floating versions of African rice have been cultivated alongside the Niger River for hundreds, if not thousands of years. In fact, some West African countries have been just as rice-oriented as Asian countries.
One common rice dish in West Africa is Jollof rice, which has the basic ingredients of brown rice, tomatoes, tomato paste, onions, salt, and red pepper.

"I think that people like the nutty flavor of brown rice and are interested in adding even more flavor to their dishes by utilizing it," Toups says. "We're seeing more experimentation with brown rice as people realize how much can be done with it. Because brown rice comes in at a lower price point than quinoa it can be a great gateway to whole grains in general."

Culinary Uses
Cooking brown rice also is simple compared with other whole grains, which may require longer cooking times. Brown rice can be cooked on the stovetop, boiled like pasta, or cooked in a rice cooker. Alice Henneman, MS, RDN, an extension educator at the University of Nebraska-Lincoln Institute of Agriculture and Natural Resources, says that although brown rice takes longer to cook than white rice (about 45 minutes on the stovetop vs 15 to 20 minutes for white rice), cooking a large batch and refrigerating it will make it convenient to use quickly for healthful recipes.
"Refrigerate cooked rice in a shallow container as it cools faster in the refrigerator," Henneman suggests. "It's OK to refrigerate foods while they're still warm. Brown rice can be reheated with two tablespoons of liquid per cup of rice either in the microwave or range top. Cooked rice also can be tossed directly into soups."

Cooked rice can be stored in the refrigerator in a tightly covered container for three to five days or frozen for up to six months. Uncooked brown rice contains natural oils in the bran and will stay fresh in the pantry for about six months. It can be refrigerated or frozen to extend the shelf life.
Toups says one of the more creative uses for brown rice is as a replacement for cream in soups or stews. Toups says the idea, which comes from Cooking Light and was published in 2015, is to cook one-half cup of uncooked instant brown rice in two cups of unsalted chicken stock. Once cooled, blend rice and one cup of low-fat milk in a blender until smooth and creamy. This makes three cups of brown rice cream, which provides only 107 kcal, 1.3 g fat, and 0.5 g saturated fat per cup. Compared with the 828 kcal, 89 g fat, and 55 g saturated fat that's found in heavy whipping cream, that's a big difference.

"A recent Harvard study found that replacing some of the calories from saturated fats in one's diet with whole grains like brown rice can lower the risk of heart disease," Toups says. "Replacing cream with a brown rice-based thickener is a creative way to do just that."

One of the best attributes of brown rice is its versatility. It can be a central ingredient for all parts of a meal. Rice often isn't thought of in terms of breakfast, but there are many ways to prepare a hearty breakfast with brown rice as a base (see recipes on pages 40 and 43). Of course, brown rice also makes a delicious side or main dish as previously discussed whether it's the base of a bowl, tossed into a soup, or even just served as a lightly seasoned side dish. No matter how you eat it, rice truly makes a healthful addition to any meal of the day.

— Lindsey Getz is a freelance writer based in Royersford, Pennsylvania.


References
1. Wheat — the largest primary commodity. Food and Agriculture Organization of the United Nations website. http://www.fao.org/resources/infographics/infographics-details/en/c/240943/?utm_source=facebook&utm_medium=social+media&utm_campaign
=fao+facebook. Updated August 14, 2014. Accessed August 2, 2016.
2. Laskow S. How sick chickens and rice led scientists to vitamin B1. The Atlantic website. http://www.theatlantic.com/technology/archive/2014/10/how-sick-chickens-and-rice-led-scientists-to-vitamin-b1/381903/. Published October 30, 2014.
3. Sun Q, Spiegelman D, van Dam RM, et al. White rice, brown rice, and risk of type 2 diabetes in US men and women. Arch Intern Med. 2010;170(11):961-969.
4. Mohan V, Spiegelman D, Sudha V, et al. Effect of brown rice, white rice, and brown rice with legumes on blood glucose and insulin responses in overweight Asian Indians: a randomized controlled trial. Diabetes Technol Ther. 2014;16(5):317-325.
5. Cáceres PJ, Martínez-Villaluenga C, Amigo L, Frias J. Assessment on proximate composition, dietary fiber, phytic acid and protein hydrolysis of germinated Ecuatorian brown rice. Plant Foods Hum Nutr. 2014;69(3):261-267.
6. Batres-Marquez SP, Jensen HH, Upton J. Rice consumption in the United States: recent evidence from food consumption surveys. J Am Diet Assoc. 2009;109(10):1719-1727.
Recipes
Vegan Coconut Brown Rice Pudding
Serves 4

Pudding Ingredients
1 cup US-grown short-grain brown rice
1 14-oz can light coconut milk
2 cups water
2 T maple syrup
1 tsp vanilla extract
2 tsp cinnamon
1/2 cup raisins
Coconut whipped cream (optional)*
Slivered almonds (optional)
Directions
1. In a slow cooker, add rice, coconut milk, water, maple syrup, and vanilla, and cook on low for 3 1/2 hours or until liquid is absorbed.
2. Stir in cinnamon, and add more as desired. Stir in raisins.
3. Top with coconut whipped cream and/or slivered almonds (optional).
Coconut Whipped Cream Ingredients
1 14-oz can full-fat coconut milk
1 tsp maple syrup (optional)
Directions
1. Store the can of coconut milk in the fridge overnight.
2. Place a medium-sized mixing bowl in the freezer for five minutes or so before you're ready to whip the cream.
3. Open the can of coconut milk and discard the semiclear liquid sitting on the top.
4. Add remaining coconut milk to the chilled mixing bowl, and use an electric mixer to whip until stiff peaks begin to form (about 5 minutes).
5. Add maple syrup to sweeten and whip to combine (optional).
Nutrient Analysis per 1/2-cup serving
Calories: 160; Total fat: 4 g; Sat fat: 2 g; Trans fat: 0 g; Sodium: 20 mg; Total carbohydrate: 34 g; Dietary fiber: 2 g; Sugars: 10 g; Protein: 2 g
*Does not include optional ingredients
— Recipe courtesy of Kara Lydon, RD, LDN, RYT, nutrition and communications consultant and blogger at The Foodie Dietitian, and author of the e-book Nourish Your Namaste: How Nutrition and Yoga Can Support Digestion, Immunity, Energy & Relaxation.
---
Carrot, Coconut, Brown Rice Muffins
Serves 20
Ingredients
1 cup brown rice, cooked
3/4 cup whole wheat pastry flour
3/4 cup oat flour
1/2 cup spelt flour
1/3 cup shredded coconut
1 tsp baking powder
1 tsp baking soda
2 tsp ground cinnamon
1/2 tsp salt
1 cup shredded carrots
1/2 cup vanilla Greek yogurt
2 large eggs, beaten
1/2 cup agave nectar
1/4 cup unsweetened applesauce
2 T coconut oil
1 tsp pure vanilla extract
Cooking spray
Directions
1. Preheat oven to 350° F.
2. Cook rice according to package directions.
3. In a medium bowl, whisk together whole wheat pastry flour, oat flour, spelt flour, coconut, baking powder, baking soda, cinnamon, and salt.
4. In a separate bowl, whisk together carrots, Greek yogurt, eggs, agave nectar, applesauce, coconut oil, and vanilla extract until combined.
5. Add carrot mixture to flour mixture and stir until just moist. Gently fold in cooked rice.
6. Place 20 paper muffin cup liners in muffin cups; coat liners with cooking spray. Spoon batter into prepared cups until 2/3 full. Bake at 350° F for 20 to 25 minutes or until a wooden pick inserted in the center comes out clean. Cool for 10 minutes in a pan on a wire rack; remove from pan.
Tip: Store muffins in the refrigerator or freezer to keep fresh.
Nutrient Analysis per serving
Calories: 110; Total fat: 4 g, Sat fat: 3 g, Trans fat: 0 g; Cholesterol: 20 mg; Sodium: 160 mg; Total carbohydrate: 17 g; Dietary fiber: 2 g; Sugars: 8 g; Protein: 3 g
— Recipe courtesy of Holley Grainger, MS, RD, nationally recognized nutrition and lifestyle expert and blogger at www.holleygrainger.com.