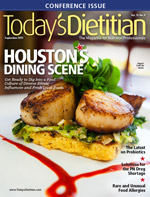 September 2013 Issue
Developing Smartphone Apps
By Lori Zanteson
Today's Dietitian
Vol. 15 No. 9 P. 60
Tech-savvy RDs discuss the challenges, successes, and gumption it takes to create a mobile app that can build your business and further your career.
Today's RDs are actively tapping into technology as an effective way to grow professionally and integrate interactive strategies to help clients and patients reach their health goals. Through the consistent development of professional websites and blogs, and participation in social media, dietitians are increasing their online presence as experts in the food and nutrition industry. Now, the savviest self-starters are turning their attention to yet another cyber endeavor: the app.
Smartphones are fast becoming the go-to link connecting users to health and nutrition information, making apps a natural progression to optimizing an RD's professional outreach. Incorporating app technology into your business holds immense potential to more effectively connect with clients and build your brand. Dietitians who have jumped on board by either collaborating with a company to develop an app or creating one from scratch have no regrets. While there's no denying the steep investment of time and energy, for those who want to take their careers to the next level, launching an app can be very lucrative.
Today's Dietitian interviewed RDs who have developed or collaborated with others in the creation of smartphone apps for clients, patients, and the general public. They discuss the challenges, professional rewards, and what it takes to succeed.
Optimal Outreach
Michal Hertz, MA, RD, CDN, cofounder and president of Honey, an iOS app that enables users to conduct a Q & A with a dietitian, wanted to find a better way for clients and dietitians to communicate and strengthen their relationship. "I discovered that outside of regularly scheduled sessions, clients had sporadic questions and issues that they needed assistance with. I found that clients often felt uncomfortable calling their dietitians, were not receiving prompt responses via e-mail, or were disappointed that they had to wait until their next session to address key issues," she says. An RD herself, she knew that a lack of consistent, ongoing communication between RDs and their patients was a problem, so she used her understanding of the unique dynamic of RD-patient communication to design the app.
Honey users download the free app and then create their own profiles, which include personal dietary restrictions, allergies, goals, medical history, and body metrics. They're then encouraged to ask questions specific to their personal needs to ensure the customized RD response is as relevant as possible. Hertz says questions about dining out, supermarket shopping, and food preparation are common.
A photo tool allows users to snap a picture of a meal or a food label, for example, on which they can insert text to streamline the question or they can send a separate text, whichever they prefer. Users can request a response immediately or within a few hours. RDs can charge their clients based on the questions asked, create a monthly subscription service, or provide it as a free add-on service.
Maintaining an open line of interactive communication and outreach not only reinforces the relationship between RD and client, but it expands the experience beyond what would otherwise be possible. "It gives space for follow-up sessions to focus on more specific issues that are coming up vs. spending the majority of the session talking about food choices and supermarket shopping. It also allows clients to feel like they have opportunity during the week to address their questions, which they may forget or not have time to get to during their in-person appointment," Hertz says.
Real-Time Answers
Another app called The Pocket Dietitian was created to provide personalized dietary information and answers to questions from patients with chronic kidney disease, end-stage renal disease, hypertension, diabetes, and obesity who require special medical diets. "We found that patients often give up following a diet because they're confused about the recommendations," says Nilima Desai, MPH, RD, a consulting dietitian who collaborated in the development of the app. "We also realized that most patients have never done a food log and calculated their nutrient intake in a given day."
The app's goal is to help users maintain a balanced approach to daily meals by avoiding foods that lead to a disproportionate consumption of their tracked nutrients, Desai says. She gives the example of eating a 12-oz steak for lunch, which may count for more than one-half of a patient's daily recommended sodium and fat intake. The Pocket Dietitian recommends several alternatives, such as an 8-oz chicken breast. "This real-time dietary assessment will help educate users on the impact food has on their bodies," Desai says.
Once registered for the free app, users complete a questionnaire, which the app uses to calculate dietary recommendations based on several guidelines, including those from the American Diabetes Association, the National Kidney Foundation, the American Heart Association, and the Academy of Nutrition and Dietetics. When entering foods into the tracking log, the app calculates the nutritional information and then suggests more healthful options and portions when necessary. Food logs also may be sent to a user's health care provider or RD.
Providing patients with a free tool to figure out how to track and manage the calories and nutrients they need has helped "millions of people that suffer from various chronic diseases," Desai says.
Built-In Marketing
Keri Gans, MS, RD, CDN, is a nutrition expert for Juice, a free app that helps people track energy level and activity, focusing on the connection between their daily routine and their energy level. "It makes people be accountable," she says. "I encourage people to step back and take a look at their lives. Break it down and see which component could be the cause or effect of how you're feeling. Is your energy down due to sleep? Or it could be how you're eating. Juice can help determine what's affecting your health the most."
Gans' role in the development of Juice was as a collaborator with Mindbloom, the company that created the app. The company approached Gans in its search for experts to contribute to the app. Gans supplied short, actionable nutrition and exercise tips to help users pay more attention to their health. Based on which areas users need encouragement, Juice sends meaningful tips. Gans recommends app users schedule certain tips at specific times as reminders, such as drinking more water throughout the day.
When a user clicks on one of Gans' tips, her name comes up, as does a link to her book on Amazon.com and often a link to more information from one of her blogs. "It's another vehicle to promote my work. It's built-in marketing for me," she says.
Mindbloom writes press releases about the app and has used Gans' tips on other apps as well (with her permission). While she doesn't view the app as directly impacting her professional career, "It's an added benefit to my résumé. Not a lot of RDs are in this area. I do writing and speaking. It adds to the opportunities to work for other clients."
This also has been the experience of Anita Mirchandani, MS, RD, CDN, CPT, cofounder of Fitmapped, a free app that helps users find fitness classes in their areas and connects them socially. She's a practicing dietitian who also writes and presents at workshops on sports nutrition. "As a result of my experience as an entrepreneur, it's opened up doors to meet people in a broad area. It's a huge, positive thing," she says.
She sees patients on referral, and her outreach has increased her business. In fact, Nike contacted her after seeing the online presence of Fitmapped.
Having spent nothing on marketing, Fitmapped is all about engagement. It provides opportunities to invite a friend to a spin class you're attending in the neighborhood, write a review of the experience, and even post photos and establish yourself as a fitness guru on the app. The experience "grows into a conversation starter," Mirchandani says. "Fitness is moving in a very social and gamified direction. This industry isn't going to stop. The momentum is high," she says, adding, "Why not a nutrition app?"
User engagement results in a growing community but not just of app users. Gym owners are interested in Fitmapped for marketing opportunities to help grow their business, and RDs and chiropractors have approached Mirchandani expressing interest in being on the map. She also has her eye on health care, corporate wellness, and insurance providers to refer people.
"This is an excellent way to get healthy," she says. The app will soon be on Aetna's CarePass platform, a distribution that "will be huge for us."
Road to the App
Creating a smartphone app requires plenty of hard work because of the ever-evolving nature of nutrition information and technology. Nevertheless, it's doable, and RDs say it definitely has its rewards. Because the Honey app has such a diverse user base and the experiences of dietitians in various sectors, such as sports, pediatrics, and eating disorders, are so different, the creators spent much time researching each area of expertise to provide them with an effective tool to grow their practice and increase their connectivity to clients. "We're still improving the app on a daily basis as we receive additional feedback from the RDs we work with," Hertz says.
As the only full-time member of the Fitmapped team, Mirchandani soon realized managing so much on her own was becoming a challenge. Bringing a technology expert on board to share at least some of the responsibility has helped. She keeps the mantra "slow and steady" in mind as Fitmapped continues to grow and flourish. "This is how it evolves," Mirchandani says of the journey. "I want more people to consider a smartphone app as another way to channel their expertise. The possibilities of your reach are tremendous in investing in technology [to enhance] your skills. It's great for your career."
If app development appeals to you but seems daunting, consider playing a collaborative role to get a feel for the experience and still reap professional perks. Because Gans had established herself as a nutrition expert and actively maintained her online presence, it was easy for Mindbloom to find and approach her when looking for nutrition experts for the Juice app. "It was all their work," she says. "I wasn't going to do my own app from scratch. It takes a lot of time and energy for something that may not be very lucrative itself." But if you can use another vehicle for marketing your nutrition business, give it some serious thought. In addition, Gans recommends exploring this area in various arenas such as social media and conferences.
It's important to never underestimate your value and expertise as an RD—always use them. Desai did just that by providing the formulas and algorithms for calculating the nutrients needed to manage the various diseases based on users' concerns for The Pocket Dietitian. She recommended more healthful food alternatives and tested the app before it was officially released to the app store. Her challenge was turning the formulas and algorithms into basic English for proper coding of the app. "We went through multiple revisions and 'debugging' of the app before the final version was released. But along with all the challenges, the successes have been tremendous," she says.
Despite the flood of apps available today, Desai says she's confident that the emergence of nutrition science and functional medicine has created a void that's in need of nutrition-related applications.
— Lori Zanteson is a food, nutrition, and health writer based in southern California.
Before the Launch
If you're thinking about developing an app or collaborating with a company to create one, Anita Mirchandani, MS, RD, CDN, CPT, cofounder of Fitmapped, offers the following tips:
• Tap into social media. Begin sharing quick and simple health tips on Facebook and Twitter to gauge the response you get and develop a following.
• Blog for yourself or write a guest post for others. Share advice, tips, healthful recipes, and new research or write restaurant reviews to reach out to companies that specialize in health and wellness and that provide nutritious foods. They may express an interest in your services, and this will help grow your virtual presence.
• Research the market. Find out what apps are available and talk to as many colleagues and clients as possible to determine how your idea for an app could possibly meet their needs.
• Use your knowledge. Use your RD credential to leverage your brand. Your title lets people know you're a qualified nutrition expert.
• Be patient. Set aside at least three to five months to do research on who could invest in your app. Make sure to research key players such as angel investors or investment firms that may be interested in your product.
— LZ