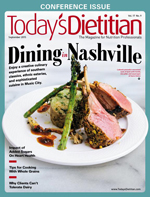 September 2015 Issue
Editor's Spot: A Future Without Trans Fat
By Judy Riddle
Today's Dietitian
Vol. 17 No. 9 P. 5
Nutrition professionals and the health care community were ecstatic over the news in June that the FDA finalized its determination that partially hydrogenated oils (PHOs), the primary source of trans fat, aren't generally recognized as safe, and will no longer be used in the human food supply after June 18, 2018. Companies that wish to continue limited use of PHOs after this three-year phase-out period must provide evidence to the FDA that doing so won't harm public health. With all the evidence stacked against PHOs, companies may be hard pressed to convince the FDA that using them in any capacity will be safe. But that remains to be seen. 
Since 2006, when the FDA required food manufacturers to list the amount of trans fat on nutrition facts panels, many have stopped using or reduced the use of PHOs, but now that eliminating them will become mandatory in three years, companies will continue to face the challenge of experimenting with various types of oils to duplicate the flavor, shelf life, and stability of their products that consumers have come to know and love. The FDA estimated that compliance with the regulations will cost the food industry $6.2 billion over 20 years in packaged food reformulations and relabeling, substituting new ingredients, and consumer, restaurant, and bakery recipe changes. But the savings from decreased medical costs and other benefits during this time is estimated at $130 billion, demonstrating that the benefits far exceed the cost of compliance. According to the Centers for Disease Control and Prevention, the elimination of PHOs could prevent 10,000 to 20,000 coronary events and 3,000 to 7,000 deaths annually.
Thus far, many companies have substituted palm oil for PHOs and are considering high oleic soybean oil blends and interesterified soybean oil to replace partially hydrogenated soybean oil. It will be interesting to see how all of this plays out in the food industry over the next three years. Will companies experience a smooth transition? Or will they face great challenges to maintain the flavor, shelf life, and consistency among their products? We'll have to stay tuned.
In this issue, Today's Dietitian features articles on added sugars and heart health, cooking with whole grains, and our annual dining guide, which profiles the best restaurants in Nashville, Tennessee, known for their Southern classics, ethnic creations, and sophisticated, award-winning cuisine. Prepare for an awesome culinary experience as you attend the Academy of Nutrition and Dietetics' Food & Nutrition Conference & Expo® next month, and visit us at booth 950. I look forward to meeting you and seeing you again!
Judith Riddle
Editor
TDeditor@gvpub.com