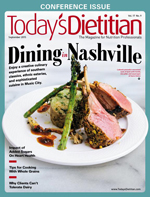 September 2015 Issue
Dining in Nashville
By Sharon Palmer, RDN
Today's Dietitian
Vol. 19 No. 9 P. 30
As you make plans to attend the Academy of Nutrition and Dietetics' Food & Nutrition Conference & Expo®, be prepared to enjoy Southern classics and ethnic eateries in Music City.
Nashville, Tennessee, is legendary for its roots in music, dating back to the late 1700s when fiddle tunes and buck dancing played out on the shores of the Cumberland River. After all, this city is home to the Grand Ole Opry, and it's a hub for songwriters of country, pop, rock, bluegrass, jazz, classical, blues, and soul music. Nashville is a virtual Mecca for musicians. Everyone from the Black Eyed Peas to Michael Bublé has come to Nashville to write and record music. Some, including The Black Keys and Jack White, even call it home.
But Nashville offers more than great, foot-tapping vibrations. It has an exciting dining scene, as well. "While Nashville has long been known for its expansive music scene, the talent and creativity of its culinary scene has put Nashville on the map," says Katherine Roberts, public relations manager for the Nashville Convention and Visitors Corporation. Food & Wine has spotlighted the "booming Music City food scene" in Nashville. Food Arts Magazine concurs: "An emerging culinary scene is putting Nashville on the gastronomic radar." Local Palate reported that Nashville has an "impressively diverse culinary scene busting at the seams."
Perhaps it's the juxtaposition of creative, modern dining alongside simple, unassuming fare that turns the charm on in this city. "The Nashville dining scene combines traditional Southern food and cooking techniques with modern, creative cuisine," says Sarah Jane Bedwell, RD, LDN, a media spokesperson and blogger based in Nashville. "Whether you're looking for down-home country cooking or upscale gastronomy, you'll find it all here in Music City," Bedwell says.
According to Shanna Mallon, a Nashville blogger, "It's a small Southern city with an increasingly big-city feel. There are meat-n-three diners alongside nationally acclaimed, award-winning restaurants. Nashville's the place where you'll find a popsicle place featured in The New York Times just as easily as a hot chicken restaurant with lines out the door," says Mallon, who works with her husband Tim on their popular blog Food Loves Writing (www.foodloveswriting.com).
In this article, Today's Dietitian asks a panel of local food experts—including two Nashville dietitians—to weigh in on the culinary offerings that await you in Nashville. Make room in your schedule—and bellies—to take in the sights, sounds, smells, and tastes of this fabulous city.
Must Taste Experience
So, which food experiences are required during your visit in Nashville? Our experts agree that there are three classic staples: meat-n-threes, hot chicken, and barbeque.
Local foodies unanimously sing the praises of the Nashville tradition "meat-n-three"—a Southern staple in which you pick one meat, such as catfish or smoked pork chops, and three side dishes, such as mashed potatoes, turnip greens, and creamed corn. Roberts' favorite meat-n-three spots include Puckett's Gro. & Restaurant (www.puckettsgrocery.com, 500 Church Street, 615-770-2772), Loveless Café (www.lovelesscafe.com,  8400 Hwy 100, 615-646-9700), Arnold's (www.arnoldscountrykitchen.com, 605 8th Avenue South, 615-256-4455), Monell's (www.monellstn.com, 1235 6th Avenue North, 615-248-4747), and Swett's Restaurant (www.swettsrestaurant.com, 2725 Clifton Avenue, 615-329-4418).
Local foodies also point out Nashville's unique culinary tradition of hot chicken, in which you choose your level of spiciness. "Many people think of fried chicken when they think of the South, and Nashville's version is hot chicken, which is fried chicken tossed in hot sauce and usually served with waffles," explains Bedwell, who says the original hot chicken place is Prince's Hot Chicken (www.facebook.com/pages/Princes-Hot-Chicken/166097846802728, 123 Ewing Drive, 615-226-9442). "It may not be Nashville's finest location, but the chicken is authentic and it is hot!" Bedwell adds.
Kaylee Paulee, a Nashville food blogger for Lemons and Basil (www.lemonsandbasil.com) says, "Paired with a pickle and served on a slice of bread, Nashville's hot chicken will definitely light you on fire and open up any sinus pressure you have." Bolton's Spicy Chicken & Fish (www.boltonsspicy.com, 624 Main Street, 615-254-8015; second location 2309-A Franklin Pike, 615-383-1421); 400 Degrees Hot Chicken (www.400degreeshotchicken.com, 319 Peabody Street, 615-244-4467), and Hattie B's Hot Chicken (www.hattieb.com, 5209 Charlotte Avenue South, 615-712-7137; 112 19th Avenue South, 615-678-4794) are other popular hot chicken joints in Nashville.
And if you're in the mood to taste Nashville barbeque, Roberts suggests Martin's Bar-B-Que Joint (www.martinsbbqjoint.com, 3108 Belmont Boulevard, 615-200-1181). "Whole hog, live-fire barbeque is their roots. A fresh hog goes on the pit every day for the next day," she notes.
However, "must-taste" experiences can take a sharp turn from the old standbys, according to Mallon, who can't get enough of local Nashville specialties such as Sayadeya spiced fish filet at the popular Lebanese inspired restaurant Epice (www.epicenashville.com, 2902 12th Avenue South, 615-720-6765), and a Las Paletas (www.laspaletasnashville.com, 2911 12th Avenue South, 615-386-2101) Mexican-style popsicle dipped in locally made Olive and Sinclair chocolate.
Mallon describes Epice as "a Lebanese restaurant that wows us every time we visit with its simple and authentic flavors." The restaurant proprietor Maher Fawaz says, "I wanted to introduce Lebanese cuisine since it's one of the healthiest and considered part of the Mediterranean diet. We use fresh ingredients, herbs, spices, and olive oil—the only oil in the kitchen." Fawaz reports that al-raheb (roasted eggplant), lahmeh (rack of lamb), and sayadeya (fish with rice) are among the most popular dishes.
Bedwell adds pizza at City House (www.cityhousenashville.com, 1222 4th Avenue North, 615-736-5838) to the must-taste list for the best pizza outside of Italy, as well as a Goo Goo Cluster candy bar (www.googoo.com), which was invented in Nashville in 1912. "Trust me, if you like chocolate and peanuts, you'll love it!" Bedwell says.
Southern Food Traditions
A trip to Nashville wouldn't be complete without sampling some classic Southern fare.
Everyone raves over Arnold's Country Kitchen, a family-run, James Beard-award winning, cafeteria-style, meat-n-three eatery that serves scratch soul food using local ingredients; it topped the Nashville Lifestyle Magazine best restaurant list in 2013. Specialties include fried green tomatoes, collard greens, and meatloaf. "Arnolds is a place that locals love for good ol' country cooking," Paulee says.
Another Nashville classic is Loveless Café, known for its biscuits. "People come from around the world to try their made-from-scratch, perfectly fluffy, golden-brown jewels topped with some of Loveless' homemade fruit preserves," Bedwell says. She also recommends Pancake Pantry (www.thepancakepantry.com,  1796 21st Avenue South, 615-383-9333), where they serve sweet potato pancakes with a Southern twist.
One of Roberts' all-time Southern favorites is Hattie B's Hot Chicken, which specializes in this fiery, molten poultry Nashville specialty. "The chicken comes in various levels of heat, so be sure to wash it down with a local brew and their homemade banana pudding for dessert," she says.
Buzzworthy Chefs and Hotspots
Nashville isn't without its own haute cuisine and celebrity, award-winning chefs. Top on our food experts' list is The Catbird Seat (www.thecatbirdseatrestaurant.com, 1711 Division Street, 615-810-8200), led by Chef Trevor Moran, the former sous chef under Rene Redzepi of the famed Noma in Copenhagen, consistently named one of the top restaurants in the world. "You must make reservations at least a month in advance. Innovative and eclectic, the menu is the chef's choice and typically is 11 or more courses with paired beverages. The cuisine incorporates Southern ingredients, but is also influenced by the chef's Irish and Danish roots," Bedwell says.
Nashville food lovers also list City House, led by James Beard-nominated chef Tandy Wilson, at the top of their dining list. Southern Living listed City House on its Best Restaurants in the South list, noting that Wilson had much to do with the current reputation of Nashville as a food town, thanks to inventive antipasti (such as dandelion greens with walnut pesto), fresh pastas, and pizzas (such as the chard, pecorino, garlic, lemon, and chiles pizza).
Maneet Chauhan of Chauhan Ale & Masala House (www.chauhannashville.com, 123 12th Avenue North, 615-242-8426) has been getting plenty of love by food critics as of late for her Southern-meets-Indian fare, such as guava-glazed barbeque ribs and beet cauliflower croquette with black-eyed pea and collard green curry. In fact, you can check out Chauhan on Food Network's program Chopped, where she's one of the judges.
Our food experts also express great affection for local chef Margot McCormack, who helms Marche Artisan Foods (www.marcheartisanfoods.com, 1000 Main Street, 615-262-1111) and Margot Café & Bar (www.margotcafe.com, 1017 Woodland Street, 615-227-4668). According to McCormack, her culinary style is "French-inspired with local, seasonal foods that are simple and fresh. I don't use expensive ingredients, such as foie gras. I use locally sourced foods for my French interpretation." For example, McCormack's chicken liver pâté has her own twist with bacon, local brandy, and caramelized Vidalia onions. And you might see a classic French dish served alongside pickled vegetables or homemade bread with fresh peaches. The menu changes every night, but some of her most popular items include steak frite, seafood stew pot (McCormack's interpretation of bouillabaisse), and grilled whole fish.
Celebrity and award-winning chef Sean Brock opened up a Husk Restaurant (his flagship restaurant is in Charleston) in Nashville (www.husknashville.com, 37 Rutledge Street, 615-256-6565), where he serves new Southern cuisine with a dedication to local ingredients—the restaurant even boasts its own garden. Delectable dishes, which may include benne and honey lacquered duck with pickled blueberries, chanterelles, and crispy pork collar, await the diner.
Mason's (www.masons-nashville.com, 2100 West End Avenue, 615-321-1990) is an edgy yet elegant restaurant featuring traditional Southern dishes combined with Appalachian and European flavors and techniques to create a unique Nashville dining experience. Executive chef Ashley Reese says the philosophy behind Mason's is all about "highlighting local farms, artisans, seasonal ingredients, and foraged foods. We like taking a dish or a flavor that may be familiar to most people and elevating it to a new or unique level. It's about creating that feeling of comfort with an element of surprise." A few of the restaurant's most popular dishes include porcini-rubbed ribeye with garlic scapes, Carter Creek oyster mushrooms, and salsa verde; and the ancho Berkshire pork chops with smoked Sea Island pea charros and mango-jicama slaw.
James Beard-nominated chef Hal M. Holden-Bache heads up Lockeland Table (www.lockelandtable.com, 1520 Woodland Street, 615-228-4864). "I believe in simplicity of foods; I don't overcomplicate things. I allow the foods to maintain their integrity. I source good products and have good relationships with the farmers," says Holden-Bache of his culinary philosophy. His signature dish is grilled Hereford New York strip, which he serves with his own interpretation of chimichurri sauce with sautéed green beans and oven-roasted tomatoes and pecans finished with housemade smoked vinegar.
Local food critics hail 1808 Grille (www.1808grille.com, 1808 West End Avenue, 615-340-0012) for elevating Nashville dining. Chef Jake Strang calls his cuisine "global, New American." Seasonally, his most popular dishes include chicken fried lobster served with fava bean and corn succotash, and chicken tortelloni—he wraps chicken, herbs, and boursin in hand-rolled pasta, and serves it with a charred tomato, morel mushroom cream.
The list continues with Nashville's glittering star chefs. Jonathan Waxman of New York City's Barbuto restaurant and participant on Top Chef Masters opened an eatery in Nashville called Adele's (www.adelesnashville.com, 1210 McGavock Street, 615-988-9700), which serves seasonally inspired, locally sourced fare. Bravo's Top Chef alum Richard Blais opened up a FLIP Burger (www.flipburgerboutique.com, 4111 Charlotte Avenue, 615-454-2917) in town. Dale Levitski, a Top Chef alum, serves as the executive chef at Sinema (www.sinemanashville.com, 2600 Franklin Pike, Suite 102, 615-942-7746), where he serves eclectic American cuisine in the historic Melrose theater building.
Bedwell calls Chef Matt Bolus' locally sourced fare at The 404 Kitchen (www.the404nashville.com/kitchen, 404 12th Avenue South, 615-251-1404), which is situated in a former shipping container, "a contemporary take on traditional."
Farm To Table in Nashville
What's also noteworthy is that the farm-to-table movement is alive and well in Nashville, according to Mari-Etta Parrish, RD, CSSD, LDN, a nutrition consultant based in Nashville. Roberts adds, "Farms are mere miles from our restaurants."
Jolie Ayn Yockey, marketing director at the Nashville Farmers' Market, says that chefs in Nashville frequently visit the farmers' market for ingredients. "One of my favorite things is watching chefs come by and explore the market and develop deep relationships with farmers. Many farmers and chefs have even begun planning together before peak season harvests so the farmer can grow the chef's particular desires and favorite varietals. Creation of daily and seasonally based menus is a common practice by our amazing Nashville chef community," she says.
In fact, some chefs take it one step further and do the farming themselves. Experts interviewed unanimously voted Capitol Grille, located in The Hermitage Hotel (www.capitolgrillenashville.com, 231 6th Avenue North, 615-345-7116) as one of the finest examples of farm-to-table dining in Nashville. "With a distinguished take on Southern dishes, Chef Tyler Brown of Capitol Grille uses vegetables from the period garden he grew and harvested at the Double H Farms garden just four miles from the hotel, and heritage-breed Red Poll cattle graze on a farm close to The Hermitage Hotel to create one of the best examples of sustainable Southern cuisine in the state of Tennessee," Roberts says. "The menu features cuts of dry-aged, grass-fed beef, and the menu shifts with the season based on what's the freshest and best available."
"We feel so fortunate to live in a city where it's both easy to know local farmers and easy to find farm-to-table fare," Mallon says. "There are many restaurants in Nashville that list their ingredient sources publicly and care about where their food comes from." Mallon lists Husk Restaurant and The Silly Goose (www.sillygoosenashville.com, 1888 Eastland Avenue, 615-915-0757) with such pleasures as weekly local vegetables and greens; and Marche Artisan Foods and Margot Café & Bar as other fine examples of eateries dedicated to sourcing local, sustainable foods. Paulee adds to the list The Farm House (www.thefarmhousetn.com, 210 Almond Street, 615-522-0688), with its motto "local farms create local plates"; Silo (www.silotn.com, 1121 5th Avenue, 615-750-2912), which features products from a bounty of local farmers and producers right down to the furniture; and Josephine (www.josephineon12th.com, 2316 12th Avenue S, 615-292-7766), whose chefs cook not just by the season but also by the day.
If you have time, sample some of Nashville's finest produce at the Nashville Farmers' Market (www.nashvillefarmersmarket.org, 900 Rosa L Parks Boulevard), which is open 362 days per year from 8 AM to 6 PM. "I think anyone will tell you that Tennessee tomatoes can throw down and win with the best from any other state," Yockey says. "Heirloom varieties of tomatoes and other vegetables are highly prized and coveted by customers and chefs alike. I'd say that Southern cooking is alive and well, and I love watching people leave the Nashville Farmers' Market with literally trash-bag-sized bags full of freshly cut greens. You'll see a lot of pea-sheller action in late summer and tons of fresh corn husking. Nashvillians like their spice so hot peppers and hot sauces are a market staple in season. In the last two years, you started seeing the new wave too; more emphasis on spring lettuces, wheatgrasses, herbs, mushrooms, honey, pickling, preserves, natural meats, and more, and different vegetables trying to be grown too, like tatsoi and garlic."
Ethnic Inspiration
You can find more than Southern inspiration in Nashville. A plethora of ethnic culinary experiences awaits you. "Nashville does have a good ethnic food scene, perhaps since it's a university city, with three major universities located in Nashville—Vanderbilt, David Lipscomb, and Belmont—bringing in people from all over," Bedwell says.
Take Etch (www.etchrestaurant.com, 303 Demonbreun Street, 615-522-0685), for example, the popular restaurant led by chef/owner Deb Paquette, which features the flavors of the Mediterranean, Asia, and North Africa. Recommended as one of the top dining experiences by Nashville Lifestyles Magazine as well as Gourmet Magazine, the open kitchen allows glimpses of the chef hard at work creating signature dishes, such as roasted cauliflower with truffled pea pesto and rutabaga la plancha.
Other ethnic restaurants locals love include Chauhan Ale & Masala House and Thai Esane (www.thaiesane.com, 907 12th Avenue South, 615-454-5373) for classic Thai cuisine; Love Peace Pho (www.lovepeaceandpho.com, 2112 8th Avenue South, 615-942-0045) for authentic Vietnamese fare; Mas Tacos Por Favor (www.facebook.com/mastacos, 732 Mcferrin Avenue, 615-543-6271) for the best tacos in town, and Nama Sushi Bar (www.namasushibar.com, 2300 Elliston Place, 615-933-6262) to get their sushi fix. Parrish loves Gojo Ethiopian Café and Restaurant (www.gojoethiopiancafenashville.com, 415 W Thompson Lane, 615-332-0710) for traditional Ethiopian food.
If you really want to bathe in authentic ethnic culinary inspiration, just head south of the city to Nolensville Pike. "It's one classic ethnic restaurant after another—come for meats smoked right in front of mom-and-pop shops, taco stands in gas station parking lots, and a Mexican restaurant where President Obama stopped for lunch when he was in town," Mallon says.
Veg-Centric Dining
If you're looking for a plant-based food focus, Nashville has much to offer. "Farm-to-table and vegetarian restaurants are popping up everywhere. There seems to be a menu and atmosphere to suit everyone's liking," Paulee says.
Paulee recommends The Wild Cow Vegetarian Restaurant (www.thewildcow.com, 1896 Eastland Avenue, 615-262-2717), which has beans and greens, tempeh tacos, and fabulous veggie salads. Bedwell suggests Sunflower Vegetarian Café (www.sunflowercafenashville.com, 2834 Azalea Place, 615-457-2568) for "great veggie burgers, vegan turnip greens, and vegan barbeque."
While not a vegetarian restaurant, Paulee loves Copper Kettle (www.copperkettlenashville.com, 4004 Granny White Pike, 615-383-7242). "This local spot has interesting menu items to suit my veggie-loving self, while also offering a meat-n-three with a special of the day. It has something for everyone. And I love their goat cheese salad with greens, strawberries, mango, fried goat cheese medallion, and dried cranberry vinaigrette."
PM (www.pmnashville.com, 2017 Belmont Boulevard, 615-297-2070) has Asian-inspired cuisine that offers several plant-forward dishes, including a tasty veggie burger and Caesar Diane salad, Paulee says, alongside seafood and meat dishes, providing something for everyone. Fido (www.bongojava.com/fido-cafe, 1812 21st Avenue South, 615-777-3436) "is another great spot for salads and veggie burgers with sweet potato fries; they also have a great breakfast menu," Paulee says. Fido also offers a variety of vegetarian and nonvegetarian dishes in a casual setting.
Paulee is a big fan of Nashville veggie burgers, such as Puckett's black bean burger with sweet potato fries, and the Burger Up (www.burger-up.com, 2901 12th Avenue South, 615-279-3767) quinoa burger with sweet potato fries.
Walking the Food Streets
If you're in the mood for an evening of wandering around a food neighborhood, Nashville has that, too. Roberts reports that Germantown (www.historicgermantown.org) is becoming "the new foodie neighborhood." She suggests you head down the street to pick up a cannoli or prepared Italian food from Lazzaroli Pasta (www.lazzaroli.com, 1314 5th Avenue, 615-291-9922), satisfy your sweet tooth at The Cupcake Collection (www.thecupcakecollection.com, 1213 6th Avenue, 615-244-2900), grab coffee or a crepe at The Red Bicycle (www.redbicyclecoffee.com, 1200 5th Avenue North, Suite 104, 615-516-1986), sip a local brew at 312 Pizza Company (www.312pizzaco.com, 371 Monroe Street, 615-730-7888), or visit the Germantown Café (www.germantowncafe.com, 1200 5th Avenue North, 615-242-3226). A number of notable restaurants exist in Germantown, too, such as Rolf & Daughters (www.rolfanddaughters.com, 700 Taylor Street, 615-866-9897), which brings an "Old World, heritage feel to the Germantown lineup with 18-foot ceilings, exposed brick and concrete, and beautiful iron windows. Try the outstanding handmade pasta, with offerings including garganelli verde with heritage pork ragout, and sweet potato agnolotti with mustard greens," Roberts says.
Another up-and-coming food street is 12South (www.12south.org), "a perfect one-stop destination to live, eat, drink, play, and socialize," Roberts says. Eateries there include the aforementioned Josephine and Epice; the friendly neighborhood spot Edley's Bar-B-Que (www.edleysbbq.com, 2706 12th Avenue South, 615-953-2951, second Nashville location at 908 Main Street, 615-873-4085); The Flipside (www.theflipside12south.com, 2403 12th Avenue South, 615-292-9299) for modern comfort food; Las Paletas; and 12South Taproom (www.12southtaproom.com, 2318 12th Avenue, 615-463-7552) for local craft beer.
East Nashville (www.eastnashville.org) is an "eclectic, historic, and hip" neighborhood, according to Roberts. Start your adventure here with an artisanal cocktail at Holland House Bar and Refuge (www.hollandhousebarandrefuge.com, 935 W. Eastland Avenue, 615-262-4190); a glass of wine at Rumours East (www.rumourseast.com, 1112 Woodland Street, 615-262-5346); a craft beer at Fat Bottom Brewing (www.fatbottombrewing.com, 900 Main Street, 615-678-5715); or a margarita at Rosepepper Cantina (www.rosepepper.com, 1907 Eastland Avenue, 615-227-4777). Then make your way to The Pharmacy (www.thepharmacynashville.com, 731 Mcferrin Avenue, 615-712-9517) for gourmet hamburgers and brat, or Lockeland Table and The Silly Goose, which also are located in this area.
Experts recommend taking advantage of the dining scene in the Downtown (The Gulch) neighborhood (www.nashvilledowntown.com, www.explorethegulch.com), which offers fine dining at Capitol Grille; Etch; the elegant al fresco, rooftop setting of Watermark Restaurant (www.watermark-restaurant.com, 507 12th Avenue South, 615-254-2000); The Farm House; the upscale steakhouse Kayne Prime (www.mstreetnashville.com/restaurants/kayne-prime, 1103 McGavock Street, 615-259-0050); Husk Restaurant; The Southern (www.thesouthernnashville.com, 150 3rd Avenue South, 615-724-1762) for Southern cuisine with a modern twist; and The 404 Kitchen. You can even grab an artisanal cocktail and go bowling at Pinewood Social (www.pinewoodsocial.com, 33 Peabody Street, 615-751-8111); enjoy wine flights and appetizers at Flyte World Dining and Wine (www.flytenashville.com, 718 Division Street, 615-255-6200), or stop for a cup of joe at the coffee "brewtique" CREMA (www.crema-coffee.com, 15 Hermitage Avenue, 615-255-8311).
Bedwell suggests visitors check out the Berry Hill (www.berryhilldistrict.com) area, which is home to an eclectic mix of shops, restaurants, and cafes, such as Sunflower Vegetarian Café and The Yellow Porch (www.theyellowporch.com, 734 Thompson Lane, 615-386-0260) for an "intimate atmosphere and great seafood paella."
Whatever your mood, food preference, or pocketbook, there's certainly a food experience for everyone in Nashville. Make sure to set some time aside to take it all in.
— Sharon Palmer, RDN, is the nutrition editor of Today's Dietitian and author of Plant-Powered for Life. This is her 10th year writing Today's Dietitian's dining guide—something she looks forward to each year.
NASHVILLE DINING RESOURCES
• Nashville Lifestyle Magazine, www.nashvillelifestyles.com
• Nashville Convention & Visitors Corp, www.visitmusiccity.com/visitors/thingstodo/dining 
• Nashville About Travel, http://nashville.about.com/od/diningndrink
• Nashville Trip Advisor, www.tripadvisor.com/Restaurants-g55229-Nashville_Tennessee.html 
• The News, Nashville Dining Guide, www.gcanews.com/nashville-dining-guide
• Nashville Scene, www.nashvillescene.com/nashville/restaurants/Section?oid=1178045 
• Eater Nashville, http://nashville.eater.com
• Nashville Chamber of Commerce, www.nashvillechamber.com