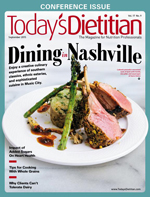 September 2015 Issue
Fiber: Lentils' Health Benefits — An Ancient Seed Finds Its Rightful Place at the Modern Table
By Clare Tone, MS, RD
Today's Dietitian
Vol. 17 No. 9 P. 24
Archeological excavations near present-day Syria have unearthed small lentil seeds, indicating wild lentils were being harvested as early as 9200 to 7500 BC. It's difficult to identify when lentils became a common staple, but archeologists point to a large store of lentils found at a site in northern Israel as evidence that lentil seeds were being cultivated by 6800 BC.1 Given this long journey through human history, it's perhaps surprising that many consumers in the United States lack awareness of the health benefits of lentils and how easy they are to cook.
Lens culinaris is the Latin name for lentil, a type of pulse crop. Pulses include dry beans, chickpeas, and peas, and are part of the legume family. Compared with soybeans and peanuts—also members of the legume family—pulses are low in fat and less allergenic.2
Moreover, advocates of sustainable food systems tout lentil seeds' drought resistance and their ability to take nitrogen from the air and add it to the soil. And current research focuses on lentils' role in both diabetes and cardiovascular health. With so many benefits, it's no wonder the United Nations General Assembly has declared 2016 the International Year of Pulses.
Impact on Blood Glucose
With almost 9 g of protein and 8 g of fiber per 1/2-cup cooked serving, lentils are slightly higher in protein and fiber than pinto beans, black beans, and chickpeas.2,3 Lentils also are noted for their high iron, folate, and potassium content. Due to their nutrient properties, some of the most exciting emerging research focuses on lentils and diabetes. "The research is showing that lentils and other pulses really can help with glycemic control," says Jessie Hunter, MPH, RD, director of research at the USA Dry Pea & Lentil Council and American Pulse Association. In addition to their high fiber content, these foods contain enzyme inhibitors, some of which may act as natural inhibitors of both alpha-amylase and alpha-glucosidase, with an overall effect of slowing carbohydrate absorption.4 This is good news for anyone trying to control blood glucose or incorporating principles of the glycemic index into their lifestyle. A meta-analysis published in the August 2009 issue of Diabetologia examined a total of 41 trials and found that pulses—including lentils—significantly lowered fasting blood glucose and insulin. Many studies in the meta-analysis also showed lower HbA1c levels. The authors concluded that pulses improve markers of long-term glycemic control in humans.4
Heart Disease Reduction
Researchers also are studying the relationship between pulses and blood cholesterol. An August 2012 study published in the British Journal of Nutrition examined the effects of a pulse-based diet on blood cholesterol levels in people aged 50 and older. Eighty-seven participants followed either a regular diet or pulse-based diet for two months. After a wash-out period of one month, study subjects switched to the other diet for another two months. The pulse-based diet, which included two daily servings of beans, chickpeas, peas, or lentils, reduced total cholesterol by 8.3% and LDL cholesterol by 7.9% compared with the regular diet. Given that an 8.3% reduction in total cholesterol is estimated to decrease the risk of heart disease by 17% to 25%, these findings suggest that a diet including slightly more than two 1/2-cup servings of pulses per day may have a specific clinical benefit for people at high risk of heart disease.5
In May 2014, the Canadian Medical Association Journal published a meta-analysis of 26 randomized controlled trials showing that participants who ate pulses regularly had significantly lower LDL cholesterol that those who ate the control diet. The median amount of dietary pulses used in these studies was a single, daily 1/2-cup serving.6
Sustainability and Food Security
In addition to their role in human health, there are more reasons to eat lentils and other pulses. As mentioned, pulse crops capture nitrogen from the air and can grow in semiarid conditions. Compared with peanuts and soybeans, pulse crops extract water more slowly and mainly from shallow soil depths, leaving more unused water in the soil.2 In the United States, lentils have become a valuable rotation crop for farmers of wheat-dominated areas in the Northern Great Plains. In 2012, more than 55 million acres were devoted to wheat production in the United States, whereas, in 2011, about 430,000 acres were allocated for lentils. There's a great disparity in the number of acres devoted to growing lentils compared with wheat, but because lentils can replenish nitrogen in the soil and use less water, researchers conclude that an increase in lentil production could enhance environmental sustainability while also keeping costs down.2,7
In fact, the low cost of lentils combined with their high nutrient density places them among the most affordable sources of fiber, iron, and potassium, and an important source of plant-based protein.2 Furthermore, lentils accomplish all of this without being genetically modified. "If you talk with our growers, they say they started incorporating pulses first as an alternate cover crop [to wheat]," Hunter says. "But then [the pulses] produced a cash crop and helped them improve their soil and their wheat crop. Lentils aren't irrigated and don't require nitrogen fertilizer because they fix their own nitrogen. They're a very low-input crop, and aren't genetically modified like soy."
Quantifying US Pulse Consumption
In light of their nutrient content and benefits to the environment, how are Americans doing regarding their consumption of lentils and other pulses? According to research, only 14% of US adults over the age of 18 were meeting or exceeding the recommended intake of three cups per week for beans, peas, and lentils between 2007 and 2010.2,8
Jill Weisenberger, MS, RDN, CDE, FAND, author of The Overworked Person's Guide to Better Nutrition, says that when it comes to lentils, "Some people need more encouragement than others. Ideally, they would consume legumes three or more times per week. Since lentils, especially red lentils, are so quick to cook, a lot of my patients choose them. Red lentils become puréelike, so they're ideal for stews. Other lentils are wonderful in a variety of dishes, especially salads."
However, some patients feel that lentils are difficult to prepare, says Lisa Cimperman, MS, RD, LD, a spokesperson for the Academy of Nutrition and Dietetics (the Academy) and clinical dietitian at University Hospital Case Medical Center in Cleveland. "I often find that 'I don't like it' actually means that they've never tried it or haven't had the food prepared correctly. Providing preparation tips, recipes, and tasting samples can be some of the most effective ways to show individuals how delicious lentils can be."
Joan Salge Blake, MS, RDN, LDN, a clinical associate professor at Boston University and spokesperson for the Academy, says, "People aren't as savvy with legumes as they are with chicken and meat. What's happening is we have a generation of millennials who love ethnic cuisine, so you're going to start seeing more people eating lentils. But eating them at a restaurant and making them at home are two different things. Millennials aren't known for their culinary skills. The name of the game here, no matter what the age, is that we have a very busy consumer out there." What's Salge Blake's strategy for success? "People need help to 'cook once, eat twice.' Lentils don't take that much time, and you don't need to soak them. Cook up a vat of them and freeze them. Pull them out later and put them in another meal. Every Monday you can throw them into your meatless Monday meal for the protein source. We're on a culinary adventure here. These pulses are so healthful and affordable. The price is right; the health is right."
Weisenberger recommends dietitians "give clients recipes, recipes, recipes!" To that end, visit www.cookingwithpulses.com, and try the suggested recipe from the USA Dry Pea and Lentil Council.
— Clare Tone, MS, RD, is a freelance writer, high-altitude gardener, and nutrition instructor at Metropolitan State University of Denver.
Recipe
Mexican Tostada
Serves 8
Ingredients
1/3 cup lentils
11/3 cup water
1 lb boneless, skinless chicken breasts
2 T vegetable oil
2/3 cup finely chopped green onion
2 cloves garlic, minced
1 (16-oz) jar salsa of your choice
1 cup canned black beans, drained and rinsed
1 tsp chili powder
1 tsp ground cumin
1/2 tsp salt
8 tostadas
11/2 cups chopped bell pepper
* Optional toppings: sautéed peppers, shredded cheese, sour cream, guacamole, black olives
Directions
1. In a medium saucepan, bring water to a boil. Add lentils, reduce heat, cover, and simmer 25 to 30 minutes until tender. (Note that cooking time for red lentils is slightly shorter than for other varieties. Lentils don't require presoaking.)
2. Add one-half of the oil (1 T) to a frying pan, and cook chicken until internal temperature reaches 165° F.
3. Heat remaining oil in a separate pan, and sauté onion and garlic, stirring constantly.
4. Reduce heat and add lentils, salsa, black beans, and seasonings to the onion and garlic mix.
5. Shred or cube chicken, and add to salsa mixture.
6. Continue cooking until heated through.
7. Portion onto tostadas and top with peppers or other favorite toppings.
Nutrient Analysis per serving (1 tostada)
Calories: 220; Total fat: 8 g; Sat fat: 1 g; Protein: 15 g; Carbohydrate: 21 g; Fiber: 3 g; Sodium: 820 mg; Iron: 2 mg; Folate: 20 mcg
— RECIPE REPRINTED WITH PERMISSION FROM THE USA DRY PEA AND LENTIL COUNCIL.
References
1. Robertson H. Lens culinaris (Lentil). Biodiversity Explorer website. http://www.biodiversityexplorer.org/plants/fabaceae/lens_culinaris.htm. Accessed June 19, 2015.
2. Hunter J, American Pulse Association. Pulse Crops. Paper presented during Dietary Guidelines for Americans 2015 public comment period; Rockville, MD; 2015.
3. Rebello CJ, Greenway FL, Finley JW. A review of the nutritional value of legumes and their effects on obesity and its related co-morbidities. Obes Rev. 2014;15(5):392-407.
4. Sievenpiper JL, Kendall CW, Esfahani A, et al. Effect of non-oil-seed pulses on glycaemic control: a systematic review and meta-analysis of randomised controlled experimental trials in people with and without diabetes. Diabetologia. 2009;52(8):1479-1495.
5. Abeysekara S, Chilibeck PD, Vatanparast H, Zello GA. A pulse-based diet is effective for reducing total and LDL-cholesterol in older adults. Br J Nutr. 2012;108(Suppl 1):S103-S110.
6. Ha V, Sievenpiper JL, de Souza RJ, et al. Effect of dietary pulse intake on established therapeutic lipid targets for cardiovascular risk reduction: a systematic review and meta-analysis of randomized controlled trials. CMAJ. 2014;186(8):E252-E262.
7. Wheat data: overview: table 1—wheat: planted acreage, harvested acreage, production, yield, and farm price. United States Department of Agriculture Economic Research Service website. http://www.ers.usda.gov/datafiles/Wheat_Wheat_Data/Yearbook_Tables/
US_Acreage_Production_Yield_and_Farm_Price/wheatyearbooktable01.htm. Updated July 13, 2015. Accessed July 30, 2015.
8. Dietary guidelines. US Dry Bean Council website. http://www.usdrybeans.com/nutrition/guidelines/. Accessed June 29, 2015.