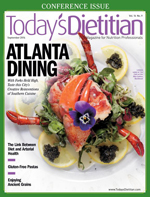 September 2014 Issue
Diet and Alzheimer's
By Judith Riddle
Today's Dietitian
Vol. 16 No. 9 P. 4
If you've been listening to the news lately, you've probably heard much discussion about the new study findings concerning the prevention, diagnosis, and treatment of Alzheimer's disease. In July, about 4,000 leading experts and researchers from 75 countries attended the Alzheimer's Association International Conference in Copenhagen, Denmark, to present the latest groundbreaking research in dementia science.
An estimated 5.2 million Americans of all ages have Alzheimer's, of which 5 million are aged 65 and older and approximately 200,000 have younger-onset Alzheimer's. Experts believe the number of Americans aged 65 and older with Alzheimer's may nearly triple by 2050.
Most notable to nutrition professionals are results of a two-year clinical trial called the Finnish Geriatric Intervention Study to Prevent Cognitive Impairment and Disability (FINGER Study). The study of 1,260 older adults at risk of cognitive impairment and Alzheimer's disease showed that physical activity, nutrition interventions, cognitive training, social activities, and management of heart health risk factors improved cognitive performance.
These findings present opportunities for dietitians who counsel middle-aged and elderly clients and patients concerned about their cognitive health or who may be showing early signs of memory loss and/or other neurological impairments. Dietitians can encourage clients to eat a variety of fresh fruits and vegetables, whole grains, and cold-water fish and use olive oil when cooking to boost omega-3 fatty acid intake. Research has found that such an eating pattern can slow cognitive decline and even prevent other chronic diseases.
You can learn more about the benefits of plant-based diets and physical activity and of fatty acids on other aspects of health at the Academy's Food & Nutrition Conference & Expo next month in Atlanta, a metropolis brimming with historical sites and a distinct food scene rooted in Southern food traditions. Today's Dietitian gives you the lowdown on the hottest restaurants to visit in our annual dining guide on page 24.
Visit award-winning restaurants where you can eat a wide variety of traditional Southern foods and soul food as well as Korean, Asian, Mexican, Thai, and Indian cuisine with and without a Southern twist—or should I say Southern twang?
Also be sure to read the other articles in this issue on arterial health and diet, gluten-free pastas, electronic medical records, and the gut microbiome.
Please enjoy the rest of the issue. See you in Atlanta!
Judith Riddle
Editor
TDeditor@gvpub.com