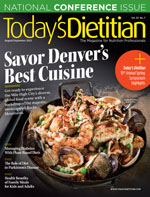 Culinary Corner: Dates
By Liz Weiss, MS, RDN
Today's Dietitian
Vol. 25 No. 7 P. 66
A Great Addition to Sweet and Savory Dishes
Some of my favorite things when traveling around the country are getting to try the local food favorites and visiting the family farms unique to each region. Last March, I did just that when my husband and I spent a few weeks in Palm Springs, located in California's Coachella Valley. Unbeknownst to me, our trip took us straight into the heart of the state's date-growing region.
Dates are a fruit native to North Africa and the Middle East but were introduced to the Coachella Valley in the late 1800s by the Department of Agriculture, and today, 90% of US dates are grown in California.1,2 They grow in large clusters at the top of date palm trees, which can grow as high as 100 feet. Dates are a small, oval-shaped fruit with wrinkled skin and a fibrous inner seed. They have a naturally sweet, caramel-like flavor with a soft and chewy texture, and their color ranges from dark brown and black to bright red or yellow. Thousands of date varieties are grown around the world, but the two most popular varieties in the United States are the Medjool and Deglet Noor.
I had a chance to visit Shields Date Garden while we were in the area. Walking through Shields, established in 1924, is like taking a step back in time. You can amble through their date grove, learn how dates are grown by viewing The Romance and Sex Life of the Date (yes, that's the name of their film!), sit at their 1960s date shake counter, and spend time in their gift shop. I felt like a kid in a candy store when I was there! I purchased their "assorted date plate," which came with Blonde and Brunette dates (a variety created in 1927 by Mr. Shield), as well as Deglet Noor, Halawi, Khadawi, Medjool, and Zahidi dates … all with varying degrees of sweetness and texture.
Dates are nutritious and versatile. According to the USDA, two Medjool dates (48 g) have 133 kcal, 36 g carbohydrate, and 3.2 g fiber, and contain potassium (7% daily value), magnesium (6% DV), and vitamin B6 (7% DV).3
RDs and clients can enjoy this delicious fruit in both sweet and savory dishes. Eat them as a stand-alone snack, include them in a grazing or charcuterie board, blend a few into smoothies (soak them first to soften), chop them up and add to colorful salads, wrap some dates in bacon and bake (a preparation I first tried at Shields), add them to beef stew, or incorporate dates into no-bake balls and other sweet treats. Another way to enjoy dates is to blend them into a "date shake," a California favorite typically made with dates, milk, and vanilla ice cream. The best I tried was at Windmill Market in North Palm Springs: the flavor was sweet with a hint of caramel, and the texture was smooth and creamy.
— Liz Weiss, MS, RDN, shares recipes and healthful living advice on LizsHealthyTable.com and her podcast, EAT, DRINK, LIVE LONGER. Weiss is a cooking instructor, frequent lifestyle guest on TV shows across the country, and a Have a Plant Ambassador for the Produce for Better Health Foundation.
Dark Chocolate Orange Date Balls
Serves 8
These easy no-bake Dark Chocolate Orange Date Balls are one of my favorite ways to satisfy a sweet tooth, and they have just a scant amount of added sugars from the maple syrup. Each date ball has 3.5 g fiber and can be served as a snack or dessert.
Ingredients
8 dates, pitted and cut into quarters (I used Medjool)
3 T orange juice
1/4 cup quick-cooking or old-fashioned oats
2 T almond or peanut butter
3 T unsweetened cocoa powder
4 tsp maple syrup
1 tsp orange zest
3 T unsweetened coconut flakes, toasted
Directions
1. Place dates in a bowl and cover with orange juice. Let soak for 10 minutes to soften.
2. Place dates, juice, oats, almond butter, cocoa powder, maple syrup, and orange zest in food processor bowl and pulse until well combined. You may need to open food processor and scrape down sides of bowl once or twice.
3. Transfer batter to a bowl, cover with plastic wrap, and place in refrigerator to chill for about 15 minutes.
4. Arrange coconut on plate. Roll batter into eight 1-inch balls; roll in coconut until well coated. Store in airtight container in the refrigerator.
Nutrient Analysis per serving (1 date ball)
Calories: 135; Total fat: 4 g; Sat fat: 1.4 g; Cholesterol: 0 mg; Sodium: 7 mg; Total carbohydrate: 23.5 g; Total sugars: 17.6 g; Added sugars: 5.7 g; Dietary fiber: 3.5 g; Protein: 2 g
— Source: Recipe and photo courtesy of Liz Weiss, MS, RDN
References
1. Dates. Agricultural Marketing Resource Center website. https://www.agmrc.org/commodities-products/fruits/dates#:~:text=In%20the%20United%20States%2C%20Southern,Robinson%20et%20al%2C%202012). Updated January 2023.
2. Dates farming in the USA: how to start, a step-by-step guide to planting harvesting. Agricultural Marketing Resource Center website. https://www.agmrc.org/commodities-products/fruits/dates#:~:text=In%20the%20United%20States%2C%20Southern,Robinson%20et%20al%2C%202012). Updated August 4, 2022.
3. Dates, medjool. USDA website.
https://fdc.nal.usda.gov/fdc-app.html#/food-details/168191/nutrients
. Published April 4, 2019.