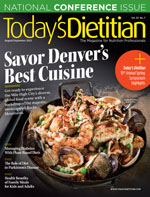 Fresh Look at Family Meals
By Rosanne Rust, MS, RDN
Today's Dietitian
Vol. 25 No. 7 P. 36
Children and adults alike experience improved health and better relationships when they regularly break bread together.
Few would argue against the idea that food brings people together and eating a meal together provides more than just nutrition. The multiple benefits of family meals have been well studied for more than two decades. Studies have shown that families who eat together enjoy better communication, relationships, and social outcomes.1
And breaking bread together as a family or group has been demonstrated to have benefits to overall physical and mental well-being through the lifecycle. Since loneliness is related to increased mortality, shared meals may even be linked to longevity.2
Some studies show that frequency of meals eaten together correlates with better diet quality and positive social outcomes. Studies that specifically examine the dinner meal have found positive associations between how often a family eats dinner. A 2020 systematic literature review with meta-analyses published in The Journal of Nutrition Education and Behavior confirms that eating meals together as a family has benefits for both children and adults.1
How People Come Together at the Table
The term "family" can be defined in many ways. The benefits of a shared meal experience remain, whether they're shared with friends, relatives, or community members. Sitting at a table together allows for conversations to be explored. The connectedness experienced during a meal not only helps families communicate with one another but also builds problem-solving skills. Children who eat with their families most days of the week have higher grades in school, less depression and anxiety, lower incidence of eating disorders, and less substance and alcohol abuse. And they eat more nutritious foods.3
In fact, the more meals eaten together, the more balanced the nutrition and overall diet. For instance, researchers have found a positive association between the frequency of family meals and fruit and vegetable intake. The dinner meal is consistently correlated to increased produce consumption. Studies also report less consumption of sugar-sweetened beverages as a positive trend for families eating together.
Benefits for Children and Adults
Like children, adults who participate in family meals experience better emotional and mental health, greater self-esteem, less depression, and better marital and family relationships.4-6 Participating in shared meals also may reduce the incidence of obesity.7,8 While the impact that family meals have on body weight in children and adults is inconclusive, it's suggested that parents and children alike maintain a healthier body weight when more family meals are cooked at home.9 This may be due to the increased intake of fruits and vegetables and fewer calories in home cooked meals compared with restaurant meals.
What's more, shared meals benefit adults and families who don't have children. Regardless of parental status, adults who eat with others also tend to eat more fruits and vegetables, and they eat less fast food compared with those who eat alone. Other findings, which include fathers eating less fast food and mothers engaging in fewer dieting and binge eating behaviors, were associated with family meal frequency and overall life satisfaction.10 One study asked 2,000 adults to rate how many meals they ate alone during the week and how often they'd eaten meals with different members of their extended network. Using a 10-point scale, they were asked to rate how satisfied and worthwhile they felt their life was, how happy they'd been the day before, and how engaged they felt with their local community.11 People who ate with others more often were more likely to feel happy and satisfied with their lives. And the same holds true for older adults.
Longevity and Productivity
Research suggests that shared meal experiences also may influence the health, well-being, and independence of older adults well after parenthood. Overall, adults who eat alone have lower diet quality than those who share meals with others.12
Eating meals with others also may promote longevity. Researchers who study the "Blue Zones" (regions of the world where people live to age 100) have found that the social aspect of one's life, including eating together, has a positive impact on longevity. They've found that the world's longest-lived people either were born into or tend to join social circles that support healthy behaviors. This includes shared meals. These groups often meet and enjoy camaraderie while preparing meals together and sharing them at the table.13
Shared meals also impact work productivity. Within home communities and workplaces, eating behavior and environment can have positive impacts beyond health. For instance, a study of firefighters found that shared meals resulted in more collaboration and productivity.14
Learning More About Shared Meals
The FMI Foundation tracks the importance of family meals, designating September as Family Meals Month.15 Dietitians can learn more about the family meals movement and find other ways to educate and inspire patients to gather more often for meals, as well as provide conversation starters and recipes on their websites. RDs also can find inspiration and other ideas to share with clients and patients at the Family Dinner Project.16
What follows are recipe ideas for family meals from expert culinary dietitians that you can share with clients.
— Rosanne Rust, MS, RDN, is owner of Rust Nutrition Services, where she provides communications services and strategic advice to her clients within the food and nutrition industry. She's a freelance writer and content creator, author, blogger, and truth-seeker who focuses on helping people set realistic health goals. She's published several consumer books, including Zero Waste Cooking for Dummies and DASH Diet for Dummies (2nd edition). Find her on social media @chewthefacts or at www.rustnutrition.com.
Recipes
Ultimate Street Fish Tacos
Serves 4
Home cooks can choose any white fish such as cod, mahi mahi, tilapia, and halibut, as they all have a firm texture that works well with tacos. For convenience and cost savings, use frozen fish and thaw it before cooking, or add five minutes to cooking time if cooking the fish frozen.
"What I love about these Ultimate Street Fish Tacos is that they're a one-dish dinner that can be customized to how each family member likes them. Not only are they swimming in taste, but they're also a good source of immune- and energy-supporting nutrients," says Patricia Bannan, MS, RDN, author of From Burnout to Balance.
Ingredients
1 T olive oil
1 large shallot, minced
3 garlic cloves, finely minced
1 fresh jalapeño, sliced
11/2 cups baby cherry tomatoes, halved or quartered
3 T fresh lime juice
1/4 cup fresh cilantro, chopped
1 tsp sweet paprika
1/2 tsp ground cumin
1/2 tsp kosher salt
1/2 tsp ground black pepper
1 lb (or four 4-oz fillets) firm white fish, such as tilapia, cod, mahi mahi, or halibut (fresh or frozen and thawed)
12 4-inch corn tortilla "sliders"
Garnish
1/2 medium avocado, sliced
1/4 cup fresh cilantro, chopped
6 lime wedges
Directions
1. Heat a small skillet with the olive oil over medium heat. Add the shallot, garlic, and jalapeño and sauté until fragrant, or about 6 minutes. Stir in the cherry tomatoes and lime juice and cook until the tomatoes have wilted down slightly, and the mixture looks like a loose sauce. Remove from heat, add the fresh cilantro, and transfer to a small bowl for serving.
2. In a small bowl, combine the paprika, cumin, salt, and pepper. Season the fish with the paprika mixture. Heat a large skillet to medium-high heat and sauté the fish for 2 to 3 minutes on each side until cooked through.
3. To serve, warm 12 tortillas in a skillet or crisp lightly over an open flame, and transfer to plates. Layer a few pieces of the fish onto the tortillas and spoon over the cherry tomato sauce. Top with avocado slices and a few cilantro leaves. Serve the tacos with lime wedges and enjoy immediately.
Nutrient Analysis per serving
Calories: 170; Total fat: 6 g; Sat fat: 1 g; Cholesterol: 40 mg; Sodium: 250 mg; Total carbohydrate: 14 g; Fiber: 2 g; Protein: 17 g
— Source: Recipe courtesy of Patricia Bannan, MS, RDN, author of From Burnout to Balance
Pizza Beans
Serves 4
"Pizza beans, as we call them in our house, are a kid-friendly, family favorite that emphasizes plant protein. Made in minutes in one pot, these pizza-flavored beans are flavorful and pair perfectly with a nice crusty bread or grains of choice," says Sarah Schlichter, MPH, RDN.
Ingredients
1 T olive oil
1 onion, diced
2 cloves garlic, minced
2 cans cannellini beans, rinsed
2 cans diced tomatoes
1/2 tsp salt
1/2 tsp pepper
11/2 tsp oregano
2 tsp Italian seasoning
Optional Garnish
Fresh basil
Shredded cheese (if not vegan)
Directions
1. In a pan or skillet over medium-high heat, sauté onion in olive oil. Add garlic cloves.
2. Add in any other veggies desired.
3. To the skillet, add cannellini beans and diced tomatoes. Stir and lower heat to low to medium.
4. Add in spices and continue to stir periodically. Garnish with basil and cheese, if using.
5. Serve with garlic bread or a good crusty bread. Note: Optional ingredients and toppings include peppers, mushrooms, sundried tomatoes, red pepper flakes, cheese, or whatever you'd like to add to pizza. In step 4, top with shredded cheese and place under the broiler set to medium for 1 to 2 minutes.
Nutrient Analysis per serving
Calories: 205; Total fat: 4 g; Sat fat: 1 g; Cholesterol: 0 mg; Sodium: 980 mg; Total carbohydrate: 30 g; Protein: 7 g; Dietary fiber: 7 g
— Source: Recipe courtesy of Sarah Schlichter, MPH, RDN, https://www.bucketlisttummy.com/vegan-white-bean-and-tomato-skillet/
Mediterranean Rice Bowls
Serves 4
"Bowls are our favorites, because kids have the autonomy to choose their own toppings, and they help them navigate their own tastes without pressure," says Wendy Jo Peterson, MS, RDN, author of the Instant Pot Cookbook for Dummies. "I often prep all the toppings ahead of time and put them on the table while chicken and rice are cooking. This way, when the smells start to make everyone hungry it gives them something to snack on while they wait."
Ingredients
11/2 cups basmati rice, rinsed well (until water runs clear)
13/4 cups water
11/2 lemons, zested, juiced, and divided
1 tsp salt
5 chicken thighs, skinless and boneless
1 tsp dried dill
2 garlic cloves, minced
2 T extra virgin olive oil
1 cup plain Greek yogurt
1 cup grated cucumber, squeezed to remove excess liquid
2 T fresh dill, chopped (or 2 tsp dried)
Salt and pepper, to taste
1/4 cup fresh parsley, chopped (or 1 T dried)
1 cup grape tomatoes, halved
1 cup kalamata olives
1 small red onion, thinly sliced
Salt and pepper, to taste
Directions
1. Place rice, water, 1 tsp lemon zest, salt, chicken, dill, and garlic in the base of a multicooker. Secure lid and cook under high pressure for 5 minutes with a natural release of 10 minutes. Remove chicken and dice, and fluff rice with a fork. Stir together lemon juice and olive oil, and drizzle over the rice.
2. While rice is cooking, prepare the yogurt sauce. In a medium bowl, stir together Greek yogurt, remaining lemon zest, grated cucumber, and fresh dill. Season with salt and pepper, to taste.
3. Serve family style, place rice in one bowl, chopped chicken in one bowl, yogurt sauce in one bowl, and remaining toppings: parsley, tomatoes, olives, and red onions in their own bowls. Allow family members to choose their own toppings and create their own masterpiece dinner bowl.
Note: If you don't have an Instant Pot or a pressure cooker, the chicken and rice can be prepared on a stove top. Place the rice in the base of a stock pot, top with chicken, water, zest, salt, and garlic. Reserve dill for after. Bring to a boil, then cover with a lid and reduce heat to a low simmer and continue cooking for 25 minutes or until water is absorbed in rice and chicken is fully cooked. Stir in dill with lemon juice and olive oil.
Nutrient Analysis per serving
Calories: 981; Total fat: 34 g; Sat fat: 7 g; Cholesterol: 302 mg; Sodium: 1,285 mg; Total carbohydrate: 75 g; Dietary fiber: 6 g; Protein: 101 g
— SOURCE: Recipe courtesy of Wendy Jo Peterson, MS, RDN
Garden Turkey Meatballs & Spaghetti
Serves 6
"Lean ground turkey, fresh vegetables, and whole grain pasta come together quickly for this nutritious weeknight dinner of Garden Turkey Meatballs & Spaghetti that your entire family will love," says Liz Weiss, MS, RDN, owner of Liz's Healthy Table.
Ingredients
1 lb lean ground turkey
2 medium carrots (about 6 oz), peeled and grated (about 2/3 cup)
1 large egg, beaten
1/2 cup quick-cooking oats
1/2 cup grated Parmesan cheese
2 T ground flaxseed or wheat germ
1/2 cup chopped fresh basil or 1 T dried basil
1/2 tsp garlic powder
1/2 tsp kosher salt
1/8 tsp pepper
1 26-oz jar pasta sauce
12 oz whole wheat or whole wheat blend spaghetti
Directions
1. Preheat oven to 400˚ F. Lightly oil or coat a large, rimmed baking sheet with nonstick cooking spray, and set aside.
2. Place the ground turkey, carrots, egg, oats, Parmesan cheese, flaxseed, basil, garlic powder, salt, and pepper in a large bowl and mix until just combined.
3. Shape the meat mixture into 24 11/2-inch balls. Place on the prepared baking sheet and cook until lightly browned, or about 10 minutes.
4. Meanwhile, place the pasta sauce in a large saucepan over medium heat. Cover and bring to a simmer. When the turkey meatballs come out of the oven, add them to the sauce, reduce the heat and simmer, covered, until the meatballs are fully cooked and have absorbed some of the sauce flavors, or about 20 minutes.
5. While the sauce and meatballs are simmering, cook the pasta according to package directions. Drain, transfer to a large bowl or platter, and serve with the sauce and meatballs on top.
Nutrient Analysis per serving
Calories: 276; Total fat: 12 g; Sat fat: 4 g; Cholesterol: 95 mg; Sodium: 863 mg; Total carbohydrate: 28 g; Protein: 23 g; Dietary fiber: 2.8 g
— Source: Recipe courtesy of Liz Weiss, MS, RDN, owner of Liz's Healthy Table
Pork Tenderloin Lettuce Wraps With Ginger Lime Dressing
Serves 4
"Families that enjoy experimenting with new flavors will appreciate these pork tenderloin lettuce wraps. They're easy to assemble and fun to eat. This recipe provides a build-your-own-adventure approach, so kids who might be cautious about trying new foods can decide for themselves what goes into their own wraps. They draw on ingredients from the Vietnamese and Thai pantry, and the gingery marinade does double duty, because it's used to flavor the meat and dress the finished wraps. This dish is on the lighter side, so consider pairing these with steamed basmati rice tossed with a splash of toasted sesame oil, chopped scallions, and salt. Bonus: The rice can be tucked into the wraps, too," says Katie Morford, MS, RD, a culinary dietitian and author of three cookbooks, including Prep: The Essential College Cookbook.
Ingredients
Marinade/Dressing
1/2 cup lime juice
1/2 cup seasoned rice vinegar
1 T nam pla or nuoc mam (fish sauce)
2 T honey
1 T avocado oil or canola oil
1/2 to 1 tsp Sriracha
1 large garlic clove, grated on a microplane or minced
2 T finely chopped fresh ginger
Pork and Wrap Ingredients
1 lb pork tenderloin
1 T avocado oil or canola oil
Leaves from 1 large head of butter lettuce or 1 head Romaine lettuce
11/2 cups mung bean sprouts
1 cup shredded carrots
1/2 English cucumber, cut into 1/4-inch-thick spears
1/4 cup roasted, salted peanuts
1/3 bunch fresh cilantro (chopped or in sprigs)
Directions
1. In a small bowl, whisk all of the marinade/dressing ingredients until blended. Put the pork in a medium bowl and pour half the marinade over it. Marinate for 1 hour, turning the pork from time to time. Reserve the remaining marinade for serving.
2. Heat 1 T of oil in a large, heavy skillet (I use cast iron) over medium-high heat. Remove the pork from the marinade, allowing the juices to drip off, and lay in the skillet. Cook until the exterior is deeply browned on all sides and the center of the meat is pale pink and registers 145˚ F on an instant read thermometer, about 20 to 25 minutes. Transfer pork to a cutting board to rest for 10 minutes (the internal temperature will rise as it sits).
3. While the meat cooks, place the lettuce on a large serving platter followed by the bean sprouts, carrots, cucumbers, peanuts, and cilantro, leaving room for the pork.
4. Cut the meat in half lengthwise, then crosswise into thin slices. Transfer to the serving platter. Set the remaining dressing on the side.
5. To assemble, layer the pork on top of the vegetables. Spoon a little dressing over the top and serve.
Note: Pork tenderloin, a particularly lean cut, cooks quickly and is tender. Chicken or flank steak will work equally well.
Nutrient Analysis per serving
Calories: 371; Total fat: 16 g; Sat fat: 3 g; Cholesterol: 83 mg; Sodium: 593 mg; Total carbohydrate: 22 g; Protein: 36 g; Dietary fiber: 2 g
— Source: Recipe courtesy of Katie Morford, MS, RD, a culinary dietitian and author of three cookbooks, including Prep: The Essential College Cookbook
Peanut Butter Banana Protein Baked Oatmeal
Serves 6
"Baked oatmeal is an easy way to prep a nutrient-packed family meal for busy mornings. There are endless varieties of toppings to choose from to create excitement as well as use up small portions of fruit, nuts, etc, to minimize food waste. Enjoy a wedge as is or add more protein and fiber with strawberry Greek yogurt and peanuts or some cottage cheese and blueberries," says Lauren Harris-Pincus, MS, RDN, founder of NutritionStarringYOU.com and author of The Everything Easy Pre-Diabetes Cookbook: 200 Healthy Recipes to Help Reverse and Manage Pre-Diabetes.
Ingredients
2 cups old-fashioned oats
1 tsp baking powder
1 tsp cinnamon
1/2 tsp salt
3 packets of preferred sweetener or 2 T brown sugar
1/2 cup powdered peanut butter
1 scoop (1/4 cup) vanilla plant-based protein powder
1 cup unsweetened plant-based milk or 1% milk
1/2 cup nonfat plain Greek yogurt
3 T liquid egg whites or 1 egg
1 ripe banana, mashed (4 oz)
1 tsp vanilla extract
Topping
1 ripe banana, sliced in 24 slices (4 oz)
Directions
1. Preheat oven to 350˚ F.
2. In a large bowl, combine the first seven dry ingredients.
3. In a separate bowl, combine the milk, yogurt, egg whites, mashed banana, and vanilla extract.
4. Add oat mixture to the wet ingredients and gently stir until fully combined.
5. Line a 9-inch brownie pan with parchment paper. Pour the mixture into the pan and spread it evenly.
6. Top with 24 banana slices (4 rows of 6 slices each).
7. Bake for 27 to 35 minutes or until golden brown and set.
8. Let cool then cut into 6 rectangles. Wrap and refrigerate the extras until ready to eat.
Nutrient Analysis per serving
Calories: 200; Total fat: 3.5 g; Sat fat: 0 g; Cholesterol: 0 mg; Sodium: 320 mg; Total carbohydrate: 30 g; Dietary fiber: 6 g; Protein: 13 g
— Source: Recipe and photo courtesy of Lauren Harris-Pincus, MS, RDN, founder of nutritionstarringyou.com and author of The Everything Easy Pre-Diabetes Cookbook
References
1. Robson SM, McCullough MB, Rex S, Munafò MR, Taylor G. Family meal frequency, diet, and family functioning: a systematic review with meta-analyses. J Nutr Educ Behav. 2020;52(5):553-564.
2. Crowe CL, Domingue BW, Graf GH, Keyes KM, Kwon D, Belsky DW. Associations of loneliness and social isolation with health span and life span in the U.S. Health and Retirement Study. J Gerontol A Biol Sci Med Sci. 2021;76(11):1997-2006.
3. Utter J, Denny S, Peiris-John R, Moselen E, Dyson B, Clark T. Family meals and adolescent emotional well-being: findings from a national study. J Nutr Educ Behav. 2017;49(1):67-72.e1.
4. Loth KA, Hersch D, Trofholz A, Harnack L, Norderud K. Impacts of COVID-19 on the home food environment and eating related behaviors of families with young children based on food security status. Appetite. 2023;180:106345.
5. Glanz K, Metcalfe JJ, Folta SC, Brown A, Fiese B. Diet and health benefits associated with in-home eating and sharing meals at home: a systematic review. Int J Environ Res Public Health. 2021;18(4):1577.
6. Utter J, Larson N, Berge JM, Eisenberg ME, Fulkerson JA, Neumark-Sztainer D. Family meals among parents: associations with nutritional, social and emotional wellbeing. Prev Med. 2018;113:7-12.
7. Tumin R, Anderson SE. Television, home-cooked meals, and family meal frequency: associations with adult obesity. J Acad Nutr Diet. 2017;117(6):937-945.
8. Fulkerson JA, Larson N, Horning M, Neumark-Sztainer D. A review of associations between family or shared meal frequency and dietary and weight status outcomes across the lifespan. J Nutr Educ Behav. 2014;46(1):2-19.
9. Wolfson JA, Bleich SN. Is cooking at home associated with better diet quality or weight-loss intention? Public Health Nutr. 2015;18(8):1397-1406.
10. Berge JM, MacLehose RF, Loth KA, Eisenberg ME, Fulkerson JA, Neumark-Sztainer D. Family meals. Associations with weight and eating behaviors among mothers and fathers. Appetite. 2012;58(3):1128-1135.
11. Dunbar RIM. Breaking bread: the functions of social eating. Adapt Human Behav Physiol. 2017;3(3):198-211.
12. Quigley KK, Hermann JR, Warde WD. Nutritional risk among Oklahoma congregate meal participants. J Nutr Educ Behav. 2008;40(2):89-93.
13. Monroe L. Transform your kitchen into a gathering place for friends & family. Blue Zones website. https://www.bluezones.com/2021/09/transform-your-kitchen-into-a-gathering-place-for-friends-family/. Published September 27, 2021. Accessed May 30, 2023.
14. Kniffin KM, Wansink B, Devine CM, Sobal J. Eating together at the firehouse: how workplace commensality relates to the performance of firefighters. Hum Perform. 2015;28(4):281-306.
15. Family Meals Movement. FMI Foundation website. https://www.fmi.org/family-meals-movement
16. The Family Dinner Project website.
https://thefamilydinnerproject.org/