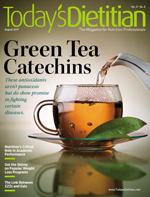 August 2019 Issue
Popular Weight Loss Programs
By Densie Webb, PhD, RD
Today's Dietitian
Vol. 21, No. 8, P. 28
How They Stack Up and What to Tell Clients
According to the National Institutes of Health, two-thirds of adults in the United States are either overweight or obese. That makes for a huge market for weight loss programs. Television commercials, print ads, Facebook ads, tweets, and Instagram posts for weight loss programs are everywhere. As a result, dietitians can expect their clients and patients to come to them for a professional opinion regarding the value and effectiveness of these programs and whether they're worth the cost, which, for some, can be quite high.
In this article, Today's Dietitian (TD) speaks with RDs affiliated with several of the most popular diet programs to get the inside scoop on how they work and how dietitians are involved with planning and implementation. The following list isn't comprehensive but does include diet programs rated as some of the best this year by U.S. News & World Report.
SlimFast
Maryann Walsh, MFN, RD, CDE, a consultant to the SlimFast Plan, is involved with the company's menu planning and brand messaging. Established in 1977 in Palm Beach Gardens, Florida, SlimFast's program consists of substituting SlimFast products for two meals per day. Guidelines for the third meal are provided for free to any SlimFast customer. There also are lines of SlimFast products for people following the popular keto diet plan or those who have been diagnosed with diabetes. The goal is to limit calories to 1,200 per day for women and 1,700 per day for men. Walsh is involved in developing meal plans, brand messaging, and moderating SlimFast's Facebook groups, each of which has a membership of around 15,000. The program encourages 30 minutes of exercise five days per week. SlimFast has no organized meetings and no enrollment or contract, so there are no fees associated with the program. SlimFast shakes and bars can be purchased at Walmart, Sam's Club, several pharmacy chains, and online.
Cost: SlimFast is the least expensive of the weight loss programs reviewed here. The only cost involved is the purchase of shakes or bars for the two meals each day. The cost ranges from about $2 to $5 per day, depending on where the products are purchased.
Support: While SlimFast doesn't provide counseling or support groups, the Facebook "Together" groups allow customers to offer mutual support and share weight-loss tips.
Maintenance: Instead of replacing two meals per day with SlimFast products, one meal per day can be replaced with SlimFast.
Research: More than 40 clinical studies have been conducted, showing that SlimFast is at least as effective as other weight loss programs; however, no studies have been done recently. Instead of clinical studies, SlimFast now works with before-and-after weight-loss candidates. Those who have successfully lost weight share their results and experiences in brand communications and marketing as well as Facebook groups.
Bottom Line: SlimFast is the most economical of the weight loss programs reviewed by TD. There's minimal investment and as much or as little involvement in Facebook groups as clients and patients want. There are no SlimFast group meetings. However, some local meet-ups have been organized through the Facebook groups. There are tracking data evaluating long-term maintenance.
Nutrisystem
Established in 1972 in Philadelphia, Nutrisystem does most of the work for dieters in the form of prepackaged and delivered meals and snacks. According to Courtney McCormick, MPH, RDN, LDN, manager of clinical research and nutrition for Nutrisystem, the food products provide 60% of daily calories to clients as shelf-stable or frozen entrées, shakes, and snacks that can be delivered to the client's door. The remaining 40% are grocery items or restaurant meals. Clients are provided with printed materials that include meal plans and grocery lists. A typical meal plan for women consists of three meals, a snack, and a shake. Men get two snacks. Meal plans can be customized for, eg, low-sodium or diabetes applications, with help from trained staff at the call center. While there are gluten-free items available, Nutrisystem doesn't have a gluten-free diet plan. Weight-loss kits provide five days of meals and a guide to planning and preparing food items purchased at a supermarket. There's no contract, but the food items are less expensive if a minimum of two months' supply is purchased. Some products can be purchased from Walmart and grocery stores, as well as online; however, there's no distribution in drugstores. Fruits and vegetables, which are part of the diet plan, are purchased separately.
Nutrisystem recommends 30 minutes of activity per day, which can be broken up into 10-minute sessions.
Cost: For a two-month supply of Nutrisystem products, costs start at about $11 per day. Shelf-stable products are less expensive than frozen items. A woman's plan typically costs about $14 per day; for a man's meal plan that provides two snacks, the cost could be about $16 per day.
Support: There are no support groups. However, there's a call center with a dietary department to answer questions. Not all dietary representatives are RDs, but they generally have a health background, such as RNs. However, there are RDs in the dietary department who are certified diabetes educators to help consumers enrolled in Nutrisystem's diabetes program. The Leaf is Nutrisystem's inspirational blog on nutrition, fitness, recipes, and lifestyle changes. The NuMi app for tracking food and water intake, activity, and weight also is available, whether one is on the Nutrisystem program or not.
Maintenance: Clients typically stay with Nutrisystem for three months. A variety of transition and maintenance programs are offered, but they generally begin with two meals per week that are planned and prepared by the client instead of the prepackaged foods. The call center provides guidance on flexibility in meal planning and dining out.
Research: According to McCormick, Nutrisystem conducts clinical studies to help in the development of new programs. Studies published in the last six to 10 years have found that, after six months on the Nutrisystem program, participants with type 2 diabetes lost an average of 7.5% baseline weight and experienced clinically meaningful changes in A1c. No longer-term studies have been published.
Bottom Line: The Nutrisystem program offers convenience and structure for people who would prefer to have most everything planned out and delivered. There's no one-on-one counseling, but printed materials, a tracking app, and Facebook, Instagram, and Twitter accounts that offer educational information are available, and some independent support groups have surfaced on Facebook.
Jenny Craig
Briana Rodriquez, RDN, CPT, a dietitian with Jenny Craig, says Jenny Craig's Premium program is typically recommended for people who have more than 16 lbs to lose. Members follow a personalized menu plan that has been designed by dietitians and nutritionists. The amount of time it takes to lose weight varies depending on each member's goals and desired weight loss. However, the program aims to support a loss of 1 to 2 lbs per week. Established in 1983 in Melbourne, Australia, Jenny Craig does most of the work for dieters in the form of prepackaged and delivered meals and snacks. The goal of the programs isn't only to get members to lose weight but also to establish healthful habits.
The Jenny Craig app helps keep members accountable with trackers for meals, drinks, and exercise, and it offers motivation. Members can choose exercise they're comfortable with and that they find enjoyable. The company recently launched its Rapid Results Program, which is based on the body's circadian rhythm and is said to take advantage of the body's natural metabolic rhythm to burn calories when it's most effective. A weight loss program for members with type 2 diabetes also is available.
Cost: There's an enrollment fee, as well as a monthly fee. Interested clients will need to contact Jenny Craig for specifics. The ready-to-eat foods cost about $20 per day for breakfast, lunch, dinner, and two snacks.
Support: Although there are no group meetings, the program offers members ongoing personal support through a dedicated consultant, who has gone through an intensive training course designed by a science advisory board, to become a certified consultant. Support also is offered on Jenny Craig's website and via social media groups on Facebook where members support one another.
Maintenance: Once a member reaches his or her goal weight, Jenny Craig offers a maintenance program with a maintenance menu. During this maintenance phase, members continue to receive advice and motivation from their personal consultant on how to transform their way of thinking about food while still using Jenny Craig products.
Research: An unpublished study found that those on the Rapid Results Program lost almost 40% more weight over a four-week period than those on the regular Jenny Craig program.
Bottom Line: The Jenny Craig program offers convenience and structure for people who'd prefer to have most everything planned out and delivered. One-on-one counseling is available in person with certified counselors or by phone.
WW
TD contacted Zoe Griffith, BSc, RD, global director of nutrition with WW (formerly Weight Watchers), to discuss how the program works. Established in 1963 in Queens, New York, WW is the longest-running weight loss program of the group. WW has gone through many changes over the years, but the one constant has been the point system for tracking food intake and, more recently, physical activity. WW has 4.6 million members around the world.
WW offers three options—a digital membership (WW app), weekly workshops plus the WW app, or personal coaching and the WW app. Pricing varies, depending on which option individuals select and the length of membership. The average enrollment time is nine months. "Connect" groups within the app were created last year. WW members can join a Connect group based on criteria including interests, where they are in their weight-loss journey, and their life stage. The WW program is based on three pillars: Food, Activity, and Mindset. Food and beverage intake is managed using SmartPoints, which are personalized for each member depending on age, height, weight, and sex. Among the 200 zero-point foods are fruits, vegetables, eggs, and meat substitutes. Points for all other foods and beverages are set based on saturated fat, sugar, and protein content as well as calories, enabling members to allocate points any way they want. Members are also, based on their profile, given FitPoints for activity. WW has partnered with the Aaptiv app to enable members to adapt activity to their lifestyle and adjust it as they lose weight. The Headspace app, which provides guided meditations, also is included. Weekly workshops are led by trained laypeople to facilitate behavior changes. However, Griffith says that dietitians are an integral part of the development and planning of the WW program.
Cost: The cost varies widely, depending on the option chosen and the length of time enrolled. If members sign up for three months, prices range from $4.30 to $9.96 per week. Food isn't included.
Support: Support is provided through the WW app 24/7 and by counseling or weekly workshops, if enrolled.
Maintenance: The SmartPoints budget in the app automatically will change settings from "lose weight" to "healthy habits," and the daily SmartPoints Budget will increase.
Research: More than 90 clinical studies have been conducted to evaluate the efficacy of the WW program. The most recent was published in The Lancet in 2017 and showed that, over the long term, the WW program was significantly more effective than a physician-guided program. A 2013 study published in the American Journal of Medicine found WW to be eight times more effective than a do-it-yourself approach.
Bottom Line: The focus of WW used to be on weight loss. While that's still an integral part of the program, the focus now is on building healthful lifestyle habits. It isn't the most expensive program, but neither is it the least expensive. The program would work well for clients and patients who feel the point system gives them quantifiable daily or weekly food and activity goals.
Optifast
Optifast programs have been established across the country and may vary in terms of cost and setting. This is the only medically supervised program of those listed here. Established in the mid-1970s in Cleveland, Optifast is a meal-replacement, weight loss program provided only through doctors' offices and clinics and offers counseling with a dietitian. TD speaks with Amy Pleimling, RD, LD, of Allina Health Hopkins Clinic's Optifast program in Hopkins, Minnesota, who's one of eight dietitians working with the program there. The program is designed only for adults with a BMI greater than 30 (eg, someone who's 5'5" and weighs 180 lbs or someone who's 6'0" and weighs 221 lbs).
The Optifast program generally spans over a two-year period and can be broken into three phases: the Active Phase, or the active weight-loss phase, which is a low-calorie diet that typically lasts one to four months and provides approximately 800 kcal per day in meal replacement drinks or bars; the Transition Phase, in which meals and snacks are gradually added back to increase calorie intake (the length of time patients are in this phase varies considerably, but on average it lasts about six weeks); and the Maintenance Phase, which is the remainder of the program, which Pleimling says is the most important time to consult with the dietitian to help with lifelong tools for weight maintenance. The program is only for adults between the ages of 18 and 75.
Cost: Meal replacements typically cost $3 to $4 each. During the initial Active Phase, five meal replacements per day are recommended. The cost of the program itself varies among locations.
Support: Although programs can vary from clinic to clinic, counseling with an RD as well as a doctor, physician assistant, and/or a nurse practitioner typically is available for clients along with weekly group sessions. Some Optifast clinics, including Allina, blend their medical and Optifast practices. Regular classes are offered as part of the program. Optifast also offers the MY OPTIFAST JOURNEY app, which, for an additional charge, provides a toolbox of exercise videos, meal plans, recipes, and tracking features.
Maintenance: This is the third and last phase of the program, and meeting with a dietitian is a critical part, as clients eat only one Optifast meal per day and eat self-chosen healthful meals for the remainder.
Research: More than 80 studies have focused on the Optifast program. The most recent was a large randomized controlled trial, published this year in the journal Obesity. The results showed Optifast to be significantly more effective than a food-based intervention for weight loss and maintenance after one year.
Bottom Line: Optifast is only for patients who are clinically obese, not for those who wish to lose only a small amount of weight. It's the only program that's medically supervised but may be more expensive than more self-guided programs.
Noom
Established in 2008 in New York City, Noom is the newest program of those listed here and the only one that's solely an online platform. According to the company, Noom has millions of users who sign up each year, and about 1,000 sign up each day for a two-week trial. Noom's curriculum was developed and is tweaked by a team that includes a psychologist, dietitian, and nutrition researcher. It began as an exercise tracker but now focuses on behavior changes rather than exercise, nutrition, or diet alone. Jennifer Major Hartman, MS, RD, director of business development with Noom Enterprise Partnerships, says it's now more psychology than nutrition and describes it as "an anti-quick-fix program." No meal plans, dietary restrictions, or exercise routines are prescribed.
When individuals go to Noom's website, they'll answer several questions about their overall goals, eating, and exercise habits to identify behaviors that can help them achieve their weight-loss goals over a specified amount of time. Based on that information, a customized calorie goal is provided. Daily lessons and challenges are sent to the client's phone on everything from nutrition and physical activity to psychology and behavior changes. Some users stay with Noom for a few months; others stay for one or more years.
Cost: Pricing depends on the length of the plan a user chooses. Paying by the month costs $59; a two-month subscription costs $99, and a 12-month subscription costs $199. However, a two-week trial is available for $1.
Support: Each enrollee is matched with a dedicated "goal specialist" and a group coach to work with during their time with Noom. Users have 24/7 access to a virtual support group of peers who are at similar stages in their behavior change journey. Coaches are available Monday through Friday, during business hours.
Maintenance: Maintenance is considered at the beginning of the user's program and is incorporated at every stage by helping the individual identify and develop behaviors and skills needed for lifelong healthful lifestyle habits.
Research: Several studies have been published in The BMJ, Nature Scientific Reports, and the Journal of Human Hypertension that have demonstrated the long-term efficacy of the Noom program.
Bottom Line: Noom is best suited for clients who are comfortable using apps and likely works best for those who are highly motivated and want help without ordering foods or attending meetings. There are no prepackaged foods or prescribed diet plans.
What to Consider When Recommending a Weight Loss Program
Each program comes with its unique benefits and drawbacks. Whether a program is appropriate will depend on your client's goals, motivation, and budget. The affordability of any one program depends on how much a person normally spends on food and beverages and whether they're single, responsible for food preparation for a large family, or accustomed to dining out regularly. If clients are responsible for shopping for a family, the cost of the diet products and meal replacements should be added to the family's food budget.
Before recommending a program, ask clients about their lifestyle, budget, motivation, and organizational skills, and whether they prefer a more flexible approach or a prescribed plan. For those programs that offer little or no counseling, your support as a dietitian can help them stay on track, regardless of the type of program they choose.
— Densie Webb, PhD, RD, is a freelance writer, editor, and industry consultant based in Austin, Texas.