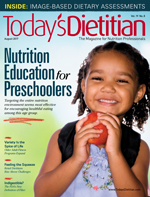 August 2017 Issue
Supermarket RDs Rise Above Challenges
By Sharon Palmer, RDN
Today's Dietitian
Vol. 19, No. 8, P. 36
In spite of grocery stores' tough economic times, retail RDs continue to prove their value by innovating business and helping consumers eat healthfully.
How can supermarket dietitians think beyond the field of dietetics to maximize their careers within a competitive landscape? That's exactly the question that was posed to a group of leading retail dietitians in the country (and even a few outside of the United States) in an interactive session at the Oldways Supermarket Dietitian Symposium 7.0, held in Scottsdale, Arizona, on March 19 to 21, 2017. Planned by Barbara Ruhs, MS, RDN, LDN, a former supermarket RD who's the founding partner of the Oldways Supermarket Dietitian Symposium, the session encouraged dietitians to share ways in which they might strengthen their professional skills to remain relevant during a challenging period in the retail food industry.
Times, They Are A-Changin'
Sure, you probably shop at a supermarket every week and even counsel your clients on healthful shopping habits, but if you're not inside the supermarket world, you may not be aware that times are getting tough. "The retail supermarket landscape is constantly evolving, and the competition to sell groceries is fiercer than ever," Ruhs says.
Allison Beadle, MS, RD, LD, a former supermarket dietitian for Central Market/H.E.B. and founder and CEO of Wild Hive, a marketing and strategy company specializing in food and agriculture, agrees: "Retail has been, and always will be, an incredibly bottom line-driven and competitive space."
One of the main challenges for supermarkets today is profit margin, which is very slim in this business—generally less than 5% for conventional supermarkets, according to Ruhs. This means an extreme focus on the bottom line. It also comes at a time of deflation, says Stephanie Schultz, MSM, RDN, CD, dietitian and senior director of communications at Skogen's Festival Foods. Deflation is exacerbated by competition that often results in stores decreasing prices in an attempt to get people to shop there.
This brings us to the second major issue supermarkets face today: increasing competition. In the not-so-distant past, you relied on your neighborhood supermarket to fill your refrigerator and pantry with produce, baked goods, cereals, packaged foods, dairy products, eggs, meat, and poultry. Today, an increasing array of purveyors outside of the traditional supermarket are ready, willing, and able to take on that role, including "big-box" stores, discount stores, farmers' markets, community-supported agriculture centers, natural foods stores, drug stores, convenience stores, and department stores. Of particular significance is the rise of low-cost retailers, such as Walmart, in the grocery space, which has left many retailers—which can't compete on price alone—in the dust.
"Depending on the market, many grocery stores are seeing a decline in sales in general," says Jennifer Egeland, MS, RDN, dietitian and category manager of natural and organic foods at Valu Merchandisers. "Consumers have more choices on where to spend their food dollars. The variety of stores that are selling food has increased. Besides grocery stores and mass retailers, you can buy grocery items while shopping for home improvement and home decor items. Now there are more specialty stores, such as Trader Joe's, Lucky, Fresh Thyme, Bed Bath & Beyond, and Menards selling food." In addition, new retailers are entering the US market.
Supermarket dietitians also point to online shopping—attractive to customers because of convenience and easy delivery—as another fierce competitor breaking into the grocery market. "Online retailers like Amazon, with Amazon Fresh, are creating some panic and anticipation in the grocery industry. The grocery delivery Instacart is gaining traction nationwide," Ruhs says. The announcement of Amazon's purchase of Whole Foods has caused a huge ripple in the supermarket world as dietitians wonder how this will change the retail food industry. Meal delivery programs, such as Blue Apron and HelloFresh, also are pulling customers away from shopping altogether. Schultz says that deflationary conditions and increased competition, from traditional brick-and-mortar supermarkets to the growth of e-commerce and meal delivery solutions, have been the largest factors weighing on the industry as a whole.
And let's not forget that time-starved customers are eating out more, leaving fewer reasons to shop for ingredients in a grocery store altogether. "The younger generation is cooking less, and they have more exotic tastes for things like sushi and Asian cuisine, making it easier to eat out than prepare food at home," Ruhs says.
RDs Feeling the Squeeze
With grim news for supermarkets, how are supermarket dietitians faring? "As retailers continue to get squeezed by the competition, we're seeing more and more large national retail chains merge to remain competitive, and supermarket dietitians lose their jobs. In the last five years, some of the largest retailers in the country have merged," Ruhs says. For example, Albertsons acquired Safeway and Supervalu, and Ahold and Delhaize also merged.
"Decreased profits mean you have to balance the books, and that's where you see staffing cuts and reorganizations like we've witnessed throughout the industry," Shultz says. While there have been some losses of dietitian positions in supermarkets, there are also some retailers adding more dietitians to the payroll and moving them into different roles, says Ellie Wilson, MS, RDN, senior nutritionist at Price Chopper and Market 32. In fact, those new roles may be a silver lining in the dark cloud on the horizon for retail dietitians.
Offering a Competitive Advantage
The good news is that supermarket dietitians are becoming more proactive about proving their value and creating new opportunities in supermarkets. "Flat growth in retail has created a challenging atmosphere for some retail dietitians but also has created opportunity. As retailers looked more closely at costs and opportunities, dietitians uncovered ways to demonstrate value and cost benefit to retailers," Wilson says.
In fact, having dietitians on staff can be one way that supermarkets can attract more customers. Customers choose grocery stores based on a variety of factors, including selection, such as healthful products and specialty items, and customer services, Ruhs explains. "While some supermarkets, such as Wegmans and King Kullen, have had dietitians on staff since the '90s, most started hiring them in the 2000s as a competitive advantage," Ruhs says.
Today's emphasis on "healthy" is a market opportunity for supermarkets as well as dietitians. Whole Foods, with its good profit margins, is a prime example of a conventional retailer taking full advantage of the market for the health-minded consumer. "The natural retail segment continues to grow and attract more customers, with new natural retail players entering the market, such as Fresh Thyme. Even big-box retailers, such as Costco, are using health as a marketing strategy, with their increasing inventory of organic produce," Ruhs says.
Beadle agrees, noting that now more than ever shoppers are interested in eating well and understanding where their food comes from. Taking advantage of this consumer mindset and knowing how to turn it into increased sales is key. "Because of their foundation in food and nutrition, dietitians are uniquely equipped to position themselves as the 'knowledge keepers' for understanding the current consumer mindset and the 'storytellers' for knowing how to harness this mindset through the power of storytelling, which is essentially education, and this is something that comes very naturally to many dietitians," Beadle says.
Strategies for Staying Strong
How can supermarket dietitians ride the current tide of competition? Experts suggest they dig deep to provide value to the supermarket beyond their traditional dietetics roles.
"In the chaos of supermarkets competing for profit dollars and loyalty, it's imperative that retail dietitians prove their value as an integral part of the supermarket team, and profitability, competitiveness, and necessity is part of that," says Ruhs, who has used her retail expertise to move into the world of consulting for food companies, taking on such roles as regulatory affairs, recipe development, and foodservice marketing.
A supermarket dietitian's first strategy is to understand where they fit into the retailer's plans and goals, Wilson says. Then the dietitian can identify internal collaborators and resources to develop and implement strategies and measure progress towards those goals. "Some tasks may not be directly related to nutrition or education but can still be worthy to the organization," says Egeland, who suggests that supermarket dietitians can participate in various roles within the supermarket, including communications, marketing, branding, social media, local foods programs, category management, and buying.
Today, supermarket dietitians are casting an ever-widening net within their retail organizations to provide value. Supermarket RDs are creating, developing, and organizing shelf label health identification systems; leading outpatient health services that bring in revenue; heading up communications efforts; working in specialty pharmacy programs; and even doing product testing.
"It is more important than ever that supermarket dietitians are prepared to prove their worth, tangible or intangible, and get involved in projects or operations that are necessary for day-to-day business, not just 'nice to have' roles," says Schultz, who has moved from her dietitian role to overseeing communications and technology at her supermarket.
Skills Building
Moving ahead of the game in retail means that dietitians will need to develop a new set of survival skills. "Dietitians need to expand their skills if they desire to work and remain in this industry. Although dietitians are the nutrition experts, they need to prove themselves outside the clinical realm," Ruhs says.
Business knowledge, including communications and marketing, is at the top of the list of the new supermarket dietitian skill set. Beadle urges supermarket dietitians to develop a deep understanding of marketing and communications and at least a base level understanding of accounting and finance. "Everyone in retail has their eye on two things: the shopper and the cash register. So, understanding how to influence the shopper's purchasing decisions is key. Developing media, writing, social media, and culinary skills will equip the dietitian with essential skills for communicating about food and nutrition and interacting with other food professionals within the retail environment," Beadle says.
The new media for supermarket dietitians has a strong emphasis on technology, including online shopping and social media, such as Facebook Live, Twitter, Snapchat, and Instagram. It's also important for dietitians to stay engaged with influencers such as bloggers, Schultz says. "Be a part of that conversation so you can leverage those partnerships to share your message as a dietitian. Or better yet, how about becoming an influencer yourself? You can, and should, use your personal or professional brand to become a brand ambassador for your organization. You need to be a part of the conversation to stay relevant in social and digital marketing plans," Schultz says.
Supermarket dietitians need to possess a diverse knowledge of food trends, culinary skills, and health promotions to aid customers in all their shopping and nutrition needs, according to Egeland. "People still need a resource to help with food choices for general health and disease state management. Having an understanding of food trends and culinary skills can help teach customers to cook at home, bringing sales back to the store while meeting the needs of customers wanting to explore food and flavors."
Acquiring leadership and management skills or training can be an asset for supermarket dietitians wishing to expand their jobs to other departments within the company. Who knows, maybe a supermarket dietitian may one day become the CEO of the entire supermarket. Schultz also suggests learning other facets of the business, such as category management, marketing, merchandising, communications, and e-commerce. She adds, "While you may not spend 100% of your time doing 'dietitian work,' it will help you retain a position in the industry that allows you to use your dietitian knowledge to continue to positively impact consumers. As a bonus, you will increase your career path opportunities and set yourself up for increased compensation."
Using leadership, communication skills, or other business skills, dietitians can create, lead, or participate in programs and projects that impact others, says Egeland, who not only set up a community supported agriculture program in her supermarket but also has transformed her role to include buying and category management. "Dietitians who are flexible and expand their role at a company have the opportunity for growth. The great thing about this industry is that hard work, thinking outside the box, and determination to impact the community can be rewarded by the job description you write," Egeland says. She has seen dietitians go into marketing, communications, social media, and branding for the company, while others have taken on roles as community resources, broadening the scope and reach for retailers into the community.
"It may take grit to find greatness in this industry, but overcoming that pain point is where 'average' takes a step towards extraordinary. And that will be noticed," Schultz says.
— Sharon Palmer, RDN, is the nutrition editor of Today's Dietitian, a nutrition advisor to Oldways, and a frequent contributor to supermarket nutrition. She writes daily for her blog at SharonPalmer.com.
TIPS FOR STAYING COMPETITIVE
Supermarket nutrition expert Barbara Ruhs, MS, RDN, LDN, offers these tips for dietitians to gain a competitive edge in the supermarket industry. "Supermarket dietitians must get involved in all aspects of retail, especially the segments of retail that continue to drive profit margins," Ruhs says.
Get involved with foodservice. Dietitians must get involved with menu labeling, nutrition labeling, product development of more healthful options, and meal kit innovation.
Move into perishables. Perishables (such as prepared salads and sandwiches) are high-margin categories in the supermarket, and dietitians can help increase purchases and profitability within the stores. To enhance sales, RDs can sample products, offer nutrition expertise, and suggest ideas to improve merchandising.
Focus on frozen and packaged goods. Since sales are waning in the center aisles, dietitians can recommend many hidden gems that may be overlooked, such as canned beans and tuna; whole grains found in cereals, breads, and snack items; frozen foods including vegetables and fruits; and prepared meals that are more affordable and a better nutritional value than fast food or restaurant choices.
Create community partnerships. Since health care in the United States can be very difficult for people to navigate, dietitians working in supermarkets can be the perfect bridge to health care organizations in the community, such as hospitals, public health agencies, and private practitioners. This means directing customers struggling with disease-specific issues or who wish to use food as preventive medicine.
Provide a health care kiosk. There's a huge opportunity for retailers to make strides in making health care more accessible to everyone. Dietitians can help retailers create new revenue by offering medically reimbursable services in the supermarket environment. Retailers already are offering pharmacy services, health screenings, and, in some cases, urgent care clinics, so adding nutrition consultations is one more service they can provide.
Get into merchandising. Nutrition shelf tags and in-store signage that helps shoppers find more healthful choices also can boost sales. Many retailers don't accept vendor-supported material for the point of sale and on bins and thus must take action to create their own nutrition and health signage.
— SP