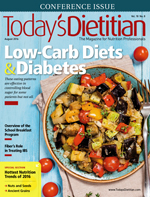 August 2016 Issue
Hottest Nutrition Trends of 2016: Nuts and Seeds
By Liz Marr, MS, RDN, FAND
Today's Dietitian
Vol. 18 No. 8 P. 40
Consumers can enjoy them in meals, individually wrapped packages, and various snack foods.
Just about everywhere food is sold, so are individually wrapped packages of nuts and seeds and the many products that contain them. And statistics show that this trend is likely to continue.

The global nuts and seeds market is expected to grow annually by 1.7% for nuts and 10% for seeds for at least the next five years.1 The 4th annual "What's Trending in Nutrition" survey from Today's Dietitian and Pollock Communications, a food, health, and wellness public relations agency in New York City, asked 450 dietitians about what they believed would be the hottest nutrition trends in 2016. Of the dietitians surveyed, 49% and 55.8% said nuts like almonds and walnuts, and seeds like chia and hemp would reach "superfood" status, respectively, in 2016 among consumers.2
Several factors are contributing to their rise in popularity. Consumer interest in health and wellness is a major driving factor.1 Specifically, Innova Market Insights identified as a top 2016 product trend the "Flexitarian" Effect, which is the rise in part-time vegetarians who have reduced their meat consumption because of health, sustainability, and animal welfare concerns.3 Moreover, the Paleo diet, with its emphasis on protein including nuts and seeds, continues to influence new product introductions. Snacking between meals is on the rise and also is fueling an increase in snack food product launches that include those with nuts and seeds.4
Health and Convenience
"Nuts have been hitting on all cylinders," says Jane Andrews, MS, RDN, nutrition and product labeling manager at Wegmans Food Markets in Rochester, New York. With the "'plant-based protein, good fats, and satiety' message, frankly, nuts have a health aura that has not yet maxed out," she says, adding that their grab-and-go convenience is another benefit. "They've always been a favorite food, but fat phobia kept them under wraps." Another reason consumers are drawn to nuts, especially almonds, is because they're associated with weight and cardiovascular health benefits, according to research.

Amy Myrdal Miller, MS, RDN, FAND, president of Farmer's Daughter Consulting in Carmichael, California, also attributes consumers' interest in nuts to the research. She says there's a long-standing investment in nutrition research and communications by members of the California tree nut industry, including the Almond Board of California, the California Walnut Commission, and the American Pistachio Growers. "Consumers understand the 'good fats' story. Many recognize that nuts are satiating. And many also appreciate the relationship between frequent nut consumption and reduced risk of heart disease and type 2 diabetes," Miller says. As an example, she points to the Almond Board of California's focus on the nutrition and health benefits of snacking on almonds. "That effort has resulted in consumer demand and food manufacturers' interest in producing more almond snacks."
Elisabeth D'Alto, RD, LDN, a retail dietitian for ShopRite of Timonium, Baltimore, says consumers' interest in protein is a big contributor to the growing nuts and seeds trend. "Because of its role in weight management as a more satiating snack, protein ingredients are fortifying many products these days," D'Alto says. "Nuts and seeds are naturally protein packed, which makes them a great grab-and-go snack option for kids and adults," she says, adding that nuts and seeds are in products across all aisles. "I'm seeing them included more in snack foods, which goes along with the snacking trend."

Miller agrees: "I'm seeing more salted or candied nut options at point-of-sale locations such as grocery checkout lines, Starbucks counters, and convenience stores."
Wegmans has created a nuts and seeds destination in its stores, bringing together bulk and packaged items. These products all have seen tremendous growth, Andrews says—and especially trendy are seasoned nuts and seeds and nut and seed butters, such as almond, cashew, and sunflower butters. "The more concern folks [have] about animal proteins, like processed meats, the more they turn to easy, affordable plant proteins, like nut butters."
When it comes to packaged snacks, including single and mixed nuts, D'Alto sees a heavy use of almonds, walnuts, and peanuts with other nuts on the rise, such as pistachios, macadamia nuts, Brazil nuts, and cashews. Both D'Alto and Andrews say specialty fruit and nut blends also are experiencing growth.

More Than a Snack
While snacking on nuts and seeds is a growing and important trend, Andrews has observed that "nuts and seeds are finding their way into meals more than ever before." Restaurants are representing the leaders of creative uses for nuts and seeds, as they often are incorporated in salads, entrées, and desserts. Menu items at Seed + Salt, a restaurant specializing in plant-based, organic, and locally sourced cuisine in San Francisco, include walnut chorizo, coconut ceviche, and almond mozzarella. Leaf, a full-service vegetarian and vegan restaurant in Boulder, Colorado, offers crispy harissa tofu, raw kale salad with walnuts, and Hungarian stuffed cabbage with mushroom-pecan filling. Blossom, a collection of vegan restaurants in New York City, offers cashew cream ravioli with smoked tempeh and pine nuts.
Beyond their appearance in upscale restaurants, nuts and seeds are increasingly found in mixes and as ingredients in packaged foods such as crackers, snack bars, yogurts, and dips.
Used as Ingredients
As ingredients in foods, nuts and seeds add texture and flavor in addition to nutrition. They can be chopped, ground, or processed into oils, pastes and butters, flours and meals, or milk.
Miller says peanuts are the most commonly used as ingredients, because they're the least expensive. "Almonds also are used extensively because they provide an upscale value proposition to consumers," Miller says, adding that manufacturers of packaged foods prefer almonds because their fatty acid profile makes them more shelf-stable. "Pistachios and pumpkin seeds [also] are appearing in more products, such as crackers, cereals, and confections," Miller adds.
Consumers can expect to see nuts and seeds as ingredients in cereals, bars, and snack foods, such as chips, as well as nut mixes, and will remain popular in other categories. Think about sesame seeds on bagels. And "let's not forget the incredible role sesame seeds are playing in the hummus boom," Miller says. Tahini, a paste from ground sesame seeds, is integral to hummus in addition to chickpeas. Packaged hummus sales have risen dramatically in the past few years, thanks to big players like PepsiCo's Sabra brand. "Brands like Sabra put pine nuts on top of some of their spreads," Miller adds.
From meals to snacks, and packaged foods, here's a look at some of the categories in which nuts and seeds are found.
Bakery
Several sliced bread brands boast nuts and seeds, such as Orroweat's Flax & Sunflower, Nuts & Seeds, and 17 Grains & Seeds. Organic brands with seeded breads include Rudi's Organic Bakery Seeded Mighty Grains and Super Seeded, Alvarado Street Bakery Essential Flax Seed Bread, and Dave's Killer Bread Powerseed, Good Seed, and 21 Whole Grains and Seeds. Dave's Killer Bread boasts sprouted seeds, which is another growing trend. The interest in sprouted seeds, like grains, centers on the potential for increased availability of nutrients. However, just because a bread label touts seeds, this doesn't mean that it's a whole grain bread, so check the list of ingredients for whole-grain flour. Also, keep in mind the seed-rich crust visible through the plastic bag doesn't necessarily reflect the bread's center.
Dairy
Nuts and seeds can be found in the dairy case as additions to dairy-based products and as dairy substitutes in dairy-free foods. Varieties of Silk nut-based milks have expanded to include Almond, Cashew, and Nutchello. Nutchello comes in three varieties: almond, cashew, and caramel; dark chocolate and walnuts; and toasted coconut and cashew. With numerous "free-from" claims (dairy-, soy-, lactose-, gluten-, casein-, egg-, and MSG-free), these beverages are fortified with vitamins and minerals but contain much less protein than regular milk (2 g or fewer per cup), unless they're fortified with other sources of protein, such as pea protein. Hemp seed also is used as a dairy substitute, as in hempmilk. In addition to hempmilk, Living Harvest's Tempt makes hemp tofu (15 g protein per serving) and yogurt (10 g protein per serving) in several flavors. Seeds also are found in yogurt. For example, Stonyfield recently introduced Greek and Chia yogurt.
Snacks
As the snacking trend continues to grow, nuts and seeds are being included as ingredients in savory snacks. Nut and seed-containing snack categories include bars, packaged single-variety nuts and seeds in expanding flavor options, and nut and seed mixes. In the bar category, KIND Bars offer varieties containing sunflower seeds, pumpkin seeds, chia, hemp, almonds, peanuts, and cashews. Some packaged nut mixes have health marketing statements on labels, such as Planters Nut-rition Mixes Digestive Health Mix, Omega-3 Mix, Healthy Heart Mix, and Antioxidant Mix. With the snack category expanding, nut-free options are available, appealing to consumers with nut allergies. Enjoy Life Foods, a brand that boasts "free-from" living, makes allergy-friendly products free of the top-eight allergens, including peanuts and tree nuts. Seeds are a mainstay in their snack products, which include bars as well as seed and fruit mixes. Sunflower seeds now come in a variety of flavors, both in hull and hulled. Packaged nuts, seeds, and mixes provide many nutrients, including protein, heart-healthy fats, fiber, essential vitamins and minerals, and phytochemicals; however, some packaged nuts and seeds can contain a fair amount of added salt, so consumers should check labels for sodium content.
Chips and Crackers
Many chip and cracker products that contain nuts and seeds also are available. Blue Diamond Nut Thins nut and rice crackers contain pecans or almonds. RW Garcia makes gluten-free 3-seed crackers containing flaxseeds, sesame seeds, and chia seeds, as well as flaxseed tortilla chips. WildRoots' WildChips ingredients include quinoa, flax, and chia. Many nut- and seed-containing chips and crackers are marketed as gluten-free. For these products, the first ingredient often is corn or rice and not one of the trendy nuts or seeds touted front-of-pack. It's important to keep in mind that while these products may be more healthful options than other snack foods, they have a tendency to be high in calories due to added fats and oils.
— Liz Marr, MS, RDN, FAND, is a writer, recipe developer, and nutrition communications consultant in Boulder County, Colorado.

References
1. Global nuts market to reach US$1,279.44 bn by 2021, propelled by growing demand for modified crops. Transparency Market Research website. http://www.transparencymarketresearch.com/pressrelease/nuts-seeds-market.htm. Published October 6, 2015. Accessed April 29, 2016.
2. What's Trending in Nutrition survey. Today's Dietitian and Pollock Communications, 2015.

3. Innova Market Insights. Top food & beverages trends for 2016: "clean eating" trend inspires a back to basics approach. http://www.prnewswire.com/news-releases/top-food--beverages-trends-for-2016-clean-eating-trend-inspires-a-back-to-basics-approach-300180069.html. Published November 17, 2015. Accessed May 1, 2016.

4. Sloan AE. The top ten food trends. Food Technol. 2015;69(4).