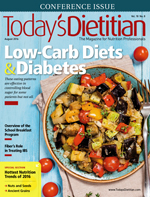 August 2016 Issue
Editor's Spot: Diabetes and CVD
By Judith Riddle
Today's Dietitian
Vol. 18 No. 8 P. 4
About six weeks ago, my 90-year-old dad, who's had type 2 diabetes for almost 50 years, suffered what his doctors called a "mini stroke" during an afternoon outing with friends from his assisted-living apartment community. Someone from his group noticed he was having trouble walking and talking and called for an ambulance to take him to the nearest hospital. Thankfully, he received the clot-busting drug tissue plasminogen activator within the three- to six-hour window when it's most efficacious to dissolve clots and improve blood flow to the brain to minimize risk of permanent neurological damage. After a few days in the hospital, my husband and I took him to a rehabilitation facility to receive physical therapy. Today, my dad is speaking clearly, is walking without too much assistance, and has returned to independent living.
It may appear as though my dad has beaten the odds, since at age 90 he's just beginning to experience one of the leading diabetes complications and because many black men with type 2 diabetes develop heart disease and stroke at much younger ages and often suffer permanent, debilitating health outcomes. The fact is that at least 68% of people aged 65 and older with diabetes die from some form of heart disease, and 16% die of stroke.

The good news is that up to 80% of strokes are preventable through heart-healthy eating patterns and regular physical activity aimed to help control blood sugar, blood pressure, and cholesterol, and maintain a healthy weight. Certain glucose-lowering medications also can help, which you'll want to share with clients and patients. An important study published online in June by the New England Journal of Medicine (NEJM) showed that the glucagon-like peptide-1 receptor agonist liraglutide (Victoza) lowered the risk of heart attack or stroke 13% and reduced risk of cardiovascular mortality 22% in subjects who took the drug. In another study published online in September 2015 in NEJM, the SGLT2 inhibitor empagliflozin (Jardiance) lowered risk of cardiovascular disease (CVD) death by 38% and overall death from any cause by 32%.

These are just two of the latest developments in diabetes treatment and management, as many of you will learn about even more this month when you attend the American Association of Diabetes Educators Annual Meeting in San Diego. There will be sessions on how to prevent CVD in people with diabetes, and on how SGLT2 inhibitors can help prevent heart disease and stroke and control blood sugar.
In this issue are features on the impact of low-carb diets on blood sugar control in patients with diabetes, the role of social media in diabetes management, the national School Breakfast Program, fiber intake and irritable bowel syndrome, and the final installment of our special section on the hottest nutrition trends of 2016 based on our 4th annual "What's Trending in Nutrition" survey that TD developed with Pollock Communications. Please enjoy the issue!
Judith Riddle
Editor
TDeditor@gvpub.com