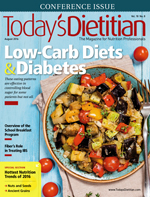 August 2016 Issue
Ask the Expert: Should Clients Eat the Avocado Seed?
By Toby Amidor, MS, RD, CDN
Today's Dietitian
Vol. 18 No. 8 P. 10
Q: Some of my clients have heard that eating the seeds of avocados is nutritious. Is there any merit to this claim?
A: The health myth of the avocado seed has been promoted by many unreliable websites or so-called health bloggers. Unfortunately, this is just another example of noncredible sources still having the ear of the public. Both California Avocados and the Hass Avocado Board don't recommend eating the avocado seed.

The latest trend is grinding the avocado seed and then sprinkling it on oatmeal or in smoothies. Advocates believe that the seed contains important nutrients that can help fight arthritis, toothaches, and cancer, and lower cholesterol. However, currently there isn't enough evidence to support these claims. Furthermore, the toxicity of the seed is questionable. Here's a look at the limited research available at this time.
Current Research
The California Avocados website states that "The purported health benefits and risks of avocado seed intake are poorly characterized."1 In 2013, researchers at Pennsylvania State University sought to determine whether the avocado seed contains nutrients that may be beneficial and published a review about their findings.2
According to the review, the avocado seed has a rich phytochemical profile, but the bioavailability of these nutrients is unclear. Nikki Ford, PhD, director of nutrition for the Hass Avocado Board, says "The Hass Avocado Board does not have any information on nutrients of the seed." The review does discuss the nutrient content of a Hass avocado seed, but they obtained their information from a study published in 1931.3
Since 1989, close to 25 studies on avocado seed extract have been published in which numerous hypotheses have been examined, including its possible antidiabetes, anti-inflammatory, antihypertensive, and antimicrobial effects. Moreover, the extract hasn't been found to have toxic effects in studies conducted on rats and mice. However, toxicity effects of the seed itself can't be determined from the extract alone; as such, further research on the seed is necessary. Avocado seeds are known to contain toxic compounds, so more testing is needed before researchers can claim that the seed is safe to eat. Currently, it's unclear how much of the toxic compound found in the seed is safe to ingest.
Recommendations for Dietitians
In addition to advising clients not to consume the avocado seed, it's important to remind them to seek reliable sources of nutrition information. Nutrition professionals should compile a list of reputable websites to give to clients as a reference.
If consumers want to obtain the health benefits of polyphenols found in the avocado seed, suggest they choose other sources such as red wine, green tea, bananas, pineapple, and avocado flesh, as the safety of the avocado seed hasn't yet been determined.
— Toby Amidor, MS, RD, CDN, is the founder of Toby Amidor Nutrition (http://tobyamidornutrition.com) and the author of the cookbook The Greek Yogurt Kitchen: More Than 130 Delicious, Healthy Recipes for Every Meal of the Day. She's also a nutrition expert for FoodNetwork.com and a contributor to US News Eat + Run, Shape.com, and MensFitness.com.

References
1. California Avocado Commission. Is it safe to eat the avocado seed? California Avocados website. http://www.californiaavocado.com/blog/march-2016/is-it-safe-to-eat-the-avocado-seed. Accessed June 8, 2016.
2. Dabas D, Shegog RM, Ziegler GR, Lambert JD. Avocado (Persea americana) seed as a source of bioactive phytochemicals. Curr Pharm Des. 2013;19(34):6133-6140.
3. Weatherby LS, Sorber DG. Chemical composition of avocado seed. Ind Eng Chem. 1931;23(12):1421-1423.