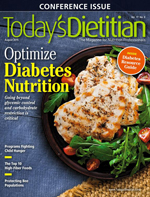 August 2015 Issue
Fighting Child Hunger
By Juliann Schaeffer
Today's Dietitian
Vol. 17 No. 8 P. 28
Dietitians are in the perfect position to work with food banks across the United States to stamp out hunger once and for all.
The United States touts itself as a land of vast opportunity for many, but there's no denying that such opportunity falls short sometimes—for some of the smallest among us—as evident in the reality of childhood hunger that millions of this country's children face each morning.
"Nearly 16 million children under the age of 18 live in food insecure households across the country," says Sarah Biles, APR, interim director of communications for Harvesters—The Community Food Network, in Kansas City, Missouri. Biles notes that in Harvesters' service area, which comprises 26 counties in Norwest Missouri and Northeast Kansas, one in every five children can be defined as food insecure.

In Houston, that number is even higher—one in four children are living in food-insecure homes, meaning they don't have access on a daily basis to nutritious foods.
While at its core, missing meals can impart obvious physical effects from a lack of nutrition, routine hunger can cause a ripple effect that impacts children—and the greater community—for years to come. "The lack of nutritious and healthful food impacts their physical and mental health and development, which in turn impacts their academic achievement and economic productivity," Biles explains. "Food and nutrition are key components of a healthful life. The intake of vital nutrients is important in establishing and maintaining a good foundation on which a child will build the rest of his or her life."
The federal National School Lunch Program has made huge gains in feeding hungry children during school hours by offering reduced price or free meals to children who qualify. But children aren't in school 24/7. To help ensure kids are filling their bellies with good and healthful food both after school and over weekends, Feeding America, a nationwide, organizational network of food banks that provides food to more than 46 million people facing hunger in the United States, including 12 million children and 7 million seniors, developed the Kids Cafe and BackPack programs. And according to these food banks across the country, these programs are making more of a difference in kids' lives with each passing year.
The BackPack Program
The concept for Feeding America's BackPack program originated in Little Rock, Arkansas. After a school nurse became concerned about students coming to her with stomachaches and dizziness—telltale signs of hunger—a local food bank decided to take action. It started to provide food to children in nondescript backpacks that they could take home to sustain them over weekends and school vacations.
The BackPack concept was launched as a pilot program in 1995 and has been an official national program of Feeding America since 2006. Its success can be seen in the number of sites participating (roughly 9,000, including mostly schools working with Feeding America members and other partner distribution organizations) as well as the children served. In fiscal year 2013, Feeding America listed the total of backpacks distributed annually at more than 10 million, serving more than 452,000 children.
Food banks work with schools to institute the specifics of how the program will work best for them, but it's clear they're seeing many signs of success.
Kansas City, Missouri
Harvesters in Kansas City, Missouri, has been offering its BackSnack program since 2004 to help fill the food gap for elementary school children on weekends. Each BackSnack, a gallon-sized plastic bag, is filled with shelf-stable food that's kid-friendly and includes cereals, milk, canned meat, canned fruits and vegetables, and nutritious snacks.
While all public/charter schools in the service area are eligible to participate in the program, Biles says a team of school staff members, including social workers, teachers, administrators, and cafeteria personnel, work together to identify children in greatest need of food assistance.
Unfortunately, there's no small number of children in need. "Harvesters provides nearly 20,000 BackSnacks a week to children in our service area during the school year," Biles says.
Because most schools don't have the space to store such a large quantity of food, Biles says Harvesters typically works closely with community partners (such as churches, businesses, or other civic organizations that are located near the school) for some of the program logistics.
"Harvesters delivers the food kits to the community partners, and they're responsible for cleaning the backpacks, placing the food kits in the backpacks, and distributing the backpacks to their school every week," Biles says. "Community partners also have the opportunity to get fresh produce from Harvesters to include in the backpacks they distribute."
Because children are carrying the food with them, program coordinators must consider the foods' weight as well as the other considerations that go into food choices, such as shelf life and cooking method, since the type of cooking tools they may have at home are unknown.
Biles says Harvesters' BackSnacks include a variety of nutritious shelf-stable items such as ravioli, canned soup, cereal, hummus, dried fruit, canned fruit and vegetables, and shelf-stable milk. Fresh produce, such as oranges or apples, also is added to the bags when available, she says. To prevent children from receiving the same foods every weekend, the program works on a three-menu rotation.
Harvesters works with schools, its own nutrition services department, and vendors to acquire food that's both nutritious and kid friendly. "We want to provide food that's easy for children to open and eat on their own without the need for electricity," Biles says. "We also want to provide as much healthful food as possible to help children grow and develop, and provide a model for parents on what to buy at the store and/or to fill the gap for people who live in food deserts and don't have easy access to foods such as hummus, fresh fruit, or whole wheat crackers."
It's been one decade since Harvesters took on the BackSnack program, and Biles says the results have been more than promising. "We've definitely seen an impact on the children who receive the BackSnacks," she says. "Independent evaluations done over the years show that students who receive BackSnacks get better grades in school, behave better, miss less school, take more responsibility, and even have increased self-esteem and improved social skills."
Because of the program's success and that it's a continuing need among children, Biles says Harvesters is working to expand the program to preschool and middle school children next year, and hopes to create unique menus for each age group in 2017.
Houston, Texas
The Houston Food Bank's Backpack Buddy Program also has been a big hit with students, and it now reaches at least 10,200 children each month. According to Nicole Lander, RD, director of outreach services for Houston Food Bank, as the 2014–15 school year closed, the program was established in 530 schools within 11 of the 18 counties in the Houston service area.
The food sacks Houston Food Bank provides to children include six meals and two snacks each and are built around a set menu. With protein, fruit, vegetables, shelf-stable milk, cereal, and snacks, Lander says the food sacks are nutritionally sound and incorporate all food groups.
Campus coordinators look to other school personnel such as teachers, counselors, and school nurses to ensure they're identifying children in need of this assistance, and Lander says schools have thoughtfully considered how they're doling out the weekly goods.
"The distribution of the food sacks are to be completed each Friday close to the time of dismissal," she says. "The students are to discretely receive the food sacks to prevent embarrassment and the breach of confidentiality."
Lander says an increase in attendance, attentiveness, and test scores testifies to the program's effects and says it isn't just students who are appreciative. "Positive and profound changes in student behavior [were seen] within a few weeks of starting the program," she says. "Parents are voicing their appreciation, stating that the program has been a huge help for their families during times of economic hardship."
Lander hopes to increase food offerings by adding an additional protein component next year as well as continue to increase the program's reach. The Houston Food Bank is aiming to be in 700 schools by the close of the 2015–16 academic school year.
Oklahoma City
For the Regional Food Bank of Oklahoma, its BackPack program was a direct response to a firsthand account of an Oklahoma City elementary student who fainted in the lunch line on a Monday morning from a lack of food over the weekend.

Now it serves more than 18,500 chronically hungry elementary school students attending 501 schools in the Regional Food Bank's 53-county service area. "The BackPack Program added more than 3,300 children to the program this year alone," says Traci Simmons, a school pantry coordinator and former Child Hunger Corps member at the Regional Food Bank of Oklahoma. The Child Hunger Corps is a program made possible by ConAgra Foods Foundation in partnership with Feeding America.
Through surveys conducted with its program coordinators, Simmons says they've noted better attendance, improved grades, and improved behavior among students in the program. Even the principals are noticing.
Simmons points to a recent survey of Food for Kids principals, which notes that 78% of principals observed students paying better attention in class, and 84% observed improvements in students' academic performance after joining the program.
"This program is changing lives," says Simmons, who stresses that children can run into short- or long-term food hurdles at home for any number of reasons. She offers this testimony from one BackPack program coordinator: "A parent came to my office asking for his children to receive the backpack. He shared that his wife has been battling cancer, and her treatments took all of his paycheck, and they had lost his wife's income when she became ill. He said it helps to have the backpack food for the children on the weekend, because 'I'm trying to work extra and no one is there to cook, because my wife isn't able.'"
Though the BackPack program has been successful, Feeding America's Director of Media Relations Ross Fraser says it's worthwhile to note the program has been experiencing a natural evolution as of late.
"One thing that we also learned is that if a child is hungry, it's likely that his entire family is hungry," he explains. "And there's only so much food you can put in a backpack that a small child can carry home."
As such, Fraser says many schools have been moving away from backpacks and toward a School Pantry model, something he expects to see more of in coming years. This means that instead of giving a child a backpack of goods on Friday afternoon, schools allow parents to pick up a box of groceries along with their child—enough food to sustain an entire family for at least the whole weekend, many times for one week or longer (based on how the program is set up). This not only helps fill the hunger gap for more people in need but Fraser says it also puts less restrictions on the food provided.
"With the BackPack program, food must be child friendly (meaning it doesn't need to be refrigerated, isn't perishable, and doesn't have to be heated to be consumed)," Fraser says. "With the School Pantry program, there's greater flexibility, and it's much easier to provide fresh fruits and vegetables and things that might need to be refrigerated."
The Kids Cafe Program
Whereas the BackPack and School Pantry programs help solve issues with food access on the weekends, the Kids Cafe program addresses challenges with food access after school hours. The idea for Kids Cafe originated in Savannah, Georgia, in 1989, after a pair of young brothers were found looking for food one evening at a local housing project community center. In response, Feeding America (then the Second Harvest Food Bank of Coastal Georgia) started its first Kids Cafe afterschool program to offer free meals to low-income children. The program went national in 1993 and has since grown in different communities nationwide. Provided through many community sites, including Boys and Girls Clubs, churches, and parks, many of these places offer kids not just a free nutritious meal but also a safe place to congregate and potentially even get involved. "This is a safe place where children can do homework, enjoy recreational activities, and socialize under supervision," says Kori Reed, vice president of cause and foundation for ConAgra Foods. "It's the combination of a safe place, combined with activities and a meal, that makes them successful."
The ConAgra Foods Foundation has been one of Feeding America's funding partners for the past two decades. "At the ConAgra Foods Foundation, we believe that kids should focus their energy on being kids and not on where or when they'll receive their next meal," Reed says. "This program provides kids with an afterschool meal that they may not get otherwise."
At Harvesters, Kids Cafe sites are determined by student need, so they're located where the school or census data show that 50% or more of the students qualify for free and reduced school lunches. Because of this, any child aged 18 or younger is welcome to come and receive a free meal at its Kids Cafe sites.
As Biles explains, program coordinators look for sites that children tend to frequent often, both after school and during the summer. Current Kids Cafe sites are located at local libraries, housing developments, schools, community centers, parks, and even pools.
Harvesters serves well over 6,500 different children each year through the Kids Cafe program, and Biles says it expects to provide more than 200,000 meals this summer alone to children in need.
What do these meals contain? It depends on the location, but Biles says sites that have the tools (eg, a kitchen) to prepare their own foods will serve hot, nutritious meals in a family setting. Conversely, parks, pools, and other sites will offer shelf-stable meals that are more appropriate for an outdoor setting.
All following USDA guidelines, hot meals can include tacos, chicken tetrazzini, or spaghetti and meatballs, whereas shelf-stable offerings can include a cheese stick with sunflower kernels, a cup of peaches and other dried fruit, and chocolate milk.
Biles notes that program coordinators are open to feedback about the food served, and modify the menu offerings as necessary. Expanding flavor profiles of the foods offered are on its to-do list for 2016.
As Biles explains, the food bank plans to use its new city bus, donated by the City of Topeka, Kansas, as well as new community partners to expand into underserved rural areas and at parks and pools. "Both of these methods will help us reach more children than ever before," she says.
The Lowcountry Food Bank in Charleston, South Carolina, also identifies areas with the most need through school free and reduced lunch rates. Its Kids Cafe program reaches roughly 2,000 children, through three different types of sites: schools, recreation facilities such as YMCAs or parks, and nonprofit organizations that run afterschool programs.
"With regard to foods, we create meals according to USDA nutrition guidelines," says Pat Walker, president and CEO of the Lowcountry Food Bank, offering one example of a kid favorite: "milk, a turkey taco (ground turkey with cheese on a flour tortilla), black beans, and an apple."
Another meal example includes milk, brown rice, teriyaki chicken with stir-fried vegetables, and a fruit cup. "Meals include milks, fruits, veggies, and lean protein, and they're created with kids' palates in mind," Walker says.
Typically, meals are prepared in the Lowcountry Food Bank's Zucker Family Production Kitchen and delivered, unless a community site can prepare it themselves.
According to Walker, not only is Kids Cafe satisfying children's hunger but it's also satisfying parents and teachers as well: "Parents and teachers report in end-of-year surveys that the children's overall health and behavior improves by being enrolled in Kids Cafe."
In Memphis, Tennessee, Kids Cafe provides free meals and snacks to low-income children at two Boys and Girls Clubs and one Girls Inc location. "With our three sites, we serve an average of 260 students each day," says Leann Grabski, a Child Hunger Corps member for Mid-South Food Bank.
Because each site has a full kitchen, all meals are cooked on site, four or five days every week. But kids aren't getting just a free meal; they're also getting an education. "Students also have the opportunity to receive a nutrition lesson or other education activity provided by our volunteers," Grabski says. "Meals are served family style where site staff fix plates and serve them to students who sit together at large tables. This is a great opportunity for them to sit together and enjoy a hot meal."
Get Involved
If dietitians are interested in joining the fight to end childhood hunger, their best bet is to reach out to their local food bank. According to Biles, Harvesters is always looking for nutrition-minded volunteers. "Part of Harvesters' mission is focused on nutrition education," Biles says. "We have a nutrition education department that teaches nutrition classes to children and adults. The classes teach both children and adults how to cook healthfully on a limited budget. Harvesters is always looking for volunteers to assist with these classes."
In addition to teaching nutrition classes, Lander says many food banks can use assistance in creating various nutrition education materials, which are placed in BackPack bags every other month. "In addition, menu planning and recipe development based on the contents of the food sacks would be another way to best utilize their specialty," she adds.
Simmons notes that she's worked with dietetics interns in the past to evaluate current food menus and make recommendations on how to better these programs, such as how to increase more fresh produce in BackPack meals.
When in doubt, Lander says looking in your kitchen cabinet for nutritious donations can always help the cause as well. "Most importantly, dietitians can volunteer or donate to their local food bank," she says.
— Juliann Schaeffer is a freelance health writer based in Alburtis, Pennsylvania, and a frequent contributor to Today's Dietitian.