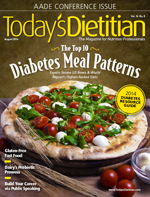 August 2014 Issue
Can We All Get Along?
By Judith Riddle
Today's Dietitian
Vol. 16 No. 8 P. 5
 
In June, the Centers for Medicare & Medicaid Services (CMS) issued a landmark ruling stating that qualified dietitians or nutrition professionals may order all patient diets, including therapeutic diets, in hospitals as authorized by the medical staff and in accordance with state law.
The ruling doesn't specify which qualified nutrition professionals may provide the same hospital services as RDs. However, because the Board for Certification of Nutrition Specialists (BCNS) was instrumental in changing the draft language in the proposed rule to include all "qualified nutrition professionals," including certified nutrition specialists (CNSs), RDs have begun scrutinizing the CNS credential.
When Today's Dietitian posted the news about the ruling from the BCNS on its Facebook wall, comments poured in. A few RDs supported the ruling, stating that CNSs are just as qualified as they are. Others rejected the ruling, claiming it undermines and devalues the RD credential, that it renders the RD degree worthless and dietetic internships purposeless. Some commenters feared for the future of RDs in hospitals.
To obtain the CNS credential, you must have at least a master of science or doctoral degree in the nutrition or clinical health field; complete coursework in nutrition, biochemistry, physiology or anatomy/physiology, and the clinical health sciences at an accredited university; complete 1,000 hours of supervised practical experience in nutrition; and pass an exam. For the RD credential, you must have at least a bachelor's degree and complete a dietetic internship from an accredited university, complete 1,200 hours of supervised practice experience in nutrition, and pass an exam.
A CNS requires more education than an RD. However, many RDs have master's and doctoral degrees plus other specialized certifications. To be sure, RDs have the right to question whether lesser-qualified nutrition professionals with fewer years of education and practice experience should offer the same hospital services, but should we argue about who's more qualified and worry about job security or should we simply accept one another as colleagues and try to get along? Stay tuned for more in-depth coverage of this controversial ruling in an upcoming issue of Today's Dietitian.
In light of the American Association of Diabetes Educators Annual Meeting and Exhibition, this month's issue features special diabetes coverage on US News & World Report's top 10 diets for patients and strategies for overcoming weight loss challenges. See you in Orlando!
TDeditor@gvpub.com