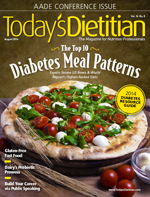 August 2014 Issue
The Top 10 Diabetes Meal Patterns
By Constance Brown-Riggs, MSEd, RD, CDE, CDN
Today's Dietitian
Vol. 16 No. 8 P. 22
Nutrition professionals review US News & World Report's highest-ranking diets for clients and patients.
It's been two decades since the American Diabetes Association (ADA) announced there was no longer a universal diet for people with diabetes. This message was reemphasized in 2013 when the ADA issued a new position statement, "Nutrition Therapy Recommendations for the Management of Adults With Diabetes." Moreover, the ADA moved away from using the word "diet," opting to focus on meal patterns or dietary patterns instead.
"The word 'diet' gives people the notion that there's an on and off," says Hope Warshaw, MMSc, RD, CDE, BC-ADM, owner of Hope Warshaw Associates in Alexandria, Virginia. "Reality is that this can't be the case if one is going to be successful at achieving diabetes control and/or weight management long term."
Because the media often promotes various fad diets for weight loss and other health conditions, encouraging clients and patients and other health care providers to move away from the notion of following a particular diet can be difficult.
Recently, US News & World Report ranked what it called 10 diets as the most effective for managing diabetes. This article will discuss each of them and the research regarding their effectiveness, strengths, and weaknesses.
Best Eating Plans for Diabetes
Every year since 2010, US News & World Report has ranked the year's most popular diets. Using a panel of experts, including RDs and physicians specializing in diabetes, heart health, and weight loss, diets are ranked in eight categories, such as diabetes and heart disease prevention and control, as well as easiness to follow and likelihood of weight loss.
According to the 2013 ADA nutrition recommendations, there are several meal patterns that have shown good results in people with diabetes. Many of these meal patterns, such as the Mediterranean, vegetarian, vegan, and DASH dietary plans, can be found among the US News & World Report list of best diets for people with diabetes. The Biggest Loser and DASH approaches tied for first place, while the Engine 2, flexitarian, Mayo Clinic, Ornish, and vegan approaches tied for second place. Tying for third place were the anti-Inflammatory, Mediterranean, and vegetarian diets.
First Place Winners
Biggest Loser
"The Biggest Loser uses the 4-3-2-1 Biggest Loser Pyramid for the nutritional choices," says Amy Jamieson-Petonic, MEd, RD, CSSD, LD, LMT, a Cleveland-based spokesperson for the Academy of Nutrition and Dietetics (the Academy). The diet suggests consuming four servings of fruits and vegetables per day, three servings of protein foods, two servings of whole grains, and no more than 200 kcal from the extras category at the top of the pyramid.
Can it prevent or control diabetes? "The diet can help control blood sugar. Eating less refined carbohydrates and more dietary fiber, fruits, and vegetables, along with physical activity, can improve insulin resistance and improve glucose levels in people with diabetes," Jamieson-Petonic says.
The Diabetes Prevention Program provides evidence that people at risk of type 2 diabetes can delay or avoid developing the disease by losing weight through regular physical activity and a diet low in fat and calories. Data from The Biggest Loser show some contestants no longer had indications of the metabolic syndrome, reducing the risk of type 2 diabetes.1
In a retrospective analysis of 35 Biggest Loser contestants, those with prediabetes experienced decreased hemoglobin A1c levels, from 5.6% to 5.1% at week 29. The drop also was significant for those with type 2 diabetes, who saw A1c reduced from 6.9% to 5.2%. Participants who had been taking metformin discontinued it during week 1. Reductions also were observed in fasting glucose, fasting insulin, and insulin resistance index.2
Strengths and weakness: "It's a solid nutrition program that offers a well-balanced, high-fiber diet full of whole grains, lean proteins, fruits, and vegetables as well as adequate water," Jamieson-Petonic says.
Supplements aren't recommended as part of the diet, but Jamieson-Petonic says a supplement is warranted because the lowest calorie range suggested in the plan is 1,050. "A multivitamin should be recommended for people consuming less than 1,200 kcal per day," she says.
DASH
In 1995, the National Heart, Lung, and Blood Institute funded the landmark diet and blood pressure study called the Dietary Approaches to Stop Hypertension (DASH) trial. "The study was remarkable, illustrating for the first time that dietary intervention alone significantly lowers systolic and diastolic blood pressure in hypertensives and nonhypertensives," says Janet Bond Brill, PhD, RDN, LDN, FAND, author of Prevent a Second Heart Attack: 8 Foods, 8 Weeks to Reverse Heart Disease and two other books.
Can it prevent or control diabetes? "The DASH diet is excellent for preventing and controlling diabetes," Brill says. Most research on the DASH diet has been in people without diabetes, but there was a small study published January 2011 in Diabetes Care that examined people with type 2 diabetes. The participants, who were randomly assigned to a control diet or the DASH eating plan with a sodium restriction of 2,300 mg/day, experienced reduced body weight and improved fasting blood glucose, A1c, blood pressure, and other cardiovascular risk factors.
Being overweight is one of the biggest risk factors for developing type 2 diabetes, and combining the DASH eating pattern with calorie restriction has been found to help people shed pounds and reduce other risk factors, such as the metabolic syndrome.
Strengths and weaknesses: The DASH eating plan has been shown to help control high blood pressure, which is prevalent in people with diabetes. From 2005 to 2008, 67% of adults aged 20 and older with self-reported diabetes had blood pressure greater than or equal to 140/90 mm Hg or used prescription medications to control their hypertension.3
The DASH diet is an exchange-based meal plan with various calorie levels, which Brill considers a strength. "It has a specific daily level of minerals and calories to strive for, plus it restricts sodium intake," she says. The biggest weakness: "There isn't as much clinical research backing effectiveness for diabetes management," she says.
Second Place
Engine 2
Firefighter Rip Esselstyn created the Engine 2 diet, and his father's landmark research on the prevention and reversal of heart disease through a plant-based diet is what inspired him to develop the eating plan.4 "The author puts readers on a plant-based diet consisting of whole grains, vegetables, fruits, soy products, tofu, and legumes and steers clear of animal-based products and refined foods," explains Jim White, RDN, ACSM HFS, owner of Jim White Fitness & Nutrition Studios in Virginia Beach, Virginia, and a spokesperson for the Academy.
Can it prevent or control diabetes? "According to Esselstyn, the Engine 2 diet will help people with diabetes get off their medications," White says. The diet provides two options: the firefighter, which requires a complete and immediate lifestyle change, avoiding all animal products, processed foods, and vegetable oils; and the fire cadet, which allows for a more gradual change to ultimately eat a vegan diet. "Weight loss is inevitable with either approach," White says, and that's good news.
"If one is overweight with prediabetes and early-onset type 2 diabetes, then a small amount of weight loss—7%—can help the person improve their glycemia, lipids, and blood pressure," Warshaw says. After reviewing six low-fat vegan studies in individuals with type 2 diabetes, the writers of the 2013 ADA position statement found that the research consistently showed improvement in glycemic control and cardiovascular risk factors but only when subjects lost weight.
Strengths and weaknesses: The Engine 2 diet is low in fat, which leads to weight loss, and that's a strength, White says. However, the diet requires a complete lifestyle change with considerable meal planning and preparation,4 which will take a strong commitment to carry out, he says. Instead, "I'd recommend this diet for current vegetarians looking for a resource for new recipes or vegetarians looking to progress to a vegan diet."
Flexitarian
"The flexitarian diet is a vegetarian diet with flexibility to include occasional meat and poultry," explains Dawn Jackson Blatner, RD, a certified specialist in sports dietetics and the author of The Flexitarian Diet. Unlike many vegetarian eating plans that eliminate meat, "The flexitarian diet philosophy is proplants, not antimeat," Blatner says. She believes, and evidence supports, that people who eat more plants tend to consume fewer calories and more nutrients, such as fiber, and a wide variety of disease fighting phytonutrients that are available only in plants.
Can it prevent or control diabetes? The 2013 ADA nutrition recommendations for preventing and controlling diabetes include weight loss and eating high-fiber foods such as fruits, vegetables, whole grains, and legumes.
Individuals following an energy-restricted, plant-based diet such as the Mediterranean or vegetarian eating patterns have been shown to experience improved glycemic control.5 "Flexitarian eating can lead to weight loss, and weight loss can help prevent and manage diseases such as diabetes," Blatner says.
Strengths and weaknesses: "Because the diet is balanced and flexible, it can be used by anyone, but portions matter as much as food choice," Blatner says. "It's important for anyone following a plant-based diet to understand the right portions for their body, lifestyle, and activity level to achieve their best blood sugar levels."
Mayo Clinic
The Mayo Clinic diet has two phases to help people transition to healthier food and physical activity choices. The first phase, "Lose It," is about changing key habits, not calorie counting. The second phase, "Live It," focuses more on food groups and portion sizes. "Overall, it's a well-balanced, healthful diet that incorporates nutrient-rich foods from all food groups and reduces or eliminates excess fat, sugar, and calorie intake [from less nutritious foods]," says Melissa Joy Dobbins, MS, RDN, CDE, CEO of Sound Bites in Chicago.
Can it prevent or control diabetes? The Mayo Clinic diet wasn't designed specifically to prevent or control diabetes. However, the majority of the US News & World Report experts considered the diet's approach to be better than other diets for this purpose.5
The Diabetes Prevention Program provides evidence on the benefits of weight loss, and the 2013 ADA nutrition recommendations state that there isn't an ideal eating pattern for everyone, and that total energy intake is important. "Anyone with prediabetes, diabetes, or a family history of diabetes can benefit from this diet plan," Dobbins says. "However, people with diabetes should talk with their health care provider about whether carb counting also should be a part of their individualized plan."
Strengths and weaknesses: The Mayo Clinic diet mirrors the 2013 ADA nutrition recommendations. There are heart-healthy food choices and recommendations for portion control, exercise, and limiting excess fat, sugar, alcohol, and calories, Dobbins says.
The 2013 ADA nutrition recommendations show that the quantity and type of carbohydrate in food impacts blood glucose levels, and the total amount of carbohydrate eaten is the primary predictor of glycemic response. One weakness of the Mayo Clinic diet is the absence of carb counting. "Even 'healthy' carbs in healthy amounts may raise blood sugar in people with diabetes," Dobbins says.
US News & World Report experts thought the Mayo Clinic diet was moderately easy to follow. However, Dobbins suggests that individuals with diabetes may find the diet and activity recommendations daunting to follow on their own. "I strongly recommend talking with a certified diabetes educator to help create a personal, step-by-step action plan that takes into account the individuals lifestyle and supports behavior change," she says.
Ornish
Dean Ornish, MD, ranked foods from most to least healthful. No foods are forbidden, and there's no all-or-nothing approach. Results depend on the degree to which an individual limits the least healthful foods. "For example, his recommendations to reverse heart disease require less than 10% of calories from fat—no oils, seeds, nuts, avocados, or olives; no more than 10 mg of cholesterol per day; meat, poultry, and fish are to be eliminated; less than 2 T, or 24 g, of sugar per day; no caffeine except green tea; low salt; no more than one alcoholic drink per day; and include one full-fat serving of soy per day," says Jessica Crandall, RDN, CDE, a dietitian at Sodexo's Denver Wellness and Nutrition program.
Can it prevent or control diabetes? "The majority of research on the Ornish diet has been conducted by Dr Ornish or by his team, therefore it's difficult to know the validity," Crandall says. "In addition, the research has been focused on heart disease as opposed to diabetes."
However, there was a study published in the American Journal of Health Promotion in which Ornish dieters decreased their A1c levels by 0.4 percentage points after one year. Study participants with diabetes followed the Ornish program and showed the same improvements in coronary risk factors and quality of life as those without diabetes. Participants also reduced their diabetes medication.6
Strengths and weaknesses: "The diet is rich in healthful foods such as fruits, vegetables, and whole grains, but it's also extremely low in fat, going against the recommendations for Americans," Crandall says. The best candidate for the Ornish diet is "someone who can maintain an extreme diet with limited food options and can afford to purchase that food," she says.
Third Place
Anti-Inflammatory
The anti-inflammatory diet was developed by Andrew Weil, MD, best-selling author, speaker, and integrative medicine specialist, and is based on the Mediterranean diet. It follows the same nutrition guidelines as the 2010 Dietary Guidelines for Americans and the American Heart Association. "Consume low–glycemic-load meals, lean protein, healthy fats—balancing omega-3 and omega-6—and fresh produce," says Toby Smithson, MSNW, RDN, LDN, CDE, author of Diabetes Meal Planning and Nutrition for Dummies. The diet also recommends eating fewer white potatoes, bread, crackers, chips, and pastries as well as sugar-sweetened beverages. "These carbohydrate foods also contribute to inflammation," Smithson says.
Can it prevent or control diabetes? Smithson agrees with the US News & World Report experts and says, "The guidelines fall in line with the potential to prevent and control diabetes since the overall recommendations are healthful eating guidelines." However, she says the best method of reducing inflammation is through weight reduction and increased physical activity.
Strengths and weaknesses: The anti-inflammatory diet doesn't promise or focus on weight loss. The recommended daily calorie range is from 2,000 to 3,000, depending on sex, size, and activity level. "People with prediabetes and type 2 diabetes typically require weight loss, and the anti-inflammatory diet won't guarantee weight loss with 2,000 to 3,000 kcal/day and limited focus on physical activity," Smithson says, also pointing to the diet's high sodium content. A sample menu contained more than 3,000 mg of sodium, which is twice as much sodium as recommended for people with diabetes, she says.
Moreover, Smithson says the lack of discussion on physical activity is another weakness of the diet. "This eating plan is an overall healthful eating plan with inclusion of lean protein, healthful fats, fresh fruits and vegetables, and whole grain carbohydrates," she says.
Mediterranean
In 1993, the nonprofit organization Oldways, the Harvard School of Public Health, and the European Office of the World Health Organization introduced the Mediterranean diet along with the Mediterranean Diet Pyramid graphic. "The Mediterranean diet is a largely plant-based eating pattern based on the traditional foods and drinks of countries surrounding the Mediterranean," says Sara Baer-Sinnott, president of Oldways. The diet features fruits, vegetables, fish, beans, nuts, and whole grains as well as other ingredients such as olive oil and wine that have been shown to promote good health.
Can it prevent or control diabetes? According to Baer-Sinnott, the diet has been studied and noted by many leading scientists as one of the healthiest in the world. In the last year, 10 studies have been published that document the relationship between diabetes and the Mediterranean diet.
In a large study published in the August 2013 issue of Diabetologia, researchers analyzed data from more than 22,000 participants followed for 11 years in the Greek cohort of the European Prospective Investigation Into Cancer and Nutrition study to explore the relationship among the Mediterranean diet, glycemic load, and occurrence of type 2 diabetes. Researchers found that people who consumed foods with a low glycemic load that adhere to the principles of the Mediterranean diet have a 20% reduced risk of type 2 diabetes.7
The ADA 2013 nutrition recommendations suggest further research is needed to determine whether these study results and others conducted in the Mediterranean region can be generalized to other populations and whether similar levels of adherence to the eating pattern can be achieved.
Strengths and weaknesses: "The Mediterranean diet is easy to follow, affordable, and delicious, and can be enjoyed by the entire family," Baer-Sinnott says. "It's filled with quality nutrient-dense foods." Research has shown that eating foods such as olive oil, nuts, and legumes contribute to satiety, helping people feel full longer. "We know that eating too much of anything isn't healthful, so portion size and balance are still key," she says.
Conversely, Brill says, "No standard definition of the Mediterranean diet exists, making it difficult for many to follow. There are no suggested daily intake guidelines or calorie-controlled options and no recommended daily maximum sodium level." To address this problem, Brill developed the 10 Point Mediterranean Lifestyle Key Component Checklist, which helps her patients determine minimum and maximum amounts of foods for this eating pattern.8
Vegetarian
"Vegetarianism is a broad term for an increasingly or decreasingly rigid list of allowed foods, with vegan the most narrow," Warshaw says. The vegan diet excludes eggs, dairy, and all other animal products. The flexitarian, Ornish, and Engine 2 diets are all part of the spectrum of vegetarianism.
Can it prevent or control diabetes? Warshaw points to the ongoing 1974 Adventist Health Study of nearly 100,000 Seventh-day Adventists as evidence of the benefits of a vegetarian meal plan. Results show these vegetarians have a lower rate of type 2 diabetes than nonvegetarians. "In this study, eating vegetarian also has been associated with lower risk of overweight, insulin resistance, and metabolic syndrome, a precursor to type 2," she says. The research also shows that the closer someone follows a vegan diet along the vegetarian spectrum, the more health benefits he or she will experience.
Strengths and weaknesses: According to Warshaw, following a vegetarian diet is easier today than ever before, but it still has its challenges. People need to understand the challenges of following a vegetarian or vegan diet up front, such as the shopping, cooking, and eating meals out, she says.
No One-Size-Fits-All Pattern
"There's no magic to any eating plan or pattern for diabetes," Warshaw notes. The best meal plan for diabetes is one that's individualized based on health goals, personal and cultural preferences, access to healthful choices, and a readiness, willingness, and ability to change.
— Constance Brown-Riggs, MSEd, RD, CDE, CDN, is past national spokesperson for the Academy of Nutrition and Dietetics, specializing in African American nutrition, and author of the African American Guide to Living Well With Diabetes and Eating Soulfully and Healthfully With Diabetes.
References
1. Biggest Loser Diet overview. US News & World Report website. http://health.usnews.com/best-diet/biggest-loser-diet. Last updated December 13, 2013. Accessed May 25, 2014.
2. Tucker ME. 'The Biggest Loser' highlights failings of exercise guidelines. Internal Medicine News website. http://www.internalmedicinenews.com/index.php?id=495&cHash=071010&tx_ttnews%5Btt_news%5D=134341. June 4, 2012. Accessed May 25, 2014.
3. National diabetes statistics, 2011. National Diabetes Information Clearinghouse website. http://diabetes.niddk.nih.gov/dm/pubs/statistics/DM_statistics_508.pdf. Last updated September 9, 2013. Accessed May 25, 2014.
4. The Engine 2 diet overview. US News & World Report website. http://health.usnews.com/best-diet/engine-2-diet. Last updated December 12, 2013. Accessed May 25, 2014.
5. Mayo Clinic diet expert reviews. US News & World Report website. http://health.usnews.com/best-diet/mayo-clinic-diet/reviews. Last updated December 12, 2013. Accessed June 3, 2014.
6. Silberman A, Banthia R, Estay IS, et al. The effectiveness and efficacy of an intensive cardiac rehabilitation program in 24 sites. Am J Health Prom. 2010;24(4):260-266.
7. Rossi M, Turati F, Lagiou P, et al. Mediterranean diet and glycaemic load in relation to incidence of type 2 diabetes: results from the Greek cohort of the population-based European Prospective Investigation into Cancer and Nutrition (EPIC). Diabetologia. 2013;56(11):2405-2413.
8. Brill J. 10 tip checklist for following the Mediterranean diet. Available at http://www.sharecare.com/user/dr-janet-brill/blog/post/60552ff2-49d8-4967-ba71-e1b8ab6c52f2. Accessed June 30, 2014.