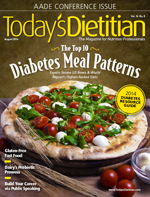 August 2014 Issue
Indian Cuisine — Foods That Hold a Special Place in Plant-Based Food Traditions
By Sharon Palmer, RDN
Today's Dietitian
Vol. 16 No. 8 P. 17
Most vegetarians agree: Indian food is one of the tastiest plant-based cuisines. With fragrant curry, dal, and korma dishes lending their aromatic, flavorful qualities to the plate, who needs meat? Indeed, Indian food culture has a long history of dishing up delicious vegetarian food. Data show that 42% of households in India are vegetarian (don't eat fish, meat, or eggs), and 58% are less strict vegetarians or nonvegetarians.1
Gita Patel, MS, RDN, CDE, LD, CLT, author of Blending Science With Spices, explains that Indian culture leans toward vegetarianism due to Hinduism, which hosts a central theme of nonviolence, including animals. "A profound respect for all life is a common Hindu belief that supports vegetarian eating styles," adds Vandana Sheth, RDN, CDE, a spokesperson for the Academy of Nutrition and Dietetics.
However, British colonial influences and Western food trends, such as the emergence of fast-food restaurants, have brought more animal foods into India, Patel says. "With the globalization of the world and technology, some of the urban lifestyle changes have significantly affected traditional food practices in India," Sheth adds, listing as evidence the increasing number of fast-food restaurants and premade foods replacing traditional meals in India.
Traditional Eating Patterns
"A lot of people are drawn to Indian cuisine. People like the flavors, herbs, and spices," Patel says, noting that home cooking is vastly different from what you're likely to sample in an Indian restaurant.
"The traditional eating pattern is very balanced," Patel says. She describes typical meals consisting of dal (a legume dish), rice, roti (bread), vegetable, salad, fruit, and a yogurt or buttermilk drink, which may vary slightly depending on the region.
Indeed, there's scientific consensus that a disease-protective diet is based on a variety of whole plant foods, which sums up the traditional Indian eating pattern. "The traditional Indian vegetarian diet is one that's rich in a wide variety of grains, beans, lentils, vegetables, fruits, nuts, seeds, spices, and herbs. Research has found that vegetarians have a lower risk of heart disease and some types of cancer," Sheth says. The National Cancer Institute reports that cancer rates are lower in India than in Western countries, and that diet characteristics such as a high intake of fruits, vegetables, spices, and tea may be responsible for protecting Indians against certain forms of cancer.2
Key Components
While the specific dishes may vary according to different regions of India, the key ingredients basically are the same and include the following:
• Vegetables: "Vegetables are grown all over the country due to the climate," Patel says, adding that many vegetables are unique to India, such as specific types of gourds, radishes, beans, and greens. However, other dishes are based on more familiar vegetables, such as beets, Brussels sprouts, cabbage, carrots, cauliflower, celery, cucumber, corn, eggplant, green beans, various greens, okra, onions, peas, peppers, potatoes, radishes, spinach, squash, and tomatoes. In addition, fermented foods such as pickled vegetables are a regular feature in Indian cuisine.
• Grains: Rice and wheat are staples in India and used in flatbreads (eg, dosa, roti, chapati), doughs (eg, samosa, kachori), and side dishes (rice) to accompany meals.
• Legumes: Indian cuisine relies on the regular and flavorful use of legumes, such as black-eyed peas, chickpeas, lentils, and beans. In addition to dal, many legumes are sprouted or used as flour in breads.
• Fruits: Apples, apricots, bananas, figs, grapes, guavas, lychees, loquats, mangoes, oranges, papayas, passion fruit, and sweet limes are common fruits in India.
• Dairy: From milk and buttermilk to yogurt and paneer (fresh cheese), dairy products are regular features of the Indian diet. Patel reports that most Indian households receive fresh milk, which is then used for beverages and cooking. Households make their own ghee (clarified butter) from the milk fat, and leftover milk is made into fresh yogurt every day.
• Vegetable oils: Most oils used in traditional cooking are unrefined vegetable oils, such as peanut or sesame. However, Patel reports an increase in the use of refined oils, such as soybean oil, in modern cooking.
• Herbs and spices: At the heart of Indian food is a long list of culinary herbs and spices that have been used for centuries, many of which are proven to have antioxidant, anti-inflammatory, antimicrobial, and anticancer effects. Indian spices include amchur (made from mangoes), aniseed, asafetida (a pungent, onionlike flavor), bay leaf, black pepper, cardamom, chilies, cinnamon, cloves, coconut, coriander, cumin, dill, fennel, fenugreek, garam masala (a spice blend), garlic, ginger, mango powder, mint, mustard, nutmeg, onion seeds, parsley, pomegranate seeds, poppy seeds, saffron, sesame seeds, tamarind, and turmeric.
Tips to Get Cooking
The following are some tips when cooking Indian vegetarian food:
• For true flavor, use Indian spices. Don't just rely on curry powder for every dish; stock your kitchen with the basics, such as cumin seeds, cayenne pepper, ground coriander, turmeric, brown mustard seeds, and the spice blend garam masala.
• Don't be afraid to try an Indian recipe. Many recipes use standard cooking utensils you may have at home and take only minutes to prepare.
• Don't feel you have to prepare a full Indian meal with a wide variety of dishes you may see at a typical restaurant. Keep it simple with one legume dish that can be served with rice and a salad.
— Sharon Palmer, RDN, is a contributing editor to Today's Dietitian and the author of The Plant-Powered Diet and Plant-Powered for Life.
Sprouted Moong Bean Salad
Makes 6 servings
Ingredients
Dressing
1 T oil (olive or canola)
1/2 to 1 tsp salt (optional)
1 tsp freshly roasted and ground cumin
1 T lemon juice
Beans
2 cups sprouted moong (also known as mung) beans
Salt, to taste
1 cup chopped tomatoes
1 cup chopped cucumber
1/2 to 1 cup shredded cabbage
1 seeded and diced green chili (optional)
1 tsp minced ginger (optional)
1/4 cup chopped cilantro
Directions
1. Mix all of the dressing ingredients and set aside.
2. Heat 1/4 cup of water in a pan with sprouts and salt. When it comes to a boil, turn the stove off, and leave it covered for 4 to 5 minutes.
3. Mix the sprouted beans with all of the ingredients, stir in the dressing, and top with cilantro.
Nutrient Analysis per serving
Calories: 111; Total fat: 3 g; Sat fat: 0 g; Sodium: 8 mg; Total carbohydrate: 17 g; Fiber: 6 g; Sugars: 2 g; Protein: 6 g
— Recipe courtesy of Vandana Sheth, RDN, CDE
Stir-Fried Vegetables With Edamame
Makes 6 servings
Ingredients
1 tsp cumin seeds
2 T olive oil
1 T sesame seeds
3 cloves garlic, chopped
1/2 jalapeño pepper, sliced in half (or use cayenne or black pepper to taste)
1 1/2 cups fresh or frozen corn
1/4 tsp turmeric
1/4 tsp salt (or to taste)
1 cup frozen edamame, thawed
3 cups zucchini, sliced
1 cup sweet red bell pepper, sliced
1 cup chopped (with tender stems) cilantro
Juice of 1/2 lemon
1/2 tsp lemon zest
Cooked rice, millet, or quinoa
Directions
1. Heat a 2- to 3-qt skillet or pan on medium-high heat and add cumin seeds.
2. When the seeds begin to change color and give an aroma, add olive oil, sesame seeds, and chopped garlic and turn heat to medium.
3. Fry the garlic for a minute and add jalapeño, corn, turmeric, and salt. Stir then cook covered for 2 to 3 minutes.
4. Add edamame, zucchini, and red pepper. Stir then cook covered for 3 to 4 minutes.
5. Before serving, add chopped cilantro, fresh lemon juice, and lemon zest. Stir to mix all the ingredients.
6. Serve the vegetables over rice, quinoa, or millet. Enjoy leftovers for lunch in a pita pocket.
Nutrient Analysis per serving
Calories: 121; Total fat: 7 g; Sat fat: 1 g; Sodium: 10 mg; Total carbohydrate: 14 g; Fiber: 4 g; Sugars: 5 g; Protein: 4 g
— Recipe courtesy of Gita Patel, MS, RDN, CDE, LD, CLT
Chana Dal Stew
Makes 6 servings (about 1 cup each)
Ingredients
8 oz (227 g or 11/4 cups) dried chana dal
5 cups (711 ml) water
2 medium carrots, sliced
1 medium red bell pepper, chopped
1 medium onion, chopped
2 small red potatoes, unpeeled, chopped
2 small tomatoes, chopped
1 tsp garam masala
1/2 tsp turmeric
1/2 tsp grated fresh ginger
2 medium garlic cloves, minced
1/4 tsp crushed red pepper
1 T unsalted creamy peanut butter
Directions
1. Place all ingredients in a large pot, stir well, cover, and bring to a simmer.
2. Cook for about 50 minutes until the vegetables and chana dal are tender.
Nutrient Analysis per serving
Calories: 215; Total fat: 1 g; Sat fat: 0 g; Sodium: 34 mg; Total carbohydrate: 40 g; Fiber: 14 g; Sugars: 4 g; Protein: 12 g
— Recipe courtesy of Sharon Palmer, RDN, from Plant-Powered for Life (The Experiment, 2014)
References
1. Growth and concentration in India. Food and Agriculture Organization of the United Nations website. http://www.fao.org/wairdocs/lead/x6170e/x6170e09.htm - fn6. Accessed May 25, 2014.
2. Sinha R, Anderson DE, McDonald SS, Greenwald P. Cancer risk and diet in India. J Postgrad Med. 2003;49(3):222-228.