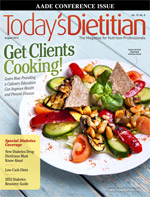 August 2013 Issue
Back-to-School Snacking — Healthful Suggestions for Kids of All Ages
By Juliann Schaeffer
Today's Dietitian
Vol. 15 No. 8 P. 24
Though the heat of August days may keep kids in the neighborhood pool for now, a new school year is at hand. And whether your clients have little ones just starting preschool or teenagers with busy schedules, they all need smart snacking tips once they return to their school routine. Snacking always is an important aspect of a healthful diet, especially for children.
"Kids of all ages can benefit from snacking," says Michelle Dudash, RD, a Cordon Bleu-certified chef and the author of Clean Eating for Busy Families. "Kids with fueled brains and satisfied tummies perform better mentally, which may help them complete homework, and kids in sports need an after-school snack before and after practice to hold them over until dinner."
But left to their own devices, snacking for the younger set too often can equate to nutrient-lacking chips and cookies in front of the TV, leaving children with little more than a sugar high. "It's important that snacking doesn't become associated with sitting in front of the TV while eating mindlessly, which can lead to excess portion sizes and calories and spoiled dinner appetites," Dudash says.
According to Sharon Palmer, RD, author of The Plant-Powered Diet, a guest nutrition expert for Daisy Brand Cottage Cheese, and the mother of two teenage sons, parents are the key to forming kids' snacking habits, and framing snacking as mini meals can help underscore their importance. "Studies show that children are snacking more than ever, so it's more important for them to find healthful foods and consider snacks more like mini meals rather than simply filling a craving," she says. "Instead of foods made with refined ingredients, such as flour, sugar, and oils, parents should help their kids find snacks that contribute important nutrients to the day."
In general, Dudash says children's snacks should include a mix of complex carbohydrates, lean proteins, and good fats for sustained energy and satisfaction. "Aim to hit two food groups in a snack, like a fruit and yogurt, nuts and fruit, whole grain crackers and cheese, or veggie sticks and hummus," she says.
In addition to highlighting how snacking can benefit kids of all ages, give parents a bevy of these back-to-school tips to help ensure they can make their children's mini meals both scrumptious and nutritionally satisfying.
Preschool Players
Before dropping off the youngest students for their first day of school, Lauren Cromer, MS, RD, LDN, a nutrition and food science instructor at Middle Tennessee State University in Murfreesboro, suggests parents drop in the preschooler's backpack one of the many squeezable fruit and vegetable purées that are trending right now. "They're convenient to pack and eliminate the need for a spoon or fork when eating on the go," she says. "Opt for the ones that blend the fruits and vegetables together in order to expose your children to more vegetables."
Dole and Buddy Fruits both make fruit-only varieties, while Sprout Organic Foods and Peter Rabbit Organics offer fruit-vegetable combinations (some with "supergrains") as well. And despite being marketed mostly for infants and children, Cromer says these can work great with older kids and even adults.
Since preschoolers tend to enjoy playing with their food, Palmer tells parents to make snacking interactive for this age group. "Let them dip broccoli florets or carrot sticks into cottage cheese or hummus, and spread nut butters on apples or banana pieces," she says.
For children with a nut allergy (or for nut-free zones, which many schools are now opting to become), Cromer says Sunbutter works as a great substitute for peanut or other nut butters. "Similar in nutrients to peanut butter, this spread is made with sunflower seeds instead. They even sell 1.5-oz portion cups that make portion control much easier," she says.
"Kids of this age will eat whatever they're served in a way with appeal," says Judy Dodd, MS, RDN, LDN, an assistant professor in the department of sports medicine and nutrition at the University of Pittsburgh. Her favorite picks for preschoolers are fruit smoothies (let kids choose the fruits) or yogurt parfaits made with plain or Greek yogurt, real fruit, and whole grain cereal. "Let the kids make them and help cut the bananas or berries with a plastic fork," she says, noting that soy yogurt works well for children with a dairy allergy.
Elementary Helpers
Kids trotting off to elementary school may eat more nutritious options if parents keep them in the snacking loop, so suggest parents involve these youngsters in the choosing process, Palmer says. "During this age, children need a lot of nutrients to grow and meet their increasing energy needs—they're on the move with no time to sit still," she says. "Let them be part of snack planning as they start to take an interest in food."
One of Palmer's favorite after-school snack ideas for this age group is a grilled veggie sandwich (or pita) with mozzarella cheese or tuna for added protein.
Dodd says getting buy-in from young kids can help get them to open up to new, more healthful foods. "Walk the aisles of a supermarket and let kids help pick out some choices that fit the standards you've set," she says, noting string cheese and trail mix as two healthful options.
Middle School Learners
"During this age, children want a little bit of independence, and they can start developing some bad habits for life, such as filling up on low-nutrient, high-energy foods when they're hungry," says Palmer, who suggests parents head off this bad habit with a little nutrition education. "Teach them to meet their hunger head-on with delicious foods that are nutritious, such as a whole grain burrito filled with beans and veggies or a mini pizza made of a whole grain flatbread lined with tomato sauce, veggies, and cheese."
Cromer agrees: "Some studies have correlated increased snack consumption while watching television; therefore, I suggest serving snacks separate from when children are watching television in order to avoid overindulging. Perhaps have a rule that snacks must be eaten at the table or in the kitchen."
Cromer likes Greek frozen yogurt cups for after school, while Palmer says a glass of milk or soymilk can be a perfect snack accompaniment. And now that milk is available in a shelf-safe Tetra Pak box similar to a juice box or carton, available in multiple brands, parents also can pack the protein-packed beverage in children's lunch boxes without worrying about spoilage.
High School Snackers
While younger kids are more likely to eat healthfully when they're helping make the food choices, parents are better off simply making smart options available and accessible for the older set, according to Dudash. "Keep individually wrapped and shelf-stable foods in their gym bags or backpacks, like nuts and wholesome energy bars or even dried fruit," she says. "A pear and a handful of pistachios is one of my go-to snacks."
Teens' snacking habits typically are more social, according to Palmer, meaning they often can be found hanging out with their friends for after-school events, "which sometimes aren't the best for offering nutritious staples," she says. "Yet, during this age, nutritional habits are important: Teenage boys may need a lot of energy, and girls may have issues with body weight and image."
To combat those challenges, Palmer says parents should keep up with teens' changing tastes. "The best thing is to deliver lots of delicious, nutritious foods that meet their needs without providing excess calories," she says. "Kids palates are evolving, so keep up with them. Try to help them choose a delicious fresh green salad with lean protein and sliced veggies, a whole grain pita filled with veggies and chickpeas, or a whole grain salad combo, such as quinoa tabbouleh with tomatoes and mint."
Another way to get teens to eat more greens is by making sure the refrigerator is stocked with salad fixings, Dodd says, which also is a "great way to add fiber and sneak in some added nutrients to kids' diets, using spinach and deep greens, adding bell peppers, carrots, and other nutrient-dense additions like nuts, fruit, slivers of meat or cheese, and even hard-cooked egg."
Learning Early
Healthful snacking habits learned early—at the age of 4 or 14—only can help kids avoid weight struggles down the road. "Healthful snack habits help children learn to eat by their internal hunger cues rather than external cues, such as time of day or food availability," Cromer says. "If children learn early to eat only when their body needs fuel, these habits can carry on into adulthood, making them less likely to become overweight or obese from poor eating habits."
And according to Dudash, parents are their kids' best bet for introducing and modeling these smart choices now. "When you start kids off right with healthful snacking habits, those food choices become the norm," she says. "It's the responsibility of the parents to have healthful options available, reserving the less desirable foods for treats and special occasions."
— Juliann Schaeffer is a freelance writer and editor based in Allentown, Pennsylvania, and a frequent contributor to Today's Dietitian.
New Healthful Snacks
Homemade may be the most healthful, but it's not always feasible for families with schedules packed to the brim with sports practice, music lessons, and other after-school activities. However, there's an ever-increasing number of more healthful snack products available on grocery store shelves that aim to please not just kids but parents as well with the integration of whole grains, fruit, and fiber goodness along with the more typical fun packaging.
In the way of snack bars, Kashi recently introduced two new Soft N' Chewy Bars in Apple Cobbler and Berry Muffin flavors. Both offer 4 g of fiber and 10 g of whole grains.
KIND Healthy Snacks also recently launched a new line of KIND Healthy Grains Bars, made from five supergrains and mixed with a variety of fixings—many without nuts, great for those with allergies.
Another snack item sans nuts is Skeeter Snacks' new Cinnamon Grahams and Chocolate Chip Minis, which offer whole grains without the trans fats and high-fructose corn syrup.
Annie's newest kid-friendly snacks include Organic Graham Crackers and Cheddar Squares in addition to its more popular Bunny Grahams and Cheddar Bunnies, all made with natural and organic ingredients and free of synthetic colors, artificial flavors, and synthetic preservatives.
When fresh fruit just isn't feasible, parents now have two new options in the grocery aisles: Funky Monkey Snacks' line of Marvel freeze-dried fruit snacks (including Captain America's Legendary Cinnamon Apples and The Hulk's Incredible Pineapples) and Dole Frozen Fruit Single-Serve Cups, with no added sugar or preservatives.
With only 5 to 6 g of sugar per serving, Willamette Valley Granola Chips offer kids a whole grain alternative to chips, and Sahale Snacks' Grab & Go packs of nuts with dried fruit offers portability with the protein.
For kids looking for some jazzed-up yogurt offerings, Lifeway offers new options parents can appreciate as well: ProBugs Organic Green Kefir is a yogurtlike smoothie blended with kale, broccoli, spinach, cabbage, and apple, packaged in a fun 4-oz pouch with a no-spill spout for easy on-the-go snacking. Lifeway ProBugs Blast, another low-fat smoothie variation, offers flavors and packaging designed specifically for tweens.
Also new are Chobani Champions Tubes, made with Greek low-fat yogurt and blended with real fruit. Tubes make for easy grabbing and going when kids just can't wait.
Lastly, the Republic of Tea offers a kid-friendly line, called Little Citizens' Herb Tea, just for little mouths. The line is comprised of three caffeine-free flavors that are blended with organic, fair-trade certified rooibos: Tangerine Red Tea, Cherry Apple Red Tea, and Strawberry Vanilla Red Tea.
— JS