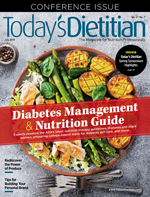 July 2019 Issue
Today's Dietitian 6th Annual Spring Symposium
By Judith Riddle
Today's Dietitian
Vol. 21, No. 7, P. 24
A Remarkable Event of Learning, Networking, and Big-Time Fun
Scottsdale, Arizona, coined "The West's Most Western Town," sits in the Sonoran Desert at the foot of the scenic McDowell Mountains. The desert city is acclaimed for its pristine lakes, picturesque golf courses, eclectic hot spots for nighttime entertainment, and luxurious resorts and day spas, and is yearly rated among the nation's most desirable places to live, visit, and do business. So naturally, Scottsdale became the venue of choice for Today's Dietitian (TD) to host its 6th annual Spring Symposium, May 19–22, at the Talking Stick Resort, billed as Scottsdale's top entertainment destination, located in the Talking Stick Cultural & Entertainment Destination district.
This year's continuing education and networking event welcomed more than 700 nutrition professionals and other health care/medical experts, dietetics student volunteers, workshop and special events presenters, and sponsor companies from across the country, Canada, and around the globe.
According to Carole Cheatham, MS, RD, from Lexington, Kentucky, "The symposium was wonderful and packed full. And the accommodations were first class."
The symposium featured 42 of some of the most esteemed presenters in dietetics and health care, who led our continuing education sessions and special events. They discussed hard-hitting, trending topics pertinent to everyday dietetics practice, including nutrition and healthful aging, cannabis and chronic disease, pediatric nutrition, diabetes and weight management, eating disorders, nutrition and cancer, food allergies, prebiotics, culinary education, heart disease, social media, diet trends, and more. "This was a great symposium—very well planned with awesome speakers," said Sandra Keelin, MS, RD, an educator and contractor for Military Sealift Command, from Oxford, Pennsylvania. "I appreciated the opportunity to attend!"
Event Kickoff
TD kicked off the symposium with an amazing tour of the Queen Creek Olive Mill, sponsored by StarKist®. Dietitians enjoyed a bus ride to the family-owned and -operated groves and mill where they met Queen Creek's owner and olive oil master blender and sommelier, Perry Rea. They learned all about the history of the family, its sustainable farming practices, and the milling process. In addition, dietitians learned the art of tasting olive oil and the distinct profiles of each variety, and they discovered how to cook, bake, drizzle, and fry with extra-virgin olive oil. "It was a wonderful tour, experience, and delicious lunch," said Diane Reynolds, RDN, dietetics clinical coordinator at Eastern Michigan University in Ypsilanti, Michigan.
"Beautiful morning to spend @QCOliveMill to learn about olive oil processing!" tweeted Laura Ali, MS, RDN, recipe developer for StarKist®.
Dietitians who didn't attend the olive mill tour but signed up for "Take the Alarm Out of the Farm: Agvocate for What Farmers Bring to the Plate," a half-day preconference workshop sponsored by Bayer and led by Leslie Bonci, MPH, RDN, CSSD, LDN, and Annette Maggi, MS, RDN, LD, FAND, learned how to evaluate and discuss the important aspects of modern agriculture; the similarities among organic, conventional, and biotech farming systems; and strategies for having tough conversations about the more contentious topics surrounding modern agriculture today. Attendees said the workshop was excellent, relevant, and useful to daily practice, and that Bonci and Maggi were excellent presenters. Darrin Schmidt, DTR, FAND, a foodservice manager in Okmulgee, Oklahoma, said, "I enjoyed this workshop."
Most Memorable Openers and Keynote
Following the half-day workshop were some of the most favored sessions of the event among attendees. They included "Eat Well, Move Well, Be Well: A Dietitian's Guide for Optimal Aging," presented by Christine Rosenbloom, PhD, RDN, LD, FAND; "Cannabis: Weeding Fact From Fiction," presented by Janice Newell Bissex, MS, RDN; "Nourished: A New Model for Childhood Nutrition," presented by Jill Castle, MS, RDN; and the panel discussion "How to Make Lifestyle Changes That Get and Keep Pounds Off," presented by Hope Warshaw, MMSc, RD, CDE, BC-ADM, FAADE. These hard-hitting, information-packed workshops set the tone of excellence for the entire symposium.
Joanne Parker, RDN, a consultant dietitian in Austin, Texas, thought Rosenbloom's presentation was, in fact, "excellent." "[Rosenbloom] was very dynamic and knowledgeable. This was one of the best presentations at the conference!"
Jessica Lehmann, MS, RDN, a lecturer in the nutrition and health sciences program in the College of Health Solutions at Arizona State University in Phoenix, thought Bissex's presentation was "evidence based, well crafted, and compelling. I enjoyed every minute!"
After attending Castle's presentation, Jaime Kembel, MS, RDN, LD, owner of Jaime Kembel Nutrition, LLC, a private practice in Aurora, Ohio, said, "As a mom, I really appreciated this presentation. Tons of great information for myself and my clients."
Anna Miller, MS, RD, an instructor at De Anza College in Mountain View, California, thought Warshaw's panel discussion "was fabulous. The speaker was super engaging. The information was very pertinent and relevant. The panel was stellar. One of the best [presentations] of the whole conference!"
Our keynote presentation took on a Q&A format this year, as Rosenbloom served as moderator and interviewed dietitian and former competitive athlete Namrita Kumar Brooke, PhD, RDN, about strategies RDs can use in practice to help active adults and athletes adopt evidence-based nutrition plans for optimal performance and better recognize the face and value of sound, evidence-based coaching.
Following the keynote presentation was The Wonderful Company's evening reception, featuring best-selling authors James Briscione and Brooke Parkhurst of the book The Flavor Matrix: The Art and Science of Pairing Common Ingredients to Create Extraordinary Dishes. Together, the authors explained the science of how creatively blending a variety of the most flavorful herbs and spices can create the tastiest nutrient-dense dishes. Briscione, a celebrity chef, entertained the audience with a food demonstration on blending flavors, then joined Parkhurst to sign and distribute countless books to a long line of dietitians who attended the event.
Workshop Faves
Attendees enjoyed several other sessions at the symposium. Many said they had a tough time deciding which ones to attend because there were so many good ones from which to choose. One of the favorites was "Securing Brand Deals as a Nutrition Professional," presented by the dynamic duo Jessica Jones, MS, RDN, CDE, and Wendy Lopez, MS, RDN, CDE, cofounders of Food Heaven Made Easy, a one-stop shop for nutritious living, and a podcast of the same name that provides evidence-based nutrition guidance. Both captivated their audience as they discussed creative ways to secure lucrative brand partnerships with food companies. "These two women were phenomenal speakers," said Julie Stacey, RD, LD, a dietitian in Bixby, Oklahoma. "They really provided excellent information that's very useful to someone getting started securing brand deals."
Vera Smail, MS, RD, CDE, owner of a private practice in Red Bluff, California, said, "I think Jessica and Wendy may have been the best presenters all weekend. I really enjoyed their segment."
Ana Krista Linares, MPH, RD, a dietitian in Chapel Hill, North Carolina, agreed: "[Jones and Lopez were] excellent presenters and very inspiring for me! I walked away ready to take action immediately and excited about it."
Another favorite session was "Learn, Cook, and Enjoy," presented by Anna Rosales, RD, and Lisa Roberson, RDN, LD. Rosales, who's been a part of the research and development team at Barilla®, and Roberson, who's the national director of wellness and sustainability for Morrison Healthcare, discussed how teaching kitchen organizations promote healthful foods and the benefits of teaching kitchens, and demonstrated how chefs and RDs can collaborate and create educational experiences through pop-up teaching kitchen platforms. "[This was the] most excellent presentation!" said Donna Duffy, MS, RDN, CDN, a foodservice manager at Sodexo in Troy, New York. "I got some great ideas for raising my teaching kitchen."
Carolyn O'Neil, MS, RD, nutrition communications expert, TV broadcast dietitian, and author of The Slim Down South Cookbook, said, "I really learned a lot about how to take the food show on the road in a compact way!"
April Rozzo, MS, RD, CSO, LDN, an oncology dietitian at Florida Cancer Specialists & Research Institute in Palm Harbor, Florida, agreed: "This was really an engaging session, and I'm looking forward to implementing a pop-up kitchen in my practice."
The session "Accentuate the Positive: Crafting Evidence-Based Messages With a Positive Slant for Cancer- and Heart-Protective Eating," presented by Karen Collins, MS, RDN, CDN, FAND, nutrition advisor to the American Institute for Cancer Research and a consultant, speaker, and writer, also received rave reviews. "This has been my favorite presentation so far!" said Madeleine Sprague, RD, foodservice manager at Kidco Head Start in Lebanon, Oregon.
"I really enjoyed this presentation," said Kaitlin Xavier, RD, CDE, a clinical dietitian in Hilmar, California. "The information was up to date and useful for my job."
Nanette Taho, DTR, from Fort McDowell, Arizona, concurred: "Karen delivered a well put together presentation with evidence-based recommendations, emphasizing what to eat vs what not to eat. [The information] to tell our clients was very helpful and [communicated] in a positive way."
Attendees also gave the session "Livestreaming and Online Video: Lights, Camera, Action! Promote Your Brand Online," presented by Michelle Dudash, RDN, Le Cordon Bleu–Certified Chef, an award-winning dietitian and best-selling author, high marks. "Michelle was engaging and informative. She shared great experiences and helpful tips for filming videos," said Mary Ann Odell, MS, RDN, LD, a retail dietitian at Healthy Edge Retail Group in Bixby, Oklahoma.
Joyce Logvin, RDN, CDE, a clinical dietitian at Mayo Clinic in Scottsdale, agreed: "I learned so much about video, cameras, and pre- and post-[production]. Very good session."
Jill Daniels, MS, RD, CSSD, owner of a private practice in Pleasanton, California, said, "Michelle was inspiring. I appreciated that she had practical tips for both beginners and advanced attendees and gave equipment options that were affordable."
Breakfast and Lunch Presentations
Not only did attendees get to learn and enjoy workshops throughout each day, but they also attended special breakfast and lunch presentations sponsored by several food companies—and were served delicious food buffet style that included vegetarian- and vegan-friendly options.
Similar to last year, TD hosted three breakfast presentations: "Pistachios. It's Crunch Time for This Health Nut!" presented by Mike Roussell, PhD, and sponsored by American Pistachio Growers; "Nuts and Cardiometabolic Health: What We Know and What We Need to Know," presented by Jordi Salas-Salvadó, MD, PhD, and sponsored by International Tree Nut Council Nutrition Research & Education Foundation; and "Pro-Grain in a Grain-Free World: Why Grains Still Matter," presented by Julie Miller Jones, PhD, CNS, CFS, Fellow of AACCI, ICC, and IFT, and sponsored by General Mills Bell Institute of Health and Nutrition.
The lunch presentations ran simultaneously over the span of two days. "Management of Irritable Bowel Syndrome: The Key Role of the Dietitian-Led FODMAP Diet" was presented by Peter Gibson, MD, and sponsored by Monash University. "Dietitians Transform the Plate With Pulses" was presented by Sharon Palmer, MSFS, RDN, and sponsored by USA Dry Pea & Lentil Council and American Pulse Association. "Digging Deep: Modern Farms Share Practices for Growing Nutritious, Delicious Food" was presented by Pam Smith, RDN; Meagan Kaiser; Joel Ransom, PhD, MS; and Brent Harrison, and sponsored by Soy Connection. "First 1,000 Days: Emerging Research & Latest Trends" was presented by Diana K. Rice, RDN, LD, CLEC, and sponsored by Egg Nutrition Center. "Diversifying Revenue Streams for the Entrepreneurial RD" was presented by Jeanne Petrucci, MS, RDN, and sponsored by Simple Mills®.
Lively Reception and Exhibit Hall
Aside from the workshops and breakfast and lunch presentations, the reception and exhibit hall grand opening, sponsored by a2 Milk®, was one of the chief highlights of the symposium. The moment the doors opened, attendees were greeted with delicious hors d'oeuvres and glasses of wine as they walked the exhibit floor to meet our sponsors, who served a variety of samples of food and beverages and discussed their products and services. The second day in the exhibit hall was just as lively. Egg Nutrition Center and Simple Mills® sponsored the lunch, which included a variety of sandwiches and side salads, as well as beverages and other treats. During exhibit hours, names of dietitians were announced randomly to win prizes. The winning prizes included goodie baskets, gift cards and gift bags, Instant Pots and cookbooks, and more. The grand prize winner, Melissa Paulsen, RD, an educator and foodservice dietitian from Glendale, Arizona, won free registration for our 2020 Spring Symposium in Savannah, Georgia, and a three-night stay at the Hyatt Regency.
The excitement in the exhibit hall was infectious, as many dietitians raved about the companies present and the food samples. "There were a lot of great vendors in the exhibit hall that provided a wealth of information and free samples," said Jessica Leslie, RD, a community dietitian at Mountain Park Health Center in Scottsdale.
Sarah Renaldi, MS, RDN, LD, instructor of allied health at College of Southern Idaho in Kimberly, Idaho, agreed: "Great exhibitors! The adult drinks and appetizers were a wonderful and much appreciated surprise! I felt very spoiled! Thank you!"
Tiffany Ellegard, NDTR, with Nutrition Alliance, LLC, a nutrition and culinary consultancy in Scottsdale, said, "This was my first big conference, and the exhibit hall was very informative, and it had great energy. I look forward to next year's [symposium]."
Exclusive Special Events and Excursions
What was more notable this year than last year was the number of special events and excursions TD made available to attendees. Kellogg's hosted a private breakfast on behalf of HI! Happy Inside, its newest cereal that contains probiotics, prebiotics, and fiber to support digestive wellness. The company provided a lavish spread of its three cereal varieties—Coconut Crunch, Bold Blueberry, and Simply Strawberry—as well as Greek yogurt parfaits, fresh and dried fruit and nut toppings, and an assortment of dairy and nut milks. Presenters included Regan Miller-Jones, RDN, an award-winning dietitian with 20 years of experience in food media and marketing, and Kati Kauffman, RDN, nutrition business partner at Kellogg's.
Tate & Lyle hosted an evening reception so attendees could learn more about the science behind and application of DOLCIA PRIMA® Allulose, its rare sugar, and the role it plays in the diet. The presenters were Lisa Spence, PhD, RD, and Rosanne Rust, MS, RDN, LDN.
General Mills held a special two-hour interactive workshop presented by Melissa Joy Dobbins, MS, RDN, CDE, aka The Guilt-Free RD®. Attendees learned about the benefits of a nutrient-dense approach to healthful eating to shift the focus away from single nutrients when counseling clients or promoting nutrition messages via traditional media outlets, social media platforms, presentations, blogs, or videos. Attendees practiced strategies to translate the nutrient density science into their own words so they'd be armed with messages to use in practical ways.
The National Dairy Council hosted the half-day event "From Farm to Yogurt: A Behind-the-Scenes Look at How Dairy Gets to You," during which attendees toured T & K River Dairy, located on the ranch once owned by late actor John Wayne, and Ehrmann's Greek Yogurt Plant. Attendees engaged in interactive discussions with National Dairy Council dietitians, a cow nutritionist, and dairy farmers about how dairy contributes to overall health; how milk, cheese, and yogurt get from farm to table; and other interesting tidbits. "I enjoyed participating in this dairy farm tour," said Lauren O'Connor, MS, RDN, founder of NutriSavvyHealth in Los Angeles. "I learned a lot about the dairy farm's sustainability practices, including water conservation and some interesting facts. And it was great to have a physical tour of the farm and visit the yogurt plant. Thanks for the lovely lunch and swag. It was fun!"
Goin' With the Yoga Flow
Like last year, TD offered attendees a morning yoga workout, this time sponsored by Lifeway Foods. But this wasn't your ordinary yoga class. A whopping 126 people showed up to participate in what's called TruFlow yoga, led by TruFusion gym instructor Dana Strang, a 15-year yoga teacher and owner of Yoga Hale in Kona and Waimea, Hawaii. TruFlow is a flow-based yoga class designed for all fitness levels and inspired by the TruFusion Signature Series. Participants took home free yoga mats, goodie bags, and 8-oz bottles of Kefir or Plantiful, Lifeway's plant-based probiotic beverages for postworkout muscle recovery.
'80s-Style Dance Party
But the event that beat out all events was our '80s concert dance party, sponsored by Regular Girl®. Felicia Stoler, DCN, MS, RDN, FACSM, FAND, from Regular Girl®, opened up the concert wearing a white wedding dress, an iconic symbol of singer-songwriter Madonna's character in her 1984 hit song/video "Like a Virgin."
Clad in jackets with large shoulder pads, tights, leg warmers, and high heels; sporting teased hair with headbands, hoop earrings, spiked wigs; and displaying dazzling, colorful eye makeup reminiscent of that decade, attendees and the TD staff danced the night away to incredible hits played by The Radio Rebels. The cover band played top Billboard hits such as "Girls Just Want to Have Fun" by Cyndi Lauper, "I Wanna Dance With Somebody (Who Loves Me)" by Whitney Houston, "Jessie's Girl" by Rick Springfield, "Mickey" by Toni Basil, "Heartbreaker" by Pat Benatar, "Rock the Casbah" by The Clash, "You're the One That I Want" by Olivia Newton John and John Travolta from the hit movie Grease, and many others. It was an exhilarating, electrifying all-night jam session of dancing and laughter—a night to remember that's still being talked about with plans to do something similar next year.
Mandy Enright, MS, RDN, tweeted, "[The] biggest takeaway from this year's #TDinAZ: we need more dietitian dance parties in our profession."
Dudash agreed, tweeting, that the '80s dance party was "#thebestworkoutever. I may have led the charge in dancing to the song 'Hey Mickey.'"
Liz Weiss, MS, RDN, tweeted, "Oh what a night. After a day of learning was a night of dancing. Thanks for a phenomenal symposium."
Milton Stokes, RD, tweeted, "A lot of big hair … on the '80s dance floor."
Social Media Excitement
Our Twitter and Facebook pages were all abuzz throughout the symposium. Attendees and presenters used our hashtag #TDinAZ for all of their event-related posts and tweets. They tweeted and posted comments and photos of presenters, the sessions, and our special events on our Twitter and Facebook pages and tagged TD in all of their Facebook and Instagram posts over the course of the conference. According to Twitter data, our hashtag received 6 million impressions, and 211 attendees posted 1,000 tweets. Our presenters even took to Twitter to wax poetic about the event.
Angel Planells, MS, RD, FAND, tweeted: "Great three days in the desert at the 2019 @TodaysDietitian Spring Symposium in Scottsdale. Looking forward to next year in Savannah, Georgia."
Rice tweeted: "What an honor to present at the @TodaysDietitian Spring Symposium on infant nutrition and trends in infant feeding (including #BLW) on behalf of @EggNutrition."
Bonnie Taub-Dix, MA, RDN, CDN, tweeted: "Thank you @TodaysDietitian for asking me to be a part of your stellar lineup at this year's #TDinAZ. It was easy to speak from my heart about being a credible influencer and helping RDs get their names in the news!"
Looking Ahead
What a great time had by all. Thanks to all of our sponsors, presenters, attendees, and volunteers, TD's 6th annual Spring Symposium was a blockbuster. The event and the support we receive continue to grow every year. "I loved the conference," said Debra Meyer, RDN, owner of Just for the Health of It in Las Vegas. "It was so organized, and I loved attending the breakfast and lunch sessions. Great variety of topics and speakers."
Carly Gehler, RD, a clinical dietitian and foodservice manager in Denver, said, "I enjoyed the symposium and am looking forward to it next year."
In 2020, TD plans to host its 7th annual Spring Symposium in Savannah, Georgia, nicknamed the "Hostess City of the South," and one of the largest National Historic Landmark Districts in the country. So don't wait another minute to register. We look forward to seeing you there!
— Judith Riddle is editor of Today's Dietitian and RDLounge.com, the blog written for RDs by RDs.