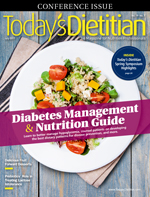 July 2017 Issue
Editor's Spot: Amazing TD Symposium
By Judith Riddle
Today's Dietitian
Vol. 19, No. 7, P. 4
"We're no longer in the minor leagues. We're now in the major leagues!" said Kathleen Czermanski, president and CEO of Today's Dietitian (TD), referring to the astonishing turnout, the unprecedented excitement, and ultimate success of our fourth annual Spring Symposium May 21–24 held at the historic Astor Crowne Plaza hotel in New Orleans.
The symposium was an exciting time for the 500-plus attendees from across the country. This year's event was by far our most highly attended and successful to date, and it stands to only get better. One attendee told me TD should get ready for an "explosion" as word about the symposium spreads.
We had some of the most notable names in the nutrition field present on topics such as clean eating, retail dietetics, Hispanic health, type 2 diabetes, nutrition communications, and the environment. One of my favorite sessions was "The End of Dieting: Why People Are Tossing Their Diet Books and Smashing Their Scales — And What You Can Do to Help Them Succeed" by first-time presenter Rebecca Scritchfield, MA, RDN, HFS. Her message resonated with me and others who will spread her countercultural message: You're beautiful just the way you are, and you can achieve better health and happiness without dieting, deprivation, and meeting unrealistic weight loss goals to live up to societal standards of beauty that have led many of us to develop poor body images and psychological problems. "Dieting is an assault on the body and mind," Scritchfield said. "It's traumatic emotionally, mentally, and physically."
In addition to Scritchfield, some other first-time presenters included Carolyn O'Neil, Liz Weiss, Michelle Dudash, Penny Kris-Etherton, and Regan Miller Jones. And we were honored to have Felicia Stoler of Regular Girl deliver a spirited and inspiring keynote presentation.
The attendees said they enjoyed the continuing education sessions so much because they were practical and relevant to current trends in the nutrition profession. There were conversational breakfasts on fruit and vegetable safety, alternative dairy milks, and a panel discussion of dietitians representing various generations who discussed their career experiences, aspirations, and the changing opportunities in dietetics.
The exhibit hall was abuzz as dietitians visited sponsors, tasted product samples, and played a social media game to win prizes. Attendees, presenters, and sponsors all tweeted their impressions of the event and posted photos using #TDinNOLA and created a social media frenzy. In fact, we were trending #1 on Twitter in New Orleans for two days.
To read more about the symposium and view the photos that capture the spirit of the event, turn to page 26. Afterward, read our special Diabetes Management and Nutrition Guide as well as articles on fruit forward desserts and prebiotics in the treatment of lactose intolerance. Please enjoy the issue!

Judith Riddle
Editor
TDeditor@gvpub.com