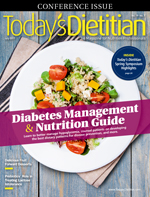 July 2017 Issue
Fruit Forward Desserts
By Jessica Levinson, MS, RDN, CDN
Today's Dietitian
Vol. 19, No. 7, P. 22
These scrumptious seasonal treats can boost clients' consumption of fresh fruits at the peak of ripeness.
When people think of dessert, fruit isn't always the first thing that comes to mind. However, fruit forward desserts like pies, crisps, fruit soups, and compotes that are primarily focused on seasonal fresh fruit are a delicious, and often lighter, way to end a meal.
Just about any type of fruit can be used in these types of desserts, depending on taste preferences and seasonal availability. The summer is a perfect time to experiment with fruit-filled desserts since there are so many mouth-watering and nutrient-packed fruits available.
Fruit-based desserts are thought to originate from the early American settlers, who used whatever ingredients were available to make their favorite recipes.1 Originally, pies, and their many variations like cobblers and crumbles, were savory recipes, often with meat, that were served as a main dish. It wasn't until the 19th century that pies, cobblers, and crumbles became primarily served for dessert.
In addition to the satisfying flavors and juiciness of fruit forward desserts, there are some nutritional benefits clients can reap. These desserts add to their daily fruit intake, which is lower than recommended in the Dietary Guidelines for Americans, and they're often lower in added sugar than other desserts since fruit is naturally sweet, especially when used in season. Fruit provides fiber and various other nutrients like vitamins and antioxidants, which play a role in the prevention of many diseases including heart disease, diabetes, and cancer.
Cooking Techniques
Most fruit forward baked desserts follow a similar equation: Fresh, frozen, or canned fruit is topped with pastry or crumbles and baked in the oven. They do, however, differ in some ways.
• Crisps and crumbles involve a fruit mixture covered with a streusellike crumb topping. The crumb topping can be made in a variety of ways and often includes oats, chopped nuts, flour, graham cracker crumbs, butter, and spices. Traditionally, a crisp doesn't contain oats, giving it a crisper texture and appearance than a crumble. Nowadays, the terms are interchangeable when referring to fruit-based desserts.
• Cobblers usually consist of a deep-dish fruit base topped with a biscuit or pastry crust. Traditionally, biscuit batter is spooned in mounds over the fruit, providing its namesake appearance of a cobblestone street.
• Buckles are made by adding fruit to cake batter and topping with a crumble mixture. This gives it a buckled appearance, hence its name. Customarily, blueberries are used for a buckle, but most any fruit can be used in their place.
• Brown Betties consist of a fruit or fruit mixture baked between layers of buttered crumbs. The most common Brown Betty (or Betty) is made with apples.
• Pies are usually made by filling a straight or sloped-sided pastry shell with a fruit mixture and are topped with another layer of pastry.
• Tarts are made in a similar way to pies, but with no topping; in other words, they're an open pie.
• Galettes are rustic, freeform pies, often flat and round and filled with fruit in the middle. If the filling is moist, as is the case with most fruit galettes, the sides of the galette are folded up to contain the juices.
Chilled fruit desserts like sorbet and fruit soups are especially popular in the summer, particularly since they usually don't need to be cooked or baked and are refreshing.
• Sorbet is made by puréeing fruit with sugar and freezing until hardened.
• Sherbet is a cross between sorbet and ice cream and is made by puréeing fruit and sugar with a bit of milk.
• Granitas are made from a purée of fruit, sugar, and water. Unlike sorbets, which are smooth, granitas are scraped during the freezing process, making the end result icy flakes.
• Fruit popsicles are made by puréeing fruit and sugar the way you would for sorbet, except the mixture is poured into popsicle molds and frozen until hard. Popsicles also can be made with plain or flavored yogurt, which adds creaminess and gives a protein and calcium boost to this refreshing treat.
• Chilled soups like gazpacho are popular during summer months but are more on the savory side. For dessert, you can make chilled soup using fruits such as melons, stone fruit, and berries.
Putting Fruit Forward Desserts Into Practice
Replacing grain-based desserts with fruit forward desserts is a wonderful way for people to incorporate more fruit into their diets and help reduce added sugars while still enjoying sweet treats.
Dietitians can encourage clients to use fruit-based baked goods like crumbles and pies as a way to experiment with fruits that may be new to them. For example, although technically a vegetable, rhubarb often is paired with strawberries or apples in desserts, which is a fun way to explore a new ingredient.
Preparing one of these treats can be made into a family event, starting with picking the fruit at a local farmers' market, prepping the recipe together in the kitchen, and enjoying the end result at a family dinner.
RDs should remind clients that fresh fruit at the height of its season is so naturally sweet and satisfying that it can be dessert in and of itself. If they want to go an extra step, they can make a fresh fruit parfait or trifle using low-fat yogurt or light whipped cream in between layers. Or let them bring out the sweetness of fresh fruit by roasting, baking, poaching, or grilling the whole fruit.
Of course, just because something has fruit in it doesn't mean it's inherently nutritious. To keep fruit desserts on the more healthful side while still enjoying a special treat, clients can make modifications in the kitchen.
For example, they can reduce the amount of sugar called for in a, sometimes cut in half, depending on the fruit's ripeness. Using oats and nuts in place of refined flour also will increase the nutritional value of the crumbles and crisps. While people often eat their pie or crumble à la mode with a scoop of ice cream, clients can swap in frozen yogurt or light whipped cream.
— Jessica Levinson, MS, RDN, CDN, is a New York-based culinary nutrition expert and recipe developer. You can read more of her articles and find her recipes at JessicaLevinson.com.


Reference
1. History and legends of cobblers. What's Cooking America website. https://whatscookingamerica.net/History/CobblerHistory.htm. Accessed April 21, 2017.
Recipes
Blueberry Lemon Basil Hand Pies
Serves 8
Ingredients
2 cups blueberries (fresh or frozen)
Zest and juice of 1 lemon
1/4 cup fresh basil, chopped
1/4 cup sugar
2 T cornstarch
2 prepared pie dough sheets
1 egg, beaten (or milk)
Directions
1. Preheat oven to 375° F. Line a baking sheet with parchment paper and set aside.
2. In a large bowl, combine blueberries, lemon zest, lemon juice, basil, sugar, and cornstarch.
3. Roll out pie dough and cut into eight 5-inch circles. Place prepared dough on baking sheet.
4. Spoon blueberry mixture onto one half of each circle. Fold over other half, and crimp edges with a fork. Slice the top of each pie to allow the steam to escape. Brush each pie with egg or milk.
5. Bake 15 to 20 minutes, or until golden brown. Let cool 10 minutes before serving.
Nutrient Analysis per serving (1 hand pie)
Calories: 298; Total fat: 14 g; Sat fat: 5 g; Sodium: 254 mg; Total carbohydrate: 39 g; Sugars: 12 g; Dietary fiber: 1 g; Protein: 2 g
— Recipe and photo courtesy of Emily Cooper, RDN, author of the blog Sinful Nutrition (SinfulNutrition.com)
---
Whole Wheat Peach Galette
Serves 8
Ingredients
Dough
11/4 cups white whole wheat flour
2 T sugar
1/2 tsp salt
1 stick (1/2 cup) cold butter or coconut oil
3 T ice-cold water
Filling
3 peaches or nectarines, sliced
1/4 cup sugar
1 tsp vanilla
1 tsp cornstarch
Pinch of salt
Topping
1 egg white, beaten
Turbinado sugar
Directions
1. Mix together flour, sugar, and salt. Cut butter into cubes and cut into dough using a pastry cutter or pulse a couple of times in a food processor until butter is smaller than pea size.
2. Drizzle water over flour mixture and mix or pulse until dough forms into a ball, being careful not to overmix. Wrap in plastic wrap and place in the refrigerator for 10 to 20 minutes.
3. Meanwhile, mix peaches with sugar and vanilla. Let rest while dough is chilling.
4. Preheat oven to 425° F. Remove dough from the refrigerator and roll it out into a flat (about 1/8 inch) circle. Place on a baking sheet lined with parchment paper or a silicone baking mat.
5. Drain the juices off the fruit and stir in cornstarch and salt. Arrange fruit in the center of the dough, leaving about a 2-inch border. Gently fold up the edges of the dough all the way around. Brush dough edges with egg white and sprinkle with turbinado sugar.
6. Bake for 15 to 20 minutes or until dough is golden and filling is bubbly. Remove and cool before cutting, or serve warm with a scoop of vanilla ice cream.
Nutrient Analysis per serving (1 slice)
Calories: 228; Total fat: 12 g; Sat fat: 7 g; Sodium: 191 mg; Total carbohydrate: 29 g; Sugars: 14 g; Dietary fiber: 3 g; Protein: 4 g
— Recipe and photo courtesy of Kaleigh McMordie, MCN, RDN, LD, writer, receipe developer, and author of the blog Lively Table (LivelyTable.com)
---
Roasted Blueberry, Coconut, and Lime Popsicles
Serves 10
Ingredients
1 pint blueberries
3 T maple syrup, divided
1 can coconut milk (either regular or light), divided
1 large lime, zest and juice
Very small pinch of sea salt
Directions
1. Preheat oven to 350° F.

2. Place blueberries in a single layer in a glass baking pan. Drizzle with 1 T maple syrup and roast for 10 minutes or until bubbly and piping hot. Remove blueberries from oven and allow to cool completely. Transfer the blueberries and any blueberry juice into the base of a blender along with 1/4 cup coconut milk and a pinch of the lime zest.
3. Purée mixture until creamy and smooth, then divide blueberry mixture among the popsicle molds.
4. Add to the blender the remaining maple syrup, coconut milk, lime juice and zest, and a very small pinch of sea salt. Purée to combine and add to the molds.
5. You can keep the mixture layered like this or give the molds a quick stir for a marbled look.
6. Cover and freeze until firm, about 2 hours.
Nutrient Analysis per serving
Calories: 90; Total fat: 6 g; Sat fat: 5 g; Sodium: 20 mg; Total carbohydrate: 10 g; Sugars: 8 g; Dietary fiber: 1 g; Protein: 1 g
— Recipe and photo courtesy of Alexandra Caspero, MA, RD, author of Fresh Italian Cooking for the New Generation, recipe developer at Delish Knowledge, and nutrition consultant.

---
Rhubarb Ginger Lemon Muffins
Serves 12
Ingredients
2 cups garbanzo bean (chickpea) flour
2/3 cup sugar
2 tsp baking powder
1 tsp baking soda
1/2 tsp salt
2 large eggs
1/2 cup canola oil
1/2 cup natural unsweetened applesauce
1 tsp vanilla extract
1 T lemon zest (from ~1 large lemon)
2 T lemon juice
1 tsp freshly grated ginger
11/2 cups diced rhubarb (~2 stalks)
Powdered sugar (optional)
Directions
1. Preheat oven to 375° F. Line a 12-cup muffin tin with liners or spray with cooking spray.
2. In a large bowl, combine flour, sugar, baking powder, baking soda, and salt.
3. In a medium bowl, whisk together eggs, oil, applesauce, vanilla, lemon zest, lemon juice, and ginger.
4. Add wet ingredients to dry ingredients and stir until just combined, being careful not to overmix. Fold in rhubarb.
5. Scoop 1/3 cup of batter into each muffin cup. Bake for 20 to 25 minutes, until golden brown on top and a toothpick inserted into the center of muffins comes out clean.
6. Remove from the oven and let cool for 5 minutes before transferring to a wire rack to finish cooling. Serve sprinkled with powdered sugar, if desired.
Nutrient Analysis per serving (1 muffin)
Calories: 200; Total fat: 12 g; Sat fat: 1 g; Sodium: 300 mg; Total carbohydrate: 26 g; Sugars: 14 g; Dietary fiber: 4 g; Protein: 5 g
— Recipe and photo courtesy of Jessica Levinson, MS, RDN, CDN, culinary nutrition expert and recipe developer. Find more of her recipes at JessicaLevinson.com.