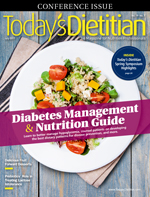 July 2017 Issue
Ask the Expert: Algae's Culinary Uses
By Toby Amidor, MS, RD, CDN
Today's Dietitian
Vol. 19, No. 7, P. 10
Q: Algae are being used as a functional ingredient in cooking oils and various food products such as chocolate and bread. I've heard they contain many nutrients beneficial to health. What nutrients do algae contain, and is there any merit to the purported health claims?
A: Traditionally, algae have been used as thickening or emulsifying agents in food. However, food companies are starting to look at different types of algae for other culinary purposes because of their nutrient profile. Algae contain protein, fiber, monounsaturated fat, and a variety of micronutrients, and they're free of the top eight allergens.
Rising in Popularity
Several food companies have turned to algae as a functional ingredient in recent years. "Companies are looking for sustainable solutions and healthier alternatives for protein and fat," says Keri Gans, MS, RDN, CDN, author of The Small Change Diet: 10 Steps to a Thinner, Healthier You and owner of Keri Gans Nutrition. "Algae can really transform foods in terms of nutrition, sustainability, taste, texture, and flavor." One cup of dried blue-green algae contains 43 kcal, 1.2 g fat, 8.6 g protein, and 3.6 g carbs. It's an excellent source of thiamin, riboflavin, copper, and iron, and a good source of niacin. As an ingredient, however, each serving will contribute a much smaller amount to the food.
Ozery Bakery uses algae in some of its bread offerings. "In doing our research, we discovered that algae are an incredible plant-based ingredient that's nutrient dense and free of [the top eight] allergens, making them the perfect addition to our vegan brioche buns and bites," says Alon Ozery, Ozery Bakery founder and partner. Ozery has found that "compared to standard brioche, using algae in our product results in a decrease of cholesterol, saturated fat, and sugar per gram and an increase in fiber, all without sacrificing the brioche's decadent flavor."
Algae oil is another food you can find on the market. Mark Brooks, MBA, senior vice president of food and ingredients at TerraVia, explains how Thrive Culinary Algae Oil was discovered. "We spent more than a decade researching more than 100,000 types of algae. The algae used for Thrive Culinary Algae Oil come from the sap of a chestnut tree and are a natural source of oil and healthful fat." The oil can be used for cooking, baking, and salad dressings. The oil has a light, neutral flavor with a high smoke point (up to 485° F). Per tablespoon, Thrive Culinary Algae Oil provides 120 kcal and 14 g fat, 13 g coming from monounsaturated fat.
Use of Algae in Food
There are several relatively well-known types of algae in food including carrageenan, spirulina, agar, and alginates. Carrageenan, extracted from a species of red algae, has been used for several centuries as a thickening, gelling, and stabilizing agent. It's typically found in ice cream, vegan cheese, cottage cheese, flan, whipped cream, and puddings. Studies have linked certain forms of the additive to intestinal cancers and ulcerations in animals, and, as a result, many food companies have steered away from using them.1
Spirulina is a type of blue-green algae with several purported health benefits,2 though more research is needed to determine its true effects (see "Spirulina's Popularity" in January's edition of Today's Dietitian). Currently, you can find spirulina added as an ingredient to drinks like kombucha and as a powder to shakes and smoothies in health food establishments. Spirulina, however, can absorb heavy metals from the water in which it's grown and can be contaminated with toxic substances. As such, it's important to buy it from a trustworthy brand.
Recommendation for RDs
Dietetics professionals should become familiar with foods that use algae in case clients inquire about them. It's also important for RDs to stay abreast of current research to ensure the safety of the algae they discuss with patients (as in the case of carrageenan and spirulina).
— Toby Amidor, MS, RD, CDN, is the founder of Toby Amidor Nutrition (http://tobyamidornutrition.com) and the author of the cookbook The Greek Yogurt Kitchen: More Than 130 Delicious, Healthy Recipes for Every Meal of the Day and the upcoming The Healthy Meal Prep Cookbook. She's a nutrition expert for FoodNetwork.com and a contributor to US News Eat + Run and MensFitness.com.

References
1. Tobacman JK. Review of harmful gastrointestinal effects of carrageenan in animal experiments. Environ Health Perspect. 2001;109(10):983-994.
2. Deng R, Chow TJ. Hypolipidemic, antioxidant, and antiinflammatory activities of microalgae Spirulina. Cardiovasc Ther. 2010;28(4):e33-e45.