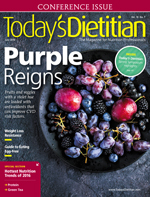 July 2016 Issue
Focus on Fitness: Hybrid Yoga Workouts
By Jennifer Van Pelt, MA
Today's Dietitian
Vol. 18 No. 7 P. 58
They're putting a brand new spin on an age-old practice.
In the 1980s, when fitness classes really grew in popularity, yoga wasn't considered a workout. It was still mostly practiced at ashrams, spiritual retreats, and health spas, with classes focused on chanting and meditation led by Indian gurus and attended only by hippies and celebrities. The fitness world has since embraced yoga as a workout, and yoga has evolved as its popularity has increased among gym exercisers and athletes.
According to the 2016 Yoga in America Study conducted by Yoga Journal and the Yoga Alliance, the number of Americans practicing yoga has grown by more than 50% in the last four years.1 More than 75% of these 36 million yoga practitioners also participate in other physical activities, like running, sports, cycling, weight lifting, fitness classes, and outdoor exercise. In an effort to generate and sustain interest in yoga as a fitness activity, hybrid yoga workouts, which combine yoga poses with other exercises, have emerged. Hybrid yoga workouts also may be referred to as yoga fusion workouts or have a branded name for marketing purposes. A wide variety of hybrid yoga workouts are now offered in different settings, including gyms, yoga and dance studios, outdoor venues, and swimming pools. Whether your clients are bored with traditional yoga classes, interested in trying yoga but prefer to sample it with a more familiar exercise activity, enjoy variety in their workouts, or are feeling adventurous and outdoorsy, there's a hybrid yoga workout for them.
The first hybrid yoga workouts to be introduced combined yoga with other mind-body and/or exercise modalities, such as tai chi, Pilates, dance, and martial arts. These workouts generally are structured to flow smoothly, alternating yoga poses or sun salutations with movement from other mind-body exercises. These hybrids are the most common and most diffused across the fitness industry. The following classes are offered in most areas at gyms and studios, and numerous DVDs and online options also are available:
• BodyFlow is a branded yoga/tai chi/Pilates class produced by Les Mills International, the fitness company that created the very popular BodyPump weightlifting class offered in thousands of gyms worldwide. BodyFlow classes are choreographed to top 40 and world/new age–style music. The class is challenging and marketed as improving total body strength while leaving participants feeling calm and centered after class. BodyFlow is offered at gyms that license Les Mills programs. Outside the United States, the program is called BodyBalance. It's also available online and on demand from Les Mills for a small monthly fee at www.lesmills.com.
• PiYo, another branded workout, is offered by BeachBody, the company that created the popular P90X workout. Unlike BodyFlow, which the facility offering the class must license, PiYo is licensed by instructors who have completed PiYo training, and they can teach the class anywhere. This workout is faster than most yoga styles and is marketed as combining the "muscle-sculpting, core-firming benefits of Pilates with the strength and flexibility advantages of yoga." PiYo DVDs are available for purchase on the BeachBody website (www.beachbody.com/product/fitness_programs/piyo-workout.do) or on Amazon.com.
• Nonbranded yoga/Pilates and yoga/tai chi/qigong workouts may be taught by instructors trained in each modality at gyms and studios. The following DVDs are available for home exercise: Crunch Super SlimDown: Pilates Yoga Blend; Jonathan Urla's Yogilates series; Stott Pilates' Pilates-Infused Yoga; Jennifer Kries' Hot Body Cool Mind: A Masterful Blend of Pilates, Yoga, Dance and Rejuvenating Practices; and Kathy Ackerman's Yoga-Pilates Fusion.
• Yoga/dance hybrid workouts include barre classes and classes that integrate yoga poses with modern dance movements. Barre classes, which also may include Pilates-based movements, were discussed in detail in the December 2015 issue of Today's Dietitian. Yoga-dance workouts are most commonly offered at yoga and dance studios, rather than gyms. Available DVDs include Shiva Rea's Yoga Trance Dance, Dance the Chakras Yoga Workout by Ana Brett and Ravi Singh, and Fusion Flow and Power Fusion by Ellen Barrett.
• Budokon combines yoga with martial arts in a flowing, challenging workout. Developed by martial artist Cameron Shayne, Budokon is for those at an advanced fitness level or those with extensive yoga or martial arts experience. Though a beginner DVD is available, the moves are still challenging due to exertion level (www.budokonuniversity.com).

Recently, yoga hybrid workouts that incorporate more athletic fitness class formats, like boxing, strength training, and CrossFit, have been introduced. Yoga strength classes use handheld weights to work upper body muscles while holding various yoga poses, like chair and warrior. CrossFit yoga hybrids combine the athletic and boot camp exercises of CrossFit sessions with yoga poses interspersed throughout the class for recovery and stretching. Yoga boxing classes combine cardio boxing and kickboxing movements with yoga poses for a cardio, strength, and flexibility workout all in one. Though challenging in terms of exertion and intensity, typically these classes are easy to follow once you learn the basic punching, kicking, and strength movements.
Yoga boxing, strength, and CrossFit hybrid classes may appeal to men who are intimidated by the large numbers of women in a traditional yoga class. Another recently introduced yoga hybrid workout specifically designed to appeal to men is Broga. Broga (https://brogayoga.com/aboutus/broga/) is described on their website as a powerful flow-style yoga class combined with body-weight-based strength-building exercises and high-intensity interval training (HIIT) segments. One online media source called Broga "more muscle, less mantra." While many power yoga classes contain body weight exercises integrated with yoga pose sequences for strength, the HIIT component of Broga appears to be unique to this style. According to the Yoga Journal/Yoga Alliance survey, more than 70% of yoga practitioners are women. While the survey indicated that the number of men doing yoga increased from 2012 to 2016, men are still in the minority in yoga classes. Hopefully, some of these athletic yoga hybrid workouts will generate interest from men in doing more yoga to improve their flexibility and mind-body awareness.
For clients who enjoy the outdoors, yoga hybrid workouts have expanded from inside gyms and yoga studios to ski slopes, lakes, rivers, oceans, and hiking trails. "Snowga," the name given to yoga poses combined with snow sports like skiing and snowboarding, has become popular at ski resorts. True snowga is practiced on skis, with poses modified to accommodate skis and poles. However, to increase participation, some snowga classes are conducted indoors at ski resorts and nearby gyms and studios as regular yoga classes that focus on poses to improve snow sport performance and decrease the risk of injury on the slopes.
Paddleboard yoga, also called SUP (stand-up paddleboard) Yoga, is growing in popularity and can be done on any local body of water suitable for paddleboarding. An online community for practitioners of SUP was formed in 2011 (namastesup.com). Performing yoga poses on a paddleboard in the water requires added balance and control and more core strength than yoga on a mat. Currently, SUP classes seem to be most popular at warm-climate resorts with water sports offerings. However, SUP is being practiced on rivers and lakes as well. SUP Yoga classes started in 2014 on the Schuylkill River in Philadelphia.2
Trail yoga is more accessible for most clients who may be interested in combining yoga and the outdoors. Generally run by local yoga studios, trail yoga outings combine hiking wooded trails with periodic stops for standing yoga poses.
There are many more hybrid yoga workouts available; this article summarizes only those that appear to be most commonly offered. If clients are interested in learning more about other less-common hybrid yoga workouts, try searching online for "unusual hybrid yoga workouts."
— Jennifer Van Pelt, MA, is a certified group fitness instructor and health care researcher in the Reading, Pennsylvania, area.

References
1. 2016 yoga in America study. Yoga Alliance website. https://www.yogaalliance.org/Portals/0/2016%20Yoga%20in%20America%20Study
%20RESULTS.pdf
2. Fisher A. I tried it: SUP yoga on the Schuylkill River. Philadelphia website. http://www.phillymag.com/be-well-philly/2014/06/02/tried-sup-yoga-schuylkill-river/. Updated June 2, 2014.