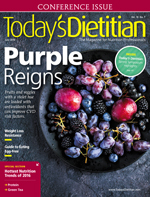 July 2016 Issue
Today's Dietitian 3rd Annual Spring Symposium — TD's Best Continuing Education and Networking Event Yet
By Judith Riddle
Today's Dietitian
Vol. 18 No. 7 P. 40
Right in the middle of Walt Disney World in Orlando, Florida, where adults and children of all ages vacation each year to enjoy the magical adventure of make-believe, is the Buena Vista Palace Hotel and Spa, the venue where Today's Dietitian (TD) held its 3rd annual Spring Symposium May 15 to 18.
With excitement and anticipation, almost 600 professionals from across the country and abroad came to hear an esteemed roster of highly acclaimed presenters, network with colleagues, and promote new products and services. Some dietitians came to the symposium from as far as Albania, Algeria, Canada, the Cayman Islands, Jamaica, Trinidad and Tobago, and the Virgin Islands. Student volunteers from various universities and dietetics programs in New York, Illinois, Florida, Louisiana, Georgia, and California assisted attendees and sponsors and answered questions.
While our two previous symposiums were a success, this year's continuing education and networking event transcended our expectations and those of attendees. Several dietitians who returned to the symposium for the second or third time and those who attended for the first time said "the symposium was the best conference" they'd ever been to and were "looking forward to attending others" in the future. "Where do you plan to have the symposium in 2018?" many dietitians asked. The answer? TD is currently ironing out the details and will let you know as soon as we decide.
"People are here from all over the country," said Debbie Green, RD, who works at The Villages Rehab & Nursing Center in Lady Lake, Florida. "It's great that you're reaching so many dietitians, and it's good for us to come here to get motivated."
According to Lauren Harris-Pincus, MS, RDN, a nutrition communications specialist, social media consultant, and owner of Nutrition Starring You, LLC, a social media management and consulting services company in Green Brook, New Jersey, "The conference was hoppin'. This was my first year [attending], and I'm enjoying every minute of it."
Social Media Buzz
Dietitians were so enthralled with the symposium that, for three days, it was trending on Twitter. During sessions, RDs snapped photos of presenters and their slides from their PowerPoint presentations and tweeted their thoughts and impressions. Kim Hoban, RD, the author of a lengthy blog post praising the event, tweeted "Check out my recap from Today's Dietitian Spring Symposium," and provided a link for all to read.
Dalina Soto, RD, LDN, tweeted, "It was such an informative event. Thanks so much!"
Phyllis LoDuca, RDN, tweeted, "What a great symposium. Thank you to Today's Dietitian for providing an awesome educational conference."
Leanne Ray, RDN, tweeted that the symposium is "definitely on my conference bucket list for next year!"
Presenter Jill Weisenberger, MS, RDN, CDE, FAND, CHWC, tweeted, "Super fun time presenting to fab dietitians at the Today's Dietitian Symposium. Thanks for inviting me."
Robin Plotkin, RDN, LD, also a presenter, tweeted "Congrats on a topnotch symposium! I loved presenting on preceptorship for RDs to be. Thanks for the opportunity."
Selfie Station
One of the fun highlights of the symposium was the selfie station where attendees stood individually or in groups with colleagues against a backdrop of the Orlando skyline to be photographed. Dietitians proudly held colorful signs that read, "Dietitians Rule!" "I love Nutrition!" "You Should Be Here!" "Today's Dietitian Rocks!" and "Look Who's Here!" as one of our volunteers snapped photos to be posted on Facebook, Twitter, Instagram, and other social media sites.
Event Rundown
TD kicked off the symposium with a two-part continuing education session on writing for print and digital professional and consumer publications, presented by Constance Brown-Riggs, MSEd, RD, CDE, CDN, and Tamara Jeffries, MFA. They discussed how to develop story ideas, write query letters, create and write blogs, and other topics. After this session, Toby Amidor, MS, RD, CDN, gave an in-depth presentation of the new 2015–2020 Dietary Guidelines for Americans, and Nilda Benmaor, MS, RDN, CDE, provided an overview of the dietary variations of Hispanics and Latinos with diabetes.
Of course, the evening ended with a bang, as our keynote speaker was none other than the world-renowned David L. Katz, MD, MPH, FACPM, FACP, FACLM, founding director of Yale University's Yale-Griffin Prevention Research Center and current president of the American College of Lifestyle Medicine. Katz is known for his expertise in nutrition, weight management, and chronic disease prevention.
Much-Awaited Keynote
Dietitians packed a grand auditorium eagerly awaiting this prominent guest speaker of the evening. The title of Katz's presentation was "For the Love of Fat: What We Really Know (or Don't Know)." Katz captivated his dietitian audience with evidence-based science and humor as he discussed decades of what he considered credible and misleading research that evaluated the impact of saturated fats on heart disease risk, and whether replacing saturated fats with carbohydrates or polyunsaturated fats was best to help prevent cardiovascular disease. The bottom line: Replacing saturated fats with polyunsaturated fats, eating a predominantly plant-based diet, and incorporating healthful lifestyle practices such as regular physical activity, stress management, quality sleep, strong social connections, and refraining from smoking are the best paths to take to promote optimal cardiovascular health.
Katz spoke with authority and depth of knowledge and demonstrated his passion for diet and nutrition and health and wellness. "Dr. Katz is my nutrition hero," Harris-Pincus said. "He's the one person I read religiously. What he writes I can trust because I know he's done the background research. No matter what's going on in the media, he brings it back to reality."
According to Katie Leahy, MS, RDN, LD, clinical dietitian at Florida Hospital North Pinellas in Odessa, Florida, "Dr. Katz is a phenomenal speaker and researcher. [He provided] relevant and applicable information. He's funny, too!"
Randy Kaplan, RD, LD/N, CNSC, a senior dietitian at Memorial Hospital Pembroke in Pembroke Pines, Florida, said the keynote was the "best session." Katz "was honest," the "information was based on scientific evidence, and it was animating. Great supporter of the nutrition field."
Georgette Gayle-Ricketts, DTR, a dietetic technician at the National Chest Hospital in Kingston, Jamaica, said Katz was an "excellent presenter who was very knowledgeable of the subject matter. His charismatic personality and articulate nature made the material more interesting. I especially appreciated his sense of humor and the use of evidence-based research for supporting the recommendations made."
Krista Blackwell, RD, LDN, a clinical dietitian for Sodexo at Suburban Hospital in Bethesda, Maryland, said, "Katz's presentation was great. He's such a great public speaker. How he can relate to dietitians was great. His message 'Lifestyle is medicine' was great. How can you not love that message?"
The Presenters
For the next couple of days, dietitians attended continuing education sessions led by an extraordinary team of leading nutrition professionals. A total of 21 presenters discussed a wide variety of topics such as chronic disease and nutrition; cancer prevention; retail, community, and clinical dietetics; sustainability; and nutrition communications. "The speakers and presentations were dynamic," said Colleen Chiariello, MS, RDN, a dietitian for Central Island Healthcare in Plainview, New York. "The topics were current, and they provided great information for the nutrition field."
Alicia Ramos, MS, RDN, NFS systems manager for South Zone in Lethbridge, Alberta, Canada, agreed: "[There was a] good combination of topics and simultaneous sessions where attendees could pick and choose sessions to attend." The symposium had "great speakers, was well organized, and offered opportunity to interact with fellow attendees," Ramos continued.
Meghan McNeil, MS, RD, a research coordinator in Cincinnati, said the "topics were very current and interesting. I learned a lot about general nutrition, which is awesome because I work in research for just one specific population."
Most Popular Sessions
One of the most popular sessions at the symposium was "Media Workshop: Who Needs the Media," presented by Melissa Joy Dobbins, MS, RDN, CDE. In this two-part workshop, Dobbins engaged her audience by discussing the different types of media strategies nutrition professionals use today to increase visibility, spread nutrition messages, and build their nutrition businesses. She discussed how to create online videos and radio podcasts; how to find a unique niche and concept; the skills needed for recording, editing, and interviewing; and the tools and technology needed such as software, microphones, lighting equipment, and hosting sites to get up and running. Dobbins even showcased the equipment needed for a home studio dietitians can create to conduct interviews using a smartphone or digital camera. "This workshop was fantastic," Harris-Pincus said. "As someone interested in videos and podcasting, the information shared in this presentation will spare me countless hours of research and angst."
Laura Benjamin, MS, RD, LD, clinical nutrition manager in Columbia, South Carolina, agreed: "[Melissa] did a wonderful job. Made me want to go out and start my own podcasts and YouTube videos."
Yvonne Tapper-Gardzina, MS, RD, a dietitian at St. Peter's Hospital in Clancy, Montana, said, "Great class, fun to hear about the latest trends in media."
Another popular session was the "Writer's Workshop: From Practice to the Page," presented by Brown-Riggs and Jeffries. "I really liked the writing workshop. To be able to develop ideas and work on a query letter was great," said Brandi Chase, RD, LD, co-owner of The Athlete's Stop, a sports rehabilitation clinic that specializes in chiropractic medicine, nutrition counseling, and physical therapy for athletes in Houston.
Cynthia Lehman, RD, LDN, a consultant for EcoSure Food Safety Solutions, in Monterey, Tennessee, said she "loved that the presenters had hands-on experience submitting articles to publications and writing books. They had great tips and examples of how to go about the process."
Caryn Haywood, MS, RD, LDN, CHES, clinical dietitian at HealthSouth Sunrise Rehabilitation Hospital, and owner of Haywood Health in Fort Lauderdale, Florida, added: "Great workshop. I liked having the opportunity to get immediate feedback."
The session titled "Intuitive Eating and Mindfulness Practices," presented by Katie Cavuto, MS, RDN, was another favorite among attendees, as was "Today's Food Conversation," presented by Amy Myrdal Miller, MS, RDN, FAND. "Katie is a great presenter and has the ability to provide a lot of information in a fun and interesting way," said Breanna Williams, MS, RDN, LD, clinical dietitian for Sodexo in Corpus Christi, Texas.
"[Miller] was wow!" said Kathleen Corrigan, MBA, RD, a consultant in Lafayette, California. "She was extremely knowledgeable about her material, skilled in her delivery, and passionate about her topic."
Books, Products, and Tasty Morsels
During the afternoon lunch breaks, attendees enjoyed our book and product showcase where they interacted with a diverse group of sponsor companies and presenters. Today's Dietitian's sponsor companies—a2 Milk®, Atkins Nutritionals, Inc, Benecol®, California Raisins, California Strawberries, California Walnuts, Canned Food Alliance, Carlson Labs, Compass Group®, ENU® Nutritional Shakes, Functional Formularies®, Glutagest® Dietary Supplement, Grapes from California, Hershey's Shelf Stable Milk, Hormel Health Labs, LaCroix Sparkling Water®, Luvo™, Minute® Rice, NCBDE, Nature's Legacy, Nima™, POM Wonderful®, Regular Girl®, seca-Precision for health, Sigma-Tau Pharmaceuticals, Inc, SPLENDA® Sweeteners, StarKist®, Tasty Bite®, Up4 Probiotics, Watermelon.org, Zing™ Stevia Sweetener—showcased a variety of products and services, offered information, and provided samples of food, beverages, and recipes for attendees to try.
For example, the Canned Food Alliance offered attendees delicious samples of Cowboy Caviar, made with black-eyed peas, black beans, corn, chopped tomatoes, cilantro, and other vegetables, tossed in an Italian dressing. Hormel Health Labs sampled its Vital Cuisine protein shakes; the Watermelon.org handed out sangria and lemonade and fresh salad tossed with watermelon pieces and garnished with a watermelon dressing. StarKist® sampled tuna pops, tuna cups, salmon crostini, and spicy tuna bites, and Tasty Bite sampled its Asian/Indian cuisine. "On behalf of Benecol®," said Sam Teece, MPH, RDN, "I want to say thank you for such a wonderful time at the Today's Dietitian symposium. We had great feedback, met some wonderful RDs, and overall we truly enjoyed the experience."
Danielle Ballantyne, RD, Edelman, on behalf of California Walnuts, appreciated all of our help with planning the symposium. "We're thrilled with how everything turned out," she said.
In addition, some of the presenters showcased copies of their books for purchase and discussion with attendees. They included Janet Bond Brill, PhD, RDN, CSSD, FAND; Brown-Riggs; Dobbins; Becky Dorner, RDN, LD, FAND; Kara Lydon, RD, LDN, RYT; Sharon Palmer, RDN; Kathy Madonna Swift, MS, RDN, LDN, FAND, EBQ; and Weisenberger.
Prize Drawings
To add to the fun and excitement, the staff of TD announced prize giveaways before the keynote session and Monday morning's breakfast presentation, and during the book and product showcase hours. The TD staff randomly selected attendees from our attendance list and gave away prizes to those who were present. Some of the prizes included two pairs of Walt Disney World one-day park hopper passes; one Canned Food Alliance canned food gift basket; two POM Wonderful® bundles that included a cookbook, cutting board, and a case of POM; one week of meals from Luvo™; a $150 Amazon gift card from California Strawberries; and a Minute® Rice gift basket that included Minute® Rice Instant Rice, Ready to Serve Rice, a Minute® cookbook, and Minute® cooking supplies.

Attendees eligible for the grand prize (one future three-day, two-night stay at the Buena Vista Palace) had to complete a game piece by visiting every sponsor in the book and product showcase. The TD staff held a random drawing and selected two grand-prize winners that had to be present to win. The winners were Usleur Cook, RD, and Amanda Loeschorn, RD.
Happy Hour and Networking Dinners
To encourage attendees to get better acquainted with colleagues and make new friends, TD hosted a happy hour at the restaurant 20Seven located on the 27th floor of the hotel, where hors d'oeuvres, such as Angus beef and asparagus crunch vegetables with hoisin, buttermilk fried chicken skewers with Ranch dressing, wasabi tuna cups, lemon dill salmon crostinis, and cocktails were served. To continue the conversation among attendees, TD organized networking dinners with a handful of restaurants in Disney Springs, including Bongos Cuban Café, The Boathouse Restaurant, Portobello Italian Trattoria, and The Rainforest Café.
Sunrise Walk/Run and Yoga
Because last year's attendees enjoyed starting their mornings with exercise to get their hearts pumping and minds prepared for their busy day, TD organized a sunrise two-mile power walk/run in Disney Springs led by Publisher Mara Honicker and Continuing Education Coordinator Leara Angello and a sunrise yoga class led by Lydon. Lydon guided participants through simple movements to help improve mind-body awareness. "I participated in the walk/run," Chase said. "It was nice. Everyone found their pace."
Looking Ahead
Toward the end of the symposium, and much to our delight, several dietitians took advantage of our early registration to attend our Spring Symposium in New Orleans in 2017. When we asked attendees what they liked most about the symposium, many said the speakers, the topics, and the event as a whole. "I liked that the focus was more on holistic and wellness topics, including yoga and mindfulness," said Mandy Enright, MS, RDN, RYT, a private practitioner in Belmar, New Jersey. "It was also geared toward the more entrepreneurial RDNs, including media and PR opportunities."
Kathy Moore-Gregory, RDN, CCN, a consultant in Tijeras, New Mexico, said "I really liked that it was a small conference and allowed for a lot of personal interaction with attendees and speakers, as well as time and space to really see and interact with all the vendors. And the topics were pertinent to my interests."
The staff of TD thanks our sponsors, presenters, volunteers, and all of the nutrition professionals who attended this year's symposium and for giving us all this wonderful feedback. We look forward to seeing you next year in New Orleans!
— Judith Riddle is editor of Today's Dietitian.