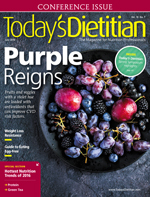 July 2016 Issue
Hottest Nutrition Trends of 2016: Shifting Protein Trends
By Sharon Palmer, RDN
Today's Dietitian
Vol. 18 No. 7 P. 24
According to a survey of 450 dietitians who weighed in on the top nutrition trends of 2016, more consumers are gravitating toward plant-based protein sources to meet daily requirements.
Protein continues to be a hot commodity for consumers—and now the focus is shifting from the total amount of protein required to the particular types people are prioritizing in their diets.
This article taps into the results from the 2016 "What's Trending in Nutrition" survey from Pollock Communications and Today's Dietitian (TD) to help RDs stay in tune with the latest on this popular macronutrient.
Rise to the Top
Protein has risen to the top of the nutrient heap in recent years. Thanks to trendy weight loss diets, caveman-style eating patterns, and influential celebrities and athletes hashing over their diets, getting more protein seems to be a top priority for many consumers. While many perceive carbs as "evil," protein is wearing a veritable health halo today. This is also due to research that points out protein's benefits in promoting satiety and preserving lean muscle mass, especially as we age, according to McKenzie Hall Jones, RDN, nutrition communications consultant and cofounder of NourishRDs. "I think the message of incorporating protein throughout the day, in both meals and snacks, resonates with many as an attainable strategy for helping to curb cravings and achieve a sense of fullness after eating," she says.
In TD's fourth annual "What's Trending in Nutrition" survey, which included 450 dietitians who were asked to make predictions on the top nutrition trends for the year, the majority (67%) feel there will continue to be a focus on high-quality protein choices, and 27% feel that the protein focus will even grow this year.1 This parallels the International Food and Information Council's 2015 Food and Health Survey, which found that 54% of consumers are trying to increase their protein intake, making it the top nutrient they're prioritizing in their diets.2
From Protein Amount to Protein Type
What's of more interest today in the quest for protein is the types of proteins people are in hot pursuit of. The TD survey found that 41% of RDs feel that plant-based proteins are becoming more popular, and that the focus will be less on beef, bacon, and other processed and red meats as more consumers look to seafood, nuts and seeds, eggs, poultry, and dairy to provide quality protein in their diets. This goes along with other micro trends that impact protein choices highlighted in the survey, such as an interest in including more seeds in the diet, as well as an overall preference for more healthful and clean eating choices.1 Why are people more interested in such protein alternatives? Many reasons factor in, including sustainability, animal welfare, nutritional value, and health promotion.
As optimal health weighs more heavily on consumers' minds, alternative protein choices—which can make a big impact on the overall nutritional value and healthfulness of a diet pattern—become more desirable. "The trend towards high-quality protein sources, especially plant proteins, is very popular now," says Victoria Shanta Retelny, RDN, The Lifestyle Nutritionist, author of Total Body Diet For Dummies, and blogger at SimpleCravingsRealFood.com. "People are looking for alternative plant proteins to get more nutritional value from fiber, healthful fats, and other vitamins and minerals that plants offer, with less saturated fat, sodium, and cholesterol."
Jill Weisenberger, MS, RDN, CDE, FAND, CHWC, a Virginia-based private practice dietitian and author of Diabetes Weight Loss Week by Week, believes that people are becoming more aware of the science about plant-based diets being beneficial for cardiovascular and brain health, as well as type 2 diabetes prevention compared with animal-based diets.
People also are lured to alternatives to animal proteins due to sustainability and environmental concerns, according to Weisenberger, who adds, "People want food from the earth vs foods that feed off the earth and emit greenhouse gases, particularly grain-fed livestock, such as cows." Vandana Sheth, RDN, CDE, a spokesperson for the Academy of Nutrition and Dietetics, says that the sustainability and health benefits promoted through Meatless Monday (www.meatlessmonday.com)—a simple campaign from the Johns Hopkins Bloomberg School of Public Health that promotes avoiding meat one day per week—also has fed into the support of more plant-based protein choices, such as pulses and tofu.
Consumers are taking more of an interest in learning where their food comes from and choosing quality over quantity when it comes to their protein sources—especially when it's animal based, according to Jones. This falls right in line with the National Restaurant Association's 2016 What's Hot Forecast, which includes locally sourced meats and seafood, as well as environmental sustainability on its list of top trends for the year.3 "Grass-fed animal proteins such as dairy, meat, and eggs seem to be increasingly popular," says Jones, who points to recent research showing organically farmed animals provide up to 50% more omega-3s than conventionally farmed animals.4
And that ever-so-popular clean eating trend, recommended by a myriad of popular new diets, also has pushed people to choose less-processed protein options, Weisenberger notes—hence the move from bacon, sausage, and hamburgers to bean burgers, lentil loaves, and almond butter sandwiches.
Hot Picks
The list of popular protein picks dietitians predict people will put on the menu, according to the TD survey, includes pulses, nuts, seeds, more healthful and greener animal proteins, dairy products, and eggs.1 Indeed, a spin down the supermarket aisle yields an astonishing array of innovative new products focused on these ingredients, from frozen entrées and veggie burgers to snacks and crackers.
Weisenberger says her clients and patients are searching for healthful protein sources that are versatile, easy to use, and tasty, such as canned beans, low-fat cottage cheese, and plain Greek yogurt. In Retelny's practice, she sees more people focusing on protein choices such as eggs, protein shakes, nut butters, yogurt, and milk at breakfast; nuts, protein-packed bars, yogurt, hummus, and cheese sticks for snacks; and nuts, salmon, and tuna in salads at mealtime.
Pulses, such as dried beans, peas, and lentils, are definitely on the hot list, too, Sheth says. Jones adds, "Given the United Nations deemed 2016 The International Year of Pulses, I'm finding that Americans are starting to embrace pulses, including beans and legumes, in their diet more often. They're cost-effective and offer nutrients such as fiber and vitamins, in addition to being an excellent source of protein."
Dishing Good Advice
Are there any nutrition concerns dietitians should be aware of when it comes to these popular new protein picks? While this trend toward more sustainable, healthful protein choices is a good move, it does come with a few caveats.

Clearing up consumer confusion over protein needs and choices is an important service dietitians can offer clients to help them make the most of their health. "I see so much misinformation," says Ruth Frechman, MA, RDN, CPT, author of The Food Is My Friend Diet and owner of On the Weigh in Burbank, California. Frechman says people often believe that protein powders and bars and organic and natural products are good choices without even looking at the labels. Helping clients understand how to read food labels to choose products with good amounts of protein and lower amounts of saturated fats, added sugars, and sodium can be invaluable to their health goals.
Given the current trend that finds protein is "king," dietitians can help educate clients to understand that the healthfulness of one's diet isn't only about protein. "While protein has been shown to increase satiety, it's important to keep in mind that it isn't a magic bullet for weight loss or maintenance; having a well-rounded diet of fiber-rich fruits and vegetables and complex carbohydrates, in addition to protein sources is important for optimal wellness," Jones says.
Balancing the diet healthfully with all food groups is an important consideration, too. As people prioritize protein—sometimes to a fault—they could be shunning other important foods and nutrients. "This protein trend may be steering people away from getting enough whole grains, vegetables, and fruits. People are not aware that a 4- to 6-oz serving or 30 g of protein is all your body should be getting at one time. Muscle can only utilize that amount," Retelny says.
On the other hand, some people may not be getting enough protein. "Some patients who want to include a good protein source in each meal are still underconsuming protein because they're skimping on calories. They may think that a single egg or tablespoon of peanut butter is a full serving of protein foods," Frechman says.
To stay in tune with the new trend of protein alternatives, such as tofu, dried beans, and nuts, dietitians may need to become more knowledgeable and educated about the nutritional profiles and cooking methods of these foods, Sheth says. For example, there are numerous types of tofu (eg, silken, firm, extra firm, baked), nut milks, cheeses, and yogurts; faux meat alternatives, such as burgers, "chicken," crumbles, and "sausages"; and protein powders on the market today—each with different nutritional profiles. In addition, understanding how to soak and cook pulses is essential to including these healthful food choices in meal planning.
Dietitians surely can embrace the new more healthful, sustainable protein trend, and be at the center of helping consumers make the best choices, too.
— Sharon Palmer, RDN, is author of Plant-Powered for Life, nutrition editor at Today's Dietitian, and blogger at The Plant-Powered Blog.


References
1. Annual survey of nutrition experts predicts what's in and out for 2016. PR Newswire website. http://www.prnewswire.com/news-releases/annual-survey-of-nutrition-experts-predicts-whats-in-and-out-for-2016-300195155.html. Updated December 21, 2015. Accessed May 10, 2016.
2. The 2015 Food & Health Survey: customer attitudes toward food safety, nutrition & health. International Food Information Council Foundation website. http://www.foodinsight.org/2015-food-health-survey-consumer-research. Updated November 4, 2015. Accessed May 10, 2016.
3. News & research: what's hot culinary forecast. National Restaurant Association website. http://www.restaurant.org/News-Research/Research/What-s-Hot. Accessed May 10, 2016.
4. Średnicka-Tober D, Barański M, Seal CJ, et al. Higher PUFA and n-3 PUFA, conjugated linoleic acid, α-tocopherol and iron, but lower iodine and selenium concentrations in organic milk: a systematic literature review and meta- and redundancy analyses.
Br J Nutr
. 2016;115(6):1043-1060.