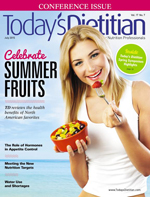 July 2015 Issue
Conference Currents: Latest Trends in the Supermarket Aisle — Highlights From the Supermarket Dietitian Symposium
By Sharon Palmer, RDN
Today's Dietitian
Vol. 17 No. 7 P. 8
Today's Dietitian recently attended the Supermarket Dietitian Symposium in St. Petersburg, Florida, to bring RDs the latest trends in the supermarket aisle, as well as some of the strategies supermarket dietitians employ to inspire positive health.
Each year the Supermarket Dietitian Symposium, coordinated by Barbara Ruhs, MS, RD, LDN, and Oldways, gathers dietitians from major supermarkets across the country to network, share ideas, and inspire positive change in the supermarket aisle. It's a giddy atmosphere, thanks to 50 dietitians (some even from outside of the United States), as well as food industry members and media, all filling the air with enthusiasm, inspiration, and celebration as they hash over current food trends and explore new strategies for reaching consumers with positive health messages.
"We're really pleased that supermarket RDs look to Oldways to keep them up to date with trends and new ideas for promoting healthful eating in the store," says Sara Baer-Sinnott, president of Oldways. "Also, it's exciting to see this concept spreading to other countries, with supermarket RDs from the UK and Israel attending this year's symposium, and looking to all of us for ideas and leadership."
Ruhs organizes the symposium with Oldways each year with the primary incentive of supporting supermarket dietitians in their important work of improving public health. "Dietitians working in supermarkets are on the cutting edge of providing health and wellness services that can lower health care costs in the United States and keep Americans healthier in general," Ruhs says. "We spend trillions of dollars on health care-related costs in the United States and two of the primary issues in my opinion are one, access and two, an investment in preventive health and preserving health. Dietitians working in supermarkets address these two critical areas by providing optimal solutions," she says. "The average person walks into a grocery store at least once per week. In contrast, that same person may visit a doctor once per year. Everyone shops for groceries, and a dietitian in the store can make the difference in helping the average shopper make more healthful choices in the aisles of the grocery store." It's an especially exciting time for supermarket RDs. According to Ruhs, 85% of US supermarkets have a corporate dietitian on staff, and 30% have an in-store RD.
The symposium explored a variety of issues relevant to supermarket RDs, including education on organic facts, promoting fruit and vegetable consumption in supermarkets, and understanding the new menu labeling laws that will take effect for supermarket-prepared foods. In addition, the symposium featured "snapshots" of what various RDs are doing in their supermarkets. Some are building brand recognition as the supermarket RD for a supermarket chain. Others are providing "medical sneak peaks" to their community by reaching out to local health care professionals to inform them about nutritional and health services. And still others are providing MNT, and billing for their nutrition services. The sky's the limit to the innovation supermarket RDs are unleashing in grocery stores.
The Supermarket Dietitian Symposium also is a venue for understanding the latest trends in food, nutrition, and health. Today's Dietitian shares a few of the latest insights on food trends hitting the supermarket aisle.
What's Driving Today's Shoppers?
What inspires consumers to grab a product off the shelves and place it in their shopping cart? Those motivators have changed drastically in recent years. According to Paddy Spence, CEO of the beverage company Zevia, who spoke at the symposium, "The old paradigm was a one-way relationship: Brands speaking to consumers in the mainstream media was the voice. The new paradigm is different; it's a two-way relationship: consumers want to be heard and the brand needs to respond."
This conversation between food companies and consumers occurs across multiple platforms, and different shopper groups have different needs and concerns, Spence said. "Consumers are voting with their shopping cart for brands that demonstrate that they're listening to the potential benefits consumers are looking for in products." For example, Whole Foods' "Values Matter" campaign, which explores the origin of food products and its journey along the way to consumers' plates, has made a tremendous impact. And leading brands have responded to this new paradigm by paying greater attention to their consumers over ingredient issues such as paraben, BPA, caramel colors, artificial flavors, and environmental issues, such as deforestation.
"There's recognition that if a brand doesn't evolve to address consumer needs, they'll be left behind. The role of the retailer is to balance their needs with consumers," Spence said. For example, CVS made a proactive statement by removing cigarettes and smoking products from its stores, even though it was selling $1 billion per year in cigarettes. Walgreens took a different approach, teaching smoking cessation to consumers.
Of particular interest to consumers is the ingredient composition of foods. More and more consumers express concerns about the various ingredients in foods, making it more challenging for RDs to stay abreast of the latest issues.
According to Spence, there are different types of consumer ingredient concerns, including the following:
• medically driven ingredient concerns (eg, gluten-free, foods for people with diabetes);
• ingredients appropriate for specific dietary choices and lifestyles (eg, vegan, kosher); and
• ingredients that represent an "absence of negatives" (eg, GMO ingredients, and artificial sweeteners, flavors, and preservatives).
Gluten-Free Trends
Gluten-free is still hot. According to Anne Lee, EDD, RD, LD, director of nutritional services for Dr. Schar, a company specializing in gluten-free food products, "Everyone is jumping on the gluten-free diet." People are doing it for all sorts of reasons—from weight loss to better hair. And who's driving it?
"Six percent of the US population is intolerant to gluten, which is treated by avoiding gluten in the diet," Lee said at the symposium. "But general consumer trends show that 18% of people have picked up a gluten-free product in the past three months; 65% of people believe that gluten-free products are healthier; 28% of adults report avoiding gluten, and 24% believe gluten-free products are higher in quality." By 2017, sales of gluten-free products will exceed $14 billion in the United States, and the category is expected to continue to grow by 10% through 2019.
While there's been a significant improvement in gluten-free product quality in recent years, including taste, texture, and nutritional value, Lee said research shows that people on medically necessary gluten-free diets—a lifelong diet with no room for cheating—endure a lower quality of life, including economic concerns (foods are more expensive) and social issues (eg, sharing food, meal preparation, food choices, special occasions), and kids are even more affected. Studies have found that going on a gluten-free diet can increase emotional impact and feelings of anger, anxiety, and fear. People on gluten-free diets report that they feel isolated, have a limited social life, experience difficulty eating out, feel that their family and friends "don't get it," and lack a support system. Supermarket dietitians can help by creating support groups, conducting gluten-free product sampling and store tours, providing education, and increasing product availability.
Sustainability Shaping the Shopping Cart
"Eating is one of the most attainable ways to be sustainable," said Kate Geagan, MS, RD, author of Go Green Get Lean: Trim Your Waistline With The Ultimate Low-Carbon Footprint Diet, at the symposium. "Our habits have the largest impact on the environment. Food waste is low-hanging fruit—50% of the food we produce is wasted, which equals 1,400 kcal per day. Adopting a plant-forward eating style and focusing on nutrient-rich foods also are important strategies for eating sustainably."
Due to the need to preserve resources and address environmental issues, the conversation on sustainability has broadened. According to Geagan, here's what consumers want in the supermarket aisle in 2015:
• Shared values: Consumers want to know that a food company has similar values related to issues such as sustainability and social consciousness.
• Trust and ultra transparency: Consumers want to trust a food company, which is proven by transparency taken to even greater levels.
• Cleaner and clearer food labels: Clean food labels with few ingredients are in demand, but consumers want these labels to be even more simple and clear.
• Third-party certifications: Consumers want proof of sustainability.
• Food supply chain traceability: People want to know where food ingredients come from, down to the specific farm.
• Profit to be associated with doing good: The fastest-growing brands are linking profits made by customer purchases with doing good, such as supporting a village or donating items to low socioeconomic populations.
• Grocery store chains to partner with them in promoting health: Consumers want to know that their grocery store is on their side, helping them achieve their total health goals.
Geagan reported that consumers' attitudes are changing regarding what they perceive as healthful and sustainable. People are avoiding "harmful" ingredients in foods, increasing their intake of plant-based foods, seeking "fresh" as the ultimate symbol of quality, and looking for "farm-to-table" attributes, such as "real," locally grown, and the absence of harmful ingredients.
Supermarkets Offer Support
Keeping up with the latest food and diet trends is tough. However, supermarket dietitians are at the forefront of what's "hot" and what's not in the supermarket aisle. To keep abreast of growing trends, RDs can reach out to colleagues to stay informed on the latest movements in the supermarket aisle, as well as access resources that can help their clients meet their dietary goals. From supermarket tours and cooking classes to food allergy information and culturally sensitive materials, local supermarket RDs are there to help their clients flourish.
To learn more about the Supermarket Dietitian Symposium, visit http://oldwayspt.org/programs/supermarket-dietitian-symposium.
— Sharon Palmer, RDN, is the author of Plant-Powered for Life, editor of Environmental Nutrition, nutrition editor of Today's Dietitian, and nutrition advisor for Oldways Vegetarian Network.