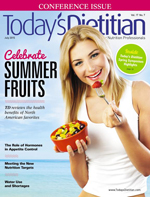 July 2015 Issue
Meeting the New Nutrition Targets
By Juliann Schaeffer
Today's Dietitian
Vol. 17 No. 7 P. 40
School districts across the country are developing strategies to conquer the challenges of K-12 menu planning.
For the past year, school nutrition directors across the United States have been working hard to meet the new nutrition targets that fall under the Healthy, Hunger-Free Kids Act of 2010—and most (if not all) have been happy to do it, as many of them see the new targets as admirable in their end goals.
"The goals of the Healthy, Hunger-Free Kids Act of 2010 are to ensure that children receive healthful meals at school," says Becky Domokos-Bays, PhD, RD, SNS, supervisor of school nutrition services for Loudoun County VA Public Schools in Ashburn, Virginia.
Stricter Limits
The new nutrition targets include more stringent limits on calories and sodium as well as a larger selection and a wider variety of fruits and vegetables. For example, starting in July 2014, a 1-cup serving of fruit or vegetable is required at lunch, and a 1/2-cup serving of fruit or vegetable is required at all breakfast meals, too. "A full cup of fruit or vegetable must be offered at lunch meal times and only half offered may be juice," explains Deborah Beauvais, RDN, CDN, SNS, district supervisor of school nutrition for the Gates Chili, East Rochester, and East Irondequoit school districts in Rochester, New York.
Other new targets that started in 2014 include changes to milk offerings (only 1% or nonfat flavored milks are allowed) and the requirement that all grains served at breakfast and lunch must be 100% whole grain rich. "This component includes items like breading, crackers, croutons, wraps, and pasta in addition to traditional bread and cereal products," says Beauvais, who's currently serving as the national School Nutrition Association's northeast regional director.
With the new USDA Smart Snacks rule also in effect, all new nutrition targets must now apply to foods and beverages sold apart from the school meal program.
Programs Soon to Expire
In an effort to ensure child nutrition programs such as the National School Lunch Program are both meeting children's needs and effectively utilizing school district resources, they're reauthorized (ie, reviewed and amended) every five years under the Child Nutrition and WIC Reauthorization Act. The current law, the Healthy, Hunger-Free Kids Act, was signed in 2010, and is currently set to expire on September 30, 2015.
"During Child Nutrition Reauthorization 2015, Congress has the opportunity to protect school meal programs and help students adjust to and accept healthful changes in the cafeteria," Beauvais says.
As such, the time is ripe to decide what's working within these new nutrition rules, what isn't, and determine how any problems can be resolved. And while the school nutrition directors interviewed here all agreed there's much to be gained with these new regulations, particularly as they relate to children's overall health, they also agreed there's room for improvement in some areas.
Formidable Challenges
According to Beauvais, most of the regulations are providing healthier options at schools across the United States. But the law, especially as it relates to certain stipulations, such as one that requires all students to take a fruit and vegetable component (even if they won't eat it) for the meal to be reimbursable, are creating challenges for school nutrition directors.
"In comparison to previous targets, offering a wider variety and larger servings of fruits and vegetables exposes students to these healthful choices," Beauvais says. "With rising food costs and students being forced to take these options and not eating them, it makes the role of the school nutrition department a challenging one. With all grains having to be 100% whole grain rich, this poses an additional challenge in student satisfaction of these meals. Some foods like bread and cereal work, but others such as pasta and pizza dough make for a difficult sell."
Doug Davis, SNS, director of food service in the Burlington School District in Vermont, agrees: "I believe that the intent of the rules were to ensure that all students received more healthful meals and had access to more fruits, vegetables, and whole grains. This has been accomplished, but the challenges are in the details."
Beauvais is quick to assert that any challenges school nutrition directors face with meeting these new targets isn't due to lack of time, effort, or desire to make things work. But some of the details in the Healthy, Hunger-Free Kids Act of 2010 have been difficult to surmount, she says. "With the rules that USDA provided, the meals are so prescriptive that they've resulted in unintended negative consequences," Beauvais says. These consequences include lack of student lunch participation, food waste, higher costs, and time.
Student Lunch Participation
One of the biggest challenges is getting kids to take a chance on new menu options—and some foods have been more difficult to get kids to eat than others.
"Finding products that meet the standards that are kid-friendly, tasty, and acceptable to students is the newest challenge with these new nutrition targets," says Beauvais of the schools she oversees, noting that nutritious foods won't benefit kids if they never end up in students' stomachs.
"Have you tried a whole grain saltine cracker?" asks Beauvais, who notes that she's seen meals sold to full-pay students decrease since foods have been reintroduced in accordance with the recent nutrition targets. "Better yet, do you even know where you can buy these crackers outside of a school meals program? The answer is that you can't. Introducing new foods to kids that they can't buy outside of school meals somewhat defeats the purpose of the school meal program trying to get children to learn new eating habits.
"Yes, we are getting children to try and possibly eat more fruits, vegetables, and whole grains at school," she continues. "But if they aren't getting the reinforcement at home, are we getting the end result desired?"
To increase student satisfaction, last fall Beauvais conducted surveys with students at all grade levels to determine what foods they liked, what they didn't, and what they wanted to see more of in the cafeteria line. And she's planning to do more, by implementing school nutrition groups in the hopes that giving students a voice in what ends up on their lunch tray will get more students to give new food offerings a chance.
"We want the students to be more engaged in the menu planning process since they're the audience we're targeting every day," she says.
Domokos-Bays also has been dealing with student pushback on new meals, and she, too, has found it difficult to formulate whole grain items that students will eat, noting spaghetti as one of the biggest challenges.
"By requiring that 100% of grains served [must] be whole, we aren't taking into consideration the ethnic, cultural, and regional food preferences in the United States," she says. "Children's palates are more sensitive to taste, and whole grains taste different to them."
She adds that since many children aren't getting 100% whole grains at home, and in some instances families can't even buy whole grain products in certain areas, this makes it even less likely that children will give these particular items a chance, let alone eat them regularly. "The Dietary Guidelines for Americans say that half of all grains eaten should be whole grain rich. I think a range of at least 50% to 100% is reasonable."
Beauvais believes many schools are having issues with the whole grains target, which is why the School Nutrition Association hopes the new Child Nutrition and WIC Reauthorization Act of 2015 will restore the initial requirement, that at least one-half of grains at schools (not all) be whole grain rich.
"The current mandate that all grains offered be whole grain rich has increased waste and cost, while contributing to the decline in student lunch participation," she says. "Students are eating more whole grain breads and buns, but schools are struggling with limited availability of specialty whole grain items and regional preferences for certain refined grains such as bagels or tortillas."
Domokos-Bays says meeting the sodium targets also have proved challenging, but Loudoun County has attempted to make foods more appealing by making changes on both the front and back ends.
On the front end, she says staff is always looking for ways to improve recipes, and there's more of a focus on training new kitchen staff than there was previously. Flavor bars at the high school, which offer red pepper flakes, garlic and onion powders, and hot sauce, have helped on the back end, to give students a chance to add flavor to their liking without upping sodium counts.
"We plan to move this down to middle schools next year," Domokos-Bays says. "We're also developing recipes with trend sauces such as Thai chili sauce and Sriracha."
Domokos-Bays says taste testing with student samples of 20 to 30 also has helped. Due to student feedback, she says the district will be modifying pizza and burgers next year and will no longer offer certain burritos because of a spice profile that wasn't sitting well with student testers.
"Students' opinions are important to us as we plan menus," she says, noting that the district is planning to test fruit and vegetable self-serve bars in its middle and high schools next year. Domokos-Bays hopes more available personal choices and themed lunch days will get more students interested in trying new things.
Gay Anderson, SNS, child nutrition director for Brandon Valley School District in South Dakota, also sees training as key to ensuring new foods are as palatable as possible for students reluctant to change food items. "We also have had to deal with skill sets," Anderson says. "The new guidelines are really focused more on scratch preparation, yet many districts across the country do not have staff with the skill set to prepare all items from scratch." However, ongoing and in-depth training has helped. "While I have full-service kitchens in each of my schools, ongoing training is the most important piece we can provide to overcome concerns of scratch, batch, and quick-serve cooking," she says.
Food Waste
While schools struggle to find the perfect balance of meeting both federal guidelines and students' expectations, trashcans are filling up with more uneaten food than ever. At least some of this is to be expected as schools work out the kinks, but the legislative mandate that students must take a certain amount of product for a meal to be reimbursable may be doing more harm than good.
"There's a tremendous amount of food waste with the mandate of a 1/2-cup of fruit or vegetable required on every reimbursable meal tray," Beauvais says. "I don't see this as a failure but as an unintended consequence."
"It isn't nutritious for children if they don't eat or drink it," she says, adding that it can take several tastes of a new food before children decide whether or not they like it.
"It's disappointing as an operator to see the hard work of my team and my program dollars being tossed in the trash bin at the end of meal service," she adds. "I offer five to six fruit and vegetable choices at every meal in hopes that a child will find at least one or more to take and enjoy. I still have waste at the end of meal service, as many children don't have these foods as a common part of their diets in the home."
"I'm fully in favor of the vegetable subgroups and the addition of more fruits being available to students," Davis says. "However, when we do breakfast in the classroom, we have to ensure that all students take a fruit with their meal. Given that our staff can't be in all the classrooms, we have to rely on other adults to see that this happens. Or, we need to prebag or package all of the breakfasts, which adds labor cost and trash."
To try to avoid some kids' aversion to fresh fruit, some schools began offering fruit juice instead—not because it's healthier, but because students will drink it (and it also offers cost savings), Davis says. "I don't believe that fruit juice meets the spirit of what the law was trying to accomplish, but students are very accepting of it, and it's less than half the cost of fresh fruit," he says.
Domokos-Bays has seen much of the same, noting that she added juice to secondary school menus (after not offering it for more than a decade), knowing students are more likely to pick up juice than fresh fruit, which equates to more reimbursable meals. "I also have offered less variety overall in this area since I concentrate on what our customers like," she says. "For example, I used to pair baby carrots with items such as snow peas or jicama or mushrooms." Now she offers plain baby carrots. It's cheaper and she doesn't want to teach children that it's OK to take foods that they have no intention of eating.
While she's in favor of offering lots of fruits and vegetables to students, she doesn't see a need for (or a benefit to) forcing children to take certain foods. She never forced her own children to take fruits and veggies for their meals, she says, and they eventually learned to try new foods as their palates grew more discerning.
"I don't want a stand-off at the cash register if a child just doesn't want a fruit or vegetable," she says. "We don't require [the children] to take any other component of the meal."
To try to combat kids' unwillingness to try new foods, Domokos-Bays says she's planning to introduce two new activities: "Next year, we're going to do a Try It Thursday in our elementary schools and a Fear Factor Friday in upper grades to provide an opportunity for kids to sample some unique fruits and veggies."
Cost
In addition to food waste, the cost of meeting the new nutrition targets also is an issue. "From a menu standpoint, the additional 1/2 cup of fruit at breakfast is a significant added cost," Domokos-Bays says. "An average 1/2 cup of fruit costs about $0.38. Alone, that doesn't sound like much. For my district, it's more than $258,000 for this one additional item.
"Prices for all components are rising and the reimbursement isn't keeping pace," she adds, noting that since her county has only 17% of students who are eligible for free and reduced meals, they receive less federal funding and must do more with even less.
"I've worked in a district with 61% eligible for free/reduced meals, and the differences are significant in how one approaches meal planning," she says.
Produce isn't the only addition that's hurting budgets. "Whole grain products cost more than white," says Deborah S. Taylor, RDN/LD, SNS, associate director for Oklahoma City School Nutrition Services.
To help with these additional food costs, Congress added a $0.06 reimbursement in the Healthy, Hunger-Free Kids Act of 2010 to pay for it, but Taylor says it's just not enough. "Everyone says they need more money, but requiring more food obviously does require more money."
Time
A lack of time is another consequence of the new nutrition regulations as whole foods and greater portions of food groups are offered. Davis explains: "As offered food groups increase, and we move to more whole and fresh foods, we're also seeing lunch times reduced. If we're going to be encouraged to serve fresh apples instead of apple juice and salad bars instead of coleslaw, we need to recognize that kids need a reasonable amount of time to eat."
However, this isn't feasible for all schools today, for many are focusing on other programs that need students' time as well. "We need to understand that our program isn't operating without impacting other programming throughout our schools," Davis says. "For example, many schools are squeezing their academic day to include more math and literacy. Simply making the day longer is too expensive, so the easiest place to pull time from is lunch."
Silver Lining
But while school nutrition directors are spending countless hours to meet these and other challenges related to the Healthy, Hunger-Free Kids Act of 2010, that doesn't mean students aren't benefitting from this legislation as it currently stands.
"Exposing children to a wider variety of fruits and vegetables is always a plus," Beauvais says. "In a lot of cases, children have never even seen these foods before, let alone tried them."
Schools nationwide that are using creative ways to not just teach students about healthful foods but getting them excited about what they're eating and how it benefits them are encouraging, Beauvais says. She hopes school RDs will find out what other districts and states are doing and spread the word.
"Get together with other school nutrition professionals in your area or in your local or state professional association and talk it through, share ideas, and mentor each other. I bet you'll get some great new ideas and concepts."
Anderson agrees: "Share your successes and failures with each other. We're not competing. Talk to your counterparts and find out what's working. We all know change is hard, but we need to be willing to look at what we have and the potential changes we can make.
"These are interesting times as [Child Nutrition Reauthorization] proceeds ahead. It's my hope that we'll build on all of the successes and look at where we all can be better in the best interest of the future. I hope that as Congress looks over every aspect of reauthorization, that all political aspects are put aside and we go forward with what's right for future generations."
And while Domokos-Bays sees both successes and challenges within the new nutrition targets, she's still thankful for their end goal: children's health. "[They] shook us up, and everyone needs a good shake occasionally," she adds. "It opened our eyes to possibilities that perhaps we hadn't envisioned before in the way we deliver service to our customers. It has created a national conversation, not only about school meals but also about nutrition in general."
— Juliann Schaeffer is a freelance health writer and editor based in Alburtis, Pennsylvania, and a frequent contributor to Today's Dietitian.
RESOURCE
To read more about the new school nutrition targets and what the School Nutrition Association is proposing for the upcoming Child Nutrition and WIC Reauthorization Act, visit https://schoolnutrition.org.
— JS