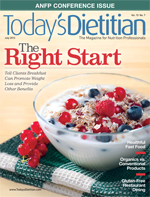 July 2013 Issue
Can I Take Your Order?
By Judith Riddle
Today's Dietitian
Vol. 15 No. 7 P. 4
 
Clients and patients hear this question the moment they pull up to the drive-thru window of their favorite fast-food restaurant. They order the number 2, the number 6, or the number 7 in the medium- or large-size portion. They know they shouldn't, but they do it anyway because sometimes the combo meal with the largest, juiciest burger or crispiest chicken sandwich is the only thing that will satisfy. But as you know, the calories, fat, sodium, and sugary drinks eventually will do them in if they continue to eat this way.
The good news is they don't have to any longer—even if they have little time to cook most days of the week or on weekends. Why? Because fast-food restaurants are continuing to introduce more healthful foods and meal combos that are lower in fat, sodium, and sugar to meet the demands of health-conscious consumers. Clients have more healthful food choices now than any time in the history of fast food.
Many chains have introduced more healthful breakfast items, such as oatmeal with packets of dried fruit and nuts, sliced fresh fruit snacks, yogurt parfaits, low-fat milk, sugar- and caffeine-free drinks, whole wheat sandwich breads and hamburger buns, and half- and full-size salads that contain various field greens and veggies, fresh fruit, nuts, and lean poultry. And kids can choose fresh fruit instead of French fries and low-fat white or chocolate milk instead of soda for their meals.
To learn even more about the healthful menu items fast-food chains are offering, turn to our cover story, "Fast-Food Menu Makeovers," on page 18. Today's Dietitian interviewed RDs from some of the top chains in the country to tell you about the healthful foods they're introducing. This is great information to pass on to your clients and patients.
Give us your feedback about this article on our Facebook and Twitter pages. And please enjoy the rest of the issue!
TDeditor@gvpub.com