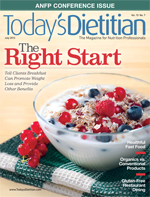 July 2013 Issue
Gluten-Free Restaurant Dining
By McKenzie Hall, RD
Today's Dietitian
Vol. 15 No. 7 P. 34
Various eateries are serving tasty, authentic gluten-free cuisine to meet the needs of customers with celiac disease and gluten sensitivity.
Thanks to the rising prevalence of celiac disease and gluten sensitivity, consumer demand for gluten-free foods has reached an all-time high. Gluten-free cuisine ranks as one of the hottest trends among full-service, sit-down restaurants and as the top trend among quick-service, fast-food establishments, according to an annual survey by the National Restaurant Association. As a result, restaurants are working hard to expand their gluten-free menu offerings and training staff to properly prepare great-tasting gluten-free foods and to avoid cross-contamination.
But while many establishments are making great strides, consumers still need to tread carefully when dining out. "Restaurants can claim to prepare gluten-free foods; however, these items may be prepared along with gluten-containing items, and cross-contamination still may be an issue," says Joy Dubost, PhD, RD, CSSD, director of nutrition for the National Restaurant Association. "Certain states have allergen-awareness regulations being proposed or already in place that call for restaurants to identify the top eight allergens, but at this point there's nothing specific for gluten."
Since consumers tend to be unsure whether a gluten-free meal really is gluten free, restaurant owners and chefs are becoming certified by independent gluten-free awareness organizations, such as the Gluten Intolerance Group and the National Foundation for Celiac Awareness, to proclaim that they're reliable places for gluten-intolerant customers to dine. They also recognize the influence such customers have on others. "It's the gluten-free diner that typically will choose where the whole party will dine, so these individuals generally bring in additional business, too," says Cynthia Kupper, RD, executive director of the Gluten Intolerance Group.
Today's Dietitian spoke with restaurant owners and chefs from five regional and national chains about their ambitious gluten-free food initiatives. Read on to learn about what they're doing and what to look for in a restaurant when counseling clients and patients who desire an enjoyable and safe dining experience.
Johnny Carino's
In more than 130 locations in the United States and 10 across the Middle East, Johnny Carino's Italian restaurants officially rolled out its gluten-free menu in the spring. "Being a restaurant that normally serves pasta and bread, this gives us the ability to take care of more of our guests and their dietary needs," says Chris Peitersen, certified research chef and vice president of culinary development.
Several years ago, Johnny Carino's offered a gluten-free menu that simply advised its guests how to order a gluten-free meal. This, of course, appealed to those who had less severe gluten sensitivities or who were simply interested in reducing their gluten intake. Since this menu was a huge success and the trend in gluten-free dining continued to grow, the chain's culinary developers decided to offer a separate gluten-free menu featuring create-your-own pizza served on Udi's gluten-free crust, chicken marsala, a seafood pasta medley, honey-pecan crusted salmon, and vanilla ice cream with gluten-free toppings.
The process of developing such a menu involved identifying gluten in every ingredient. After the recipes were completed and reviewed by the chain's dietitian, Peitersen prepared each item and had it scientifically analyzed for its gluten content. "The restaurant kitchens now have 'gluten-free zones' to avoid cross-contamination," Peitersen says. Each zone has its own kitchen utensils and equipment, including separate pots to boil water, and tongs and strainers for preparing gluten-free meals.
The French Laundry
The French Laundry, an American restaurant with French influences located in Yountville, California, north of San Francisco in the Napa Valley, developed its own product line of gluten-free foods called Cup4Cup.
"Cup4Cup was first developed out of necessity," says Lena Kwak, president and cofounder of the product line, which is available nationwide in Williams-Sonoma stores. "As the research and development chef, I was asked to re-create gluten-free versions of the canapés, gougères, and cornets plus breads."
The reactions of customers who sampled the gluten-free breads were so positive that Kwak developed the product line using multipurpose, gluten-free flour to match the flavor, texture, and performance of wheat bread. To ensure each batch of Cup4Cup meets gluten-free standards, the product line is produced in a facility dedicated to gluten-free food preparation. The company tests every batch of product made in the facility to ensure it contains no more than 20 parts per million of gluten to adhere to the FDA's regulations that limit the labeling of products using the term "gluten free."
"Our production facility is certified WRBO free [free of wheat, rye, barley, and oats in product, processing, and packaging] by the Celiac Sprue Association Recognition Seal Program," Kwak says. The entire kitchen staff is HACCP trained, meaning they can recognize the critical control points that put gluten-free foods at risk of cross-contamination.
Pastry chef Milton Abel understands the importance of preventing cross-contamination based on personal experience. "I have a severe nut and legume allergy, so I understand what it's like to give up a favorite dish," he says. "If a chef can create a faux peanut butter and jelly sandwich with all the texture and flavor of a real one, that would be a very special dining experience for me. Cup4Cup allows me to create this type of experience for our gluten-free guests, treating them to desserts they typically don't get to enjoy."
Some of these desserts include delice au chocolat, a decadent gluten-free treat comprised of a rich chocolate mousse served alongside pain d'epices, a spiced French cake made gluten free by substituting the rye flour typically found in the recipe for Cup4Cup's gluten-free flour blend. The dessert is served with Abel's personal favorite recipe: creamy banana crème fraîche sherbet. Also popular on the menu are gougères, brioche rolls, and pasta made with Cup4Cup.
Posana Café
Posana Café in Asheville, North Carolina, is an upscale farm-to-table and whole-foods-based restaurant that offers a 100% gluten-free menu and dining experience. The choice to develop such a restaurant was a personal one for restaurant co-owner and executive chef Peter Pollay. "My wife was diagnosed with celiac disease eight years ago when she was pregnant with our second child. So we went entirely gluten free in the house. And with me being a chef, we were eating extremely healthy—a plant-based, whole-foods diet."
Pollay recognizes that when people are first diagnosed with celiac disease they often begin eating packaged, processed products "and unfortunately [these products] don't really nourish people." Hence the concept for Posana Café was born.
A major step in becoming recognized for its gluten-free foodservice was receiving The Foodservice Awareness Distinction accreditation from the Gluten Intolerance Group. "We decided to go through the accreditation process because we really feel it's important to have some backing and thumbs up from a third party, especially one as well-known as the Gluten Intolerance Group," Pollay says.
To meet the group's independent verification criteria, Posana Café had to implement policies and undergo performance audits to determine whether it met the organization's safety standards. This process involved receiving written confirmation from food manufacturers ensuring that the ingredients they supplied to the restaurant were gluten free. In addition, product purity needed to be confirmed. The restaurant also had to meet criteria for sanitization, employee hygiene, and education.
The employee handbook provides information about gluten-free meals and the severity of celiac disease. "We educate all of our employees, front and back of the house," Pollay says. "We discuss gluten-free dining during our orientation and concerns regarding other allergies and intolerances during our shift meetings before opening each day."
Some of the menu offerings include all-American favorites such as gluten-free hamburgers and sweet potato fries, lobster mac and cheese, pancakes, and sticky buns, which keep gluten-sensitive customers coming back for more. "Our restaurant is almost a fantasyland for people with celiac disease," he says.
GenCare Assisted-Living Communities
Like Posana Café, GenCare, a chain of retirement and assisted-living communities, took the initiative to have its gluten-free foodservice programs accredited by the Gluten Intolerance Group. While expanding its award-winning culinary program, emphasizing fresh, locally grown, seasonal foods and more healthful preparation methods, "GenCare recognized that nearly 25 million people follow a gluten-free diet, and over 60% of people with celiac disease fear dining out," says Tracey Harvey, corporate director of community relations at GenCare. Some of the popular gluten-free foods offered to GenCare's residents include meatloaf, chicken cordon bleu, specialty fish entrées, and caramel cheesecake.
The retirement and assisted-living facilities have taken many steps to accommodate residents with celiac disease and gluten sensitivity. GenCare requires all foodservice team members to complete ongoing training in gluten-free food preparation. "We keep a list of residents with allergies and their pictures on a dietary board in our kitchens to ensure all staff members understand which residents have allergies to gluten and which residents have other allergies," says Marvon Pierce, GenCare's corporate culinary director.
In the kitchen, chefs must perform safe gluten-free food-handling practices and preparation methods using separate equipment, utensils, and gloves. Gluten-free menu items and ingredients are labeled and stored separately from other ingredients to prevent cross-contamination. GenCare corporate chefs perform monthly audits to ensure the kitchens comply with gluten-free food preparation practices and standards.
Quiero Arepas Food Truck
Quiero Arepas, a mobile kitchen in Colorado that specializes in Venezuelan cuisine, is the first food truck in the nation to receive a stamp of approval from the National Foundation for Celiac Awareness as a GREAT Kitchen. According to the foundation, GREAT Kitchens must not only complete training modules and pay the training fee, they also must follow gluten-free safety protocols.
Queiro Arepas serves a 100% gluten-free menu, which features the arepa, a corn-based flatbread, made from scratch. It's formed into a patty that's grilled, baked, split open, and stuffed with various ingredients, such as shredded chicken or beef, beans, avocado, cheese, hummus, and vegetables.
A Bright, Gluten-Free Future
With nationwide chains, food product developers, senior living communities, upscale farm-to-table restaurants, and food trucks serving tasty gluten-free foods, it seems that the future of dining for many individuals that previously feared eating out will continue to look much brighter.
— McKenzie Hall, RD, is cofounder of Nourish RDs, a nutrition communications and counseling business based in Los Angeles.
Safe Gluten-Free Dining

Here are 10 tips to share with patients and clients to ensure they have a memorable gluten-free dining experience:
1. Get educated. Suggest they become familiar with wheat varieties that contain gluten, such as spelt, durum, einkorn, emmer, and kamut, as well as lesser-known gluten-containing ingredients, including malt vinegar and malt extract. Educate them about the use of gluten in many processed foods, such as coffee substitutes, canned or processed legumes, and pie filling thickeners.
Also discuss the potential risks of cross-contamination during food preparation, which includes using kitchen equipment and utensils not properly cleaned to remove the gluten. "If they know about common preparation methods and common ingredients, clients are better prepared to ask the appropriate questions," says Cynthia Kupper, RD, executive director of the Gluten Intolerance Group.
2. Do your research. Encourage gluten-intolerant clients to visit the websites of their favorite restaurants or related establishments they'd like to visit and read the menus, says Joy Dubost, PhD, RD, CSSD, director of nutrition for the National Restaurant Association. This way they can call the restaurants ahead of time and ask specific questions.
3. Communicate concerns. Recommend clients tell restaurant staff about their gluten intolerance or sensitivity. "Some of the burden lies on the consumer to tell their server about their allergy," Dubost says. "It's important they make it clear that they have celiac disease or a severe gluten intolerance and aren't simply avoiding gluten based on personal preference."
4. Speak with the chef. If clients believe the servers don't understand the intricacies of their dietary needs, suggest they speak with the chef themselves. "Once guests indicate they'd like to eat gluten free, both our servers and cooks are made fully aware of serving them in ways that best fit their needs," says Chris Peitersen, certified research chef and vice president of culinary development at Johnny Carino's. Making the kitchen staff aware of a customer's dietary restrictions is important because they're on the front lines of food preparation.
5. Focus on ingredients. "Ask questions about the salad dressings, sauces, soup bases, and stocks," says Peter Pollay, co-owner and executive chef of Posana Café. "Those particular items often have hidden sources of gluten you wouldn't particularly know about." Other hidden sources include marinades, dairy products, rice pilafs, hash browns, and fried foods.
6. Make special requests. Since restaurants are in the business of providing what customers want and offering gluten-free foods is a growing trend, clients are in the best position to make their gluten-free food preferences known, so encourage them to do so. A Gluten Intolerance Group survey of restaurants found that sales have increased 14% to 25%, indicating that eating establishments are benefiting by meeting the needs of gluten-sensitive customers.
7. Inquire about preparation methods. Suggest clients ask whether gluten-free food is made from scratch and in a separate kitchen designated for gluten-free food preparation. "Preparing food from scratch allows us to accommodate our gluten-free residents and others," says Marvon Pierce, corporate culinary director of GenCare. Pollay agrees: "We're fortunate that we make everything here and made to order, so we can accommodate individuals with a variety of dietary restrictions and preferences."
While making food from scratch has its benefits, using premade gluten-free items also can reduce the risk of cross-contamination. Suggest clients ask about these details in addition to where food is prepared in the kitchen. Does the restaurant use separate equipment and utensils for gluten-free food preparation? Are gluten-free ingredients stored separately from non–gluten-free ingredients? The answers will determine whether a client or patient should eat at that particular restaurant.
8. Ask about certification. Is the restaurant accredited by an organization that oversees gluten-free food establishments? "When packaged foods come out with their gluten-free regulations, it may indirectly affect the restaurant industry," Dubost says. "Some restaurants may take their gluten-free claims more seriously, and others may choose not to use the gluten-free title unless they indeed are."
In the meantime, consumers can be proactive and look for gluten-free accreditation from reliable organizations such as the Gluten Intolerance Group and the National Foundation for Celiac Awareness.
9. Practice saying, "No, thank you." "If you're uncomfortable with the answers, it's your choice not to order or eat the food," Kupper says.
10. Show appreciation. Much effort goes into preparing a gluten-free meal, so recommend clients tell the servers and chefs how much they appreciate the meal they prepared for them. The staff will be more likely to accommodate them the next time they visit and order a gluten-free meal.
— MH