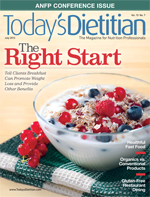 July 2013 Issue
Fast-Food Menu Makeovers — Salads, Fruit Snacks, and Smaller Meal Portions to Tell Clients About
By Juliann Schaeffer
Today's Dietitian
Vol. 15 No. 7 P. 18
Today's Dietitian spoke with six of the country's top quick-service chains that continue to introduce more healthful menu items to meet the demands of health-conscious consumers.
Busy workweeks, family obligations, afterschool activities, and errands on the weekends all leave clients little time to cook and prepare healthful meals at home. They're rushed. They're stressed. And because time is of the essence, they turn to the nearest fast-food drive-thru for a quick bite to eat—a well-established trend that isn't about to go away.
"People are relying much more on restaurants to feed themselves and their families. It's become a much bigger part of our diet—about a third of our calorie intake," says Margo Wootan, PhD, director of nutrition policy at the nonprofit Center for Science in the Public Interest.
What also has become a large part of clients' intake is the excess sodium, sugar, and fat that comes with eating burgers and fries, fried chicken combos, and presweetened soft drinks. But thanks to increased consumer demand for more healthful foods, fast-food establishments, or quick-service restaurants, have introduced more healthful meal options for kids and adults. They're serving half-size and full-size salads that contain fruit and lean proteins, fresh fruit snacks, grilled chicken combos, and lower-in-fat yogurt parfaits and milk. And they're continuing to offer new additions to cater to those interested in health and wellness.
According to a recent National Restaurant Association trend report, whole grain items, more healthful kids' meals, lower-in-sodium options, and lower-calorie foods all landed in the top 10 of 2013 trends for limited-service restaurants. The reason? "In general, seven out of 10 adults say they're trying to eat healthier at restaurants than they did two years ago," says Joy Dubost, PhD, RD, CSSD, director of nutrition at the National Restaurant Association, referring to full-service and quick-service restaurants as a whole. "I think what you're seeing is consumers are looking for healthier items, and restaurants are in the business of providing what customers demand. So because they're paying more attention to health and wellness in general, and particularly as they eat out, restaurants are providing healthier options."
Like it or not, fast food is a daily reality for many clients. But take heart: Today's Dietitian interviewed RDs and spokespeople from six of the top quick-service chains to find out what healthful foods and meal options they've recently introduced to cater to health-conscious consumers and their families. Share this information with clients and patients so the next time they pull up to the drive-thru window they'll have the tools to make ordering more healthful options just as routine as eating on the run.
Subway
Founded in Bridgeport, Connecticut, in 1965, the Subway quick-service restaurant chain has more than 37,000 locations in 102 countries, including more than 20,000 nationwide. Specializing in made-to-order sub sandwiches, Subway always has leaned closer to the fresh than the deep fried, offering freshly baked bread, fresh veggies, and various lean meats for its sandwiches. But according to corporate dietitian Lanette Kovachi, MS, RD, that doesn't mean there's been no room for some nutrition improvement. The restaurant chain has made strides in recent years to add more healthful beverages and side offerings while improving sodium content and kids' meals.
For clients looking for a quick low-carb fix, they should know that any sandwich on Subway's menu can be prepared as a salad instead. "Our salads offer 5 cups of fresh veggies, and recently we added nutrient-packed spinach as an ingredient," Kovachi says.
Subway's variety of low-fat, low-saturated-fat, and low-cholesterol sandwiches is nothing new, with many items containing fewer than 400 kcal and two servings of veggies when made standard. But in 2008 the company took a hard look at its sodium content and made some changes to make items even more nutritious. "To date, we've reduced sodium in the low-fat subs by over 30% and by 25% across all regular subs," Kovachi says.
That same year Subway also added extra fiber in its wheat bread, and in 2011 it began fortifying its bread options with calcium and vitamin D.
For clients looking for some crunch with their lunch, Subway offers baked potato chips, apple chips, apple slices, and reduced-fat chips. In 2007, the chain added low-fat yogurt to its menu as well.
Instead of soda, Subway serves bottled water or unsweetened tea to quench clients' thirst without the added sugar and calorie count. Fortified waters and low-fat milk also are available.
Subway generally appears to be one of the better quick-service picks for parents on the prowl for fast and healthful options for their kids. While the chain's kid's meal started out as a smaller sandwich, cookie, and juice box combo, Kovachi explains that it, too, has seen nutritional improvements in the past few years. "It has evolved over the decade to also include a choice of low-fat milk, and we have replaced the cookie with apple slices," she says. "We've never offered soda with the meal. In 2012, our kids' and adults' meals became heart-check certified by the American Heart Association."
When it comes to breakfast, which Subway started offering three years ago, Kovachi recommends an egg white muffin melt sandwich as a quick yet still nutritious option. "Customers can build a better breakfast sandwich with a fiber-fortified, reduced-calorie English muffin, egg white patty, lean meats, and fresh veggies," she says. "Many of the egg white breakfast muffin melt sandwiches are under 180 kcal and 4.5 g of fat."
Kovachi says there are many other nutrition enhancements currently in development, including further sodium reductions.
Wendy's
In 1969, Dave Thomas founded the quick-service hamburger chain Wendy's in Columbus, Ohio. Named after one of Thomas' daughters, it has 6,500 locations in the United States and a few dozen more worldwide. But while it's better known for its junior bacon cheeseburger, the chain has increased its offerings to include lighter items such as a fresh berry salad and low-fat dairy additions as well as smaller portions that pack a lower-calorie punch.
"Wendy's has two RDs who work directly with the research and development team to guide the nutrition profile of new and enhanced products for the Wendy's menu," says one of the dietitians, Patty Wynkoop, RD, LD, director of technical services and quality assurance, noting that consumers are welcome to customize any Wendy's menu item to fit their dietary needs.
"We're focusing on incremental sodium reduction. Our menu doesn't contain artificial trans fat, as defined by the FDA, and has no added MSG," says Wynkoop, adding that in 2012 the chain introduced the My Wendy's Nutrition app, its newest nutrition tool for consumers to make informed choices.
The first nationwide chain to introduce a salad bar, which came out in 1979, Wendy's rolled out its Garden Sensations gourmet salad line in 2002 and since has offered more nutritious toppings and lower-calorie dressings. "The latest refresh of our salad line included entrée and half-size versions for each salad," Wynkoop says. "We use 11 different types of field greens, which are an excellent source of vitamin A."
For clients looking to indulge their sweet tooth, you can suggest the chain's Berry Almond Chicken Salad. Launched two years ago, Wendy's the seasonal salad, offered May through September, includes fresh hand-picked California strawberries and fresh North American blueberries with protein-packed almonds and chicken as well as mixed greens. "The entrée version of this salad has a serving of fruit and three servings of vegetables," Wynkoop says.
Some days a grumbling belly just won't be silenced by anything but a burger. To quiet those pangs with less guilt, Wendy's now offers a line of smaller-portioned items, including burgers, with smaller calorie counts in tandem.
"Wendy's just introduced a new value lineup called 'Right Price, Right Size,' which gives our consumers the choice of smaller-portion menu items to fit their budget and their dietary needs," says Mike Sieminski, RD, LD, from Wendy's nutrition services and quality assurance. "Sixteen of the items are less than 400 kcal and can be paired with any of our side items for a satisfying meal." (You may want to suggest clients choose the baked potato instead of fries and top it with reduced-fat sour cream, which the chain also now offers.)
In May, Wendy's added the Grilled Chicken Go Wrap to its kids' menu, which, paired with a pint-sized low-fat white or chocolate milk and apple slices, makes for a more nutritious but still a quick-served meal for little ones.
Panera Bread
Best known for its handcrafted, fresh-baked artisan bread, fast-casual chain Panera Bread operates more than 1,650 bakery-cafés across the United States and Canada. And though its footprint may be smaller than some other similar restaurant staples, it offers just as many, if not more, smarter choices and more healthful offerings.
"All of our bakery-cafés offer a menu highlighted by antibiotic-free, all-natural chicken and roasted turkey, breads made with whole grains, and select organic and all-natural ingredients, with 0 g of artificial trans fat per serving," says nutrition manager Katie Bengston MS, RD, LD. "Our menu includes a wide variety of year-round favorites complemented by new items introduced seasonally. There also are a wide variety of popular menu items that allow our customers to eat smart."
For clients who want to try it all but still keep the calorie count down, Bengston says Panera's "You Pick 2" is a great way "to enjoy a variety of our sandwiches, paninis, soups, and salads, and it's easy to create a meal under 600 kcal by pairing these half portions." For a You Pick 2 meal, customers pick two half-portioned items and pair them with an apple, baguette portion, or chips.
Bengston notes that the chain currently offers three low-fat soups: All-Natural Chicken Noodle, Garden Vegetable With Pesto, and Vegetarian Black Bean.
Calorie count and sodium level can be reduced further if clients choose to omit certain sauces, condiments, and dressings or ask for them to be served on the side. "You can always customize your order to substitute or omit ingredients that do not fit into your diet," Bengston says.
"Our smoothies feature low-fat, organic vanilla yogurt or fat-free, organic Greek yogurt and offer customers a low-fat snack that provides 150% of the Daily Value of vitamin C and 100% of the Daily Value of vitamins B6 and B12," Bengston says.
In addition to the smarter menu choices, you also may want to tell clients what's available at Panera that isn't advertised on menu panels. In the beginning of 2013, Panera Bread announced a new "hidden menu" of more healthful items to loyal customers through social media, and it's proving popular so far. "The items on our hidden menu are all under 400 kcal and contain sources of protein and limited processed carbs," Bengston says.
Ordering these items not only offers the "cool factor" for clients in the know but will keep them healthy as well. The menu currently consists of two breakfast options, an egg bowl with steak (two eggs, seared top sirloin, sliced avocado, and tomatoes) and an egg white bowl with antibiotic-free roasted turkey, as well as a handful of lunch and dinner selections, including steak lettuce wraps and a hummus bowl with antibiotic-free chicken.
McDonald's
When the first McDonald's opened in Des Plaines, Illinois, more than 50 years ago, the original menu consisted of hamburgers, cheeseburgers, fries, soft drinks, milk, coffee, and milkshakes—by far not the most healthful fare. But the now-worldwide quick-service chain offers much more than burgers and fries, and though much of its menu's nutritional content still may leave something to be desired (at least by RDs and the most health conscious), there are ways to make smarter choices for clients not devoted to the high-fat Big Mac.
Through the chain's "Commitments to Offer Improved Nutrition Choices," McDonald's has made—and is making—strides to improve the healthfulness of its menu. For example, since early 2011, it's reduced the sodium in the majority of its national chicken items by 10%, according to its 2012 nutrition progress report. The year 2011 also saw the introduction of its Wholesome Starts Menu, which features items with 300 kcal or fewer, including the Egg McMuffin.
And there are other smarter choices that customers can make. For breakfast, Cindy Goody, PhD, MBA, RD, LDN, senior nutrition director, notes the Fruit & Maple Oatmeal as a more wholesome option, "with 32 g of whole grains and about 1/2 cup of fruit, including red and green apples, two types of raisins, and cranberries." Or there's a Fruit 'N Yogurt parfait made with 1/3 cup of low-fat yogurt, blueberries, strawberries, and granola, which comes in at 150 kcal. Both items are available all day.
McDonald's also recently launched the Egg White Delight McMuffin sandwich, made with freshly prepared egg whites, natural white cheddar cheese, and extra-lean Canadian-style bacon served on an English muffin made with 8 g of whole grains. Egg whites also are available on all breakfast sandwiches at McDonald's.
In addition to its grilled chicken salad offerings, the chain's chicken sandwich now is served on a bakery-style bun made with 8 g of whole grains. "Earlier this year we launched the Premium Chicken McWrap, with cucumbers and spring mix, and approximately 3/4 of a cup of vegetables," Goody adds.
In lieu of ordering fries with the combo meals, customers can choose apple slices. "When I eat at McDonald's, often I will enjoy two bags of apple slices as a side option in a meal or just as a snack," Goody says.
Instead of a higher-fat milkshake, consumers can opt for a fruit smoothie made with low-fat yogurt and real fruit. Look for its newest flavor, Blueberry Pomegranate, in restaurants soon. For clients who need a caffeine (but not a calorie) fix, customers need only ask for one of McDonald's espresso drinks made with nonfat milk and sugar-free syrup.
And while fries still are included in kids' meals, albeit in a smaller portion, they also automatically include apples (without caramel dipping sauce, which used to accompany the fruit).
"In the past year, we've sold over 130 million cups of apples in Happy Meals and Mighty Kids Meals," says Goody, illustrating the wide reach that just one menu addition can make. "We also offer fat-free chocolate milk and 1% low-fat white milk beverage choices."
Starbucks
Since 1971, Starbucks has become a beacon for coffee lovers around the world, pouring drinks for more than 70 million customers in 62 countries. Those customers now have more than just beverages to choose from. And oftentimes, they can make those choices as healthful as they'd like them to be, which wasn't always the case.
In addition to using 100% Arabica coffee, all of Starbucks' menu offerings are made without artificial flavors, artificial dyes, high-fructose corn syrup, and trans fats. And while not all drinks are figure friendly (to say the least), "We've instituted internal guardrails so no food item is over 550 kcal," according to a Starbucks spokesperson. "We also have made some of our more decadent treats a responsible portion size, so a small indulgence won't break the calorie bank."
For clients looking to imbibe while staying within a responsible calorie budget, remind them that Starbucks' beverages are fully customizable—meaning there are ways to ensure their drink is only as indulgent as they desire. For a Frappuccino or other blended drink, clients can request nonfat or soymilk. Or for Coffee, Caramel, Mocha, Java Chip, and Café Vanilla Frappuccino varieties, they can ask for the light option, which ensures at least 33% fewer calories than the regular beverage.
Clients also can select a sugar-free syrup to cut out sugar or a light whipped topping to reduce the fat. A new iPhone app even allows users to check the nutritional content of a customized beverage before ordering.
In the way of food options, Starbucks began offering new salad bowls and deli sandwiches this year as well as blueberry oatmeal that features a blend of steel-cut and rolled oats topped with dried fruit, nuts and seeds, and fresh blueberries, which contains 280 kcal and 6 g of fiber.
SONIC
SONIC, otherwise known as America's nationwide chain of drive-thru quick-service restaurants, operates 3,500 locations serving an estimated 3 million customers daily. And while it may be more well-known for its fried and burger fare, this chain also is heeding consumer demand and adding lighter, smarter, or otherwise reduced portion sizes to the menu.
New entrée additions include a line of premium grilled chicken sandwiches, which comprise whole muscle chicken breasts (grilled or fried) served on whole grain ciabatta buns. And the chain has several possible salad additions that are currently being tested.
Moreover, SONIC recently reduced the serving sizes of many of its menu offerings, including fries. "In addition to the reduced portion size of French fries, we introduced a mini size for drinks, reducing the smallest cup from 14 oz to 10 oz; a Jr Breakfast Burrito; and have introduced smaller options for a number of products, including Jumbo Popcorn Chicken and our desserts," says Patrick Lenow, vice president of public relations. "And in addition to no added trans fats and no added MSG, we use products such as light mayonnaise to reduce calorie and fat content."
SONIC recently added fresh-brewed iced green tea to the fresh-brewed black tea on its menu as well—the only national burger chain to offer such an option. "We also introduced five new syrup flavors with no artificial flavors or colors: mango, peach, blackberry, raspberry, and mint," says Lenow, noting that SONIC offers more than 20,000 options of lower-calorie drinks.
Room for Improvement
Healthier options may be emerging across the quick-service spectrum, but Wootan still sees much room for improvement. "I think fast-food restaurants are moving in the right direction, but they have a long way to go," she says. "I think restaurants recognize that people are more interested in nutrition than ever before and have been adding healthier items to their menus."
Consumer demand reigns supreme, so making sure they know about—and order—the more nutritious items will help ensure even more healthful, fresher, and tastier products are offered in the future.
— Juliann Schaeffer is a freelance writer and editor based in Allentown, Pennsylvania, and a frequent contributor to Today's Dietitian.