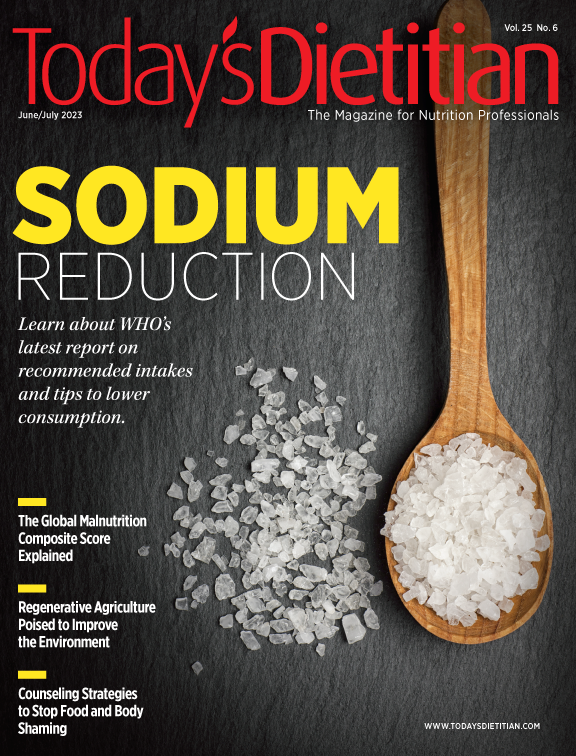 A Taste of Turkey
By Liz Weiss, MS, RDN
Today's Dietitian
Vol. 25 No. 6 P. 36
Experience the Culinary Treasures of Eastern Mediterranean Cuisine
I'm a foodie and dietitian who enjoys culinary travel, so when I had an opportunity to travel to Turkey in February 2023, I jumped at the chance. During my trip, I walked through Istanbul's thriving Spice Bazaar, which was built in 1660. While there, I absorbed the aroma of sumac, dried mint and multiple spice blends, sampled a rainbow of dried fruits—apricots, kiwi, and melons—chewy Turkish delight confections (I loved the rosewater and pistachio variety), pomegranate juice, and roasted nuts.
I also tried pickled cabbage, carrots, and beets on a street food tour and savored a seasonal salad of purslane, celeriac in olive oil, and mashed lentil at a Michelin-starred restaurant. Suffice it to say, the trip far exceeded my culinary expectations.
The Turkish Promotion and Development Agency invited me and a group of food and travel writers to tour the cities of Istanbul, the capital city, and Sapanca, about two hours away, in the Sakarya province, known for its lakes, parks, and outdoor recreational activities. Although it was soon after the devastating earthquake that hit the southern part of the country, the agency encouraged us to visit and share Turkey's beauty and culinary treasures with others.
When dietitians think of the Mediterranean, they usually think of Italy and Greece, but 22 countries border the Mediterranean Sea, including Turkey. From the moment I boarded Turkish Airlines and was served a traditional Turkish dinner complete with meze (little appetizers), I encountered the Mediterranean diet RDs often recommend to their clients and patients for its versatility and flavor and for reducing the risk of CVD and overall mortality.1,2 At every turn, my senses were ignited by a cuisine that places a priority on high-quality, local ingredients and complex, beautifully balanced flavors.
Maybe it's no surprise that Turkey—increasingly known by its official spelling, Türkiye ("tur-kee-ah")—is recognized for such an array of flavors; it sits in a unique position. It's known as the "European Gateway to Asia"; 3% of the country is in Europe, the rest in Asia Minor. "The country is at a crossroads, a terroir d'histoire," says Sara Baer-Sinnott, president of Oldways, a Boston-based nonprofit that promotes heritage diets and offers culinary tours to the Mediterranean and beyond. "Turkey's culinary history is one of migratory cuisines. The people who crossed back and forth through the country brought their own foods and traditions, and when they moved on, they also took the traditions they found in Turkey. Turkish cuisine is at the very heart of Eastern Mediterranean cooking.
"The health benefits of Turkish culinary traditions are the same as culinary traditions of Italy, Spain, Greece, and other countries around the Mediterranean," Baer-Sinnott says. "The plant-based pattern is remarkably similar, [as there are] many plant foods (vegetables, fruits, whole grains, nuts, seeds, legumes, beans, olive oil and other healthful oils, and herbs and spices) with lesser amounts of seafood, fish, dairy products, poultry, red meat, and sweets. What's different are the actual fruits, vegetables, whole grains, oils, and herbs and spices used to create healthful, delicious meals reflecting each of the cultures." Some of the specific ingredients Baer-Sinnott notes are bulgur or cracked wheat; red pepper paste, or biber salcasi, a sweet or spicy condiment made from sweet peppers (a cousin to tomato paste); pistachios; and wild greens, including purslane.
The people of Turkey consume more vegetables than most other populations in the world. According to the Food and Agriculture Organization of the United Nations, 2020 per-capita consumption of vegetables in Turkey was 258 kg (569 lbs)—US per capita consumption of vegetables that same year was 117.5 kg (259 lbs).3
Tasting new foods, vegetables, ingredient combinations, and recipe creations gave me fresh inspiration for breakfast, lunch, and dinner. These ideas, including the vegetables, the herbs and spices, the explosions of flavors and textures, and the leisurely way in which people enjoy meals together, are healthful, humble, and easy to adapt to US kitchens, budgets, and palates. Let me take you on a tour so you, too, can sample the foods and foodways of this vibrant, stunning land.
Turkish Breakfasts: Slow Down!
I can't start the day without breakfast. I often grab something simple, like a bowl of whole grain cereal with yogurt and fruit, or a quick cheese and spinach omelet. But the NG Enjoy hotel in Sapanca gave me insight into Turkish breakfasts. The hotel buffet's many options reflected what Turkish diners might eat at home on busy weekday mornings and on more leisurely weekends: different types of olives (I counted eight); pickled cauliflower and carrots; roasted pumpkin; grilled eggplant and bell peppers; a medley of cheeses, rolls, and simit (a circular bread encrusted with sesame seeds known as a "Turkish bagel"); many types of jam, like fig, mulberry, and tomato; piles of fresh parsley and dill; and various egg dishes.
Büşra Deniz Geçkil, chief clinical dietitian at Istanbul's Ataşehir Florence Nightingale Hospital, explains some of the staples of an everyday Turkish breakfast and the traditional ones. An everyday breakfast includes cheese, bread, olives and olive oil, tomato, cucumber, jam, honey, and piping hot, strong Turkish tea (which is consumed throughout the day). "This type of breakfast provides protein, carbohydrate, fiber, calcium, vitamins, and minerals," Geçkil says, adding that special occasion breakfasts include more traditional foods, featuring seasonal vegetables and fruits and many different dishes. Another traditional component is menemen (essentially scrambled eggs with tomatoes, peppers, and herbs), which Geçkil says can include onions depending on the region, and sometimes bacon and sausage. Items like pişi (a light fried bread), spring rolls, simit, and pogaca (a savory pastry with a variety of fillings) also are part of a traditional breakfast. Components will vary by region, Geçkil says.
Turkish Takeaways
Traditional Turkish breakfasts are social, communal, slow meals. RDs in the United States often encourage clients to enjoy more family meals together since research shows that eating together leads to greater fruit and vegetable consumption in children, among other benefits.4 But this can be a struggle at dinner given conflicting schedules and after-school activities. Recommending a family breakfast instead—perhaps on weekends when families have fewer commitments—could provide a more doable solution for eating together. Another inspiration dietitians can borrow from the Turkish breakfast spread is variety. For clients whose children may be finicky or hesitant to try new foods, setting out a spread for breakfast with familiar foods like eggs, pancakes, and fresh berries with a few new, perhaps out-of-the-box choices, can be less intimidating than introducing something new on its own. Try a new type of fresh or dried fruit, a few veggies sliced and served with a honey-yogurt or herb-yogurt dip, and maybe some olives.
Turkish Lunch: Introducing Meze
Admittedly, I ate bigger breakfasts on most days while I was in Turkey than I do at home due to the many offerings presented at hotel breakfast buffets, but I wanted to take it all in, and you know the saying: "When in Rome, do as the Romans do." I had one of my favorite lunches at Çiya Sofrası, a popular restaurant located in bustling Kadiköy Market on the Asian side of Istanbul.
We began our meal with meze, known as small plates. Ana Sortun, a Boston-area chef who specializes in Turkish cooking and leads culinary trips to Turkey with Oldways, says, "Meals are often started with small plates called meze. Meze is usually lighter and vegetable based, and you fill up on those before you dig into a meat or fish course. Often, people skip the meat or fish course and find satiety in all the meze. Vegetables cooked in olive oil and eaten cold also make for richer dishes, and if the olive oil is great, the veggies are irresistible."
We had lahmacun ("lah-ma-joon"), a thin, round oven-baked flatbread topped with minced lamb and beef, tomato, red peppers, garlic, spices, and parsley. Lahmacun often is eaten as a wrap with fresh vegetables and herbs and a squeeze of lemon. During lunch, however, we dipped ours in the chickpea hummus, which was part of the meze.
We moved on to dolmas, vegetables stuffed with seasoned rice—in our case, eggplant and peppers. (These are among the most popular vegetables in Turkey; while touring Istanbul, I saw bunches of dried eggplants and peppers hanging on strings at bazaars and food shops.) Dolmas is one of the most traditional Turkish recipes and can be made with many different vegetables, including grape leaves.
Another stand-out meze, one featuring a vegetable I surprisingly never had tried before, was called "baked celery salad." It was a simple dish made with celeriac, carrot, and onion. Celeriac—also known as celery root—is a roundish, knobby bulb about the size of a grapefruit. When consumed raw, it has a celerylike flavor and can be added to salads and slaws. When cooked, it takes on a subtle sweet flavor and can be mashed, baked, boiled, or added to soups or stews.
I encourage RDs and their clients to give it a try when it's in season (for me, in Massachusetts, that's October through April). Geçkil also likes to add the stalks of celeriac to smoothies.
Our lunch moved on from meze to kebabs—skewered meat grilled over charcoal. My favorite was made with minced lamb and spices and served with grilled tomato, peppers, a handful of fresh parsley, a colorful thin slice of watermelon radish, and sumac onions—a popular condiment made with thinly sliced onions soaked in lemon juice and sumac. Sumac is a crimson-red berry from a shrub native to the Mediterranean. Dried and ground into a spice, it has a bright, almost lemony flavor. "Sumac is a typical spice and is used on many things to give something a sour or acidic quality like a squeeze of lemon would," Sortun says. "In fact, sumac was used in place of lemon when lemons were out of season. Sumac has a little sun-dried flavor like a raisin does, so it's an extra rich addition to a salad."
Turkish Takeaways
Meze may sound fancy, but many of the dishes are simple to make, or they can be purchased premade at your local supermarket. Baer-Sinott has this advice: "An exciting (and easy) way for dietitians and their clients/patients to bring the flavors of Turkey into their daily meals is the meze plate. … It's easy to find the makings of a meze plate at the grocery store—hummus, baba ganoush (a dip made with eggplant), dolmas (vine leaves stuffed with rice and vegetables), pita bread, thick yogurt with cucumbers and herbs, olives, slices of cheese, and raw vegetables." The thick yogurt dish described here is called Cacik ("jah-juck"), and though I've not seen it at my local supermarket, the Greek yogurt dip Tzatziki is similar and widely available.
Dinner: Pide and a Salad
We had many choices when it came to our evening meals. We ate a few in Galataport, a new neighborhood and cruise ship port on the Bosphorus Strait in Istanbul, featuring shops, museums, and an array of restaurants including Muutto Anatolian Tapas Bar. It was there that we feasted on delicious meze, including a beautiful salad of fennel, orange glaze, fresh herbs, grilled olives, and dried tomatoes, as well as "Turkish pizza" called pide ("pea-day").
Pide is an oval-shaped flatbread with raised edges that almost looks like a canoe, and it's filled with ingredients that vary depending on the chef, what's in season, and what will complement the other ingredients. I had the Minced Meat Pide, which had richly seasoned minced meat, caramelized onions, fresh herbs, tomato sauce, Kelle cheese (made of sheep's milk and soaked in brine before it's hardened), and mango chutney.
Another destination for supper, featuring standout salads, was Michelin-starred Araka in Northern Istanbul. At Araka, vegetables were elevated in creative salads, including a meze of purslane, celeriac in olive oil, and mashed lentils. Purslane was another fairly new-to-me vegetable; it's a wild green with thick red stems and succulent, small green leaves, and a slightly tangy flavor with notes of citrus. A 100-g serving of purslane has 300 to 400 mg of omega-3 alpha-linolenic acid (ALA), which is the highest level of any leafy green.5 It can be used raw in salads or prepared as a side dish. Baer-Sinnott loves a semizotu salatası (purslane salad) made with thick yogurt and grated garlic. (Purslane is known more as a weed in the United States than an edible green.)
Turkish Takeaways
Pide is a transferrable dish. The shape is great for holding a wide variety of fillings, but US consumers can pick up a pack of pita bread for a convenient stand-in.
I'm a big fan of "build-your-own" meals (eg, tacos, grain bowls, pizzas). Using pide as inspiration, RDs can encourage clients to try new ingredient combinations for make-your-own pizza nights. Components that celebrate the flavors of Turkey while being easy to find and cook at home in the United States include whole wheat pitas as the base; sautéed onion and bell pepper slices; lean ground beef, lamb, or turkey sautéed with fresh herbs such as chopped parsley, dill, or mint, and spices such as sumac, cumin, and paprika; sliced olives; feta cheese or mozzarella; and fresh parsley, dill, or mint leaves on top.
RDs also can encourage clients to spruce up their usual salads with one new ingredient. Salad can be the gateway to many new, nutrient-rich ingredients, starting with a new kind of salad green. Can't find purslane? Try watercress or arugula. Add beans or lentils, and canned black or green olives or cured olives such as kalamata. Or, toss diced butternut squash or celeriac with olive oil and salt and pepper in a baking dish, roast in the oven until tender, and add to a salad for a warm component.
Taking It Home
When traveling, it's always nice to bring home a souvenir. As a kid I collected snow globes from every destination; now, I collect culinary ideas that I can bring home and integrate into my everyday cooking for lasting memories. I love dining in restaurants where I get to share several dishes—maybe this is why I loved meze so much, as I got to savor many different foods and flavors at one meal.
I hope you're as inspired as I am to bring the joy, flavor, and healthfulness of Turkish cuisine to your home kitchens as well as those of your clients and patients. And I hope you share your creations with good company, great conversation, and enough time to appreciate every Mediterranean-inspired bite.
— Liz Weiss, MS, RDN, is a mom of two grown boys with a specialty in family nutrition and wellness. She shares recipes and healthful living advice on LizsHealthyTable.com and her podcast, EAT, DRINK, LIVE LONGER. Weiss is a cooking instructor, frequent lifestyle guest on TV shows across the country, and a Have a Plant Ambassador for the Produce for Better Health Foundation.
Cacik With Vegetables and Pita
Serves 8
Cacik is a Turkish side dish or meze made with yogurt, cucumber, and herbs. It's often served as a side dish with kebabs and kofte (Turkish meatballs), as a soup (thinned first with water), or as a dip, which I suggest serving with vegetables and pita.
Ingredients
1 cup reduced-fat plain Greek yogurt
1 Persian (or "mini") cucumber, shredded on the large holes of a box grater, about 1/2 cup
2 T chopped fresh dill
1 T chopped fresh mint
1 small garlic clove, minced
1/2 tsp dried mint
1/2 tsp kosher salt
Optional toppings: Fresh dill, fresh mint, dried mint, sumac, and a drizzle of extra virgin olive oil
Optional dippers: Toasted pita triangles and assorted fresh vegetables, including bell peppers, carrots, broccoli florets, and cauliflower florets
Directions
1. Place yogurt, cucumber, dill, mint, garlic, dried mint, and salt in a large bowl and stir to combine. Transfer to serving bowl and garnish with additional fresh dill and mint, dried mint, sumac, and olive oil, as desired.
2. Serve with pita and fresh vegetables, as desired.
Nutrient Analysis per serving (2 T)
Calories: 23; Total fat: < 1 g; Sat fat: < 1 g; Cholesterol: 3 mg; Sodium: 45 mg; Total carbohydrate: 1.5 g; Dietary fiber: 0 g; Protein: 3 g
Source: Recipe and photo courtesy of Liz Weiss, MS, RDN
Make-Your-Own Pita Pizzas
Serves 6
Make-your-own pizza night gives everyone at the table a chance to customize their own individual pies. The ingredients in this recipe are inspired by foods popular in Turkey and other Mediterranean countries, including fresh and dried herbs, spices, onions, bell pepper, olives, and feta cheese.
Ingredients
1 T olive oil
1 large red bell pepper, cut into 1/4-inch slices
1 medium onion, cut into thin half-moon slices
1 lb lean ground lamb, beef, or turkey
2 T chopped fresh parsley
2 T chopped fresh mint
2 T chopped fresh dill
1 tsp ground cumin
1/2 tsp sumac
1/2 tsp kosher salt
1/8 tsp red pepper flakes
1 cup pasta sauce
11/2 cups crumbled feta or shredded part-skim mozzarella cheese
12 pitted green or black olives, sliced or chopped
6 (6-inch) whole wheat pita breads
Optional toppings: Fresh parsley, mint, and/or dill
Directions
1. Preheat oven to 350˚ F.
2. Heat olive oil in large nonstick skillet over medium-high heat. Add bell pepper and onion and cook, stirring often, until tender, 8 to 10 minutes. Transfer to bowl and set aside. (2 cups yield.)
3. Meanwhile, place lamb, beef, or turkey in large bowl with parsley, mint, dill, cumin, sumac, salt, and red pepper flakes. Mix to combine.
4. Place skillet back over medium heat. Add meat mixture and cook, stirring often while breaking up large pieces, until meat is no longer pink, 5 to 6 minutes. Drain excess fat and transfer cooked meat to serving bowl. (21/4 cups yield.)
5. Place pasta sauce, cheese, and olives in small serving bowls. Set out with cooked meat, cooked onion/bell peppers, pita bread, and optional fresh herb topping. Spread pasta sauce evenly over each pita. Top evenly with half the cheese, onions and bell pepper, cooked meat, olives, and remaining cheese.
6. Place on baking sheets and bake until bread is toasted and cheese melts, about 15 minutes. Top with fresh herbs, as desired.
Nutrient Analysis per serving (1 pita pizza)
Calories: 380; Total fat: 11 g; Sat fat: 4 g; Cholesterol: 73 mg; Sodium: 705 mg; Total carbohydrate: 40 g; Dietary fiber: 5 g; Protein: 30 g
Source: Recipe and photo courtesy of Liz Weiss, MS, RDN
References
1. Fung TT, Rexrode KM, Mantzoros CS, Manson JE, Willett WC, Hu FB. Mediterranean diet and incidence of and mortality from coronary heart disease and stroke in women. Circulation. 2009;119(8):1093-1100.
2. Lopez-Garcia E, Rodriguez-Artalejo F, Li TY, et al. The Mediterranean-style dietary pattern and mortality among men and women with cardiovascular disease. Am J Clin Nutr. 2013;99(1):172-180.
3. Vegetable consumption per capita, 2020. Our World in Data website. https://ourworldindata.org/grapher/vegetable-consumption-per-capita
4. Robson S, McCullough MB, Rex S, Munafo M, Taylor G. Family meal frequency, diet, and family functioning: a systematic review with meta-analysis. J Nutr Educ Behav. 2020;52(5):553-564.
5. Uddin MK, Juraimi AS, Hossain MS, Nahar MA, Ali ME, Rahman MM. Purslane weed (portulaca oleracea): a prospective plant source of nutrition, omega-3 fatty acid, and antioxidant attributes. ScientificWorldJournal. 2014;2014:951019.