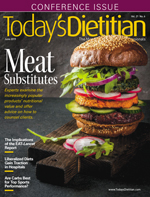 June 2019 Issue
Culinary Corner: From Garden to Grill
By Jessica Ivey, RDN, LDN
Today's Dietitian
Vol. 21, No. 6, P. 66
Celebrate summer's arrival with this tasty eggplant sandwich.
In my family, gardening always has been a beloved pastime. My grandfather kept a massive garden that produced enough vegetables for our entire extended family, and my dad always had a backyard garden where he grew tomatoes, peppers, and herbs. You'd think gardening was in my blood, but for most of my life I barely could keep a simple house plant alive. The first Valentine's Day when my now-husband and I were dating, he built me a raised bed for my backyard and filled it with mustard greens, spinach, and beets. I wasn't optimistic about these plants' chances of survival, but, much to my surprise, the greens thrived with little effort.
Each year, we've expanded our garden and I've learned more and more. Some seeds need to be planted shallowly, while others are planted more deeply; some vegetables need stakes or cages to hold them upright as they grow; and some plants need full sun, while others thrive in partial shade. This year, I'm proud to say my thumb has fully transitioned from black to green; we're up to three raised beds, filled with a variety of my favorite summer vegetables, including eggplant and bell peppers. Growing my own food has given me great satisfaction and more respect for the farmers who supply the majority of what we eat. And the homegrown vegetables I grow and pick with my own hands always seem to taste better.
Gardening can enhance several nutrition goals. For clients who have to limit their salt intake, growing and cooking with fresh herbs is a great way to add flavor without additional sodium. For parents who struggle with picky eaters, gardening may motivate children to try new foods. One study of 115 second-grade students found that those who received nutrition education and gardening classes were more likely to choose and consume vegetables in the school lunchroom.1 Children can enjoy performing age-appropriate tasks, such as digging holes, watering, weeding, or harvesting.
Kids and adults alike can enjoy the fruits of their labor in the garden (after rinsing off the dirt) and at the table with this flavorful eggplant sandwich.
— Jessica Ivey, RDN, LDN, is a dietitian and chef with a passion for teaching people to eat healthfully for a happy and delicious life. Ivey offers approachable healthful living tips, from fast recipes to meal prep guides and ways to enjoy exercise on her website, JessicaIveyRDN.com.

Reference
1. Parmer SM, Salisbury-Glennon J, Shannon D, Struempler B. School gardens: an experiential learning approach for a nutrition education program to increase fruit and vegetable knowledge, preference, and consumption among second-grade students. J Nutr Educ Behav. 2009;41(3):212-217.
Recipe
Open-Faced Grilled Eggplant Sandwiches With Pesto
Serves 4
Ingredients
Pesto
2 cups fresh baby spinach or arugula, lightly packed
1 cup fresh basil leaves, lightly packed
2 T pine nuts
2 T grated Parmesan cheese
2 tsp lemon juice
1/4 tsp salt
2 cloves garlic
1/4 cup olive oil
Sandwiches
1 (1 1/4 lb) eggplant
1 red bell pepper
4 (1/2-inch-thick) slices hearty Italian bread
1 T olive oil
4 oz fresh mozzarella cheese, thinly sliced
Directions
1. For the pesto: Combine spinach or arugula, basil, pine nuts, Parmesan cheese, lemon juice, salt, and garlic in a food processor; cover and process until well blended. With the food processor running, slowly drizzle olive oil through the chute, blending until the mixture forms a paste, scraping down the sides as needed.
2. For the sandwiches: Preheat a grill to medium-high heat. Trim ends from eggplant, and cut into 1-inch-thick rounds; brush both sides with olive oil and set aside.
3. Grill bell pepper 10 to 15 minutes, turning every few minutes, or until charred on all sides. Transfer charred pepper to a bowl, and cover tightly with plastic wrap. Let steam 10 minutes. Use a paper towel to gently remove skin from pepper. Cut into halves, and remove seeds and membranes. Slice pepper halves.
4. While pepper is steaming, grill eggplant, covered and in batches, 3 to 5 minutes on each side or until charred.
5. Brush both sides of bread lightly with oil. Grill 30 seconds per side or until toasted.
6. Spread 2 T pesto on each slice of bread. Top evenly with sliced mozzarella cheese, eggplant, and bell pepper strips. Top with additional basil, if desired.
* Note: Pesto freezes well. Double this recipe and freeze extra pesto, if desired. Scoop 1 T of pesto into each compartment of an ice cube tray. Freeze four hours or until firm. Remove cubes of pesto from tray, and place in a zip-top plastic freezer bag. Freeze up to three months.
Nutrient Analysis per serving
Calories: 350; Total fat: 27 g; Sat fat: 7 g; Cholesterol: 20 mg; Sodium: 350 mg; Total carbohydrate: 17 g; Dietary fiber: 5 g; Sugars: 6 g; Protein: 10 g