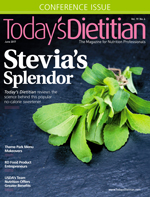 June 2017 Issue
Food Product Entrepreneurs
By Kathy Hardy
Today's Dietitian
Vol. 19, No. 6, P. 32
Some RDs have created tasty food products in their kitchens that have made their way onto grocery store shelves and into the hands of health-conscious consumers.
With health as a driving factor, some dietitians are venturing beyond their basic job descriptions and creating unique food products to meet their clients' performance-based or medical needs. In some cases, RDs are taking their culinary efforts one step further, selling their edible creations for health-conscious consumers online and in stores, creating a new avenue of viable business opportunities. And whether it's protein balls or gourmet butters, RD entrepreneurs are learning that a well-timed product launch can lead to increased attention from distributors and other retailers that want to jump on the bandwagon.
To test the waters of this new trend, Today's Dietitian (TD) speaks with RDs who made the leap from hand-crafted food items for their clients to commercial kitchen-produced products that are selling on store shelves nationwide. TD asks them about their products, their successes, and challenges in going to market, and the reasoning behind their decision to step out of their own kitchens and into grocery store aisles.
David Ingalls, MS, RD
Northwest Nutritional Foods, LLC
Seattle
Collaboration among RDs can be one way to successfully venture outside of the world of nutrition counseling. That was key for David Ingalls, MS, RD, who created and launched Zing Bars with fellow Bastyr University graduates Minh Hai Alex, MS, RD, CEDRD; Sandi Kaplan, MS, RD; and Kathleen Putnam, MS, RD. With three varieties—chocolate-covered bars, soft cookie bars, and nut butter and fruit bars—the Zing creators developed a way to meet the nutritional needs of their clients. All of the bars have a nut butter base and are high in protein and fiber, low glycemic index, and free of wheat, gluten, soy, and additives.
"Zing means vigor and vitality, which is the best description of our product," Ingalls says. "Our clients weren't feeling vital, and we believe our product helps to rejuvenate their vitality."
Product development stemmed from Ingalls' own experience with a previous health issue. While in his 20s, he suffered from chronic fatigue without a clear cause. By adopting a more healthful diet plan and eliminating gluten, he felt his energy level return. This experience became the impetus for him becoming an RD and working as a nutrition counselor at the Seattle Healing Arts Center to help other people with similar health issues. Ultimately, that work led to his interest in and development of Zing Bars.
In 2007, Ingalls and his partners were searching for a convenient snack to recommend to clients who had some nutritional issues, such as obesity and diabetes, as well as clients who were just looking to follow more healthful dietary patterns that "would help them feel better," he says. Their clients also had busy schedules, with no time to prepare the frequent, smaller meals that are beneficial for boosting energy levels.
"We all had clients who wanted a food that was convenient, balanced, nutrient dense, free from common allergens, and with nothing artificial," Ingalls says. "They were looking for a snack that supported a better kind of energy and was dependable and steady while providing nutrients."
Unwilling to give up, the group "took the plunge," he says, and created Zing Bars, now available at retail grocery outlets across the country.
Just Say No
In the beginning, Ingalls says his group operated the business with a sense of naïveté, saying "yes" to any and all requests for their products. They worked to fulfill requests from clients, from colleagues who were promoting Zing Bars to their clients, and to retailers who carried the bars. The demand was getting ahead of the business.
"If we knew what we were getting into, we might not have said yes so much," he says. "We spent the first five years working hand over fist filling orders. In the last three years, however, we changed course, taking time to create a business plan for selling our product."
The Process
Taking a step back enabled Ingalls and his partners to work with distributors, manufacturers, and brokers to help them keep up with orders. Finding a broker was particularly important in helping Zing Bars expand their exposure from mom and pop stores to large grocery chains. Today, consumers can find Zing Bars on the shelves in stores such as Whole Foods, Wegmans, and Sprouts, and can purchase them via Amazon.
"Retailers see new products all the time, so you need a broker they trust who will represent your product to them in a way that makes them want to stock it on their shelves," Ingalls says.
In regard to pricing, Ingalls says consumers have a psychological barrier of $2 when it comes to nutrition bars, but financially the company can't get to that point just yet and maintain healthy margins. For now, Zing Bars range in price from $2.19 to $2.49 at the retail level.
As the business evolves, Ingalls finds that growth occurs in spurts and with that, product storage space must not only keep pace but stay a step ahead. The Zing Bar team went from a small office to a larger office to contracting warehouse space. Some spaces weren't quite large enough, while others were expansive and expensive. Ingalls believes that growth is about vision and plans for the future.
"You need to invest in the process," he says. "Even if you don't have the orders yet, you have to take the risk financially and hope the orders come in."
Betsy Opyt, RD, LD/N, CDE
Healthy Concepts Food Co, LLC
Naples, Florida
As an RD for more than 15 years, Betsy Opyt, RD, LD/N, CDE, combined her expertise as a nutritionist, personal trainer, certified diabetes educator, and wellness coach to ultimately operate her own practice. However, all that experience was no match for her three-year-old daughter, who just wasn't interested in eating her mom's nutritious meals.
"I would make peanut butter and jelly sandwiches for my daughter using all-natural peanut butter and she just wouldn't eat them," she says. "So I whipped up a nut butter that I thought she would eat, with all-natural ingredients like cinnamon and chia seeds. She loved it."
Opyt's clients liked her enhanced nut butters as well, so Opyt began testing the waters with Betsy's Best Gourmet Nut and Seed Butters. Products include gourmet almond butter, cashew butter, peanut butter, and sunflower seed butter, with prices ranging from $9.99 to $12.99. And now they're available in retail stores like Whole Foods, Kroger, and Wegmans.
Hitting the Market
Partnering with a client, Betsy's Best started its retail history in 2013 at a Naples, Florida, farmers' market. This was a whirlwind operation, making products in a rented industrial-sized kitchen on Friday and selling it on Saturday. And sell they did, moving 200 jars of gourmet butters in just four hours.
To move to the retail market, Opyt took time to prepare her product for the bigger stage, lining up larger preparation facilities, nailing down ingredients, securing proper labeling, and putting together a presentation for the regional headquarters of Whole Foods in Fort Lauderdale. Her preparation paid off, as she left the meeting with a commitment to put her products on the shelves in 24 Florida stores. Now, Betsy's Best is in more than 2,100 stores nationwide.
"Grocery store buyers see hundreds of people like me, so you need to show that you have not only a good product but a good business plan to back up your product," she says. "We had our packaging and labeling in place; we had sales sheets and marketing materials to support the product. We put in the work to show that we could produce a viable product."
In addition to securing space on two dozen store shelves, the Whole Foods deal included assistance finding a distributor. That gave Opyt a significant advantage in growing the reach of her product.
"A grocery store won't take your product unless you have a distributor, and a distributor won't take you on if you don't have a grocery store as a client," she says. "In most cases, you need to have 20 grocery stores selling your product in order to secure a distributor."
The Right Price
In addition to distribution, there are certain costs that go along with creating a gourmet product that meets nutritional needs and includes locally sourced ingredients, as is the case with Betsy's Best. Opyt notes that this factors into deciding the right price for the product.
"Margins are small in the grocery world," she says. "It's difficult to keep raising the price once your product is on the shelf, so you need to get it right from the beginning. You need to be consistent with pricing."
Standing Out
With many products on the market in the natural foods category, Opyt looked for ways to differentiate her butters on the shelves. Even before consumers read the label, they can see what they're getting with Betsy's Best's unique packaging.
"Betsy's Best products are the first butters to be packaged with clear labels," she says. "You can see the ingredients through the jar. We have nothing to hide."
The clear look also adds to the gourmet aspect of Opyt's butters. She says her products often are purchased as a hostess gift or placed in gift baskets. "You wouldn't do that with a nut butter that's packaged in a squeeze bottle," she adds.
Next Steps
As an RD, Opyt says she's always in the kitchen developing new ideas and already has perfected her line of business.
"I'll always be a registered dietitian and will always want to wrap that aspect of my career into my business," she says. "While there aren't many of us out there selling our own food products, it's a perfect business model for dietitians with an entrepreneurial spirit."
Mitzi Dulan, RD, CSSD
simplyFUEL
Kansas City, Missouri
A recipe first shared on Pinterest with her 3.4 million followers resulted in a home run for Mitzi Dulan, RD, CSSD, the former team sports nutritionist for the Kansas City Royals baseball team for the past 11 seasons, and the founder of simplyFUEL Protein Balls + Probiotics. Her ping pong ball-sized protein balls are kitchen crafted with simple, high-quality, non-GMO ingredients to fuel deliciously, and some might say, successfully.
"I decided to make my protein ball recipe for the Royals towards the end of our regular season in 2015," she says. "The players loved them, and, two games later, the Royals clinched the division for the first time in 30 years. I kept making the same protein ball recipe for the players throughout the playoffs, and then the World Series and we ended up becoming the 2015 MLB World Champions."
Word Spread
The media picked up the story of how Dulan's protein balls helped to fuel the Royals' success, and that news helped spread the word about simplyFUEL. This publicity drew attention to her product from people looking to share in the team's success.
"People all over Kansas City were asking me to make my protein balls for them," she says. "Moms wanted me to make them for their kiddos' sporting tournaments while they, too, fell in love with them, as did everyone who tried them."
The food product everyone is falling in love with comes in six flavors: Chocolate Coconut Peanut Butter, Peanut Butter Honey Almond, Tart Cherry Chocolate, Brownie Batter, Choconut Crunch, and Sweet + Salty. A package of two balls (47 g total) costs $3.99, and a 12-pack is $17.99. While simplyFUEL protein balls currently are sold only online, Dulan is on the brink of securing increased distribution opportunities after receiving positive feedback from Natural Product Expo West 2017 attendees, where she exhibited her products for the first time.
First Steps
Dulan's first steps for getting out of her kitchen and into the marketplace involved determining packaging, product size, and pricing. Currently, her products are made, packaged, and distributed all within the Kansas City area. Increasing her business to meet product demand has been her biggest challenge to date, but she's working on securing resources that can help handle her level of growth.
"My background as a successful nutrition entrepreneur has definitely helped me in numerous areas, but I've already learned a ton along the way as well, and I'm enjoying the new challenge," she says.
Dulan has been an RD for 20 years, graduating from Kansas State University with Bachelor of Science degrees in nutrition and exercise science. Her experience includes various sports nutrition positions and national nutrition spokesperson work. Throughout her career, she has used social media and other online outlets to promote her work, which includes authoring The Pinterest Diet: How to Pin Your Way Thin and coauthoring The All-Pro Diet: Lose Fat, Build Muscle, and Live Like a Champion with NFL future Hall-of-Famer Tony Gonzalez. She also has been relying on her social media marketing techniques to promote her protein balls, and word-of-mouth from customers and colleagues has helped to fuel growth as well. In addition, she has an online subscription service that delivers protein balls every 15 or 30 days.
"I've been blown away by the support of fellow dietitians," she says. "Many of my fellow dietitian influencer friends have graciously offered to help me by including simplyFUEL Protein Balls in their TV segments and on their own social media."
Word-of-mouth promotion is working as well, as Dulan continually receives e-mails and text messages from satisfied customers who love the protein balls, and they're so excited to tell their friends about this latest "better-for-you snack" with protein, probiotics, and simple, real ingredients.
Wendie Schneider, MBA, RDN, LD
Pantry Doctor
Greenville, South Carolina
As an RD and editor of the healthful living website PantryDR.com, Wendie Schneider, MBA, RDN, LD, has a goal of helping people develop and achieve a lifestyle that promotes health and wellness. She became the "Pantry Doctor" in 2013, helping people learn how to fill their kitchens with healthful food options. What she learned, however, was that her clients wanted more than lessons in healthful eating. They looked to her to create quick and nutritious food choices specifically for them.
"I figured if I was going to make a product for one individual and it was successful for them, then I should be making that product available to everyone," she says.
Schneider chose oats in a jar as her foray into food production due to the product's popularity and ability to provide a nutritious punch with one source. With Pantry Doctor Overnight Oats, she created six plant-based options: Energee, Immunitee, Vitalitee, Beautie, Stress Less, and Brainee. Later, she launched her "black label" Performance Blend, which boasts 21 g of grass-fed whey protein in every jar. The product names represent the benefits of the individual ingredients—easily digestible spirulina and B vitamins in the Energee blend and vitamin C-enriched goji berries in the Vitalitee variety. She also produces refill packs that can be used with empty Overnight Oats containers.
Health Food Among the BBQ Crowd
One of Schneider's first steps in introducing her product in 2016 was educating her market. As if selling jars of oat products at small, local farmers' wasn't enough of a challenge, she was up against Southern classics like barbeque and beer.
"Some of the shoppers at the farmers' market didn't understand that my product is more than just oatmeal in a jar," she says. "I had to explain the importance of all the ingredients."
Schneider eventually found her niche within the fitness and wellness crowd. Once she left the farmers' market and set up a table at local running events, a more receptive audience greeted her. Race participants looking for high-protein options would ask for her recommendation as to which blends to eat and when, matching ingredients to their specific athletic needs.
Business Challenges
It took three months for Schneider to become a wholesaler, as she struggled with learning the technical aspects of labeling. Making the jump from online and one-on-one sales to stocking grocery store shelves left her at a crossroads for further expansion. She partnered with someone to gain access to commercial kitchen space and recently linked up with a local peanut butter manufacturer that handles her distribution.
"I'm still trying to figure out how big to scale the business at this point," she says. "Overall it's been helpful that I also have my MBA to look at this process from a business perspective." These initial accomplishments were integral to helping Schneider get her Overnight Oats into a regional grocery store chain.
Finding the right price point also has been a challenge, balancing costs like packaging and marketing against offering a good product at a competitive price. As demand for her product has grown and Schneider has been able to expand her market into more stores, she's been able to reduce the price to attract more retailers. Pantry Doctor Overnight Oats can be found online in a variety of options: in four-packs, by the case, and in refill packs of 12 and 20, and they can be auto-shipped. They average $4.25 per jar in retail locations.
Finding a Balance
As the business continues to grow, Schneider is shifting her focus from marketing to looking at options for greater distribution through increasing sales online and getting into larger grocery store chains. She contends that she may have been too good at the sales side of her product, getting jars into customers' hands faster than she could develop the back end of the business. Without that infrastructure in place when she started, she's had to learn through trial and error how to effectively keep up with product demand. To build the business, she's looking to expand beyond her own bank account and is open to the possibility of venture capitalists, partners, and even grants from local industries that invest in entrepreneurs like herself.
"It's been a balancing act between demand for my product and doing what it takes to get the product out the door," she says. "I want to take a step back, take some time, and build my business in a way that will ensure long-term success."
— Kathy Hardy is a freelance writer and editor based in Phoenixville, Pennsylvania.