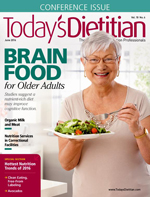 June 2016 Issue
Editor's Spot: Dietetics Behind Bars
By Judith Riddle
Today's Dietitian
Vol. 18 No. 6 P. 4
Have you ever watched the television documentary series Lockup, which airs on MSNBC on Saturday nights? Fascinating show!
Lockup takes you inside the dark world of men's and women's prisons and jails across the country and around the world to get a startling glimpse of life behind bars. Riveting profiles of the lives of inmates capture your attention, as many of them come from tough, complex backgrounds that have led them down ominous paths of criminal behavior. Some learn from their mistakes and vow to journey on the road to redemption; others do not learn from their mistakes and, therefore, do not choose the high road.
Of all the many episodes of Lockup that I've watched over the years, I've never seen an episode that mentioned a prison's foodservice operation in which dietitians work hard to ensure healthful foods are served each day.
One particular episode of Lockup Extended Stay: Sacramento highlighted a two-month culinary arts program offered at Sacramento County Jail where a group of selected female inmates learned core culinary skills from a chef that would enable them to find employment anywhere in the foodservice industry once they were released. Students learned cooking principles and received hands-on training to prepare various breakfast, lunch, and dinner entrées and desserts.
While dietitians weren't mentioned in this episode, it's well known that they play an important role in providing nutrition services in correctional facilities. RDs develop menus, create meal plans, provide nutrition counseling to inmates, offer MNT, act as health inspectors, balance budgets, and perform other duties. Some work as consultants; others work on staff in an often hostile atmosphere that deters most RDs. But while many dietitians who work in corrections face unique challenges, they also reap rewards. To learn more about this special role, turn to "Nutrition Services in Correctional Facilities" on page 32.
Also in this issue are features on organic milk and meat and nutrition and brain health, as well as a special section including articles on clean eating and "free-from" labeling, and avocados—three of the hottest nutrition trends of 2016 based on our fourth annual "What's Trending in Nutrition" survey of 450 RDs that Today's Dietitian developed with Pollock Communications, a food, health, and wellness public relations agency in New York City. Please enjoy the issue!
Judith Riddle
Editor
TDeditor@gvpub.com