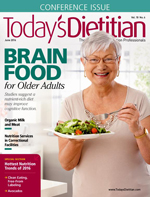 June 2016 Issue
Nutrition Services in Correctional Facilities
By Kathy Hardy
Today's Dietitian
Vol. 18 No. 6 P. 32
Learn about the duties RDs perform, the challenges they face, and the rewards they receive from working in the prison setting.
Consider a walk to work that includes passing through a seemingly intimidating doorway system that automatically slams shut and locks behind you, having your bags searched, and being subjected to catcalls. And then there's the big ring of keys you must carry, as every cupboard, refrigerator, and storage unit is locked. This scenario describes a typical day in the life of RDs who work in public or private correctional facilities at the county, state, or federal level across the United States.
A small subset of dietitians work onsite or as consultants, overseeing nutrition services for their respective inmate populations. They create menus that meet various combinations of federal standards, dietary guidelines, and professional organization accreditation requirements, where applicable; accommodate clinical and religious dietary needs; and provide MNT.
While the above scenario can be daunting to some RDs, especially those new to the field, providing nutrition services in correctional facilities has its rewards.
"After working in the prison setting for a while, you get used to the inmates and accept the challenge in helping them," says Laurie Maurino, RD, departmental food administrator for the California Department of Corrections and Rehabilitation (CDCR).
Role of RDs
Dietitians in the correctional setting serve in various roles. They are nutrition experts, dietetics professionals, health inspectors, liaisons, and trainers of dietitians new to the correctional facility setting. As a departmental food administrator, Maurino oversees foodservice operations for the 35-prison, 120,000-inmate CDCR system.1 She manages nutrition services for the healthy prison population by updating menus, planning diets to accommodate preferences based on religious beliefs, reviewing menu specifications for state food contracts, and balancing budgets. Maurino, who also serves as president of the Association of Correctional Food Service Affiliates (ACFSA), helps correctional food managers prepare for Environmental Health and American Correctional Association inspections of food preparation, storage, and serving areas. Maurino works from headquarters in Sacramento, California, so she isn't in the prison environment on a daily basis.
Handling the medical-dietary side of nutrition services for the incarcerated California population in 22 licensed medical facilities is Becky Yager, MS, RDN, chief of dietary services for California Correctional Health Care Services (CCHCS). Yager explains that dietary services' mission is to provide evidence-based, fiscally responsible MNT to the patient population in California's correctional health care system. The group develops and implements dietary staffing models, policies, procedures, and training tools for medically necessary foodservices, standardized menus, dietary education materials for patients, and tools for professional staff usage. RDs serve as part of the medical team, providing clinical consultations for in- and outpatients with special dietary needs.
ACFSA Secretary Linda Eck Mills, MBA, RDN, LDN, FADA, a corporate dietitian for Community Education Centers (CEC), a national provider of rehabilitative services for offenders in reentry and in-prison treatment facilities, says her role with CEC is shared between foodservice and medical care. Foodservice responsibilities include auditing meal counts, approving menu substitutions, providing staff training, and assisting with developing policies and procedures. Medical responsibilities include nutrition analysis of 71 weeks of menus, approving medical diets and supplements, auditing special diets for compliance, partnering with medical staff to provide medically necessary diets, and offering nutrition training for medical staff as their work pertains to medically restricted diets.
Mills is a seasoned RD who applies her foodservice skills across various locations CEC serves. CEC provides outsourced management of county, state, and federal jail and detention facilities, with foodservice operations as one of its services. Other services include health care, in-prison treatment programs, and correctional center operations and management. According to Mills, CEC foodservices serve more than 242,200 inmate/detainee/resident meals and 6,700 staff meals per week at 38 locations in 16 states.
While many RDs provide nutrition services onsite, correctional facilities often turn to RD consultants to fill roles within their systems, a fact Maurino attributes to the difficulties prisons have attracting dietitians to work in the challenging prison setting. Consultant Dorothea Rourke, RD, who works with the Massachusetts Department of Corrections (DOC), appreciates her consultant role as an objective, third-party analyst. She says this position allows her to focus on the technical aspects of foodservice. Dietitians present problems to her, such as how to cost-effectively increase fiber in the menu, and she looks at where they can tweak offerings. There's a balance between grams of fiber and dollars that must be met, and it takes an analytical mind to find an answer to that equation.
Flexibility is another benefit for dietary consultants involved in correctional facility foodservice. Barbara Wakeen, MA, RDN, LD, CCFP, CCHP, owner of Correctional Nutrition Consultants, Ltd, in North Canton, Ohio, specializes in correctional foodservice and nutrition for jails, prisons, juvenile detention facilities, treatment centers, Immigration and Customs Enforcement centers, food contractors, and private corrections management companies nationwide. She also consults with food distributors, food processors, and manufacturers in the development, selection, and purchase of food and beverage items to meet specific and desired needs within correctional facilities.
"Every facility is different when it comes to their foodservice programs," Wakeen says. "What you need to do depends on the governing agency (county, state, or federal) and accreditations (American Correctional Association [ACA] and National Commission on Correctional Health Care [NCCHC]) for the facility, as well as the type of facility for which you're working. If a facility is participating in the child nutrition program, these regulations must be incorporated as well. You modify the foodservice plan depending on what the client wants and on the criteria, standards, and accreditation for each type of facility."
One of the issues dietary consultants face is making sure they meet licensure requirements for each state in which they work. Wakeen says currently there are efforts to standardize licensure processes. For now, if Wakeen doesn't have a license in a state where she's being asked to work, she acquires one or subcontracts the job to someone who does, depending on the criteria of the contract.
"Dietitians must pass a security check, at a minimum, before working in or for correctional facilities," Wakeen says. "There's also a licensure requirement for RDNs to practice within a particular state, with other requirements potentially mandated by the correctional system or the contract. You also need to be current on regulations, standards for states' governing agencies, as well as the accreditations and the specific contract requirements, if they exist."
Yager says RDs with CCHCS must be registered with the Commission on Dietetic Registration of the Academy of Nutrition and Dietetics. Dietitians employed as food administrators must have one year of clinical or administrative experience.
Maurino says that RDs who want to work full-time in a nonmedical correctional facility must be registered and not have any felonies in their background.
"We have a hard time recruiting dietitians to work in prisons due to a negative stigma and fear of working around inmates," Maurino says. "We have about 25 positions with a 40% vacancy rate for RDs. Wages range from about $4,500 to $5,000 per month."
Challenges
The volume of incarcerated individuals in any one facility can be intimidating. The number of adult prisoners in the United States incarcerated in state and federal correctional facilities totaled an estimated 1.6 million at the end of 2014.2 Numbers from 2010 show 70,793 juvenile offenders housed in US youth detention centers.3 With numbers like these, dietitians in correctional facilities face numerous challenges. For example, including fruit as part of a balanced meal plan is a good way to add fiber to inmates' diets. However, it also can be hoarded and fermented into "pruno," "hooch," or "prison wine."
"The institution staff does not want us serving a lot of fresh fruits, as the inmates stash them in their cells and ferment them into alcohol," Maurino says. "Drunken inmates get into fights and cause trouble. In one case, inmates tried to make 'pruno' out of baked potatoes and ended up getting botulism."
Another challenge RDs face is inmates filing lawsuits regarding their food choices. "I had one set of inmates sue because they wanted creamy peanut butter instead of chunky peanut butter," Maurino says. "There's an endless stream of lawsuits in which inmates just want a cash settlement or to be provided with something special that would give them some attention."
Inmates also try to manipulate their diets to gain access to different foods. For example, Mills says an individual may request a vegetarian meal and then attempt to get a chicken quarter or burger.
Menu Planning
According to Wakeen, nutrition guidelines vary by state, facility, and governing agency, along with any accreditations the facility may have. For consistency, she says RDs use the inmates' gender, age, and activity level as a basis for determining nutrient needs.
"Plugging this information into a nutritional analysis software program to create a 'reference person' provides nutrient recommendations for the population," she says. "The reference person selected meets the overall average range of age, gender, and activity level."
Menus are based on the 2015–2020 Dietary Guidelines for Americans, the MyPlate food guidance system, and the Dietary Reference Intakes (DRIs).
As for menu nutrient requirements, Wakeen says they're contingent on the governing agency standards (state, federal, contract, or court-ordered). In some cases, menu requirements simply call for a "nutritionally adequate menu approved by the RDN"; there are other requirements that will define food groups, calories, and other macronutrients to be served. Calories can range from 2,200 to more than 3,000 per day.
"As an example of how requirements can vary, California jails that fall under the Title 15 Code of Regulations have a detailed meal pattern, and macronutrient requirements and limitations; Minnesota jails have meal pattern requirements; and Ohio jails require nutritionally adequate menus," Wakeen says. "As a consultant, you work with your prison's requirements."
At CDCR, Maurino starts with an eye toward meeting the DRIs on a weekly average basis. DRIs, developed and published by the Food and Nutrition Board of the Institute of Medicine, represent the most current scientific information on the nutritional needs of healthy patients. The CDCR general population meals "lean toward a modified heart-healthy diet," Maurino says, with 30% of calories from fat.
"Our sodium is around 3,500 mg per day, which is a little high for a heart-healthy diet, but since we're serving 2,800 calories per day, with about six to eight slices of whole wheat bread per day, it's hard to get the sodium lowered. We did have the amount of sodium lowered in our lunch meats, and I am also decreasing the total amount of processed meats in the menu."
In comparison, the new 2015–2020 Dietary Guidelines for Americans call for less than 2,300 mg of sodium per day.
Maurino writes standardized menus for all prisons in the CDCR system, as well as provides policies and education to each prison's food manager, who handles the day-to-day operations. She says this collaborative effort helps to maintain a consistent food experience throughout the system, as well as helps meet budgetary needs.
"Inmates may be eating the same thing statewide on any given day," she says. "This allows for more cost-efficient bulk purchasing. I am trying to serve the most nutritious meals on a budget of $3.42 per inmate per day, three meals per day."
Yager explains that while the healthy inmate population of CDCR eats on a five-week menu cycle, CCHCS has a standardized three-week health care menu, which is revised quarterly. The menu for the medical population changes more frequently to account for changes in inmates' medical conditions. Adjustments can be made for inmates with diabetes who have fluctuating sugar levels, for example.
In her 20 years of consulting with the Massachusetts DOC, Rourke has witnessed an evolution within the system that has resulted in a more all-encompassing menu that serves a large number of the general corrections population. Using recipes from the US Army as a base, she says RDs modified offerings to meet the Massachusetts DOC goal of creating a healthful menu that meets adequacy and restrictive needs, minimizing the number of special dietary menus needed to meet the special requirements of inmates with dietary or religious restrictions. The result was a wide-reaching general population menu with five additional menus: kosher, halal, vegetarian, vegan, and female-specific.
"For the female population, considerations are made to include more foods with calcium, such as dairy products, and iron, such as fish and spinach, to meet women's dietary needs," Rourke says. "We also keep in mind that women need fewer calories per day than men, due to their higher percentage of body fat."
Serving a large population can be challenging, but Rourke says it does have its benefits. One benefit to creating menus for inmate populations greater than 10,000 is that products can be purchased in large quantities at a reduced price. In one instance, Rourke was able to contract with vendors to create products to her specifications, specifically a beef and chicken base product that could be made as a low-sodium, reduced-cost product.
In Mills' experience, foodservice directors at each correctional facility complete their menu planning by following the specific dietary criteria for each location. Factors that can impact menu choices include contract specifications for how often the menu needs to change, regional preferences, and feedback on menu items gathered from inmates as part of their nutrition counseling. Once the menu meets budgetary restrictions, Mills completes a nutrition analysis. If the menu isn't nutritionally adequate, changes are made so the menu is both nutritionally adequate and within budget.
The CEC foodservice operation falls under the same ACA and NCCHC standards as traditional correctional facilities, Mills says. In addition to a standard menu, which provides a total of 2,800 kcal over three meals per day, CEC provides medical diets for inmates with diabetes, cardiovascular disease, allergies, gastroesophageal reflux disease, Crohn's disease, renal conditions, enhanced medical and postsurgery needs, and wired jaws.
Special Dietary Needs and Food Preferences
While RDs who serve an incarcerated population work to create menus that meet as many dietary needs as possible in an effort to cost-effectively provide the best possible sources of good nutrition, there always will be exceptions. For example, included with the general population diets at CDCR are vegetarian, religious meat alternate (which uses halal meat as a substitute for the regular meat on the menu), and a Jewish kosher diet (which consists of prepackaged frozen meals using kosher-certified food). Halal meat is that which is permissible according to Islamic law. Forbidden meats for inmates of the Muslim faith are those from the hindquarters of the animal or any meat from pigs.
Maurino says accommodations also must be made for inmates with known food allergies. "For inmates with allergies, we need documented proof of known allergens," she says. "If the allergies are severe, we try to comply through our hospital kitchens."
On the medical side, Yager oversees the preparation and delivery of therapeutic meals to patient-inmates at CCHCS, with input from dietitians at each facility. Currently, she creates 15 different medical diets, including gluten-free, low-sodium, and specific renal diets for inmates with kidney disease. For example, renal diets are low in sodium, phosphorus, and protein, and they limit fluids.
"The medical, vegetarian, and religious meals are about 1.75% of the total meals served," Mills says. "As much as possible, the menus provide the same foods to be in compliance with the ACA and NCCHC standards. This is still institutional foodservice with the limitations of food production."
Counseling and Providing Nutrition Education
All the effort of planning menus can be for naught when it comes to what inmates actually eat. That's where nutrition counseling and education comes into play. While prisoners are given preselected meals that meet dietary standards, there's no one patrolling the cafeteria to tell them what to eat. Maurino says it's also difficult to provide counseling to a population that has no control over what they get to eat with their daily meals.
"Inmates are handed a tray out of a food port in a dining hall, a process called blind feeding, designed to keep inmates from seeing who makes up their food tray," she says. "There are no options about what you want. We can only tell them to pick and choose out of what they are served."
Blind feeding is one means of cafeteria-style feeding; however, many facilities operate a cafeteria-style feeding that allows inmates to refuse food items they don't want, Wakeen explains. Some facilities offer salad bars and alternate vegetarian entrees.
In most cases, inmates are provided with nutrition education handouts, either in group settings or during one-on-one counseling sessions. Wakeen uses the Academy of Nutrition and Dietetics' Nutrition Care Manual materials and modifies them when necessary to meet the needs of inmates and the facility. However, others note that any written materials must not exceed a fourth-grade reading level to ensure all inmates can understand the text.
Nutrition education can be helpful for inmates who have access to the prison store, which offers unhealthful options like Top Ramen, soda, cookies, and candy. However, having access to the store and its unhealthful options can be seen as power within the prison system, which creates a challenge when it comes to convincing inmates to make good choices. "They won't even buy diet soda because it's considered 'sissy stuff,'" Maurino says.
Yager says RDs provide nutrition counseling for inmates receiving medical attention in one-on-one counseling, in group settings, or via teledietary services. There are no specific requirements for how often counseling sessions need to occur, she adds. However, dietitians work to maintain regular contact with inmates who are in need of help when it comes to sticking to their medically required diets. "We emphasize education to empower the patient to make good decisions regarding their diet and take control of their health issues," Yager says.

Unexpectedly Fulfilling
Providing foodservice for the incarcerated population comes with ever-changing variables—from changes in dietary needs and cost-cutting measures to trying to anticipate the next unintended use for diced pears. That said, Maurino says the challenges can add to the fulfillment RDs get when working in this environment. Mills agrees, finding the challenges of working in corrections as pluses of her job.
"No two days are ever alike," she says. "Corrections is the best kept secret for dietitians."
— Kathy Hardy is a freelance writer and editor based in Phoenixville, Pennsylvania.
References
1. State of California Department of Corrections and Rehabilitation. Weekly report of population as of midnight April 6, 2016. http://www.cdcr.ca.gov/Reports_Research/Offender_Information_Services_Branch/
WeeklyWed/TPOP1A/TPOP1Ad160406.pdf. Accessed April 4, 2016.
2. Carson EA; US Department of Justice, Office of Justice Programs, Bureau of Justice Statistics. Prisoners in 2014. Washington, DC: Bureau of Justice Statistics; 2015. BJS publication NCJ 248955.
3. US Department of Justice, Office of Justice Programs, Office of Juvenile Justice and Delinquency Prevention. Juvenile offenders and victims: 2014 national report. http://www.ojjdp.gov/ojstatbb/nr2014/downloads/chapter7.pdf. Published 2014. Accessed April 4, 2016.
PROFESSIONAL ORGANIZATIONS
• The American Correctional Association (
www.aca.org
) is a professional organization for all individuals and groups, both public and private, that share a common goal of improving the justice system.
• The American Jail Association (
www.americanjail.org
) is a national nonprofit organization that supports the professionals who operate our nation's jails. It's the only national association that focuses exclusively on issues specific to the operations of local correctional facilities.
• The Association of Correctional Food Service Affiliates (
www.acfsa.org
) is a professional organization for foodservice managers and dietitians working in county jails and state/federal prisons. It includes about 500 members and holds an annual international conference.
• The Dietetics in Health Care Communities (DHCC) Dietetic Practice Group (
www.dhccdpg.org
) is a nationwide organization representing nearly 3,800 members of the Academy of Nutrition and Dietetics working in several different areas in the health care community. DHCC's Corrections Subunit is the advocate and resource for food and nutrition professionals working in the field of corrections by supporting them through current information, trends, regulations, research, tools, and networking opportunities.
• The National Commission on Correctional Health Care (
www.ncchc.org
) has a mission to improve the quality of health care in jails, prisons, and juvenile detention facilities.
— KH