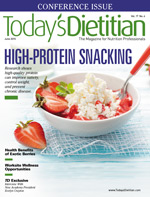 June 2015 Issue
Editor's Spot: Improving Employee Wellness
By Judy Riddle
Today's Dietitian
Vol. 17 No. 6 P. 5
About 21 years ago, I worked for a large publishing company that many would have considered way ahead of its time when it came to promoting workplace health and wellness. The company cafeteria served only healthful foods and snacks. Breakfast and lunch meals didn't exceed 30% of calories from fat. One of my favorite dishes was a portabella mushroom served over brown rice in a tasty broth.
In addition, the company had a large fitness center on its premises, filled with state-of-the-art strength training equipment, treadmills, stair stepper and elliptical machines, exercise mats, and dumbbells. There were personal trainers who led aerobics, strength training, and six-pack abs classes, as well as runners' clubs, and there were locker rooms and showers so you could clean up before, during, and after work hours. Employees could enter an incentive program in which they could earn points for working out to win T-shirts, sweatshirts, socks, caps, and other workout gear. I was a gym rat, and I actually won all of these prizes during the seven years I worked there. Health and wellness was the foundation of the company culture. You never saw anyone smoking cigarettes outside of the buildings. Employees were encouraged to exercise on their lunch hours and take advantage of every wellness program offered such as body composition screenings at the gym, free annual flu shots, and ergonomically designed workstations fitted especially for you.
Today, workplace wellness is a multibillion-dollar industry that's offering employees even more benefits and providing RDs ample career opportunities to educate workers about healthful eating and nutrition, plan company cafeteria menus, lead cooking demos and classes, and offer personalized support as health coaches. Rising health care costs resulting from the obesity, cardiovascular disease, and diabetes epidemics are what's driving the trend, and there's no indication this will slow down anytime soon. To learn more about workplace wellness and the career opportunities available to dietitians, read "Worksite Wellness" on page 26.
Afterward, you'll enjoy Today's Dietitian's exclusive interview with Evelyn Crayton, PhD, RD, LDN, the Academy of Nutrition and Dietetics' first black president, and the other articles on high-protein snacking, exotic berries, and nutrition and aging in older men. Let us know what you think about these articles on our Facebook and Twitter pages, and please enjoy the rest of the issue.

Judith Riddle
Editor
TDeditor@gvpub.com